Alumna follows bliss to baking and business success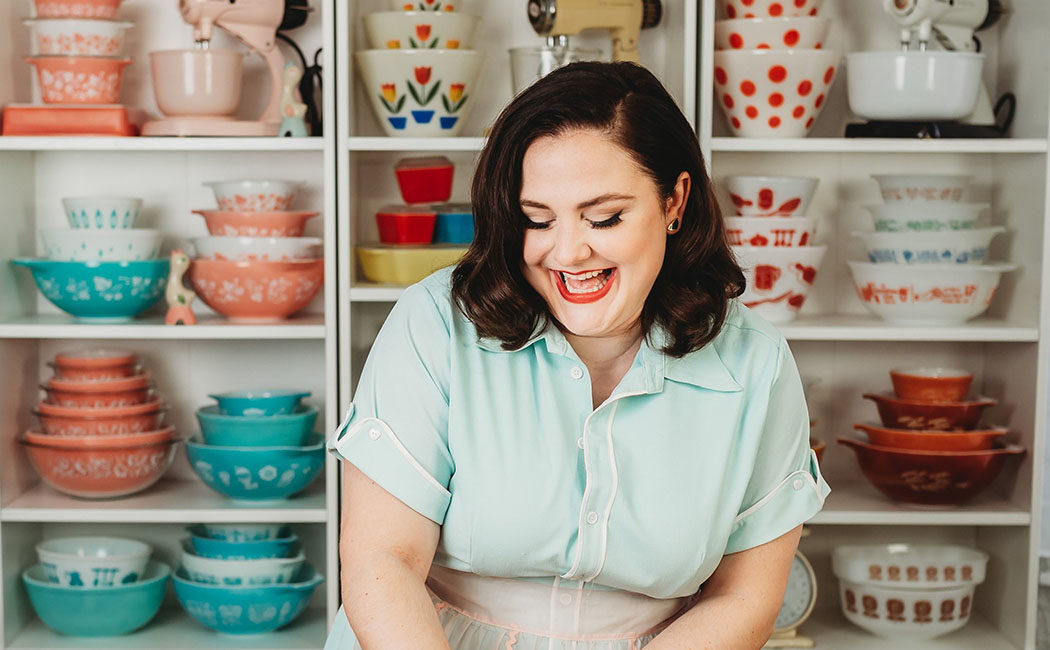 With a thriving social media presence that includes nearly 200,000 followers on both YouTube and TikTok, a website that generates 1 million visits a year and a new cookbook that Food Network listed among its top 10 of 2021, Baker Bettie is having a moment.
Her recipe for success? Do what you love, and let the (chocolate) chips fall where they may.
A persona created by Hutchinson native Kristin Smith Hoffman, u'11, Baker Bettie is a vintage throwback who embraces '50s fashion and classic comfort food. The idea started when Hoffman launched a food blog as a hobby after graduating with a music therapy degree.
"I was starting to create recipes and wanted a place to document what I was learning about baking science," Hoffman says. "I was very shy at the time, and I didn't know if I wanted my true identity to be online, so I came up with this alter ego. I thought it was kind of retro and catchy."
The blog took off, and after a few years she decided baking "is where I was thriving and where my passion was." She left her music therapy career, went to culinary school and launched a website featuring original recipes and baking tutorials. In 2018, with the website profiting, she began focusing full time on her Baker Bettie enterprises, including an online Better Baking School and in-person workshops.
Though she grew up with a grandmother who loved to bake, Hoffman didn't catch the bug herself until she was a KU student.
"I baked the cookie recipe from the back of the Nestle Toll House chocolate chip bag," she recalls. "I've always had a science and math brain, and I started really diving in to understanding the science of baking. It became my stress release, my hobby."
After she mastered the basics and began developing her own recipes, she launched an online business, Sweetchip Cookies: People could describe their perfect cookie, and she'd work up a recipe, then bake and ship the customized treats. During the 2011 holiday season she prepared and shipped 7,000 cookies from her Lawrence apartment.
"I love to bake," she says, laughing, "but I discovered that high-volume baking was not really what I was looking for."
Her cookbook, Baker Bettie's Better Baking Book: Classic Baking Techniques and Recipes for Building Baking Confidence ($34.95, Mango Publishing), focuses on fundamentals and covers techniques and baking science needed to become a confident baker of quick breads, cookies, bars, cakes, pies and basic yeast breads. It's written for the kind of baker Hoffman was at KU, a beginner who wants to master methods but also understand the underlying science. "[She] may be a trained chef, but she hasn't forgotten her days as a baking novice," notes Food Network's review. "Her baking book lives up to the 'Better' part of the title by smartly breaking down techniques and baking science in a fun, approachable manner for newbies and cake aficionados alike." The book has become part of the curriculum at several high schools for teaching not just the hows of cooking, but also the whys.
"My overarching theme is that in order to feel competent and free to play in the kitchen, you need to first understand the fundamentals," Hoffman says. "As soon as you get all that down, there's so much room to play, and to feel confident to mix things up and really get creative."
As her business has grown to include two employees, plans for a second book and dreams of a brick-and-mortar space, the shy woman who felt compelled to create an alter ego has had to challenge herself to do things she never dreamed she could do.
"I knew I wanted to get on YouTube, because teaching is much easier if you can provide visuals," Hoffman says. "But I basically wanted to throw up anytime I got in front of a camera. It was super hard."
She overcame her discomfort—she now gives presentations to large conference audiences and does live TV appearances in Chicago, where she lives—when she realized that she couldn't expect to be good at something the first time out.
"I allowed myself to make what I would consider really bad videos," she says. "My first teaching videos are really bad by my standards now. But I just adopted the philosophy that I was allowed to produce work I wasn't happy with as long as I was doing it and learning from it and getting better."
That lesson proved to be a good guideline for running a business, and it's an insight she shares freely with fellow entrepreneurs.
"Probably my biggest advice is that when you're starting your own business there are going to be really big pain points along the way that are definitely going to make you want to quit or make you feel like maybe you're not good enough to do it," she says. "But we are never good at something that we've never done before.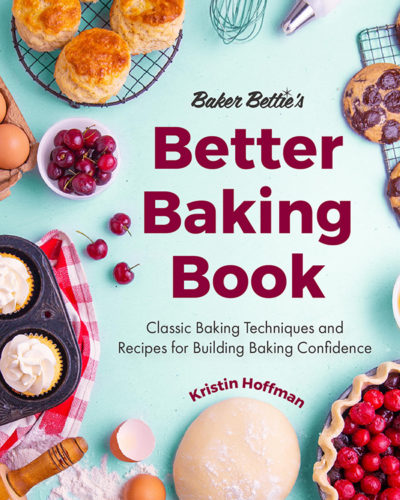 "When I first started my business, I didn't truly understand how often I would want to quit because it was so difficult. I'm so glad I allowed myself to learn and grow and stumble and do things poorly and get better at them and get to the other side."