Commencement, reunion on hold
Long-delayed walk on hold once more for Gold Medal class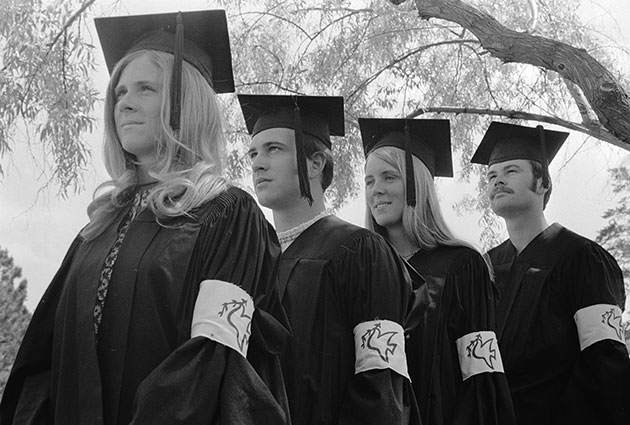 It was déjà vu all over again for the Class of 1970, who saw their plans to complete a walk down the Hill stymied a second time after COVID-19 forced postponement of this year's Commencement and the Association's Gold Medal Club reunion.
Seniors during those long-gone "days of rage" had their spring semester cut short after the deaths of four students at Kent State University increased turmoil at KU and other universities. Commencement went on, but rain forced the ceremonies inside Allen Field House. Protests and fire-bombings continued across Lawrence throughout the summer.
Some see parallels today, when a spring semester has been transformed once more in unprecedented ways.
"Those were scary, terrifying times then, and these are scary, terrifying times now," says Rusty Leffel, c'70, l'73, former student government leader and namesake of KU's Rusty Leffel Concerned Student Award. "It's interesting how poignant graduation was in 1970 and 50 years later."
The University announced in May that KU's traditional Commencement ceremony will be postponed until it is safe to reconvene, electing to mark Sunday, May 17, with an online event for graduates. As the University's planning for an on-campus Commencement progresses, Association staff members and volunteers will work to determine next steps. "Everything is in flux, so we are re-evaluating daily," says Michelle Miles Lang, b'02, director of alumni programs. "We will be working with the University to figure out when we can incorporate the Class of '70 again." 
Leffel says he savors Commencement season each year as an important demarcation point for young graduates and a time of reflection for older alumni.
"It should be recognized. My hope is there will be something that brings us all back for a chance to be at the Hill and honor those who are taking new steps into the future—their future and ours—as soon as it is safe for everyone to do so."
Class of '70 alumni, meanwhile, can enjoy an online commemoration of their own, thanks to a collaboration between the Association and KU Libraries. Visit the exhibition "Gold Medal Club 1970," which includes photographs and digitized materials of the era from the University Archives.