Leading the department where she made her name fulfills longtime goal for firefighter Donna Maize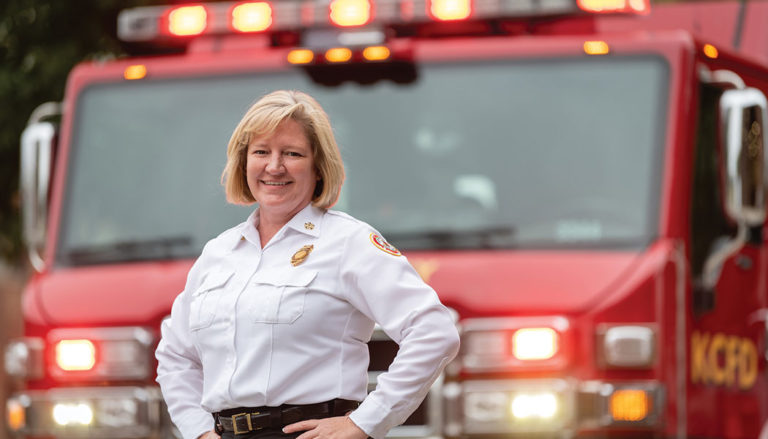 "In every program I've been in, whether the KU MPA or executive fire officer training," Maize says, "it's about, 'How do you instill leadership, values and improve the culture of the place you work?'" Photograph by Steve Puppe
For most people, touting a "lifelong" association with a company, cause or college is a bit of poetic license, a harmless exaggeration meant to signify a connection that's long-standing and unshakable.

For Donna Maize, "lifelong" is actually a pretty accurate description of her kinship with the Kansas City Missouri Fire Department.
When she was appointed interim chief of the 1,300-member force in September, Maize, g'16, noted that "KCFD has been a part of my life since birth, when the selection of my first name was made by the firefighters that worked with my father."
John Curtis Lake retired from the department as a captain in 1995. When Maize was growing up, the example he and her mother set helped launch her course in public service.
Lake worked a house fire where an older man who lived alone was using a poorly ventilated wood stove for heat. "My dad organized a bunch of firefighters and vendors to put in a heating and cooling system for the man," says Maize, who pitched in with the rest of her family. "Things like that instilled in me at an early age: Let's do the right thing to help others." 
After earning an undergraduate degree in public relations, she decided a 9-to-5 marketing job "didn't sound exciting anymore." She joined KCFD as a firefighter in 1992 and, except for an 18-month stint as assistant city manager for public safety, has been there ever since. Maize had her eye on the top job from the start.
"Early in my career, I was aware there had never been a woman fire chief here, so I really started thinking about what would you need to know to become chief."
Using promotions and transfers to move around the department, Maize learned all aspects of the fire service, serving as a pumper captain, training new recruits, and overseeing hazardous materials, special operations and fleet services. In 2014, she became assistant fire chief while enrolled in KU's top-ranked MPA program.
Her appointment was hailed as a milestone for a department whose record on gender equity includes lawsuits and accusations of sexual harassment. Maize acknowledges the distinction of becoming the first woman to lead KCFD, but doesn't let it define her.
"I've always been a person who lets my body of work speak for me," she says. "I've never made it a male-female thing, but it is important. I have two daughters, and I was their Girl Scout leader, their 4-H leader, because it has always been important for me to set a great example for them."
Soon after being named interim, Maize said she would not pursue the permanent job. She changed her mind, and on Nov. 19—after Kansas Alumni went to press—City Manager Troy Schulte removed the interim tag, giving Maize the permanent job.
"Chief Maize is clearly a great leader, and has proven her abilities in every job she's had," Schulte said in a statement announcing the move. "As a second-generation KCFD firefighter, she understands the legacy and tradition, while bringing modern management skills to the department."
"It was my goal in life, and it's awesome to finally achieve that," Mays says. "For me, it was never about just being fire chief; it was being fire chief here in Kansas City, the department I grew up in. Now the work begins."