Class of 1970 will commemorate 50 years with cherished tradition
Editor's note: Amid the coronavirus (COVID-19) outbreak, the Association has canceled the Rock Chalk Ball and Gold Medal Club reunion. As Association staff members and alumni volunteers work to determine next steps, Kansas Alumni and the Association will share new information.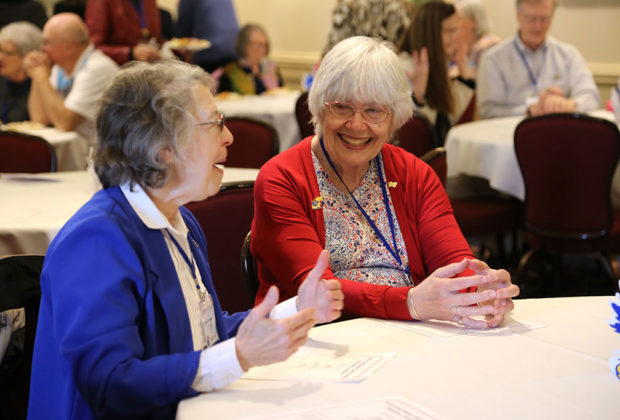 For decades, the Association's Gold Medal Club reunion has celebrated alumni who have reached the 50th anniversary of their KU graduation. This year's festivities, which will include a series of social gatherings and campus events, also will feature a historic Jayhawk tradition: The Class of 1970, one of only a few classes that did not walk down the Hill at Commencement because of rain, is invited to dress in regalia and participate in this year's procession, May 17, with the Class of 2020. 
"It's a rite of passage for graduates," says Michelle Miles Lang, b'02, director of alumni programs. "When you miss the opportunity to do that, you feel a bit cheated. I think it's cool that people now get to come back and do that."
In addition to Commencement activities, the reunion weekend, May 15-17, also will include guided tours of campus and Quantrill's Raid through Lawrence, a behind-the-scenes tour of the Dole Institute of Politics and a visit to the Spencer Research Library, which will feature a specially curated exhibition of archived material from the 1969-'70 academic year—a time of campus protests and upheaval, including the Kansas Union fire. John Rury, professor of education and history, and Bill Tuttle, assoc., professor emeritus of American studies, will lead a reunion discussion that examines the changes that have occurred at KU since the turbulent 1960s. Current Gold Medal Club members and Chancellor Doug Girod will officially welcome the Class of 1970 into the club during a luncheon. 
Visit kualumni.org/reunion for more information and to register.