Fun, free and footloose describes clarinetist's bid to bring classical music to broader audience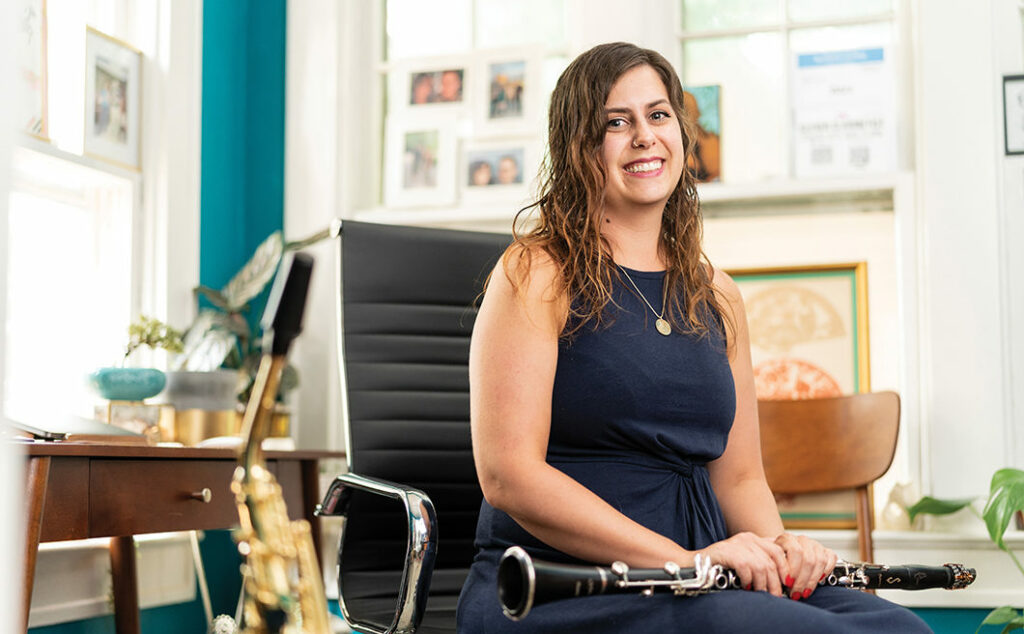 When Larkin Sanders left Branson, Missouri, to attend the KU School of Music, the clarinetist with hopes for a career in classical music figured her days of performing for hometown audiences were done.
"I never thought I would be able to return to Branson to play music," says Sanders, u'10, who lives in Kansas City. "I graduated, got out and was like, 'There's basically nothing for me here because I am a classical musician.'"
Unable to envision a place for her music in a town where "classic" evokes big-name country music stars, not great composers, Larkin eventually decided to create her own, founding the Taneycomo Festival Orchestra, a summer series that attracts classical musicians from around the country to perform free concerts for Branson residents and tourists. TFO celebrated its 10th season in June, with five outdoor concerts at a local park.
The vibe, in keeping with Branson's vacation spirit and Sanders' personality, is decidedly unstuffy.
Performers don't pay to participate, as they do at the biggest summer festivals, and local families volunteer to house and feed musicians, eliminating another financial hurdle to attendance. Audiences are not required to buy tickets but are encouraged to make donations instead. "And," Sanders says, "there's the no-shoes thing."
During TFO's first season, Sanders was rushing around before the debut performance, filling multiple roles as festival manager and orchestra performer. Slowed by high heels, she kicked off her shoes "like a good Ozark girl." Midway through the orchestra's performance, she looked up to see her forgotten footwear—"my 6-inch, platform, color-block shoes"—on prominent view at stage center.
Concertgoers loved it, and now the shoes are part of the show.
"We have a ceremonial de-shoeing at the beginning of all concerts, where I have to come onstage and take my shoes off and welcome everyone," she says, laughing. "Other musicians kick off their shoes, too. It's encouraging the audience to relax and just enjoy the experience, and not holding them to any old, outdated pretentious rules."
The boundary-breaking appeals to musicians, too, many of whom—Sanders included—have felt shut out by the major summer festivals.
While completing her master's degree at Michigan State (she also earned a doctorate in music at Florida State), Sanders was invited to attend Chamber Music Midwest, a summer festival in a small Wisconsin town.
"I'd been applying to summer music festivals for years at that point, and I'd been first alternate at three or four major festivals, just on the brink of getting in," she recalls. "After years of trying and not securing a spot, I was basically table-flippin' mad about it. Then I went to CMM and felt validated once again that I did belong in classical music."
The Wisconsin festival allowed each musician to take charge of their own artistic decisions rather than working with a teacher, which Sanders loved. She wanted to adapt the model and thought it could work in her hometown. "It started as a hunch and as a response to being rejected a lot and watching my friends get rejected and wanting to create more opportunities not only for myself, but also for them. The icing on top was being able to bring my music home to Branson."
The same air of informality that guides TFO concerts led Sanders to co-found Porch Music with two next-door neighbors in Kansas City, who also happen to be classical musicians. Feeling isolated during the pandemic, they gathered in their front yards to play. Their second concert drew 50 people. "It wasn't just us musicians who were starving for music," Sanders says, "it was the whole neighborhood." The group expanded to nine musicians and now books concerts on porches, patios and lawns throughout the metro.
Larkin also operates her own music store, the Clever Clarinetist; gives private lessons through her clarinet studio; and teaches clarinet at Washburn University in Topeka and band at Liberty High School in Missouri. She has written a pair of music-related books as well.
That multi-pronged approach to making a life in music she credits to her father—a classically trained musician who made his living playing drums for R&B bands like Earth, Wind & Fire—and her KU clarinet teacher, Stephanie Zelnick, who encouraged students to create their own opportunities rather than waiting for good things to happen.
"I knew when I got to college that every time somebody told me it was going to be hard, they were right," she says of her father's influence, "and that the only way to make sure I had a fighting chance was to work as hard as I possibly could to be the best musician I could be. And once this concept of seeking your own opportunities came into my mind, thanks to Stephanie, there was no stopping."