Board approves new choices, including monthly payments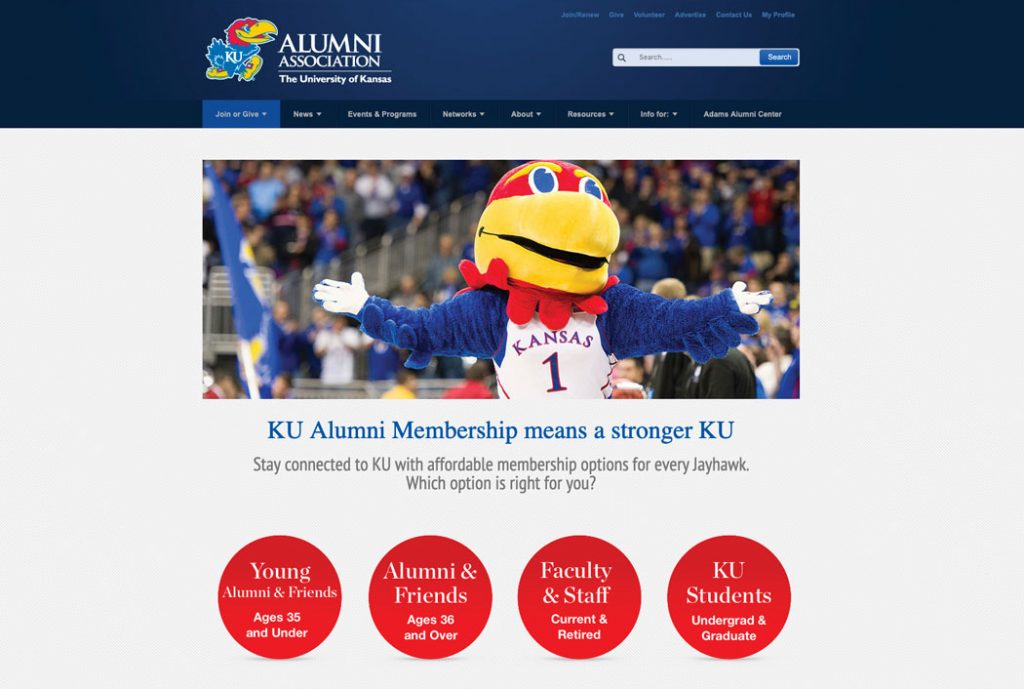 After nearly two years of study, the Association's national Board of Directors approved a revised membership structure at its fall meeting Sept. 6-7 at the Adams Alumni Center. 
The simpler menu includes low-cost, monthly payment options, and the Recent Grad discount—formerly available for only one year after completion of a KU degree—is now a much broader Young Alumni & Friends category that includes all alumni and friends 35 and younger.
Memberships now are divided into four groups: 
Young Alumni & Friends
Alumni & Friends
Faculty/Staff (Current & Retired)
KU Students 
Both undergraduate and graduate students will continue to receive free Student Alumni Network memberships as gifts from the Association and KU Endowment. 
The structure also eliminates all single/joint membership price distinctions. Jayhawks can add a "plus one" spouse or partner to their memberships at no charge. 
Tegan Thornberry, d'05, g'10, the Alumni Association's director of membership, explains that the new "plus one" feature allows two people to take advantage of member benefits and discounts under one simplified rate. "It's an opportunity for us to engage more Jayhawks," she says. "I think we have a lot of great offerings, including the Jayhawk Career Network. There are plenty of things we're doing across the country that more people can take advantage of."
Perhaps most notable among the new dues options is the expansion of the Young Alumni & Friends category, which doubles the pool of potential members at the reduced rate.
"We had a hard time engaging young Jayhawks after they left the Hill," says Thornberry, explaining that Jayhawks typically delay becoming members until they reach their 30s or 40s. "We made the young alumni rate 35 and younger, to hopefully get them engaged at an earlier age through events and as paid members."
In other changes, annual members must opt out of automatic renewal; previously members only opted in to automatic payments. 
Here are the new options and prices:
Young Alumni & Friends Rates (one or two names per membership):
$30 annual 
$100 premium
$500 Life
New monthly membership for $2.99 per month
Alumni & Friends Rates (one or two names per membership): 
$60 annual 
$100 premium
$1,000 Life

New monthly membership for $4.99 per month
Faculty & Staff Rates (one or two names per membership):
$30 annual 
$100 premium
$1,000 Life
New monthly membership for $2.99 per month
Heath Peterson, d'04, g'09, president of the Association, hopes this new membership structure will entice more Jayhawks to join. "The more members we have working together, the more the Association can strengthen the University through our work to develop the next generation of Jayhawks, help students and alumni make important career connections, and keep Jayhawks all over the world connected to KU and one another," he says. "Our evolved membership model creates new, affordable and more relevant pathways for alumni, friends and fans to show their pride and strengthen KU."