Stalwarts to receive highest award for service to KU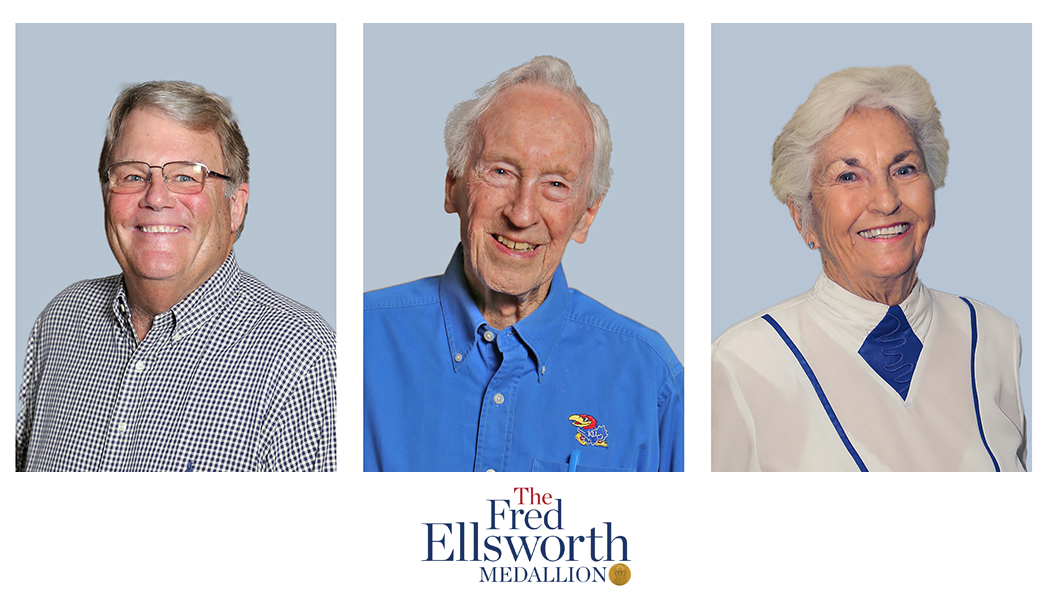 The Alumni Association will honor three Jayhawks for their faithful, longtime service to KU. John Ballard, Overland Park; Warren Corman, Lawrence; and Kala Mays Stroup, Lawrence, will receive the 2022 Fred Ellsworth Medallion Sept. 23 at the Burge Union in conjunction with the fall meeting of the Alumni Association's national Board of Directors.
The Association created the award in 1975 in tribute to Fred Ellsworth, c'22, the organization's longest-serving leader. He retired in 1963 after 39 years as executive director and secretary.
Ballard, b'73, recently retired as principal owner of Property Specialists Inc. in Leawood. During his years on the Hill, he played football for the Jayhawks, and he has remained committed to assisting student-athletes through the years. He volunteered from 1985 to 2003 as a mentor to men's basketball team members who were coached by Larry Brown and Roy Williams. He also assisted in recruiting Bill Self to Kansas as Williams' successor, and he worked closely with Self and fellow alumni from 2006 to '08 to champion the renovation of Jayhawker Towers Apartments for student-athletes. Most recently he served on the search committee in the hiring of Athletics Director Travis Goff, c'03, j'03. He is a longtime member of the Williams Education Fund for Kansas Athletics.
As a longtime donor, Ballard is a member of the Chancellors Club and Jayhawk Faithful for KU Endowment.
He has fulfilled vital leadership roles for the Alumni Association, leading the organization as national chair from 2018 to '19 and serving on the Executive Committee during his six years on the board. As a longtime member of Jayhawks for Higher Education, the Association's statewide legislative advocacy network, Ballard closely follows the Kansas Legislature and has ardently made the case for higher education funding. He is a member of the JHE Steering Committee. His dedication to advocacy and his abiding interest in Kansas politics recently led him to co-found Kansans for Higher Education, an independent political action committee that includes alumni of both KU and Kansas State University who have joined forces to champion higher education and the far-reaching impact of both universities in driving economic growth and serving all Kansans. He co-chairs the group.
"John is such a great example of what Jayhawks can do and should do as advocates," says Kelly Reynolds Whitten, c'04, KU director of state relations. "I've never seen a more dedicated Jayhawk, and I love to connect him with legislators because he is such a great, knowledgeable
ambassador." Ballard has helped highlight KU's growing presence in Kansas City, especially through KU Medical Center and The University of Kansas Cancer Center. With his wife, Cindy, he has attended numerous Rock Chalk Balls through the years. The Ballards co-chaired the ball in 2011. They also have attended the Jayhawk Roundup in Wichita and traveled with the Flying Jayhawks.
The Ballards donated a 3,000-year-old papyrus to KU's Spencer Research Library after their son, Jake, b'01, took a religious studies course taught by Associate Professor Paul Mirecki. After purchasing the papyrus at a fundraising event, the Ballards enlisted Mirecki's expertise to learn more about it; the professor identified it as a rare example of the ancient Gnostic gospels. The Ballard Papyrus is now part of the Spencer Library's Special Collections.
Corman, e'50, made an enormous impact on KU and higher education through his 69-year career in architecture and engineering. He served as an architect for the State of Kansas, the Kansas Board of Regents and the University.
In the 1970s he led efforts to pass pivotal laws that improved the integrity and efficiency of the state's process for selecting architectural, engineering and construction firms. He worked with Gov. Bill Graves in the 1990s to advocate for a bond issue to help address the staggering backlog of deferred maintenance projects among the 600 buildings in the Regents system. The measure passed both houses of the Legislature with only one dissenting vote.
"Warren knew politics, and he knew how to get things through the Legislature," recalls former Chancellor Archie Dykes, who led KU from 1974 to 1980. Dykes especially remembers Corman's leadership of the Bell Memorial Hospital construction at KU Medical Center in 1978, then the largest project in Kansas history. "That was a contentious fight because the doctors all had opinions about what they wanted, and Warren had to oversee that and push progress on construction to keep down cost overruns," Dykes says. "He did it marvelously, and you rarely had any outbursts of anger from the medical doctors, which I thought was pretty good. He saw it through to a successful conclusion."
Corman led hundreds of projects on nearly all KU campuses: Lawrence, Kansas City, Wichita, KU Edwards Campus in Overland Park and the Kansas Law Enforcement Training Center in Yoder. The extensive list begins with one of KU's most exalted landmarks, Allen Field House, in 1955. Others include:
• Dole Institute of Politics
• Korean War Memorial
• Hall Center for the Humanities
• Danforth Chapel addition, renovation
• School of Pharmacy
• Multicultural Resource Center
• Anderson Family Football Complex
He also helped create the master plan for West Campus as well as signage and the master landscape plan for the Lawrence campus.
After working from 1966 to '97 for the Regents, Corman accepted Chancellor Robert E. Hemenway's offer to become University architect and his special assistant. Hemenway often asked Corman to find sites for new buildings and, in the case of the Multidisciplinary Research Building on West Campus, oversee the construction in record time.
For Chancellor Bernadette Gray-Little, Corman served from 2012 to 2016 as consultant to the School of Engineering on the expansion of the school's complex at Naismith Drive and 15th Street.
Corman's previous KU honors include the Distinguished Engineering Service Award and Distinguished Alumnus of the School of Architecture & Design, a Lifetime Service Award from Kansas Athletics, and grand marshal of the 2011 Homecoming parade. He and his wife, Mary, c'73, also received the Spirit of 1912 Award during Homecoming 2019. For the Alumni Association, Corman, a World War II veteran who served in the Navy's Seabees, volunteers on the KU Veterans Alumni Network board.
Stroup, c'59, g'64, PhD'74, met Fred Ellsworth when he visited Great Bend, her hometown, to award her a scholarship to KU. Once on the Hill, she quickly emerged as a student leader, earning the Alumni Association's Agnes Wright Strickland Award and numerous other honors as a senior.
After earning her bachelor's degree in speech and drama, she remained at KU for graduate school and began her long career as a standard-bearer among women in higher education, going on to lead two universities as president and later the Missouri Commission of Higher Education. She also founded the National Nonprofit Leadership Alliance, which prepares and certifies undergraduate and graduate students to guide nonprofit organizations.
When Stroup and her late husband, Joe, f'54, returned to Lawrence in 2010, she also returned to the classroom as a University Honors Program lecturer for nine years, creating courses on nonprofit and philanthropic leadership and advising scores of students. She received Mortar Board's Outstanding Faculty Award and the program's Adviser Award.
From her own student years, Stroup credits honors program leader Professor Francis Heller and the incomparable Emily Taylor, dean of women, as pivotal influences. Stroup worked with Taylor as assistant dean of women, succeeding her as dean in 1975. Stroup also was selected as an American Council of Education Fellow to assist Dykes and the Board of Regents.
"Kala is an extremely talented woman. She was not only a leader at KU, but she was a leader for women's causes everywhere," Dykes recalls. "Just think of all the lives she affected. … She is no shrinking violet. She has strong opinions and values and she has lived by them."
Stroup left KU for Emporia State University, where she was the first woman vice president for academic affairs in the Regents system. In 1983, she became the first woman to lead Murray State University in Kentucky as president. In 1990, she became the first woman president of Southeast Missouri State University. In 1995, she took on oversight of Missouri's public colleges and universities as higher education commissioner.
Throughout her career, Stroup has volunteered for KU. She served on the Alumni Association's national Board of Directors from 1985 to 1990. For KU Endowment, she helped found and chaired Women Philanthropists for KU, and she is a member of the Chancellors Club and Jayhawk Faithful.
She also guided the Emily Taylor Women's Resource Center (now the Center for Gender Equity) as chair and led fundraising to establish an exhibition in the Kansas Union for the KU Women's Hall of Fame. As a longtime KU Libraries volunteer and donor, she chaired the advisory board.
Stroup in 2005 received the Distinguished Service Citation, then the highest award from KU and the Alumni Association. She holds honorary doctorates from five universities and was named a Distinguished Alumna of the KU School of Education and Human Sciences.
She is a member of the KU Women's Hall of Fame.