High-flying 'Hawks at the 2023 Kansas Relays
Pink and blue shine at Kansas Relays' historic renewal.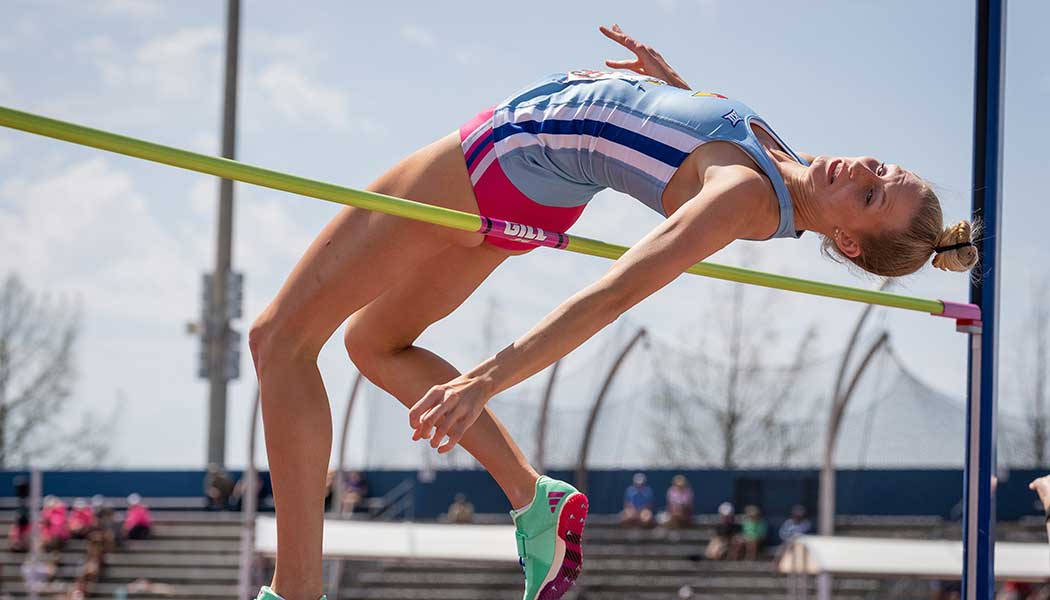 High jumper Rylee Anderson, a three-time Big 12 champion harboring NCAA title dreams,
on April 14 competed in only the second Kansas Relays of her collegiate career. Because of COVID-19 cancellations since 2020, Anderson, a fifth-year senior from Longmont, Colorado, was one of the few Jayhawks who had ever donned the beloved pink and blue uniform at KU's track carnival—which this year marked its 100th anniversary with traditional blustery spring weather that turned into storms strong enough to cancel much of the event's final afternoon.
"I feel like being able to kind of close out my fifth year and compete in the Kansas Relays," Anderson said, "is really special."
Anderson, a self-described "bouncy" 6-foot-1 former volleyball player, in 2019 won her first Kansas Relays as a freshman with a jump of 1.75 meters (6 feet). As a fifth-year senior, she won again, this time clearing 1.78 on her first attempt, and soaring over 1.83 meters on the first attempt of her second bar. Wichita State's Destiny Masters also cleared 1.83, a personal best, but required three attempts to do so; when both athletes missed at 1.87—which would have been Anderson's best-yet outdoor jump— Anderson secured her second relays title, thanks to fewer attempts on the previous height.
"I think she's a little bit of a finesse jumper," said vertical jumps coach Tom Hays, d'90. "She's tall, and as she gets older, her fitness level gets better, so her strength-to-weight ratio is better."
Anderson exited the relays as the NCAA's second-ranked high jumper, although Hays conceded that Texas A&M senior Lamara Distin—who swept the NCAA's indoor and outdoor championships in 2022 and this spring repeated in the indoor—"is a step ahead of all of them." Perhaps unexpectedly for those of us not versed in details of training for field events, Hays explained during the April relays that Anderson would require only "six or seven intense, intense workouts," and even at that seemingly low number, Hays cautioned, they were "pushing the envelope."
"You're going to try to have intensity once a week, and then we've got to recover from that," Hays said, "and hope that we're not so hard that we break her."
It's a challenge Anderson welcomes, not only to chase titles, but also to put herself in the best possible position should she choose to turn professional after the season.
"Getting faster and stronger is definitely something that I have to do," she said. "After that, the bars will make themselves."
Relays return: (from left) Chandler Gibbens and Avryl Johnson on their way to victories in the 1,500-meter runs, and winner Cameron Wilmington flashing fine form in the 400-meter hurdles.
Also jumping into the track and field spotlight this spring was junior distance runner Chandler Gibbens, who on April 1 won the Stanford Invitational 5K in 13 minutes, 28.71 seconds, bettering his own personal-best time by 31 seconds and slicing 19 seconds from the KU 5K record—a mark previously held by Jim Ryun, j'70.
"I told him he was slacking a little bit," joked coach Stanley Redwine, "so that's why the PR was so big."
Gibbens, victorious in the relays' 1,500, said his strong performance at Stanford was made possible by increased self-confidence: "I genuinely thought that I belonged at the front. And then, as the race went on, my strength kind of helped me out a little bit." Gibbens, who hails from Columbia, Missouri, and grew up surrounded by Mizzou fans, has learned to appreciate KU track and field tradition, noting that capturing a record Ryun set in international competition in 1967 will be a treasured memory of his time on the Hill.
"Not only because it's Jim Ryun, but also just the length of how long the record stood," Gibbens said. "That meant a lot to me, because there's been a lot of really good runners who have come through here, and no one else was able to get that record until now. Being able to take one away from Jim Ryun is really exciting."
Chris Lazzarino, j'86, is associate editor of Kansas Alumni magazine.