KU student donates bone marrow to save 10-year-old girl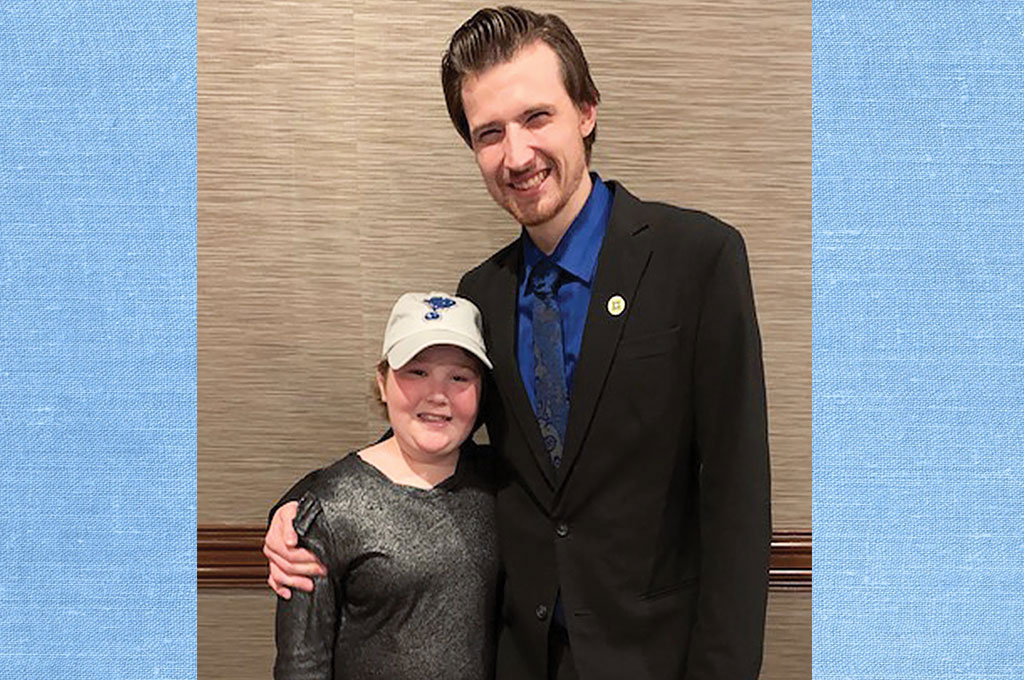 KU sophomore Kenton Felmlee had no idea what was in store when he joined the Be The Match bone marrow registry in 2018. Then an 18-year-old senior at Lawrence High School, he learned about the organization from his history teacher, Valerie Schrag, g'02, who had recently donated bone marrow and shared her experience with students. Felmlee was inspired by her story and signed up at an event at the high school.
"I figured, why not?" he recalls. "They'll probably never call. It's slim to none that they'll call. Even if they do, I'm OK with that. It's something I can do." 
Much to his surprise, Felmlee was contacted within months of registering, and in less than a year, he not only donated life-saving bone marrow but he also discovered that the transplant recipient was none other than Laila Anderson, the young St. Louis Blues superfan who became a national sensation during the team's quest for the 2019 Stanley Cup title.
Felmlee, a pre-med student, had just started his freshman year at KU when he learned he was one of three potential matches for a 10-year-old girl with hemophagocytic lymphohistiocytosis, or HLH, a rare disease in which the body's immune system attacks healthy blood cells. After a series of tests, Felmlee was confirmed as a perfect match and agreed to donate his bone marrow to help save the young girl, a decision he made in large part because of his father, Jeff, PharmD'01, who also suffers from an immune disorder.
"He listened and was a good sound board to bounce my ideas and thoughts off of," Felmlee says of his father, who offered guidance and explained that the surgical procedure to extract the bone marrow from his pelvis would be difficult. "He helped me prepare mentally for that."
Little could prepare Felmlee, though, for the surprise of learning Anderson's identity in November, 10 months after undergoing surgery at KU Medical Center. "When [Be The Match] told me her name, they said it was big," Felmlee recalls with a smile, explaining that at the time he didn't know who she was. A quick Google search, which "exploded" with results, soon remedied that: "The first thing that popped up was a video of her kissing the Stanley Cup at the game. And then that she had visited the White House and received an award in Toronto. It was just all of these amazing things that she had done. It was astounding."
Anderson's family was equally eager to learn about Felmlee. "When they said he was studying to become a doctor, I just thought he already saved a kid's life," says Heather Anderson, Laila's mother. "He just has to be a special soul to sign up at 18 years old and agree to do that. I just thought it was amazing."
After connecting with Anderson and her family through Facetime, phone calls and emails, Felmlee finally met them during a Be The Match event in December in St. Louis, which raised more than $665,000 for patients in need of stem cell transplants. Felmlee was overcome with emotion as he rushed onstage to embrace the inspiring young girl who had battled her disease for more than two years.
"The first thing I said to her was that I loved her," he recalls. "It was weird at first to think that I could love somebody I had never met, but I did. I definitely, definitely did. She instantly felt like family."
Following the fundraising event, Felmlee spent the weekend in St. Louis with Anderson and her family and attended a Blues hockey game, where he received a heartfelt welcome and standing ovation from the team and fans. 
"Laila's very loved in this town," Heather Anderson says, "and now people love Kenton, too."