Adaptive skiing advocate honored
Raymond recognized for longtime support of paralympic movement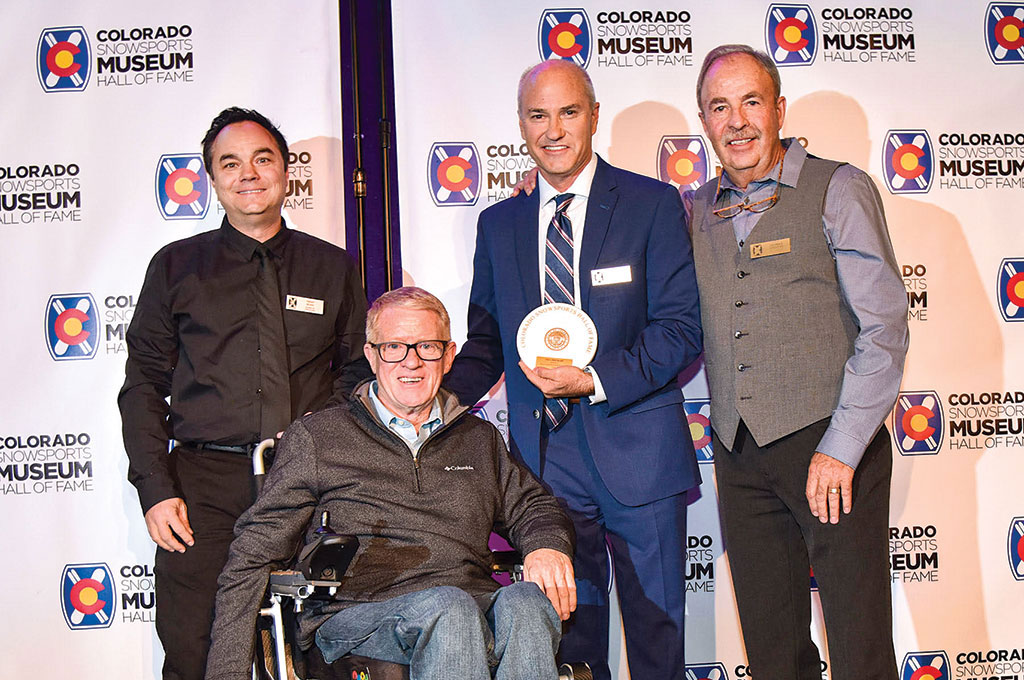 On the United States Paralympic Ski Team are veterans who lost limbs in battle. Other members were born with physical limitations or suffered life-altering injuries. Now, they compete all over the world with skills that rival able-bodied Olympians.
Yet when Steve Raymond, j'82, became involved in 1994, the team was in danger of disbanding because of funding issues. Since, all has been well. For his role in the team's turnaround, he was inducted last fall into the Colorado Snowsports Hall of Fame.
Raymond's support of adaptive skiing began after he moved to Colorado following his KU graduation.  
"One of my skiing buddies in Vail was left paralyzed after a skiing accident," says Raymond, who was working at a small television station at the time. "He not only got back into skiing, he became very good at competition. Several of us went to his races and saw how important staying active and competitive was to him and others."
A few years later Raymond was well into a 25-year career with ESPN when the same friend, Bob Meserve, told him of the paralympic ski team's probable end.
By then Raymond also was president of the Rocky Mountain Chapter of Cable Television and Marketing, a trade organization.
"We'd been looking to create a signature event to sponsor that could be a fundraising event and bring industry leaders together for networking," Raymond says. "We started SkiTAM and the first year our main goal was to raise $100,000 to save the team."
They doubled that goal and have done much more since. The annual, three-day event in many years has raised about 40 percent of the funds needed to support the team. The event's name changed to Adaptive Spirit in 2010. 
Heading into this year's event, April 2-5 in Vail, Adaptive Spirit has raised nearly $17 million through the years. It could draw around 1,300 people and $2 million or more in giving this year.
Telecommunications professionals attend socials, seminars and roundtable discussions. Many form lasting relationships with a paralympic ski team member they're paired with.
"That athlete spends the weekend with them. They'll ski together. They'll race with them and they'll go to dinner together," Raymond says. "When you get to know them as people, they become friends that are almost like family."
He exited Disney/ESPN Media Networks in 2014 as senior vice president for national accounts and works now with Gracenote Connectivity as vice president of client solutions. He has served on several boards related to paralympic skiing and traveled internationally with the team. For the 2010 Paralympic Winter Olympic games in Vancouver, he was honored to be named the head of the U.S. delegation.
"The paralympic movement is a big part of my life and a big deal for my family. My kids all volunteer," he said. "Even after 25 years I want to help keep growing this event, and this sport. It's a great way for
us to contribute and help some really great people."
–Pearce, '81, is the former outdoor columnist for the Wichita Eagle.