Documentary explores the life of modernist painter Albert Bloch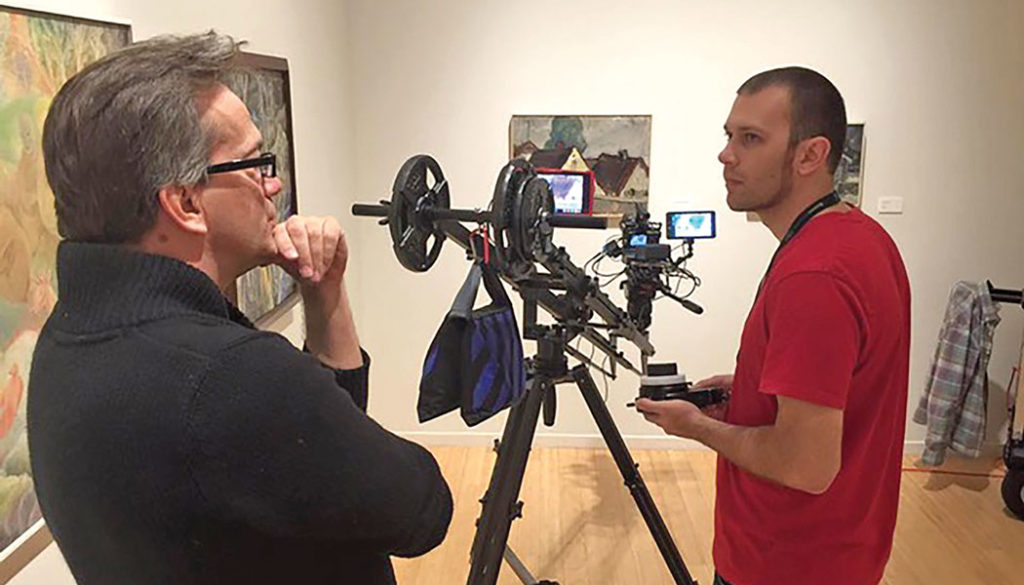 Tim De Paepe (left), director and co-writer of the documentary "AB," which profiles the life of modernist painter Albert Bloch, used footage from the artist's 2015 exhibition at the Lawrence Arts Center for the film.
When Scott Bloch met with Tim De Paepe in 1996 to discuss creating a documentary about Bloch's grandfather, the modernist artist Albert Bloch, De Paepe didn't need much convincing.
"I was a big art history buff," says De Paepe, '92, a corporate filmmaker in Kansas City, "so I was naturally drawn to it, just because of the subject matter."
Bloch understood the appeal. As a young boy he was fascinated by his grandfather, whom his father revealed little about when Bloch was growing up. When Bloch came to KU in 1975, he connected with Albert Bloch's widow, Anna Francis Bloch, c'32, who lived in Lawrence and shed light on the enigmatic artist, one of the original members of Der Blaue Reiter, or The Blue Rider, a prominent group of modernist painters in early 20th-century Munich.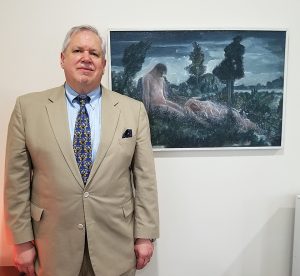 "I used to call her the oracle of Alabama Street," says Bloch, c'80, l'86, an attorney in McLean, Virginia, referring to the Blochs' longtime home at 1015 Alabama St., where Albert Bloch created hundreds of paintings, poems and drawings. "I talked about him with her, about his intellectual pursuits, his writing, his art. We spent a considerable amount of time in the attic, where he painted."
Anna Bloch's insights also proved pivotal to the production of Bloch and De Paepe's new documentary, "AB," which, after more than two decades of filming, research and interviews, premiered at the Kansas City FilmFest International in April and was screened Sept. 20 at the Lawrence Arts Center. The film also includes interviews with notable art historians, scholars and curators, including David Cateforis, professor and chair of art history at KU; Scott Heffley, retired senior conservator at the Nelson-Atkins Museum of Art in Kansas City; and the late Robert Sudlow, f'42, a renowned painter and KU professor who studied under Albert Bloch. Kelly Chong, professor and chair of sociology, played a critical role in fundraising efforts for the film.
"AB" was co-written by Bloch and De Paepe and provides an intimate glimpse into the life of Albert Bloch, who grew up in the Midwest and later moved to Germany, where he briefly exhibited his work with fellow Expressionists Wassily Kandinsky, Franz Marc and Marc Chagall, among others. Though Bloch was on the verge of international acclaim, he ultimately abandoned the art world in favor of anonymity in Lawrence, becoming a KU professor in 1923 and painting in the quiet comfort of his home studio until 1958, a few years before his death.
"Everyone says, 'Well, I don't think he was interested in playing art-world games,'" says De Paepe, who also directed the film. "Well, he liked exhibiting the work. I don't think he liked talking about himself. I don't think he liked having to really explain his work in any way."
Told through the artist's own words from his journals, letters and poetry, the film perhaps leaves viewers contemplating the question: Is Albert Bloch a great artist or isn't he?
"We think that the viewer will get a strong sense that there is a battle in the art world about who should be in the canon and who shouldn't be," Bloch says. "Albert Bloch did not make an effort to have his name in the canon of great artists of the modern era, and yet he still hangs around: He's being bought for major collections, including the Met. He's in a lot of major museums. He's being purchased and he's still being sold at auction. So, he's still relevant.
"There's this process by which the art world will recognize someone or not recognize them. We're hopeful that this will help them see that indeed he has been recognized and should be."
For more information, visit albertblochfilm.com or Faceboook.com/albertblochfilm.