Vietnam veteran's stirring memoir chronicles a healing journey 50 years in the making
When he arrived at the Marine Corps Recruit Depot in San Diego for boot camp in 1966, 18-year-old John Musgrave knew he was in for big changes. But neither he nor the five classmates from Independence, Missouri, who entered basic training with him knew how dramatic the transformation from young man to Marine would be.
"When they were done," Musgrave writes in The Education of Corporal John Musgrave: Vietnam and Its Aftermath, "I was completely different, inside and out." Stronger, more self-confident and more resolute in his conviction that service to country was his mission in life, he couldn't wait to get to Vietnam and see combat as an infantryman.
Yet boot camp was only the beginning of Musgrave's transformation: After 11 months and 17 days in Vietnam, he was so gravely wounded during the siege of Con Thien more than one triage doctor declared him beyond helping. He returned home to a nation so divided that he hardly recognized it, and his own doubts about America's role in Vietnam, which had begun to creep into his outlook on the battlefield, eventually burgeoned into full-throated opposition to the war as he struggled to deal with injuries to his body and mind that would shape him for decades to come.
Viewers of Ken Burns' documentary film series "The Vietnam War" may recall Musgrave, '74, as an earnest, eloquent and deeply reflective storyteller who brings an unassailable authority to the film's examination of the role combat veterans played in changing America's attitudes about the war as they began to speak out against the conflict. Musgrave wrote The Education of Corporal John Musgrave with the encouragement of Burns and his creative partner Lynn Novick, who collaborated on "The Vietnam War" and who contribute the foreword here. He brings that same quiet credibility to his own story, which is divided into three parts.
"The Making of a Marine" recounts an early life shaped by an ethic of service. (His parents were brought together by World War II and they raised Musgrave and his brother "to be grateful for our good fortune, for our family and for our community and to be good citizens for our country," he writes.) "The Kill Zone" details the harrowing life of a "grunt" on the battlefield, and "Marching Against the War" chronicles Musgrave's rocky return to civilian life, where through several decades he wages a different set of battles—with alcohol, PTSD, survivor's guilt and thoughts of suicide—before ultimately embracing a new mission to serve combat veterans from Vietnam and subsequent American wars. It's this third section, which recounts his key role in Vietnam Veterans Against the War in the early '70s, his later work to highlight the plight of American prisoners of war, and his continuing efforts to connect combat veterans from Vietnam, Iraq and Afghanistan to talk through their war traumas, where the full measure of Musgrave's transformation is taken.
The book's title comes from a comment Burns made about Musgrave during an interview with Kansas Public Radio. "I've always said that if some evil genie took away all of our hundreds of interviews and left us with just one," Burns said, "I'd pick John Musgrave's and retitle the film 'The Education of John Musgrave.'" Thanks to the filmmaker's urging, and the assistance of writer Bryan Doerries, Musgrave (a poet who has mined his war experiences deeply in three books of poems, but who felt a memoir "was beyond my writing abilities") has now given that fuller accounting his life story deserves. Like Ron Kovic's Born on the Fourth of July, Tim O'Brien's The Things They Carried and Phil Caputo's A Rumor of War—Vietnam War classics all—his book has much to teach us about the complicated nature of service and patriotism. Namely, that it is possible to harbor a deep love and devotion to one's country while holding it to account when it fails to live up to its highest ideals.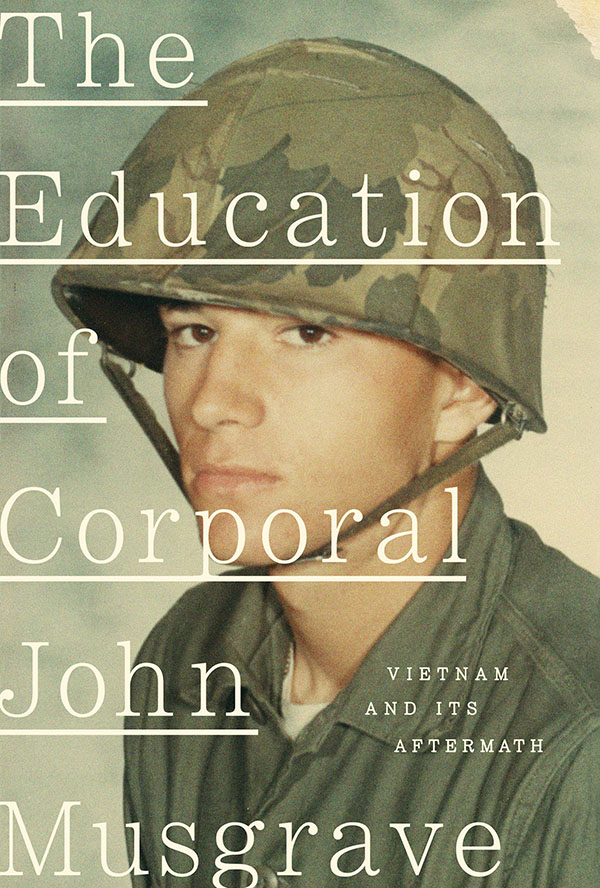 Musgrave's pride in the Corps and his loyalty to his fellow Marines—then and now—never waver, even as he comes to realize some hard truths about the mistreatment they endured from their government and from their countrymen inside and outside of the antiwar movement. "The sense of reverence and awe, for those who wear or have worn the uniform," which led him to decide by eighth grade that he too wanted to enlist, did not diminish with his injuries or his disillusionment with the war. It's the reason he wrote this book, "with the ambition that it will inspire the same feelings in others and help veterans of every generation find words for their stories and an audience of concerned, engaged citizens who are ready to listen."