BY JENNIFER JACKSON SANNER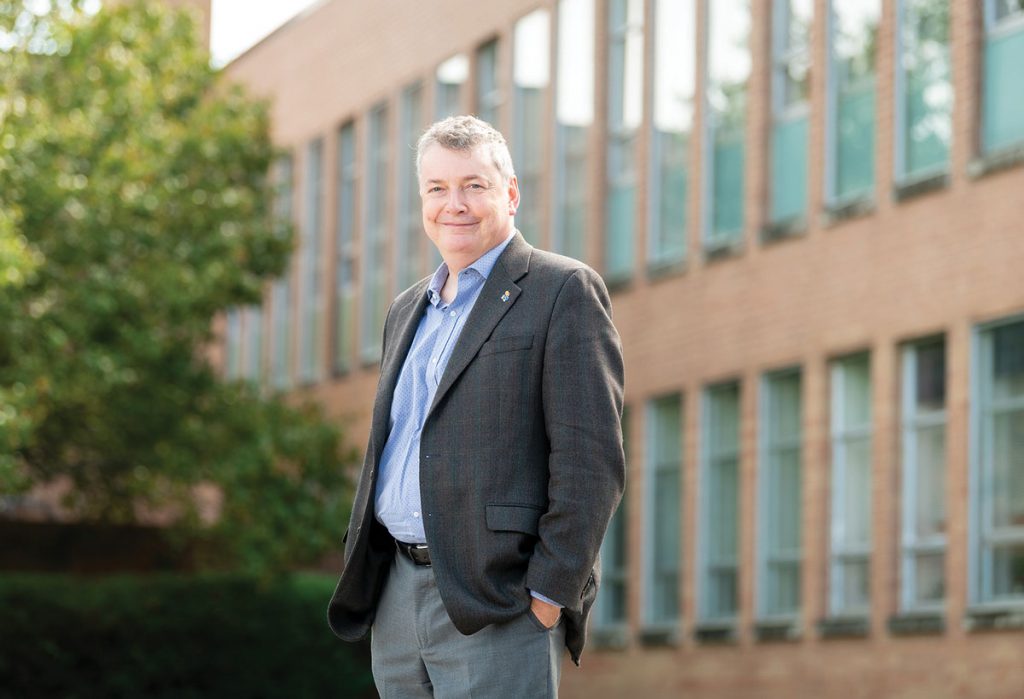 As a first-year student at Kings College London, Simon Atkinson knew he wanted to study biology and biochemistry, but he couldn't envision a career path until a dynamic professor pointed him toward research. "His fascination and curiosity and the way he thought—which was always driving him toward the new questions in biology that nobody knew the answers to—were just really captivating," recalls Atkinson, who arrived in Lawrence in July as the University's new vice chancellor for research. "That's what got me hooked."
Throughout his doctoral studies at the University of Cambridge and a postdoctoral fellowship at Johns Hopkins University School of Medicine, Atkinson studied how proteins assemble into complex structures in cells and drive cell migration—"Think white blood cells chasing down a bacterial infection," he explains.
When he joined the faculty of Indiana University's School of Medicine in 1994, Atkinson met scientists and physicians in nephrology and decided kidney research was his calling. "I realized there were really interesting problems in kidney injury and kidney disease that would be fun to work on," he says.
Over the past 25 years, he became internationally known for his studies in the prevention and treatment of acute kidney injuries that can be caused by heart failure, cardiac surgery, toxins and contrast agents used in diagnostic tests. Atkinson's research led him in 2005 to co-found a life sciences company, INphoton, and he remains involved with another startup, Rene Medical, which began in 2014. During his years at Indiana, he took on leadership roles in the schools of medicine and science, and in 2015 he became vice chancellor for research at Indiana University-Purdue University in Indianapolis. He also guided innovation and commercialization across the entire IU system.
Now at KU, Atkinson oversees a research enterprise that spans more than 60 centers and institutes and garners $249.8 million in external funding, but he cautions that merely citing totals "is like saying we bought much more gas last year, rather than we drove farther, we went more places, we saw more people" en route to the true destination: discoveries. KU strives to increase those discoveries and all creative activity and share the results far and wide—ultimately to improve lives.
Across the University, exploration occurs in any space where curious, tenacious scholars seek answers to tantalizing questions—including the Spencer Museum of Art, the subject of our cover story, where national grants continue to fund imaginative, interdisciplinary studies and exhibitions.
Breadth, diversity and "unique strengths" are hallmarks of KU research, Atkinson says. In addition to an impressive history of achievements in drug discovery and development, KU has long excelled in research devoted to child development, special education and developmental disabilities. In fact, the U.S. Department of Education is the University's third-largest federal funding agency, behind the National Institutes of Health and other Health and Human Services agencies. Other strengths include the arts and humanities, languages and engineering, as well as cybersecurity and defense-related research, where Atkinson says KU scholars are poised to meet the U.S. government's growing demand.
To spur continued vital investment in research, Atkinson challenges Kansas Alumni and all KU storytellers to more vividly describe how discoveries come to be—and to help people connect, as he did long ago in London, with the captivating scholars whose fascination and curiosity drive them to seek answers to the most daunting questions. A new resource for insights is KU Discoveries, the Office of Research's bimonthly digital newsletter (to subscribe, visit research.ku.edu).
"If people can understand science as a human activity and the challenges that are involved in getting to those breakthrough discoveries," Atkinson says, "that's good for science and good for society."