KU alumnus helps Ukrainians cope with war's toll
Diverging views of the past lie at the heart of current conflict in his adopted homeland, says history student Brendan Gallagher.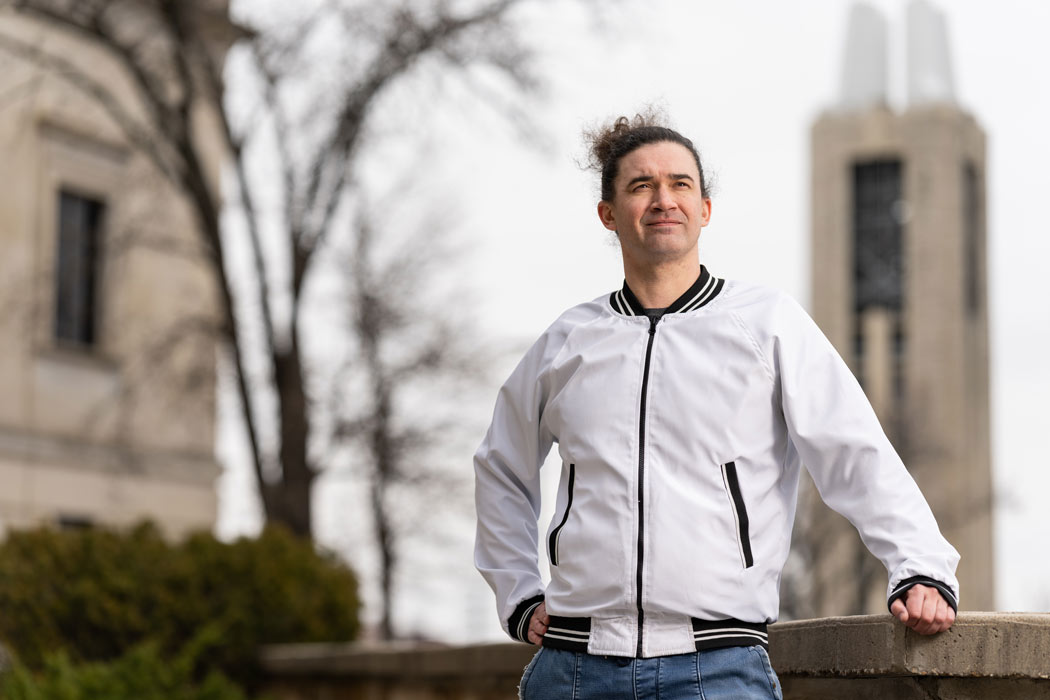 European history has interested Brendan Gallagher since his KU days, when he made the region a focus of his studies for a history degree. Now living in Ukraine, he finds himself with a close-up view of history unfolding, his graduate work at Taras Shevchenko National University of Kyiv interrupted by a war driven by conflicting interpretations of the past.
After President Vladimir Putin launched Russia's February 2022 invasion and his troops closed in on the capital, Gallagher joined the many Kyiv residents leaving for safer areas in western Ukraine. He went to Lviv, where he had lived for a time after moving to the country in 2015. In the city 40 miles from the Polish border, he found ways to help people fleeing the fighting in the east.
Joining forces with another American who lives full time in Ukraine, Gallagher helped organize a safe house that provides refugees with shelter, food and supplies. The work is supported by UA Lifeline, a registered Ukrainian charity.
"It's a good place for people to relax and get anything they need" before continuing their journey west, Gallagher said during a March visit to Lawrence, where he grew up. "Some stay a few hours, some a few days."
After strong Ukrainian resistance forced Russian troops to abandon their ground assault of Kyiv, Gallagher returned to the city. From there he continued to volunteer, often traveling back to Lviv. He raised money to buy bunk beds and eyeglasses for children at a hostel, and pitched in to help a theatre troupe that delivers food and other badly needed supplies to troops.
Learning that soldiers needed athlete's foot cream, he decided, "OK, I will take care of that. That will be my thing." He's since met soldiers who know him as "the American guy who takes care of our feet."
"Even these small things contribute, and it means a lot to those people," Gallagher says. "There's a distribution network specifically focused on the military, and when I help load a station wagon that's driven straight to the front, I know that medicine will be used less than 24 hours later by people who need it."
"His hands are definitely full," says UA Lifeline founder and operating manager Robert Nuey, a U.S. Army veteran and chef from Chicago living in Lviv. "He's been in Ukraine for quite some time and formed many great friendships over the years. You see his sense of commitment to the country and these people. His heart and mind and soul are in it. It says a lot about his character that he continues to do what he can."
Gallagher, c'06, settled in Ukraine after traveling widely throughout the region.
"My dream, as a child, was to go around the world," he says. "And that's what I did."
Immediately after graduating from KU, he spent a year teaching English in Seoul, South Korea. He visited China, crossed Russia on the Trans-Siberian Railway, and in 2008 got a job teaching in Kyiv. After leaving to teach in Slovakia and Russia, he moved back to Ukraine in 2015. He earned a master's degree in international relations, social communications and regional studies at National University, where he was studying for his doctorate when the war began. In October 2022, a Russian cruise missile—one of nearly 5,000 launched on Ukraine in the war's first year—damaged the school's administration building.
His time in Russia, where he taught near the U.S. Embassy in Moscow, convinced Gallagher that war between the countries was likely, because national beliefs about the past are so incompatible.
"You'll often hear Putin talking about their thousand-year history, and the underlying text is that the Ukrainian nation is a splinter group of the Russian nation. For Ukrainians, this is very offensive. They grew up hearing stories of a Soviet-orchestrated famine"—the Holodomor, a "murder by hunger" engineered by Soviet premier Josef Stalin to quash a Ukrainian independence movement, killing 3 to 5 million Ukrainians from 1932 to 1933. "At the root of [today's] problem are these arguments about history."
With a second UA Lifeline safe house now open, a food distribution and culinary center planned, and numerous "small things" still in need of attention, demand for volunteer aid remains high, Gallagher says, and probably will as long as the war continues. That could be a long time, given the determination he sees around him.
"It's important to know this is deeper than just some political games for the elites. Regular Ukrainians are not detached from this war; they feel very much a part of what's going on. Everyone knows someone who has died, someone who is fighting, and they have confidence in their military.
"The narrative that Ukrainians are resilient and motivated is true. They are fearful of what might happen if they don't fight, if they don't take a stand for their country now. Their motivations go back to the stories their grandparents told them. Those family histories are the basis for the unity we see today."
Steven Hill is associate editor of Kansas Alumni magazine.