Beauty, Bernini and Beyoncé
Chloé Cooper Jones crafts a complex memoir to shift perceptions and conversations about appearances and expectations
By Kate Lorenz  |  Portrait by Andrew Grossardt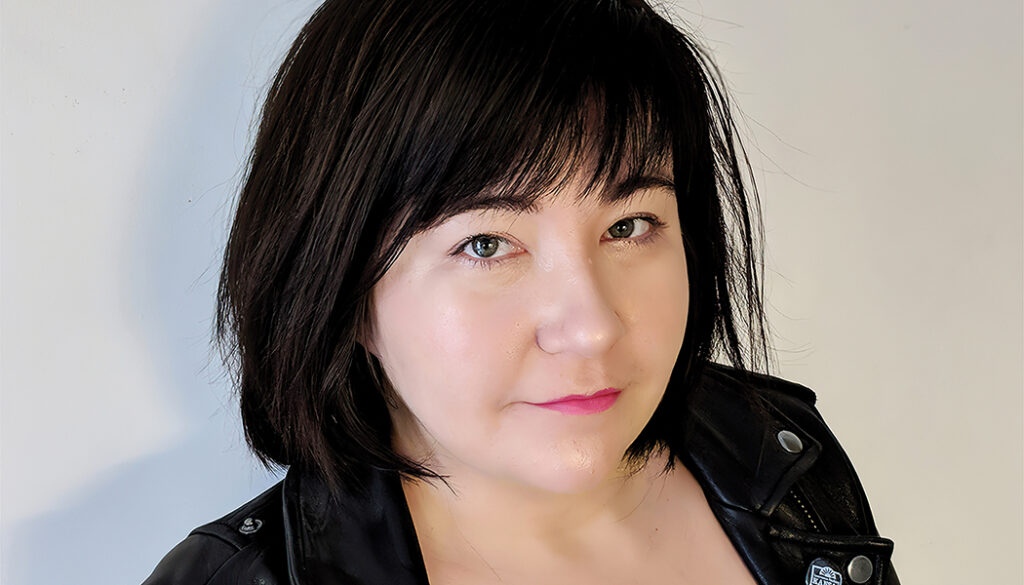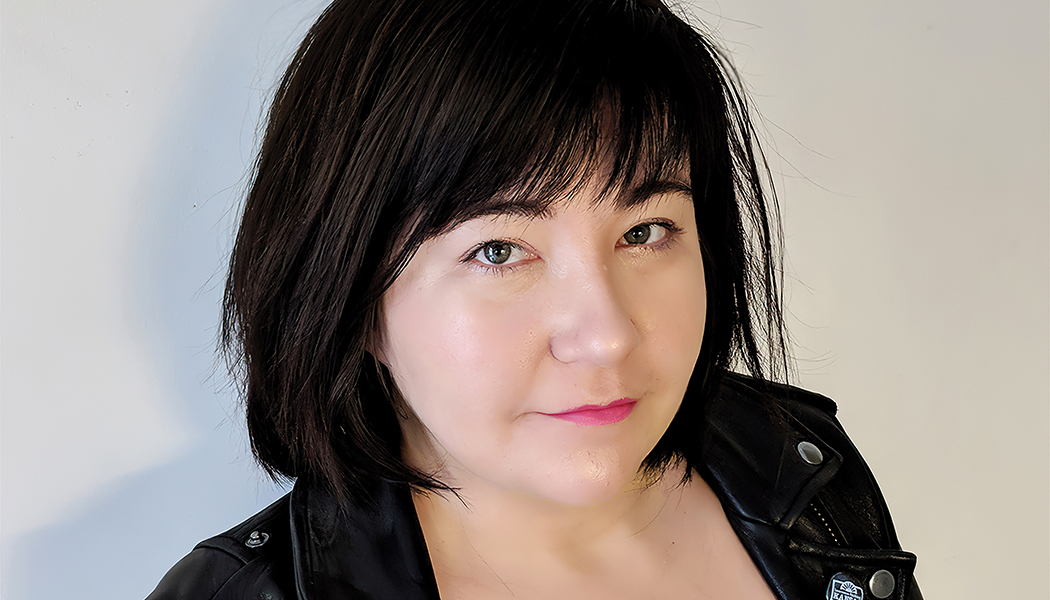 Chloé Cooper Jones has almost reached the end of an hourlong signing at the Kansas release of her debut book. Easy Beauty: A Memoir, published in April by Avid Reader/Simon & Schuster, has been racking up national acclaim, earning spots on Oprah Daily's 50 Most Anticipated Books of 2022 and IndieWire's Indie Next lists, and receiving a Creative Nonfiction Grant from the Whiting Foundation and a Howard Foundation Grant from Brown University.
After a remarkable conversation between Jones and Raven Book Store owner Danny Caine, g'17, readers queuing up for a signature and a hello include Jones' friends from childhood, co-workers from her high school job at a movie theater, her mother, Merrilee Cooper, and several horseback-riding buddies—along with many people Jones has never met who eagerly share stories of how her writing has made them feel seen and understood.
Jones' 10-year-old son, Wolfgang, who kicked off the Q&A ("What was it like to write about all of this?"), comes over to request quarters for the bookstore's poetry vending machine. He inserts the coins, uncoils the scrap of paper from its plastic bubble, and reads the poem with a satisfied shrug.
As the line dwindles to a final few, Jones reunites with an elementary school classmate she hasn't seen in decades, reminiscing about how she named a dog after the classmate's father. "I named a lizard after you!" replies her friend.
This ability to connect with others gives Jones a singular approach as she explores the complex, challenging and rich terrain of her memoir.
In Easy Beauty, Jones, g'09, PhD'12, writes about how others perceive her, and how she perceives herself, as someone navigating the world with a rare congenital disability. She was born with sacral agenesis, which shortens her stature, alters her walk and causes physical pain. Many scenes in the book show how Jones' visible differences prompt strangers to make false presumptions about her capabilities and offer help she has not requested.
Readers also see how these judgments extend far beyond awkward, sometimes hurtful everyday interactions. People convey their own presumptions and prejudices regarding what Jones would be expected to do in life, or more specifically, expected not to do: date, get married, have children or take certain career paths.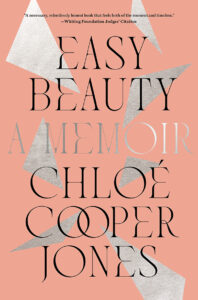 "It was very easy to write something that was directly speaking against that," Jones says. "I think I've also lived my life in resistance to that."
Long accustomed to sensing—and 
defying—judgments of her, Jones refused to consider others' opinions as she wrote her memoir. "The benefit is, I already know the negative things that people think about me," she says. "None of my mental energy goes to worrying about that in writing, because I just have to worry about that going to the grocery store."
Easy Beauty cycles in and out of the mundane and the exquisite, with moments of Jones experiencing iconic beauty of all kinds—classical art, dramatic natural 
vistas, Beyoncé's choreography—interspersed with scenes that depict the also quite beautiful reality of daily life: making breakfast for Wolfgang, teaching her
liberal arts students and talking 
with friends.
The book begins with a short, forceful scene where Jones meets two friends at 
a Brooklyn bar. Instead of a jovial 
night out, she endures the two men 
matter-of-factly discussing "whether or 
not my life is worth living," Jones writes in the book's opening line. She listens to them debate whether, given scientific advancements, it is even ethical that disabled people should exist. Jones describes this painful experience and her lack of response. Later, she finds herself feeling complicit for not having spoken up to challenge their prejudices.
For Jones, the task of writing about vulnerable parts of her own life, including motherhood, felt like a crucial push against this complicity. "All I really want to do with this book is tell a story of a very full, complex, flawed but real life," she says. "I ask people to spend enough time with me that they have to at least acknowledge that, if not fully internalize that belief."
Lauren Wein, the book's editor, finds that perspective rare and revolutionary: "There's such an intimacy to it. She interrogates herself as much as anybody else."
Easy Beauty moves from the Brooklyn bar to a trip Jones took to Italy, filled with the kind of postcard-perfect beauty you'd expect from a travel narrative: shimmering lakes, dramatic balconies, Bernini's 
exquisite marble sculptures. But throughout the chapter, Jones describes her 
physical pain, her rejection of the way 
others regard her as helpless and her thoughts on how she has been excluded from beauty by classical definitions like symmetry and proportion. "My body did not fit into any narrative of order, proportion, plan," she writes.
Wein says that when she read Jones' proposal for the memoir, she "could not believe the intensity of the intellect and the emotion." Moments of humor also provide balance, she adds—as in a scene where Wolfgang, who has already become a neighborhood celebrity, calls out the trickery of a party magician. When a fish appears in a previously empty vessel, he says wisely, "The fish was in the base of the bowl the whole time." He skewers the magician's subsequent tricks, illusions involving a lemonade glass and a crumpled newspaper.
But Jones deftly switches back to her story's emotional center. At the party, she feels bonded to her son; they are both outside the magic. She writes, "We are united, safe, apart, against the scene but together." When Jones' husband, Andrew Grossardt, '14, questions whether Wolfgang might regret this non-participation, Jones contemplates the possibility of holding parallel perspectives. Would it be possible for Wolfgang to remain critical yet still connected to the world? Is it possible 
for Jones?
The paperback edition of the memoir features Jones and her son, Wolfgang. She also recorded an audio version.
Jones grew up in Lawrence and Tonganoxie, but was born in Bangkok, Thailand, while her parents were teaching abroad. Doctors predicted her life's limitations: She would never walk. She might lose her legs. She certainly could never get pregnant. Jones writes, "My parents listened to the doctors, believed their predictions, and later I did, too."
To cope with physical pain, Jones used a technique, learned from an orthopedic surgeon, of retreating to a "neutral room," where she could break down and manage her discomfort. Eventually she began using this technique to remove herself from emotionally painful situations as well. "I made people uncomfortable and sometimes they were cruel," she writes, "but the much more common experience was that people simply felt it was hard to include me and easier to leave me on the margins."
Jones also used another strategy for coping with this societal separation: excelling in school, work and art. "If only I could pile up enough good qualities," she writes, "they could obscure my unacceptable body."
Her work ethic arose from this self-determination, and from growing up with her mom, Merrilee, a farmer, horse trainer and elementary school teacher. Jones says she never saw her mother not working. In one standout scene from Easy Beauty, Jones describes a recent family vacation to Miami Beach, where her mom scans the hotel for chores to do and speculates about the difficulty of maintaining the planks on the boardwalk. ("What a nightmare," Merrilee says in the book, counting the nails in each board and imagining the maintenance person who would have to pull them all up.)
At this point in her life, Jones explores how she shaped parts of her self-perception in response to the discrimination she encountered. Theatre was an early passion. She starred in "The Best Christmas Pageant Ever" at Liberty Hall and participated in Summer Youth Theatre at the Lawrence Arts Center.
After she moved to Eugene, Oregon, to live with her aunt during high school, Jones auditioned for "Fiddler on the Roof" at age 15. She aimed for Tzeitel, one of the lead roles, but after a blockbuster audition, she was cast as Villager No. 2. When she requested the director's feedback, he said she had given the best audition but that nobody would believe her as a romantic lead.
In some ways, his assessment was ridiculous, Jones says—"None of us were authentic to these roles! It was a 16-year-old playing Tevye!"—but it cut deeply. "That was a huge heartbreak for me," Jones says, "but what's worse is how deeply I internalized that." She returned to Kansas to finish high school and shifted from performance to writing, thinking, "I can't do anything where my body will be visible."
As a writer, Jones could explore all the intellectual and artistic pursuits that interested her, but in ways she could more reliably control. After earning a degree in writing, literature and publishing from Emerson College in Boston, she pursued her master's degree in creative writing at KU, serving as the founding editor of Beecher's, the graduate students' literary journal now called LandLocked Magazine. She went on to complete her doctorate in philosophy of language.
Jones' graduate studies also coincided with a stunning surprise: She and Andrew were expecting a child. She writes, "I'd been told my whole life I couldn't get pregnant. The brain takes the facts that it is given and from them forms reality. I believed it to be true and so it was definitively true. Until it wasn't." Some of the most intimate and moving passages of Easy Beauty detail Jones' journey with pregnancy and motherhood, as she once again evaluates the space between what she has believed about herself and what is actually possible: an expansive life.
After Jones completed her first PhD, she moved with Andrew and newborn Wolfgang to start her second PhD at the City University of New York Graduate Center in Manhattan. She taught at three, four, five universities at a time to make ends meet, and she began her journalistic career, covering such varied events as the Sundance Film Festival and the U.S. Open tennis tournament.
No matter the topic, her writing has consistently earned national praise. Jones movingly wrote about her own disability in a GQ portrait of Argentine tennis player Juan Martín del Potro, who was struggling with persistent injuries. "Although we couldn't be more physically opposite … the need to constantly manage pain is deeply embedded in both our lives. I have a chronic pain disorder, and in our time together, I've seen him wordlessly observe how my movement accommodates my physical discomfort." Her essay was selected for The Best American Sports Writing.
She also devoted a year to reporting and writing an article detailing the life, arrest and treatment of Ramsey Orta, the man who in 2014 filmed Eric Garner's death at the hands of New York City police. The profile was selected as a finalist for the Pulitzer Prize in Feature Writing.
Then came "Such Perfection," an essay in the McSweeney's-published bimonthly magazine The Believer that would form the basis for Easy Beauty. The piece combined Jones' journalistic writing, travel experience, philosophy scholarship and romantic history in a signature artistic statement that appeared in The Best American Travel Writing and received an honorable mention in The Best
American Essays.
With her memoir, Jones seeks to change perceptions by sharing her story. As she applies philosophical conceptions of beauty to her life, she considers essayist and aesthetics scholar Elaine Scarry's view that seeing the beauty in the details and contours of one single object can help us understand beauty generally. Jones offers herself as an example to observe. She even shares stories that may surprise her closest friends and loved ones. "I have a really clear objective when I'm talking about disability in a more public sense, which is to encourage others to see disabled lives as very full and possessing a tremendous amount of inherent value," she says.
"As specific as her story is, there's such a universality to how she articulates her experience," editor Lauren Wein says. After she shared Jones' proposal with her colleagues, "Everybody started coming to my office and telling me personal stories." And when The New York Times Magazine published an excerpt in April, readers expressed their heartfelt praise in online comments. "Your writing has made me feel a little bit less alone," wrote one. "Thank you for thinking these thoughts," commented another, "and assembling the language to express what for most of us is unsayable, unspeakable."
That sense of kinship and discovery emerged during Jones' national tour for Easy Beauty, as she recaptured the enjoyment she felt on stage years ago. "I had a very strong reaction," she says, "to the fact that essentially what I did for two straight months is perform."
After countless podcast interviews, Jones joined the ensemble of Pop-Up Magazine, a touring "live-action magazine" in which authors perform their work, accompanied by video, sound design and a live band. She read a new essay, "Why We Stare," in which she describes an interaction at an art museum that leads her to contemplate how people are changed when they take time to deeply regard one another.
During the performance, Jones confessed that she loathes turning the spotlight on herself. "She's sincere," says Rebecca Evanhoe, her friend and Pop-Up attendee, "but she's willing to put herself publicly in that discomfort because she learns something from it.
"And we do too."
Lorenz, c'05, is a freelance writer and editor. She also is senior director of events & audience services at the Lied Center of Kansas.