51
John Praeger, b'51, retired after more than 50 years practicing law in Seattle. He occasionally works as an arbitrator and also advises federal, state and local politicians.
Lois Walker, c'51, d'54, in July received the Albert Nelson Marquis Lifetime Achievement Award. She had a long career as an educator, visual artist and writer. Lois lives in Amityville, New York.
56
Forrest Hoglund, e'56, CEO and chairman of SeaOne Holdings and a longtime executive in the oil industry, has patented a new method of transporting gas called compressed gas liquids, or CGL. He and Sally Roney Hoglund, c'56, make their home in Dallas.
61
Franklin Barnett, m'61, was honored in July with the Albert Nelson Marquis Lifetime Achievement Award. His career as an obstetrician and gynecologist spanned more than 30 years.
62
James Patterson, PhD'62, professor emeritus at the Florida Institute of Technology, wrote Solid-State Physics: Introduction to the Theory, which was recently published in its third edition.
64
John Danenbarger, c'64, wrote Entanglement: Quantum + Otherwise, which was published in August by Stormblock Publishing. 
Franklin Theis, c'64, l'67, retired in July after 42 years as a district court judge in Topeka. He was the longest-serving judge in Shawnee County history.
66
Roy Guenther, d'66, f'68, in September celebrated his 50th anniversary as the organist and director of music at Resurrection Evangelical Lutheran Church in Arlington, Virginia, a milestone that was commemorated with a feature story in the Washington Post. Roy and Eileen Morris Guenther, c'70, f'70, professor of music at Wesley Theological Seminary, live in Vienna, Virginia.
67
Susan Kelso, g'67, g'70, PhD'80, g'88, serves on the board of directors of the Horseshoe Bay Cultural Enrichment Society in Horseshoe Bay, Texas. She is retired professor and director of theatre at McNeese State University in Lake Charles, Louisiana.
68
Sherry Hughey Wilson, d'68, lives in Lone Tree, Colorado, where she's a retired music instructor.
72
Linda Graham Bosse, d'72, a retired board certified music therapist whose career spanned over 45 years, served for decades on the Assembly of Delegates for the American Music Therapy Association. After completing her delegate service, she most recently served as parliamentarian for the Assembly. She received the AMTA Lifetime Achievement Award and Honorary Life Membership in 2017.
John Lattimer, g'72, in June retired as chief administrative officer for Marion County in Salem, Oregon.
Richard Woods, c'72, is of counsel at Kirkland Woods & Martinsen in Overland Park.
73
Mike Beiriger, j'73, recently published his seventh novel, the last in his Scenes from the Siege of Doblina series. He makes his home in Eagle, Idaho.
R.E. "Tuck" Duncan, j'73, an attorney in Topeka, recently donated to the KU Spencer Research Library papers from his service as chair of the Topeka Housing Authority. He previously donated documents from his time as a member of the Topeka Public Schools Board of Education.
74
Kay Crider, c'74, m'77, works part time as a physician at Cotton O'Neil Express Care in Topeka. She lives in Lawrence and enjoys spending time with her seven grandchildren.
Marsha Knapp Luginbuehl, c'74, is a school psychologist and president and CEO of Child Uplift, an organization that helps improve the universal sleep-screening process for children. In August she received the Albert Nelson Marquis Lifetime Achievement Award.
James Oswalt, b'74, is an attorney in Scottsdale, Arizona, where he lives with his wife, Jamie.
76
Stephen Cathey, a'76, e'76, g'77, owns TCF Services, an oilfield consulting company, in Casper, Wyoming. He recently was elected to the city council.
Ross Hollander, l'76, a partner at Joseph, Hollander & Craft, in August was named Wichita Lawyer of the Year in employment law management. He has practiced law for more than 40 years and is co-chair of the firm's civil litigation and employment law division.
Sally Sedgwick, g'76, lives in Spring Lake, Minnesota, where she's editor of Woods Reader Magazine.
77
James Barker, c'77, m'80, is professor and director of clinical skills and simulation at Sam Houston State University in Huntsville, Texas. He and his wife, Karen, live in Willis.
Mark Denison, c'77, m'80, is professor and director of the division of pediatric infectious diseases at Vanderbilt University School of Medicine in Nashville, Tennessee.
Michele Kocour, j'77, wrote Saving Lilly: Finding a Rescue Dog's Full and Purposeful Life, which was published in 2018. She lives in Scottsdale, Arizona.
78
Vicki Ensz Schmidt, p'78, in April received the KU School of Pharmacy Distinguished Service Award. She was elected Kansas Insurance Commissioner in 2018.
80
John Jackson, c'80, retired after 37 years at IBM in Austin, Texas. He returned to work at Advanced Micro Devices.
Reggie Robinson, c'80, l'87, in September was named president and CEO of the Kansas Health Foundation in Wichita. He directed the KU School of Public Affairs and Administration from 2014 to '17 and most recently served as vice chancellor for public affairs. Reggie begins his new role in December.
81
Mark Elzea, b'81, manages procurement at Jet.com. He lives in Lawrence.
Jerry Pomeroy, h'81, retired this year after nearly four decades as a physical therapist in Newton and Hesston.
82
Susan Boresow, j'82, lives in Overland Park, where she's president of TITLE Boxing Club.
83
Linda Wilson Stokes, b'83, is the business administrator at Lenexa United Methodist Church. She recently wrote Methodism in Old Town Lenexa: The History of Lenexa United Methodist Church 1869-2019. 
Bob Turner, c'83, lives in Sorrento, Florida, where he's in real estate development at Dunkin' Brands.
84
Eddie Minor, j'84, d'87, teaches physical education and is a football coach in Kansas City, Kansas, public schools.
Ronald Ragan, p'84, g'97, PhD'98, in August began his tenure as dean of the KU School of Pharmacy. He comes to the Hill from High Point University in North Carolina, where he was founding dean of the Fred Wilson School of Pharmacy.
Conrad Thomas, e'84, is a senior electrical engineer at John Deere in Fargo, North Dakota, where he makes his home with his wife, Tabitha.
Cherie Esplund Boxberger, d'85, g'87, g'11, is regional vice president of the American Heart Association in Houston. She and Randy, b'82, g'83, live in Missouri City, Texas, and have two daughters, Megan, a'13, and Erin.
Richard Chambers, l'85, lives in Wichita, where he's a wealth management consultant at Commerce Trust Company. 
Janine Woods, c'85, is CEO of the YWCA Greater Pittsburgh in Pennsylvania.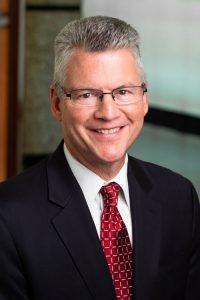 87
Douglas Anning, c'87, l'95, an attorney and shareholder at Polsinelli in Kansas City, was named to the Best Lawyers in America list.
Mark Russell, e'87, directs corporate strategy at Ingersoll Rand, an industrial manufacturing company in Davidson, North Carolina.
88
Henry Driskill, c'88, is chief technology officer at Blue Sky Studios, a computer animation film studio in Greenwich, Connecticut.
Jeff Foster, c'88, '00, is senior director of business development at Hy-Vee Arena in Kansas City.
Alison Young, j'88, an investigative reporter at USA Today, in May was appointed the Curtis B. Hurley Chair in Public Affairs Reporting for the Missouri School of Journalism.
89
Amy Derks DiNunzio, b'89, is a project manager at UBS AG in Weehawken, New Jersey. She and her husband, Steven, live in Berkeley Heights.
Christopher Halsne, j'89, is the inaugural investigative broadcaster in residence at American University School of Communication in Washington, D.C. 
Kraig Kohring, c'89, l'92, was named to the Best Lawyers of America list. He's an attorney and shareholder at Polsinelli in Kansas City.
90
Laura Anderson, g'90, is assistant professor of art at Lincoln Land Community College in Springfield, Illinois. She recently exhibited several mixed-media paintings in the college's James S. Murray Gallery.
Jack Del Rio, c'90, the former Jacksonville Jaguars and Oakland Raiders head coach, is an NFL analyst at ESPN. His career in the league as a player and coach has spanned more than three decades.
Carol Kruse, c'90, works in quality and food safety at DuPont. She lives in Olathe.
91
Donna Lowen, '91, lives in Huntsville, Alabama, where she works at McGriff Insurance Services.
James Obermaier, j'91, directs tax liability management for the Indiana Department of Revenue. He and Sally Perkins,g'88, PhD'91, make their home in Indianapolis and have two children.
92
Sal Intagliata, c'92, l'95, a shareholder at Monnat & Spurrier in Wichita, made the Best Lawyers of America list in the practice areas of criminal defense and white-collar and DUI/DWI defense. He has been honored by the publication for five consecutive years. 
Gary Komar, c'92, is vice president of residential lending at Draper and Kramer Mortgage Corp. in Chicago.
Mike Maddox, b'92, l'94, in August was inducted in the Putnam City Athletic Hall of Fame in Oklahoma City. He led his high school basketball team to the state championship in 1987 and went on to play for the Jayhawks. Mike lives in Overland Park, where he's president and CEO at CrossFirst Bank.
Preston Rook, d'92, is a funeral director and owns Neill-Schwensen-Rook Funeral Home in Clay Center.
93
Jeff Cage, j'93, is regional senior vice president of programming at iHeartMedia in St. Louis and Des Moines.
Mary Jo Middleton, m'93, is a physiatrist at Cameron Regional Medical Center in Cameron, Missouri.
94
Donna Flemming Ewy, m'94, is a physician at Ascension Medical Group in Wichita.
Serena Klausner, c'94, lives in Shawnee, where she works for the Internal Revenue Service in account management ID theft.
Morgan Littell, j'94, is vice president of business aviation at Equity Bank in Wichita.
95
Josh Denlow, c'95, leads the Denlow Team at Draper and Kramer Mortgage Corp. in Downers Grove, Illinois. He and his wife, Jess, live in Evanston.
William Forsythe, b'95, directs community banking at Saints Avenue Bank in St. Charles, Missouri, where he makes his home with his wife, Colleen.
Susan Hickman, g'95, PhD'98, directs the Indiana University Center for Aging Research at the Regenstrief Institute. She's also a professor of nursing and medicine.
Joe Hornback, d'95, g'97, g'01, EdD'13, is principal of Prairie View High School in La Cygne. He and Melissa, g'00, live in Shawnee.
96
Lowell Buffington, b'96, is an accountant at KU.
Lynn Fisher, c'96, m'01, lives in Wichita, where he's a physician at the KU School of Medicine-Wichita.
Joseph Nyre, g'96, PhD'00, is president of Seton Hall University in South Orange, New Jersey. He and Kelli McIntyre Nyre, '94, have four children.
Sheahon Zenger, PhD'96, is director of athletics and recreation at the University of New Haven in West Haven, Connecticut. He directed athletics at KU from 2011 to 2018.
97
Robert Babst, e'97, lives in Wichita, where he's president of Metal Finishing Company.
Alex Drude, j'97, is a sports reporter at KGO-TV in San Francisco.
98
Krista Engelmann Dorgan, c'98, PharmD'02, is an information technology pharmacist at Northwestern Medicine Healthcare. She makes her home in Chicago with her husband, Chris, and their two children, Mackenzie and Charlie.
Brian Sieman, j'98, is the play-by-play TV broadcaster for the Los Angeles Clippers professional basketball team. He's been with the organization since 2007.
99
Sandra Rogers Barnes, PhD'99, lives in Natchez, Mississippi, where she's vice president of Copiah-Lincoln Community College.
Molly Westering Hunter, b'99, l'02, is an attorney and partner at Gates Westering in Kansas City. 
Bill Perkins, g'99, is senior manager of technical quality operations at AT&T in Litchfield Park, Arizona.
00
Michael Angeletti, c'00, is an audiovisual media preservationist at Stanford University. He lives in Palo Alto, California.
John Gates, l'00, practices law in Kansas City, where he's partner at Gates Westering.
Tracey Flexter George, l'00, lives in Fairway, where she and her husband, Brett, are partners at Davis George Mook law firm.
Preston James, g'00, l'00, is executive director and founder of the Other Side of Sports. He also directs the sports management program at LaGrange College in LaGrange, Georgia.
Christopher Joseph, l'00, a partner at Joseph, Hollander & Craft law firm, was named Topeka Lawyer of the Year in criminal defense by Best Lawyers in America.
Irina Chuykova Rodriguez, g'00, wrote My Soviet Youth: A Memoir of Ukrainian Life in the Final Years of Communism, which was published in September by McFarland. She lives in Rockwall, Texas, with Robert, g'96, PhD'06, assistant professor of political science at Texas A&M University-Commerce.
Brett Standard, b'00, is president of R.M. Standard Construction in Leawood.
Nathan Webb, l'00, is a patent and intellectual property attorney and partner at Hahn, Loeser & Parks in Cleveland. He and Sanna Harjusola-Webb, c'99, g'04, PhD'07, associate professor of special education at Kent State University, live in Hudson, Ohio.
01
Bimal Kadakia, c'01, is an implementation consultant at WellSky in Overland Park. He and his wife, Urvi, live in Lenexa.
Kelly Kearns Roth, d'01, g'02, is a TPA data operations analyst at Benefit Harbor Insurance Services in Olathe.
BORN TO:
Matthew Franzenburg, c'01, l'08, and his wife, Kelli, son, Braden, May 31 in Lenexa. Matthew is a deputy disciplinary administrator for the state of Kansas.
02
Timothy Burger, c'02, g'06, is a senior analyst on the small-cap team at Scout Investments in Kansas City.
Casey Jones, c'02, lives in Minneapolis, where he's a creative professional.
Stephanie Mendenhall Perry, l'02, is president of Stubbeman, McRae, Sealy, Laughlin & Browder in Midland, Texas. She's the first woman to lead the law firm in its 83-year history.
Patrick Pugh, b'02, l'05, is a judge on the 17th District Court in Colorado. He's also of counsel at Ballard Spahr in Denver. 
Jared Rider, b'02, is a multiple-sclerosis strategic account manager at Novartis Pharmaceuticals. In February he received the company's first Values in Action Award for excellent performance.
Peter Schifferle, PhD'02, in August was appointed General J. Lawton Collins Chair of Military Studies at the School of Advanced Military Studies in Fort Leavenworth. He's been a faculty member at the school since 1997.
David Waters, l'02, a real estate attorney and partner at Lathrop & Gage in Kansas City, was named one of 2019's "50 Kansans You Should Know" by Ingram's Magazine.
03
Aidan Dunleavy, b'03, c'03, directs institutional research and accreditation at Friends University in Wichita.
Donald Franklin, g'03, lives in San Francisco, where he's founder and managing principal at Cleantech Environmental.
Susan Shumaker Klusmeier, g'03, is interim vice provost for undergraduate studies at KU.
Shane McCall, c'03, g'05, l'10, is senior associate attorney at Koprince Law in Lawrence. He's also editor of SmallGovCon.com, the firm's federal government contracting blog.
Melissa Stamer Peterson, c'03, g'06, PhD'10, a lecturer at the Applied English Center at KU, was selected to participate in the 2019 Research Sprints, a KU Libraries initiative that allows faculty and staff to collaborate with a team of librarians on a research or instruction project. 
Brian Reynolds, n'03, '08, lives in Kenosha, Wisconsin, where he's a registered nurse at Ascension Columbia-St.Mary's Hospital Milwaukee.
Mark Simpson, c'03, l'08, in July was appointed judge of Douglas County District Court by Gov. Laura Kelly. He's been a senior assistant district attorney for the past 11 years.
Jamie Hays Szelc, d'03, is associate athletics director for development at Kansas Athletics. She comes to KU from Colorado State University.
Sarah Scott Warner, c'03, is a judge on the Kansas Court of Appeals. She lives in Lenexa.
04
Kyle Binns, b'04, l'07, a member at Lewis Rice in Kansas City, specializes in real estate development. He has a daughter, Abigail, who just turned 1.
Aditya Burman, c'04, serves on the board of directors of Dabur India, his family's consumer-goods company.
Micala Gingrich-Gaylord, '04, coordinates projects at EmberHope Youthville, an organization that provides services for at-risk children and teens in Newton.
Erik Hiemstra, g'04, is vice president of exploration at Birch Resources in Houston. He and Christina Pulliam Hiemstra, c'01, g'03, live in Cypress, Texas. 
Benaud Shirley, c'04, is head coach of track and field and cross-country at the University of Missouri-Kansas City. He lives in Basehor with his wife, Carmen, and has four daughters.
05
Suzanne Adlof, g'05, PhD'10, is an associate professor of communication sciences and disorders in the Arnold School of Public Health at the University of South Carolina. In July she received the Presidential Early Career Award for Scientists and Engineers, the highest honor bestowed to outstanding scientists and engineers beginning their research careers.
Scott Aligo, d'05, directs player personnel for the University of Akron football program in Akron, Ohio.
Jonathan Cline, c'05, g'09, l'09, makes his home in Houston, where he's senior corporate counsel at Hines.
Tom Dang, c'05, is a meteorologist at the National Weather Service in Spokane, Washington.
Mark Ernst, e'05, is a senior estimator at Schuff Steel in Mission.
Andrew Ledbetter, c'05, PhD'07, a professor and researcher at the Bob Schieffer College of Communication at Texas Christian University in Fort Worth, Texas, received the Friend of Distinction Award in August from Pi Beta Phi. For the past 10 years he has helped the sorority create strategic plans.
Casey Meek, c'05, l'09, is an attorney at Joseph, Hollander & Craft in Lawrence. He was recognized by Best Lawyers in America in the area of criminal defense.
Aaron Miles, c'05, '16, is a player development coach for the Golden State Warriors professional basketball team. The former point guard, who led the Jayhawks to the Final Four as a freshman, previously was head coach of the G League Santa Cruz Warriors.
Katie Moore, c'05, is a reporter and covers crime and justice issues at the Kansas City Star.
Trevor Riddle, l'05, a shareholder at Monnat & Spurrier in Wichita, earned his third consecutive listing in Best Lawyers in America in the area of criminal defense.
Ivo Voynov, b'05, is executive director of corporate client banking at JPMorgan Chase & Company in New York City.
06
Mary McLamore Boyle, c'06, is a real estate agent at Berkshire Hathaway HomeServices American Homes in Downers Grove, Illinois.
Jeremy Huls, c'06, is a U.S. Navy staff officer in Yorktown, Virginia, where he lives with his wife, Cheyanne, assoc., a Navy nurse.
Susan Gianaris Lunt, b'06, is vice president of relationship management at Wintrust Commercial Banking in Chicago.
Sara Jensen Weber, d'06, s'10, is a bereavement coordinator at CHI Health at Home. She lives in Lincoln, Nebraska, and has two children, Kaylynn and Ben.
Matt Westering, b'06, l'08, is an attorney at Seyferth Blumenthal & Harris in Kansas City. He specializes in employment litigation and counseling.
07
Adam Davis, b'07, lives in Playa del Rey, California, where he works in business development at ENGIE Services.
Emily Hampton, c'07, g'17, is a grants associate at Assel Grant Services in Lee's Summit, Missouri.
Evan Hengel, b'07, managing director at Berkeley Research Group in Emeryville, California, is chairman of the board of directors of Cherokee Global Brands. 
Tiffany Hogan, PhD'07, directs the Speech and Language (SAiL) Literacy Lab and is professor of communication sciences and disorders at MGH Institute of Health Professions in Boston. She recently was named a fellow of the American Speech-Language-Hearing Association.
Amanda McQuin Kluener, b'07, is a tax senior manager at Deloitte in Cincinnati.
Danica Moore, d'07, g'13, lives in Lawrence, where she's the equity facilitator for Lawrence Public Schools.
Peter Montecuollo, g'07, l'14, is an attorney at Shook, Hardy & Bacon in Kansas City.
Joe Vaughn, c'07, is head football coach at Bishop McLaughlin Catholic High School in Spring Hill, Florida. The former KU offensive lineman spent the past seven seasons as assistant strength and conditioning coach for the Tampa Bay Buccaneers.
Whitney Mathews Yadrich, j'07, a senior project manager at Intouch Solutions, recently was a contestant in a limerick contest on NPR's "Wait Wait … Don't Tell Me!"
BORN TO: 
Brian McTaggart, c'07, and his wife, Kari, son, Graeme, Aug. 27 in Chicago, where Brian is a surety account executive at Aon.
08
Andrew Baker, j'08, is a senior communications specialist at Kansas City Power & Light.
Heather Mady Brittingham, f'08, a veterinary technician at the Oregon Zoo, participated last summer in Miami University's Earth Expeditions global field course in Namibia.
Monica Gerrek, PhD'08, assistant professor of bioethics at Case Western Reserve University School of Medicine in Cleveland, received the 2019 J. Bruce Jackson MD Award for Excellence in Undergraduate Mentoring. She also co-directs the university's Center for Biomedical Ethics and the Institute of Burn Ethics at the MetroHealth System.
Megan Lewis Patterson, c'08, j'08, manages investor relations at ONEOK in Tulsa, Oklahoma.
Drew Waldron, b'08, co-founder of Canvas Wealth Advisors, in August was elected to a three-year term on the board of directors for the Society of Financial Service Professionals. He lives in Overland Park.
Rick Wiedemann, g'08, is president at Tuthill Transfer Systems in Fort Wayne, Indiana. He's been with the company since 2015.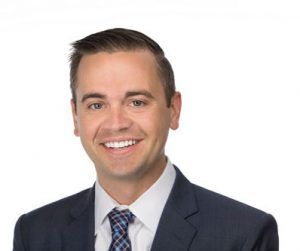 09
Blair Barr, c'09, manages business development at Scavuzzo's Foodservice in Kansas City.
Stacey Kyndesen Blakeman, l'09, directs career services at KU School of Law. She lives in Lawrence.
The Rev. Gary Green, c'09, is assistant professor of pastoral theology and social transformation at United Theological Seminary of the Twin Cities in St. Paul, Minnesota.
Mila Ju, m'09, lives in Allentown, Pennsylvania, where she's a vascular surgeon at Lehigh Valley Health Network.
Julie Larson, l'09, is supervising attorney for the Migrant Farmworkers Project and Anti-Human Trafficking Project at Legal Aid of Western Missouri in Kansas City.
Aude Negrete, c'09, '10, is executive director of the Kansas Hispanic and Latino American Affairs Commission in Topeka.
Jacob Schirmer, c'09, lives in New York City, where he's a real estate agent at Folk Realty.
Josh Schoenfelder, b'09, was promoted to vice president at Arbor Investments in Chicago.
Joseph Schremmer, c'09, j'09, g'13, l'13, is assistant professor and Judge Leon Karelitz Chair in Oil and Gas Law at the University of New Mexico School of Law. He makes his home in Albuquerque.
Matt Tornow, c'09, is general manager of Graymere Country Club in Columbia, Tennessee, where he lives with Nicole Madril Tornow, '07, who works remotely as a multi-line producer for an insurance agency in Lawrence.
Kristen Conway Wank, j'09, sells medical devices for Smith+Nephew in Lenexa.
10
Annie Frizzell Mills, c'10, is assistant director of undergraduate admissions at DePaul University in Chicago.
Brady Morningstar, c'10, is assistant men's basketball coach at Kansas City Kansas Community College. He was a guard at KU from 2006 to 2011.
BORN TO:
Brandon, b'10, m'14, and Lauren Spurgeon Pope, d'10, '11, son, Sterling, April 6 in Aurora, Colorado, where he joins a sister, Adelaide, 3.
11
Hilary Cook-Borg, a'11, c'12, is a graphic designer at KU. She commutes from Kansas City.
Meghan Macfadden, c'11, lives in Chicago, where she's a talent acquisition recruiter at Hill-Rom.
Matthew Petty, e'11, is starship product lead at SpaceX. He makes his home in Hermosa Beach, California.
Louis Rockford, b'11, is assistant director of residential education at the University of South Florida in Tampa.
Thomas Wall, g'11, is an architect and owns Mitchell Wall Architecture & Design in St. Louis.
Caitlin Wise, b'11, makes her home in Washington, D.C., where she's associate director of special events at American University.
MARRIED
Mason Heilman, c'11, d'11, to Charles Brown IV, Sept. 28 in Boston, where they make their home. Mason is a legislative aide in the Massachusetts General Court.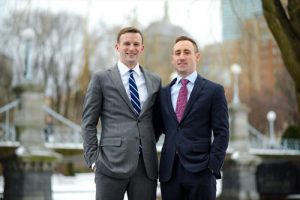 12
Rachel Bunner, c'12, g'16, lives in Arlington, Virginia, where she's a senior accountant at Evolent Health.
Andrew Fillmore, j'12, coordinates email and digital marketing at Movember Foundation in Culver City, California.
Mike Lavieri, j'12, is a senior public relations account executive at Proventus Consulting in Kansas City.
Nicole Lawson, c'12, l'16, is an attorney in the King County Prosecuting Attorney's Office in Seattle, where she and Adam Brazil, c'07, PhD'19, make their home.
Francis Park, PhD'12, is a military historian at the Joint History Office at the Pentagon. He previously served as strategy division chief for the Joint Staff J-5 Directorate, where he was the principal author of the 2018 national military strategy and oversaw two revisions of the unified command plan.
Aubrey Rutledge, b'12, g'12, lives in Kansas City, where she's a senior process analyst of risk and controls at Target.
13
Philip Bennett, g'13, is a commercial project and strategies analyst at Commerce Bank. He lives in Overland Park.
John Coler, b'13, is a product owner at RFP360, a software company in Kansas City.
Bryan Erickson, c'13, is a geographic information systems specialist at East View Geopatial in Hopkins, Minnesota.
Alex Gold, j'13, hosts "The Gold Standard," a national sports talk show on SB Nation Radio. He lives in Houston.
Matthew Gorney, g'13, l'13, an associate attorney at Monnat & Spurrier in Wichita, was honored last year by Missouri and Kansas Super Lawyers.
Nicholas Jacobson, c'13, manages accounts at Life Time Athletic. He lives in Osseo, Minnesota.
Brian Long, c'13, is a graduate teaching assistant at the University of Oklahoma in Norman.
Tyler Rockers, d'13, is vice president of University National Bank in Lawrence.
Ryan Westhoff, m'13, is a palliative care physician at Centura Health in Lakewood, Colorado.
MARRIED
Ashley Dillon, l'13, and Kevin Wempe, l'14, May 3 in Sebastopol, California. They make their home in Kansas City.
14
Jean-Philip Darche, m'14, is a team doctor for the Kansas City Chiefs. He played nine seasons in the NFL, with the Seattle Seahawks and the Chiefs.
Craig Jackson, g'14, is senior director of development at the University of California Davis College of Engineering. He lives in Sacramento.
Jaehun Kim, c'14, who's also known as DJ Seoul Real, is a music producer and professional DJ in the Kansas City area. 
Brandon Kuzara, b'14, directs customer engagement at Service Management Group in Kansas City.
Samuel Mills, e'14, is assistant director of additive manufacturing for the department of mechanical engineering at the University of Colorado in Denver.
Nikki Wentling, j'14, was promoted to national reporter at Stars and Stripes in Washington, D.C.
15
Erin Christiansen, c'15, was awarded a Fulbright English Teaching Assistantship for Germany.
Laura Fagen, c'15, j'15, g'18, manages digital communications at Land Trust Alliance in Washington, D.C.
Amanda Floerchinger, g'15, is associate manager of scientific insights at Hill's Pet Nutrition in Topeka. She commutes from Lawrence.
Ryan Johnson, c'15, manages creative services for the Radisson Hotel Group. He and his wife, Callissa, live in Minneapolis, Minnesota.
Steven Rowe, l'15, is assistant county counselor of Jackson County in Kansas City.
Jennifer Salva, c'15, j'15, a student at Washburn University School of Law in Topeka, was named a 2018 Law School Student of the Year by National Jurist magazine.
Usman Wajid, b'15, is an application consultant at Command Alkon. He lives in Leawood.
16
Billy Barnes, d'16, manages entertainment and live event operations for the San Francisco 49ers.
Kaitlyn Brown, h'16, g'18, is a clinical assistant professor of health information management at KU Medical Center.
Karen Park, j'16, makes her home in Marietta, Georgia, where she directs communications and marketing at the Walker School.
17
Gage Brock, j'17, lives in Overland Park, where he's an account analyst at Service Management Group.
Daniel Garcia, c'17, manages projects at BitBranding, a marketing agency in Allen, Texas. 
Maddy Mikinski, c'17, j'17, is a freelance writer and editor in Linwood.
Kathleen Powers, j'17, is a research associate at Vote Smart in Ames, Iowa.
Michael Riedl, c'17, lives in Winston Salem, North Carolina, where he's a business analyst at Oak Service Corporation.
Dylan Sherwood, j'17, is a sports reporter at the Salina Journal.
Alison Peterson Tyler, j'17, was promoted to marketing automation specialist at Red Robin. She makes her home in Denver.
18
Nicholas Bjornson, l'18, lives in Omaha, where he's an associate attorney at Koley Jessen.
Jessica Cooney, d'18, is an AmeriCorps member at Just Food in Lawrence.
Mariah Crystal, g'18, g'19, a doctoral student in women, gender and sexuality studies at KU, received a Fulbright Award and will spend the 2019-'20 academic year in Namibia.
Adam Henn, PharmD'18, is a pharmacist at Froedtert Hospital in Milwaukee, where he makes his home with Katherine Weaver Henn, PharmD'16.
Melissa Minear, j'18, lives in Bloomington, Indiana, where she's a staff photographer at the University of Indiana.
Lauren Muth, a'18, is founder and brand strategist at Ryse Avenue. She lives in Roeland Park.
19
Brian Ammon, g'19, is head of finance at Alcon Inc. He lives in Gümligen, Switzerland.
Kayleigh Anderson, c'19, was one of seven Jayhawks this year to receive a Fulbright Award. She will work with the gender studies graduate program at the University of Turku in Finland.
Corey Brown, g'19, is vice president of Burger & Brown Engineering in Grandview, Missouri.
Josh Carpenter, AUD'19, lives in Wichita, where he's an audiologist at Ascension Via Christi.
Sabrina Castillo, b'19, is assistant director of Partners Dance Studio in Columbus, Wisconsin.
Nathan Freehling, c'19, manages technical projects at Arcadia Solutions in Burlington, Massachusetts.
Mitch George, j'19, is a football communications intern for the Cincinnati Bengals.
Sarah Heitmeyer, d'19, teaches third grade in the Shawnee Mission School District. She lives in Kansas City.
Ashley Hirt, PhD'19, teaches Music in the Humanities at Eastern Washington University in Cheney, Washington.
Jameson Huckaba, '19, lives in Lenexa, where he works in product and business development at Digital Aerolus.
Muhammad Khan, g'19, is an engineer in Merriam.
Lara Korte, c'19, j'19, lives in Austin, Texas, where she's the higher education reporter at the Austin American-Statesman.
Tiffany Lammon, c'19, is an office manager at the Hearing Group in Wichita.
Meghan McNamee, c'19, received a Fulbright English Teaching Assistantship for Germany.
Melinda Narro, g'19, is a McDermott Intern at the Dallas Museum of Art.
Bridget Rennard, c'19, is in Spain for the 2019-'20 academic year, where she's teaching English on a Fulbright Teaching Assistantship.
Ryan Reuwer, b'19, is an advisory consultant at Ernst & Young in New York City.
Jacob Roemer, c'19, lives in Denver, where he's a financial representative at Northwestern Mutual.
Laura Searcy, g'19, received a Fulbright English Teaching Assistantship for Uzbekistan.
Charlie Sides, j'19, is a video operations intern for the San Fransisco 49ers.
Eric Snyder, PharmD'19, is a pharmacist at Rite Aid in Ashland, Oregon.
Elizabeth Spooner, c'19, j'19, is a recruiter at the Avitus Group in Denver.
Wesley Williams, l'19, lives in Arlington, Virginia, where he's a policy adviser for the Republican Governors Public Policy Committee.
ASSOCIATES
Jim Peters, assoc., retired in September after serving as director of the Osher Institute of Lifelong Learning at KU for nearly eight years. He began working for KU Professional and Continuing Education in 2005.