56
Michael Getto, '56, is a destination ambassador for Marriott Hotel & Spa in Newport Beach, California. He makes his home in Aliso Viejo.
58
Alan Craven, c'58, g'63, PhD'65, wrote Till We Have Built Jerusalem, which was published in April by Sunbury Press. He lives in San Antonio.
60
Don Culp, j'60, l'65, retired after 53 years practicing law. He and Judy Smith Culp, d'69, live in Overland Park.
63
Roy Pointer, c'63, lives in Bloomsburg, Pennsylvania, where he retired as professor at Bloomsburg University.
64
C. Ellis Potter, c'64, was honored in May as a distinguished alumnus and guest speaker at Neosho County Community College's commencement. He is a retired optometrist in Iola.
67
Daniel Leonard, d'67, retired from teaching in 2002 and is now president of Wallowa Lake Lodge in Joseph, Oregon, and a member of the board of managers. The historic lodge, which celebrates its 100th year in 2023, has been recognized as one of 25 Great Lodges of the National Parks.
Cynthia Hardin Milligan, c'67, is president and CEO of the Wood Stieper Capital Group in Lincoln, Nebraska, and dean emeritus of the College of Business at the University of Nebraska-Lincoln. She was inducted in the KU Women's Hall of Fame in April.
Randy Signor, d'67, lives in Seattle, where he is a writer, editor and teacher. His novel, Osawatomie, was published in 2017.
68
Blake Biles, c'68, l'75, lives in Washington, D.C., and is an active retired partner at Arnold & Porter law firm. He recently received the D.C. Bar and D.C. Attorney General's Award for Lifetime Pro Bono Achievement.
Linda Werkley Duncombe, f'68, received the Dudley Allen Sargent Service Award from Boston University, where she taught occupational therapy for 45 years. She lives in West Newton, Massachusetts, with her husband of 44 years, Chris, and has three children and seven grandchildren.
Ward Russell, f'68, and his wife, MaryCay, assoc., own Ward Russell Gallery of Photography, which is celebrating its 10th year in Santa Fe, New Mexico. In 2014 Ward received the Lifetime Achievement Award from the KU department of film and media studies.
69
Jacqulyn Andrews Ashcroft, d'69, '97, is a retired teacher and lives in Hutchinson with Stephen, p'69.
Carol Hughes Savage, g'69, PhD'73, founded Brookridge Day School, a private school in Overland Park for children in preschool through third grade. The school celebrates its 52nd anniversary this year.
Tom Wilson, d'69, postponed his retirement and took a position as industry lead for oil and gas at Appian Corp., a software company that was co-founded by his son, Marc. Tom is a longtime business consultant to energy, oil and gas clients and lives in Lake Worth, Florida, with his wife of 47 years, Brenda.
Ronald Yates, j'69, is an award-winning author of historical fiction and action/adventure novels, including The Lost Years of Billy Battles, the final installment in his Billy Battles trilogy, which won Best Book of the Year from Chanticleer International Book Awards. The trilogy tells the story of the life of a Kansas man from 1860 to 1960.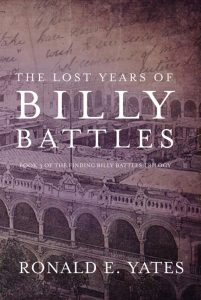 70
Anne Ayers, c'70, president of Appalachian Love Arts and an estate administrator, was named to Marquis Who's Who. She lives in Martinsburg, West Virginia.
Dan Crook, p'70, retired after nearly 50 years as a hospital pharmacist. He and his wife, Catherine, make their home in El Dorado, where Dan worked at Susan B. Allen Memorial Hospital for almost 19 years.
Richard "Dick" Fortier, d'70, and his twin brother, Bob, d'70, in May were inducted in the Bemidji High School Hall of Fame in Bemidji, Minnesota. They played football for the Jayhawks in the late '60s.
Linda Miller, d'70, received the National Society Daughters of the American Revolution Women in American History Award in March. She makes her home in Henderson, Nevada.
71
Robert Craig II, f'71, retired as director of purchasing at Auto-Chlor System. He lives in Germantown, Tennessee.
David Grose, e'71, g'75, g'79, lives in Poulsbo, Washington, where he's a retired technical fellow for the Boeing Company.
72
Linda Graham Bosse, d'72, a retired certified music therapist whose career spanned nearly 45 years, serves on the Assembly of Delegates for the American Music Therapy Association. She received the AMTA Lifetime Achievement Award in 2017.
David Davis, e'72, retired from civil service as a senior engineer. He lives in Leavenworth.
Linda Legg, d'72, l'75, is retired senior vice president and general counsel at AT&T. In April she received the KU School of Law Distinguished Alumni Award.
Mike Vrabac, j'72, in May received the William Booth Award, one of the highest honors bestowed by the Salvation Army, at the organization's 10th-annual civic luncheon. He has volunteered for the Salvation Army for several years and is an advisory board member in Kansas City. Mike used his experience in broadcasting, sales and marketing to lead the development of the organization's annual "Rock the Red Kettle" event in the Power & Light District in Kansas City.
73
Manuel Berman, b'73, makes his home in Portland, Oregon, where he's a retired hospital administrator.
Dennis Cooley, c'73, m'77, a longtime physician at Pediatric Associates of Topeka, serves on the board of directors of the American Academy of Pediatrics and recently was elected chair of District VI.
Susan Roush Corea, d'73, lives in Madison, New Jersey, where she's a retired kindergarten teacher.
Gary Flory, l'73, retired from Bethel College in North Newton as director emeritus of the Kansas Institute for Peace and Conflict Resolution. He and Ann Sollenberger Flory, g'72, a retired librarian, live in McPherson.
Colette Kocour, c'73, is a human resources consultant in Wellington.
Marv Nuss, e'73, in May received the Distinguished Engineering Service Award from the KU School of Engineering. He had a long career in airspace safety and worked at McDonnell Aircraft Corp. and the Federal Aviation Administration before founding a consulting firm, NuSS Sustainment Solutions. He and Hazel Best Nuss, c'74, make their home in Shawnee.
Dave Ross, e'73, g'75, '01, president and owner of David E. Ross Construction in Kansas City, was honored in May with KU's Distinguished Engineering Service Award. He and his wife, Patty, live in Leawood.
74
Steven Averbuch, p'74, owns S D Averbuch Consulting in Princeton, New Jersey.
Paulette Pippert Cott, j'74, retired as a United Methodist pastor. She and Greg, b'73, recently moved from Illinois to Afton, Oklahoma.
75
Stephen Pollart, b'75, is president of Strategic Partners Insurance Agency in Fort Lauderdale, Florida. He and his wife, Leslie, live in Pompano Beach.
Jeff Southard, c'75, l'78, is retired from the practice of law and lives in Lawrence. He recently published his first book, Year of the Dolphin, a historical novel set in Constantinople in 1014.
76
Mark Bennett, b'76, l'80, was appointed independent director of Legacy Housing Corp. He makes his home in Dallas.
Elizabeth Shafernich Coulson, d'76, received the Albert Nelson Marquis Lifetime Achievement Award. She was a member of the Illinois House of Representatives from 1997 to 2011 and is currently vice chair of the board of directors at Rosalind Franklin University School of Health Sciences in Chicago.
Cathy Riffey Dauner, d'76, lives in Mankato, where she's a retired teacher.
Michael Lynn, j'76, is a financial analyst at CenturyLink in Littleton, Colorado, where he lives with his wife, Amy.
Rachel Lipman Reiber, j'76, l'84, is an attorney at Reiber Law Office in Olathe.
James Seward, g'76, g'83, is a chartered financial analyst and private investor in Prairie Village.
Thomas Weishaar, g'76, received his doctorate in health education in May from Teachers College, Columbia University, in New York City.
77
Bill French, j'77, was recently elected the 71st president of the Tulsa Men's Club, an organization formed in 1949 to promote fellowship and provide entertainment and recreation for its members.
Denise Miller Lydick, c'77, h'77, is a medical laboratory scientist at the University of Kansas Health System. She lives in Overland Park and has three children, Geoffrey, c'06, Kathryn Lydick Bishop, d'09, and Anna Lydick Nelson, e'12, m'18.
78
Kathy Rose-Mockry, d'78, g'85, PhD'15, retired in June after serving as director of the Emily Taylor Resource Center for Women & Gender Equity for 20 years. She established the University's first sexual assault response policy in 2001, and in 2004 she created the KU Women of Distinction calendar. Kathy was inducted in the KU Women's Hall of Fame in 2011.
79
Christopher Lynch, b'79, serves on the board of directors for Tenet Healthcare Corp. He worked at KPMG for nearly 30 years, retiring in 2007 as head of the financial services division.
Ethan Saliba, h'79, associate athletic director and head athletic trainer for men's basketball at the University of Virginia, was honored in May as the 2019 Parsons High School Distinguished Alumnus. He lives in Charlottesville.
80
Laura Ice, d'80, was promoted in June to vice president and general counsel of Textron Financial Corp. She lives in Wichita and is a past president of the Wichita Bar Association.
Jeffery Mason, c'80, l'83, lives in Goodland, where he's president of Sherman County Abstract Co.
Reggie Robinson, c'80, l'87, vice chancellor for public affairs at KU, was appointed facilitator for the Kansas Criminal Justice Reform Commission by Gov. Laura Kelly.
81
Cynda Stolte Johnson, m'81, retired founding dean of the Virginia Tech Carilion School of Medicine, was honored in April with emerita status. She continues to make her home in Roanoke, Virginia.
82
Dereck Rovaris, c'82, vice provost for diversity at Louisiana State University in Baton Rouge, in May was named president of the American Association of Blacks in Higher Education.
83
Sherry Baugh-Asmann, h'83, g'04, works at Bardavon Health Innovations in Overland Park, where she's a provider-quality adviser.
Carlos Blacklock, e'83, g'84, is a principal engineering specialist at Bombardier Aerospace in Wichita.
Jimmie Felt, c'83, retired from Spirit AeroSystems in Wichita, where he makes his home.
Wayne Feuerborn, a'83, a'84, g'87, lives in Los Angeles, where he's senior vice president at HNTB.
Nancy Ice Schlup, d'83, retired from the Newton School District after teaching special-needs children for 34 years. She lives in Newton with her husband, Ken, and is active in her community.
Bryan Steiner, c'83, is a technical recruiter at Yoh Staffing Services in Overland Park.
Francis Wardle, PhD'83, wrote Oh Boy! Strategies for Teaching Boys in Early Childhood, which was recently published by Exchange Press. He lives in Denver.
Andrea Warren, g'83, a freelance writer in Prairie Village, was recently featured in Publisher's Weekly discussing her newest nonfiction book for young readers, Enemy Child: The Story of Norman Mineta, a Boy Imprisoned in a Japanese American Internment Camp During World War II. The book, which was published in April, is a Junior Literary Guild selection.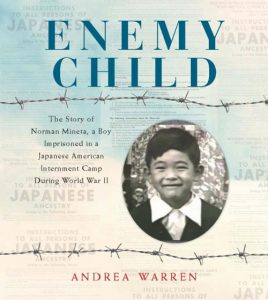 84
Regina Goodwin, f'84, who serves as a state representative in Tulsa, Oklahoma, received the 2019 Guardian Award from the Oklahoma Commission on the Status of Women. She's also an artist and creates greeting cards and conducts animation workshops.
Kurt Morgenstern, c'84, g'88, is a biochemist and proteomic mass spectroscopist at Arrakis Therapeutics. He and Carolyn Johnson Morgenstern, c'86, make their home in Derry, New Hampshire.
Jeanny Jackson Sharp, j'84, directs communications for the Kansas Department of Transportation. She lives in Topeka.
85
Tammy Thomas Ammons, c'85, a two-time NCAA swimming champion and 17-time All-American at KU, will be inducted in the Kansas Sports Hall of Fame in October.
John Colombo, '85, who directs KU's Life Span Institute, was appointed interim dean of the College of Liberal Arts and Sciences. He began his one-year term in July.
Linda McAlister Knewtson, c'85, is a social worker at the Menninger Clinic in Houston.
86
Barbara Elyce Cox Arons, '86, lives in New York City, where she's CEO of Frances Valentine, an apparel, shoe and handbag company she co-founded with the late Kate Broshnahan Spade, '86.
Barbara Breier, PhD'86, vice president for university advancement at Texas State University and executive director of the Texas State University Development Foundation, in April received a 2019 CASE Commonfund Institutionally Related Foundation Award for her philanthropic contributions.
Kenneth Dawson, e'86, g'88, is principal flutter engineer at the Spaceship Company. He makes his home in Caliente, California.
Keith Hertling, g'86, senior vice president of leadership, coaching and culture at Jersey Mike's Subs, published his first book, Life Lessons on Leadership, Coaching and Culture. He lives in Point Pleasant Beach, New Jersey.
Tracey O'Keefe Hopper, b'86, is chief operating officer at Tria Health in Overland Park.
Timothy Klaas, a'86, lives in St. Louis, where he's a project architect at Cohen Hilberry Architects.
David Poisner, e'86, recently received his 100th granted U.S. patent. After 30 years at Intel Corp. and a few years as an independent consultant, he now directs engineering at Certus Critical Care, a medical device company in Sacramento, California.
Dennis Sandstedt, c'86, is vice president of open innovation at Danaher Corporation in Washington, D.C.
87
Paul Burmaster, j'87, l'90, in July was appointed to the 10th Judicial District in Johnson County. He has been an attorney in the Kansas City area for 25 years.
Jerri Compton Carroll, '87, is a CT technologist at the University of Kansas Health System. She lives in Lee's Summit, Missouri.
Kevin Stewart, e'87, is deputy director of technical operations for the Federal Aviation Administration western service area.
88
David Francke, c'88, is managing director of Chappellet, a 52-year-old winery in Napa Valley.
William Hussong, c'88, manages commercial sales at TimberTown in Pflugerville, Texas. He and Joan Klausner, d'92, g'96, live in Austin
Dane Lee, c'88, is president of Ag Guard, a risk-management solutions firm for the agricultural industry. He makes his home in Fairway.
Doris Nagel, l'88, lives in Libertyville, Illinois, where she's CEO and founder of Globalocity, a sales-growth consulting firm.
89
Stephen Newell, b'89, manages CFO Solutions. He and Judith Hellwege Newell, f'88, make their home in Chesterfield, Missouri.
Melinda Eisenhour Parks, b'89, is senior vice president at Freestate Advisors in Overland Park.
Robert Widner, l'89, city attorney for Centennial, Colorado, and founding partner of Widner Juran law firm, was elected vice president of Colorado Municipal League.
90
Guerin Emig, j'90, is a sports columnist at the Tulsa World in Tulsa, Oklahoma. He and Christy Knight Emig, d'90, have two children, Gretchen, c'19, and Holden, who's a sophomore at KU.
Joelle Sanders Horner, c'90, teaches in the Francis Howell School District in St. Charles, Missouri.
92
Jennifer Swisher Mauser, c'92, a homeschool educational consultant, teaches Institute for Excellence in Writing classes and tutors students who struggle with dyslexia. She lives in St. Johns, Florida.
Sam Niknia, c'92, g'96, is director of KPMG, a professional services network, in Washington, D.C.
Christina Kruzel Wasik, c'92, is senior director of marketing at Skyland Analytics in Niwot, Colorado. She and her husband, Michael, have two children, Addison and Dominik, and live in Superior.
93
Andrew Jones, l'93, lives in Wylie, Texas, where he's senior director and legal counsel at Epsilon Data Management.
Christopher Milford, f'93, m'97, is a neurologist at Silver State Neurology in Las Vegas.
Renda Colglazier Nelson, g'93, is state program director of Better Living for Texans, a nutrition-education resource provided by Texas A&M AgriLife Extension Services. She and Jimmie, PhD'90, live in Canyon, Texas.
Arlene Tejada O'Shea, n'93, is a nurse practitioner at Saint Luke's Neurology. She and her husband, Michael, live in Lee's Summit, Missouri.
Craig Owens, g'93, is city manager of Lawrence. He previously served in the same role in Clayton, Missouri.
Erin Homlish Rian, c'93, directs member services and the Risk Information Sharing Consortium at the National League of Cities in Washington, D.C.
94
Christopher Boyer, b'94, works at AT&T, where he's assistant vice president of global public policy. He and his wife, Marnie, live in Bethesda, Maryland, and have three children, Matthew, Sydney and Nicholas.
David Dorsey, j'94, is the Cape Coral growth and development reporter at the News-Press in Fort Myers, Florida.
Marlene Dearinger Neill, j'94, was promoted to associate professor and graduate program director at Baylor University in Waco, Texas (pictured).
Michael Zyskowski, e'94, g'97, is product manager at Wing Aviation. He and his wife, Gina, live in Snohomish, Washington.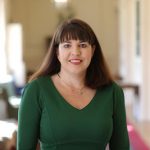 95
Dana Smith Branson, s'95, is an assistant professor of social work at Southeast Missouri State University in Cape Girardeau, Missouri, where she lives with her husband, Alan.
Nichole David, c'95, is an administrator at the River School in Washington, D.C.
Kelly Gregg, PhD'95, retired as professor of geography and geology at Jacksonville State University in Jacksonville, Alabama, where he lives with his wife, Karen, assoc.
Krista Zweimiller Kellogg, g'95, is a physical therapist at Lafene Health Center at Kansas State University. She and her husband, Donald, live in Manhattan.
Rusty Monhollon, g'95, PhD'99, in July became president and executive director of the South Carolina Commission on Higher Education. He previously served as assistant commissioner for academic affairs at the Missouri Department of Higher Education (pictured).
Kristie Murphy, c'95, lives in Trophy Club, Texas, where she writes blogs for Doctorlogic Inc.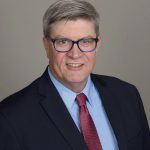 Arthur Townsend, m'95, is vice president and chief clinical transformation officer at Methodist Le Bonheur Healthcare in Memphis, Tennessee.
MARRIED
Janann Eldredge, '95, and Stephen Kibler, d'98, '99, May 27 in Estes Park, Colorado. They live in St. Joseph, Missouri, where Janann manages accounting at Nonprofit Connect, and Stephen is a counselor at Benton High School.
96
Jason Endecott, e'96, is general manager of value chain strategy at Phillips 66 in Houston, where he lives with his wife, Virginia, assoc.
Craig Hansen, m'96, is an orthopedic surgeon at OrthoNebraska in Council Bluffs, where he lives with Jennifer Stone, m'96. In June, Craig was inducted in the Lewis Central High School Hall of Fame.
Holli Hartman, c'96, e'14, was elected to the national board of trustees for Tau Beta Sigma, the national honorary band sorority. Holli was initiated in 1989 in the Zeta Delta chapter as a freshman in the KU Band.
97
Grant Bannister, l'97, was appointed chief judge of the 21st Judicial District, covering Clay and Riley counties, by the Kansas Supreme Court. He makes his home in Manhattan.
Jason Klein, c'97, l'02, was promoted to managing partner at Wood, Smith, Henning & Berman in Highlands Ranch, Colorado. He and his wife, Laura Gomez Klein, c'97, l'00, moved from Tampa, Florida, to Denver in January with their two boys, Gus and Willie.
Zach Klein, j'97, was named Georgia Sportscaster of the Year by the National Sports Media Association. He works at WSB-TV in Atlanta.
Randy Perez, l'97, is senior vice president of product management at Motorists Insurance Group in Columbus, Ohio.
Brian Voos, d'97, g'99, directs the physical therapy program at Sabetha Community Hospital. He and Jennifer Smith Voos, '97, live in Sabetha with their three children.
98
Heather Ackerly Dennis, c'98, is an annual fund manager at the University of Wisconsin-Whitewater. She and her husband, Brian, live in Fort Atkinson, Wisconsin.
Maggie Mohrfeld, j'98, g'00, directs development at Avila University in Kansas City, where she makes her home with her husband, David.
Garrett Sullivan, c'98, m'05, lives in Kansas City, where he's a physician.
99
Mindi Eutsler-Meyer, c'99, teaches at Oak Valley Middle School in San Diego.
Michael Harrity, j'99, g'02, senior associate athletics director at the University of Notre Dame, received a LEAD1 Association minority scholarship award to attend the LEAD1 Institute in July.
Meg Heimovics Kumin, c'99, g'03, is a photographer in Marketing Communications at KU.
Danny Libel, j'99, is a lieutenant colonel in the U.S. Air Force and an instructor pilot for C-130 aircraft. He lives in Robinson.
Amy Schmidt, c'99, coordinates early-childhood educator services at KenCrest. She makes her home in Dover, Delaware.
00
Leslie Doyle, g'00, is chief inclusion officer at Rockhurst University in Kansas City, where she leads the new Office of Diversity, Equity and Inclusion.
Kerrie Crites Greenfelder, e'00, a project manager at Burns & McDonnell in Kansas City, was recently elected to a two-year term on the board of directors of the Society of Women Engineers. She also serves on the board of the Kansas Society of Professional Engineers.
Hilary Roberts, c'00, lives in Pflugerville, Texas, where she's a senior project manager at Dell.
01
Maggie Thompson Doll, j'01, g'08, lives in Topeka, where she's deputy secretary for the Kansas Department of Transportation.
Jesse Goldman, a'01, is an architect and principal at CSHQA in Denver, where he makes his home with Katie Griffiths Goldman, a'01.
Nathan Mattison, c'01, is an attorney at the Law Offices of Dianne Sawaya in Denver.
David Waldron, b'01, lives in Beverly Hills, Michigan, where he's regional vice president at Ivy Investments.
02
Jack Brooks, c'02, l'05, is a U.S. Air Force major in Waddell, Arizona.
Phil Buttell, g'02, l'02, in June was named CEO of Menorah Medical Center in Overland Park. He previously was chief operating officer at Centerpoint Medical Center in Independence, Missouri (pictured).
Molly Mueller Haase, j'02, directs advocacy at AdventHealth Shawnee Mission. She lives in Kansas City.
Todd Louis, g'02, is a U.S. segment leader at Apple. He and Stephanie Thomas Louis, g'16, live in Denver.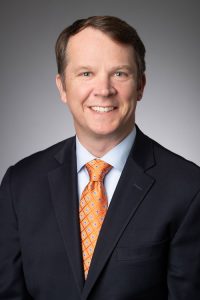 03
Nick Collison, c'03, will be inducted in the Kansas Sports Hall of Fame in October. A consensus All-American in 2003, he led the Jayhawks to two Final Four appearances, in 2002 and 2003. Nick played 14 NBA seasons with the Seattle Supersonics/Oklahoma City Thunder and retired in 2018.
Sarah Vrabac Sampson, j'03, directs client insights at Service Management Group in Kansas City.
Stephanie Spire, c'03, lives in Arlington, Virginia, where she's an executive assistant at PGIM Real Estate Finance.
04
Michael Dalbom, c'04, directs strategic accounts at Cardinal Health. He lives in Olathe.
Jay Quickel, g'04, is executive vice president at Southern States Cooperative in Richmond, Virginia.
05
Joel Kammeyer, b'05, is program director of contingent workforce at Epiq Global. He lives in Lee's Summit, Missouri.
James Lewis, c'05, directs sales at Miele. He makes his home in Apex, North Carolina.
Amy Waldron, b'05, g'05, lives in Chicago, where she's senior vice president at Northern Trust Bank.
06
Julio Dos Santos, g'06, is an information systems analyst at Saint Luke's Health System. He lives in Olathe with Rebecca Barlow Dos Santos, j'01.
Carolyn Peterson Zendeh Del, b'06, is an attorney at Zendeh Del & Associates in Galveston, Texas.
MARRIED
Kathleen Daughety, c'06, to Mathias Weiden, May 25 in Topeka. She's a senior manager in the food delivery unit at Uber in New York City.
07
Todd Bradley, c'07, PhD'13, directs immunogenomics at Children's Mercy Kansas City.
Ryan Colaianni, c'07, j'07, is senior vice president at Revive Health in Nashville, Tennessee, and leads the crisis and issue group. He and Erinn Schaiberger Colaianni, b'07, g'08, have twins, Stella and Landon.
Sarah Schmidt, c'07, l'13, g'13, is legal counsel at NBCUniversal Media in London.
Kevin Veltri, d'07, is head football coach at St. John's School in Houston. He and Melissa Malone Veltri, c'10, an account manager at Schlumberger, live in Sugarland, Texas, and have two children, Mackenzie and Vincent.
Anita Welch, PhD'07, is dean of Wayne State University College of Education in Detroit. She previously was professor and associate dean of the Teachers College at Ball State University.
BORN TO:
Gary Woodland, c'07, and his wife, Gabby, twin daughters, Maddox and Lennox, Aug. 1 in Kansas City. The Woodlands, who also have a 2-year-old son, Jaxson, live in Delray Beach, Florida.
08
Scott Anderson, j'08, owns Scooter Anderson Communications in Shreveport, Louisiana.
Julie Parisi, c'08, j'08, l'13, an associate at Seigfreid Bingham in Kansas City, received the 2018 Up & Coming Award from Missouri Lawyers Media.
09
Allyn Denning, c'09, is an executive assistant at the U.S. Global Leadership Coalition in Washington, D.C.
Amanda Davis Ford, d'09, g'16, teaches at Blue Valley Northwest High School in Overland Park.
Daniel Myers, c'09, lives in Highland Park, Illinois, where he's an optometrist at the Mind-Eye Institute.
B.J. Rains, j'09, was named Idaho Sportswriter of the Year for the second consecutive year by the National Sports Media Association. He works for the Idaho Press-Tribune.
10
Lauren Oberzan Byrne, c'10, lives in Prairie Village, where she's a senior associate editor at Thomson Reuters Practical Law.
Elise Patrick, g'10, is a professional dog trainer and owns Mod.Dogs Canine Enrichment Center in Warrenton, Oregon. She and Aaron Sumner, j'96, live in Astoria.
11
Tyler Cini, g'11, is an architect and project leader at GFF Architects in Dallas.
Meghan Gockel, b'11, is controller at Edison Power Constructors. She makes her home in Dallas.
Emma Payne, c'11, is an associate at McAfee & Taft in Oklahoma City.
12
Michael Fee, j'12, is a regional product expert for Google Asia-Pacific. He makes his home in Chicago.
Hillary Hoffman McClure, d'12, g'15, teaches special education at Baldwin Elementary School Primary Center in Baldwin City.
Travis Richardson, d'12, is a marketing automation strategist at INTRUST Bank in Wichita.
Taylor Williamson, j'12, is a sports producer at WFAA in Dallas.
13
Christopher Carter, PharmD'13, is a clinical pharmacy specialist at SSM Health. He and Amy Schrumpf Carter, PharmD'13, a pharmacist at CastiaRx Pharmacy, live in Manchester, Missouri.
Heide Swearengin Chaney, n'13, DNP'18, is a nurse practitioner at Jefferson Healthcare in Port Townsend, Washington. She has two children, Evan and Emily.
Jack Faerber, e'13, lives in Fairway, where he's a financial planner at Creative Planning.
14
Richard del Monte, e'14, lives in Kansas City, where he's a project engineer at Zahner.
Brian Hanson, g'14, PhD'15, is assistant professor in the department of history, politics and geography at Wayne State College in Wayne, Nebraska.
Amanda Kravitz, c'14, supervises accounts at Publicis. She lives in Ridgewood, New Jersey.
Hannah Wise, j'14, earned her master's in journalism in May from the University of North Texas. She's a social strategy editor at The New York Times.
15
Sarah Mitchell Ediger, c'15, is an associate at Gibson, Dunn & Crutcher law firm in Denver, where she lives with Jacob Ediger, b'14, l'17, an associate at Kutak Rock.
Allison Hammond, c'15, j'15, lives in Westfield, Indiana, where she's a news producer at WXIN-TV.
Crystal Hong, c'15, j'15, is an operations training specialist at YRC Freight. She makes her home in Lawrence.
Andrew Larkin, c'15, is a general dentist at Premier Dental Partners in Chesterfield, Missouri.
Alex Navarro, c'15, b'19, lives in Boulder, Colorado, where he's a data analyst at Danone North America.
Brian Pappas, PhD'15, is assistant vice president for academic affairs at Eastern Michigan University in Ypsilanti.
Bailey Proctor, b'15, g'16, is a senior cost accountant at Naked Wines in Napa, California.
MARRIED
Erin Ice, c'15, g'17, and Sebastian Schoneich, c'15, m'19, June 15 in Stanghella, Italy. They live in Ann Arbor, Michigan, where Sebi is a resident in family medicine at the University of Michigan, and Erin is working on her PhD in sociology.
16
Lauren Fitzgerald, c'16, is media secretary for the Kansas Office of the Governor. She previously was communications coordinator.
Margaret Hair, g'16, directs external affairs at the KU School of Law.
Emma Hogg, j'16, is a reporter at KMOV-TV in St. Louis.
Christina Ostmeyer, j'16, directs communications at Kansas Appleseed, a nonprofit advocacy organization that serves vulnerable and excluded Kansans. She was one of four featured speakers in February for the Presidential Lecture Series at the Dole Institute.
William Seaton, b'16, lives in San Francisco, where he's an account executive at Yelp.
17
Marisa Bayless, l'17, is a legacy and policy associate at the Colorado Charter School Institute in Denver.
Skylar Rolstad, j'17, a reporter at the Index-Journal in Greenwood, South Carolina, recently took first place in the sports story category in the South Carolina Press Association News Contest.
Meg Talbott, j'17, is an account executive at ER Marketing in Kansas City.
Annika Wooten, a'17, in June was crowned Miss Kansas in Pratt. She will compete for the Miss America title in December (pictured).
18
Lindsey Goss, j'18, works in brand management at Richards/Carlberg in Houston.
Grace Heitmann, a'18, lives in Brooklyn, New York, where she's a graphic designer at The New York Times.
Kara Kahn, j'18, coordinates operations at Dimensional Innovations in Overland Park.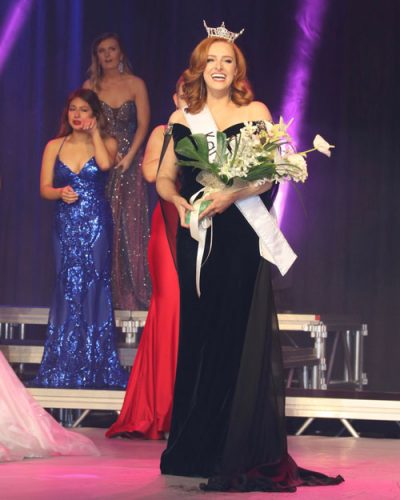 Jackson Kurtz, j'18, is a reporter and multimedia journalist at WJCL-TV in Savannah, Georgia.
Anne Lee-Edwards, l'18, is an attorney at ArtConverge in Los Angeles.
Hanna Ritland, j'18, lives in Chicago, where she's a large-customer sales associate at Google.
Jayla Scruggs, j'18, is a digital interactive specialist at Capitol Federal in Overland Park.
Travis Toon, g'18, lives in New Orleans, where he works in vessel operations at T. Parker Host.
Ellis Wiltsey, j'18, is a multimedia journalist at KOLN-TV in Lincoln, Nebraska.
19
Matthew Bauer, e'19, is a software engineer at Obsidian Systems in New York City. He makes his home in Brooklyn.
Rachel Baumbach, n'19, is a registered nurse at the University of Kansas Health System in Kansas City. She commutes from Lawrence.
Hannah Bettis, j'19, lives in Salt Lake City, where she's a content creator for University of Utah Athletics.
Lucas Snyder, d'19, is a sales representative at Echo Global Logistics in Chicago.
Alexander Stadler, c'19, lives in Carrollton, Texas, where he's a customer contact coordinator at the Container Store.
Kenzie Stoecklein, PharmD'19, is a pharmacist at Jayhawk Pharmacy in Lawrence.
ASSOCIATES
Bill Self, assoc., head coach of KU men's basketball, was honored in May as the 2019 Kansan of the Year by the Kansas Society of Washington, D.C. He begins his 17th season with the Jayhawks this fall.
Share your news with fellow Jayhawks! Please send us the details of your personal milestones or professional achievements, and we will publish your Class Note in Kansas Alumni. Thank you!
Objects on these pages are from the archives of the Adams Alumni Center.