Lucy Thompson McDowell, b'43, celebrated her 100th birthday in October. She was a member of Gamma Phi Beta sorority at KU and remains an avid Jayhawks fan. Lucy lives in Prairie Village, where she watches all the KU football and basketball games.
Ken Philo, e'51, is a retired civil engineer in San Rafael, California. He has written two books about his experience constructing high-profile bridges, Memoirs of a Bridge-Man and The Making of America.
Richard Larry Meuli, c'58, m'62, in June was named Person of the Year by the Greater Cheyenne Chamber of Commerce. In 2002 he was honored as Wyoming Physician of the Year by the Wyoming Medical Society, and in 2004 he received the Dr. Nathan Davis Award from the American Medical Association for extraordinary public service and contributions to health care. A retired physician and Wyoming state representative, Larry continues to make his home in Cheyenne.
Bruce Voran, d'59, wrote Behold, It Was Very Good, which was published in June by Fulton Books. It's a companion book to Trembling Before God: Twelve Homilies Explore the Origin, Development, and Failure of Christianity Today, which came out in late 2020. He lives in Strawberry, Arizona.
Betty Jane "Janie" Wullschleger Curtis, n'63, is CEO of Curtis Machine Company in Dodge City. She was included in Ingram's magazine as one of "50 Kansans You Should Know: Class of 2020."
James Hesser, c'63, is retired and lives in in British Columbia, Canada. He's director emeritus at Dominion Astrophysical Observatory.
Gary Gradinger, b'65, lives in Fairway, where he's chairman at Golden Star Inc.
Janet Heck Kittlaus, b'65, is a criminal justice and juvenile justice specialist for the League of Women Voters in Illinois. She recently advanced updates to the League's criminal justice position, which allows the organization to more effectively advocate for criminal justice reform in Illinois.
William Fleming III, c'67, was honored in May with the Texas Medical Association's Distinguished Service Award. A longtime neurologist in Houston, he's the first Black physician to receive the association's highest honor in the 59-year history of the award.
Paul Haney, j'68, is principal at Paul A. Haney & Associates in Pasadena, California.
Doug Irmen, c'69, g'70, l'74, wrote Let There Be Light: Saving Ourselves and Our Planet Through a Global Social Impact, which was published in May. He lives in Chicago.
James Zakoura, d'70, l'72, in July was elected chairperson of the Kansas Public Employees Retirement System board of trustees. He was reappointed by Gov. Laura Kelly in January to a second four-year term on the board.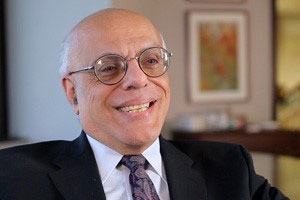 C.W. King, s'71, retired this year as a city councilman in Chippewa Falls, Wisconsin. He served three separate terms after his first appointment in 1986.
Colin Martin, c'72, is retired executive director of Berkeley County Water & Sanitation Authority. He lives in Summerville, South Carolina.
Kent Lynch, c'73, l'76, retired in July after 16 years as a judge in the 11th Judicial District in southeast Kansas. He continues to make his home in Baxter Springs.
Wade Martin, c'73, m'77, is a staff cardiologist and professor of medicine at the VA St. Louis Health Care System and Washington University School of Medicine. He lives in University City, Missouri.
Alicia Hoover Rieder, d'73, lives in Lawrence, where she is secretary and treasury at RAR Inc.
Jim Doepke, d'74, also known as "Mr. Trumpet," will perform the national anthem and alma mater before the KU vs. Kentucky men's basketball game Jan. 29. It will be his ninth performance in Allen Field House. In 2019, Jim completed his personal goal of performing the national anthem at every Major League Baseball stadium in the
United States.
Perry Smith, c'74, m'77, retired in July as a physician at The University of Kansas Health System Family Medicine. He and his wife, Krista Schmidt Smith, h'75, live in Great Bend and have two children and three grandchildren.
Jim McDonald, c'75, retired as director of current programming at Columbia and Universal TV. He lives in Canyon Country, California.
Ronald Shaklee, c'75, g'79, PhD'83, is retired after a long career as professor of geography at Youngstown State University in Youngstown, Ohio, where he lives with his wife, Sharon.
Mary Prohodsky Shepherd, c'75, lives in Emporia, where she's a retired professional counselor.
Wint Winter, c'75, l'78, in June was appointed by Gov. Laura Kelly to the Kansas Board of Regents. A former bank president, he is currently a partner at Stevens & Brand in Lawrence and previously served in the Kansas Senate from 1982 to '92.
Edward Martinko, PhD'76, lives in Lawrence, where he's professor emeritus of ecology and evolutionary biology at KU
Rex Donahey, e'77, g'83, PhD'86, is director of innovative concrete technology at the American Concrete Institute in Farmington Hills, Michigan. He also serves as editor-in-chief of ACI's monthly magazine.
Eric Voth, c'77, m'81, in May was named president and chairman of the International Academy on the Science
and Impact of Cannabis. He retired in 2020 as vice president of primary care at Stormont Vail Health after 36 years of medical practice in Topeka. Eric also is a clinical professor of internal medicine at KU Medical Center.
Jill Sadowsky Docking, c'78, g'84, in July joined the Kansas Health Foundation board of directors. She is senior vice president at the Docking Group, a financial services firm in Wichita.
Tom Palen, '79, retired as a senior vice president in SBA lending at Wells Fargo Bank, where he worked for nearly 30 years. He and his wife, Carole, make their home in Scottsdale, Arizona, and have two children, Drew and Kelli.
Rex Archer, m'80, is professor and director of population and public health in the department of curriculum and integrated learning at Kansas City University College of Osteopathic Medicine.
James Corbett, b'80, in June was appointed to the AVITA Medical Inc. board of directors. He lives in Aliso Viejo, California, where most recently he was CEO of CathWorks.
Jay Hinrichs, c'80, g'83, president and general manager of the Kansas City Monarchs baseball club, in September was honored by the American Association of Professional Baseball as the league's Executive of the Year. The Monarchs won the league championship in September.
Debra Riechmann, j'80, recently retired after a 36-year career with The Associated Press. She began working with the AP in Kansas City and later covered the White House and the war in Afghanistan. Deb makes her home in
Hagerstown, Maryland.
John Whitesides, j'80, in April retired after a long career as a journalist at Reuters. He lives in Arlington, Virginia.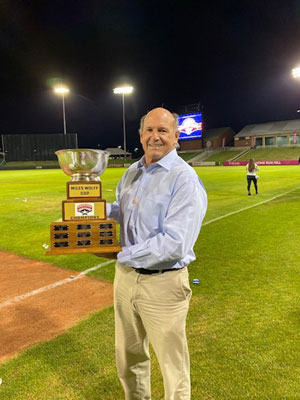 John Ryan, m'81, retired in April after 55 years as a health care professional and nearly 40 years as a family physician at Community Memorial Healthcare in Marysville, where he makes his home.
Jay Smith, c'81, g'85, is the pastor at Bethel Baptist Church in St. Charles, Illinois.
Kathleen Lambert Jaeger, g'82, is a multimedia artist in Kailua-Kona, Hawaii. Her work, which primarily is in mosaic and acrylic painting, was featured in March at the Kailua Village Artists Gallery.
Larry Englebrick, g'84, EdD'04, is executive director of facilities and operations for Lawrence Public Schools.
Edwin Goldberg, c'84, a rabbi at Congregation Beth Shalom in The Woodlands, Texas, co-edited Because My Soul Longs for You: Integrating Theology into Our Lives, which was published in August by CCAR Press.
Scott Jackson, '84, is vice president at Panhandle Oilfield Services in Oklahoma City. He and Michelle, assoc., live in Yukon, Oklahoma.
Ross Myers, g'84, a naval aviator and vice admiral, in 2020 became commander of the U.S. 10th Fleet/Fleet Cyber Command. He and Deidre Meyer Myers, d'84, make their home in Fort Meade, Maryland.
DeLome Godsey Fair, e'85, g'88, was promoted to principal process engineer at KP Engineering in Houston.
Stephen McAllister, c'85, l'88, in June joined Dentons law firm's litigation practice as counsel in a part-time consulting role. He returned to the KU law faculty full time as the E.S. & Tom W. Hampton Distinguished Professor of Law after serving as U.S. Attorney for the district of Kansas.
Loraine Wright Turec, j'85, is managing director of sales operations at DEG Digital Marketing & Advertising in Leawood. She recently was a guest speaker in the sales strategies class at the KU School of Journalism and Mass Communications.
Diane Yetter, b'85, president and founder of YETTER Tax, a sales tax consulting and tax technology firm in Chicago, celebrates her 25th year in business and as a leader in the industry.
Holly Benson, s'86, EdD'89, is a psychotherapist and fiber artist in Kansas City.
William Purinton, c'86, makes his home in St. Joseph, Missouri, where he's pastor at Wesley United Methodist Church.
John Shaw, c'86, m'93, is a physician in the general vascular and thoracic surgery department at the Hutchinson Clinic. His daughter, Molly, started her freshman year this fall at KU, where she's a journalism major and a fourth-generation Jayhawk.
David Bellon, b'87, in May became commander of U.S. Marine Corps Forces South. A three-star lieutenant general, he also will remain commander of the U.S. Marine Corps Forces Reserve.
Bill Jaeger, g'87, was the featured member artist in March at Kailua Village Artists Gallery in Kailua-Kona, Hawaii, where he lives with Kathleen Lambert Jaeger, g'82.
Jennifer Anderson Leaf, c'87, g'92, is places and open spaces manager at Central Hawke's Bay District Council in Waipawa, New Zealand.
Timothy Buckley, j'88, is an associate attorney at Smith Slusky Pohren & Rogers in Omaha, Nebraska.
Rob Farha, c'88, this year is quietly marking a quarter-century of owning The Wagon Wheel Café, the beloved 14th Street tavern ["Where Everybody Knows Your Name," issue No. 5, 2015]. "Knobbie" and his wife, Becke, live in Lawrence with their two children, Colin and Camille, and look forward to celebrating their 20th wedding anniversary
in May.
Anne Bloomfield Fischer, c'88, l'92, is a retired U.S. Navy captain and judge advocate general. She and her husband, Jeffrey, have two sons, Andrew, a junior at KU, and Adam. They make their home in Alexandria, Virginia.
Daniel Grainge, j'89, is president of NEP Group, a production company. He and his wife, Julie, live in Elmhurst, Illinois, and have four children.
Patrick McCurdy, a'89, is principal and health care practice leader at Hoefer Welker in Leawood.
Jeff Robertson, c'89, in August was promoted to associate vice president for academic affairs at Arkansas Tech University in Russellville. He has been on faculty with the university since 1997 and most recently served as dean of the College of Natural and Health Sciences.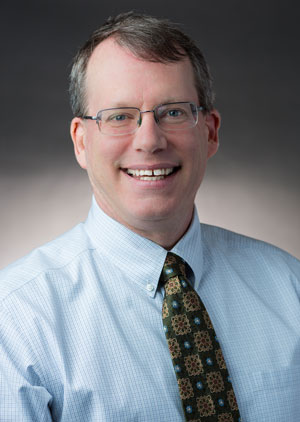 Samantha Pipe Cook, b'90, is senior program manager of technology communications at T-Mobile. She lives in Belton, Missouri, and has two children, Courtney and Chandler.
Gerry Dixon, b'90, is the U.S. government and public sector managing partner at Ernst & Young. He lives in Franklin Lakes, New Jersey.
Brian Gordon, e'90, is president and CEO of MegaKC. He and Lynne Schnoebelen Gordon, c'89, live in Leawood.
Madeleine McDonough, l'90, in April was elected to a second five-year term as chair at Shook, Hardy & Bacon in Kansas City.
Candice Niemann Wolken, j'90, manages marketing at SS&C Technologies in Kansas City, where she lives with her husband, Charles.
Rachelle Becker Humiston, c'91, is executive consultant and director of Cultivate at Haberfeld in Lincoln, Nebraska.
Laura Okmin, j'91, a sideline reporter for NFL on FOX Sports and founder of GALvanize, was recently featured in an NBC story for her organization's work in training and mentoring women in the sports industry.
Allan Peters, b'91, lives in Fort Lauderdale, Florida, where he's chief revenue officer at Qualys Inc.
Scott Schuetz, b'91, is chief operating officer and executive vice president at GCU, a financial services company in Pittsburgh.
Robert Burns, g'92, directs the home region program at the Walton Family Foundation in Bentonville, Arkansas.
Matthew Finnegan, j'92, a senior trial attorney for the U.S. Department of Labor in Denver, recently was a guest on the Cheers to Careers podcast at the KU School of Journalism and Mass Communications.
Tiffany Harness, j'92, is foreign policy editor at The New York Times. She works in Washington, D.C.
Ellen Kuwana, c'92, lives in Seattle, where she is a freelance science writer and editor and founder of We Got This Seattle, a volunteer effort started in March 2020 that feeds frontline workers and supports local restaurants. She's also vice president of the board of the Northwest Science Writers Association.
Christine Keehn Long, j'92, is a senior account executive at Neil Patel Accel, a marketing firm. She and her husband, Ronald, live in Aurora, Colorado.
David Harden, m'93, is a dermatologist at Manhattan Dermatology in Manhattan, where he lives. He also sees
patients at the outpatient clinic at Community Memorial Healthcare in Marysville.
Matt Tucker, b'93, is a partner, wealth adviser and senior portfolio manager at Bowersock Capital Partners in Lawrence and Overland Park. He and Angie Bryan Tucker, c'93, live in Leawood and have four children.
Amy Schwartz Walker, b'93, lives in Kansas City, where she's vice president of tax transformation at H&R Block.
Aran Cleland, c'94, is senior loan partner at National Healthcareer Association. He makes his home in Minneapolis, Minnesota.
Michael Wade Freeman, d'94, works in admissions at Trinity School of Medicine in Roswell, Georgia.
Mendi Stauffer Hanna, j'94, directs the life plan community at Saint Luke's Bishop Spencer Place in Kansas City. She and Scott, j'92, g'00, live in Olathe.
Josh Mistler, c'94, is associate general counsel at Gardner Capital in St. Louis.
Bryan Phillips, e'94, is senior vice president, general counsel, chief compliance officer and corporate secretary at Inspire Medical Systems in Osseo, Minnesota. In April he was elected to the Minnesota Public Radio board of trustees.
Gwen Westerman, PhD'94, a professor of English at Minnesota State University, in September was named Minnesota's third Poet Laureate by Gov. Tim Walz. She is an enrolled member of the Sisseton Wahpeton Oyate and a citizen of the Cherokee Nation. Gwen is Minnesota's first Native Poet Laureate.
Marybeth Foster, g'95, is regional director of Iowa State University Extension in Ames.
Dawn Brockopp Julian, g'95, DNP'11, is a nurse practitioner at Geary Community Hospital's Wound Care Center in Junction City.
Sean Roland, c'95, makes his home in Moraga, California, where he is co-founder and president of Trainsweet Labs.
Hsin-Fu Wu, e'95, is senior manager of systems engineering at Raytheon Missiles & Defense. He lives in Tucson, Arizona.
Brett Atlas, b'96, wrote Three Things Matter Most: Linking Time, Relationships, and Money, which was published in September by Atticus Books. He is an attorney and lives in Omaha, Nebraska, with his wife and three children.
Michelle "Micki" Bicknell, b'96, election manager for Shawnee County Election Office in Topeka, has been designated as a Certified Elections/Registration Administrator (CERA), the highest professional achievement for election officials in the country.
Julie Klinock Cortes, j'96, is founder of Freelance Exchange KC and an adjunct professor at the Kansas City Art Institute. She lives in Overland Park.
Jason Engkjer, b'97, is an attorney at DeWitt in Minneapolis, Minnesota. He's a member of the firm's transportation and logistics practice group.
Canyon Knop, c'97, is combat plans division course manager for the 505th training squadron in the U.S. Air Force. He lives in Fort Walton Beach, Florida.
Steve Novak, c'97, l'01, is managing director at RGT Wealth Advisors in Dallas.
Brad Spickert, e'97, lives in Atlanta, where he's senior vice president of supply chain at the Coca-Cola Company.
Christopher Stipe, g'97, is president and CEO of McPherson Hospital.
Jeffrey Stowman, l'97, who owns Stowman Law Firm with his father in Detroit, was one of several attorneys representing George Floyd's family in the successful wrongful death civil suit filed against the city of Minneapolis.
Leslie Bowyer VonHolten, c'97, g'15, directs grants and outreach at Humanities Kansas in Topeka. She and her husband, Tim, f'97, live in Lawrence.
Aaron Brinkman, j'98, is vice president of U.S. sales at Activision Blizzard Inc. in Dallas.
Carrie Breusing Burleson, c'98, is an optometrist at Front Range Eye Associates in Broomfield, Colorado, where she lives with Todd, f'97, creative lead at Pivot Communication. They have two daughters, Claire and Brynn.
Katherine "Kate" Bickel Swingle, f'98, g'02, lives in St. Louis, where she's a health information nurse specialist at St. Louis Children's Hospital.
Joan Benefiel, c'99, coordinates art services at Salina Arts and Humanities in Salina.
Jan Guidry Lacina, PhD'99, in September was named the inaugural Bezos Family Foundation Endowed Chair for Early Childhood Education at Texas Christian University in Fort Worth, Texas. She also serves as associate dean of graduate studies in the College of Education.
Amy Claycamp Ragland, c'99, is a freelance writer and owns Amy Ragland Communications in Wichita, where she lives with her husband, Brad, and their daughters, Alissa, 14, and Ashley, 12.
Kent Salisbury, a'99, is director at Baca Architects in Sherman, Texas. He lives in Celeste and has three sons, Cole, Vaughn and Dane.
Justin Schmidt, b'99, lives in Houston, where he directs wholesale marketing at Atlas Oil Company.
Paul Voiles, e'99, senior managing director of transportation at Binkley & Barfield in Houston, in June was named a fellow by the American Society of Civil Engineers board of direction.
Stacy Abernathy, j'00, g'10, is a retail pharmacy sales specialist at National Healthcareer Association. She lives in Prairie Village.
Jason Booker, d'00, in July was named deputy athletics director for external affairs and revenue generation at Kansas Athletics. He previously was senior director of corporate partnerships and broadcast sales for the Kansas City Royals.
Tom Ference, PhD'00, is director of psychology at Northcoast Behavioral Healthcare in Northfield, Ohio.
Natalie Feuerborn Miller, c'00, l'03, is of-counsel attorney at Spencer Fane in Overland Park.
Jennifer Schrimsher, h'00, g'05, m'10, is a physician at Lawrence Memorial Hospital. She specializes in internal
medicine and infectious diseases.
Nicholas Beckmann, c'01, m'05, is associate professor of radiology at the University of Texas Health Science Center at Houston. In April, he was reappointed to the Texas Board of Medical Radiologic Technology.
Venus Bishop, g'01, '13, lives in Derby, where she retired after teaching special education for 26 years. Most recently she worked at Derby High School.
Nicole Hayden, f'01, lives in San Francisco, where she's an artist. She recently created a mural outside the city's Zen Center that celebrates the National Youth Poet Laureate, Amanda Gorman.
John Stinnett, e'01, lives in Wylie, Texas, where he's energy team leader at Halff Associates.
Cristyn Glidewell Watkins, c'01, is a physician and owns aNu Aesthetics & Optimal Wellness in Kansas City.
Chris Brandon, c'02, j'03, is vice president of investor relations at Jack in the Box. He lives in Saline, Michigan.
Misty Brown, l'02, in April was promoted to chief counsel for the Unified Government of Wyandotte County and Kansas City, Kansas. She previously served as deputy chief counsel.
Peter Innes, m'02, is a general surgeon at Surgical Associates of Siloam Springs in Arkansas. He lives in Springdale.
Jennifer Schiele, g'02, is the new superintendent for the Lake Oswego School District in Oregon. She was promoted in April after serving as assistant superintendent for the past three years.
Leita Schultes Walker, c'03, j'03, l'06, lives in Minneapolis, Minnesota, where she's a partner at Ballard Spahr. She recently represented a coalition of media outlets covering the Derek Chauvin trial.
Robin Harnden Ward, g'03, is a communication designer and owner of The Write Design in Lawrence.
Born to:
Douglas Donahoo, j'03, and his wife, Rebecca, son, Daniel, May 19 in Lenexa, where they make their home.
Lisa Miles Bunkowski, PhD'04, is associate professor in the College of Education and Human Development at Texas A&M University-Central Texas in Killeen. She also serves as director of the Faculty Center for Teaching and Learning.
Latasha Reed, n'04, is a nurse practitioner at the Johnson County Department of Health and Environment in Olathe. She lives in Gardner with her husband, Mike Conley, and their daughter, Bella.
Andrew Rhea, b'04, lives in Phoenix, where he's controller at Suntec Concrete.
Jessica Skubal Rowan, c'04, is a substitute teacher in the Katy Independent School District in Katy, Texas, where she lives with her husband, Jeramiah, and their daughters, Breanna, Jolene and Alaina.
Cindy Tran, j'04, managing director at Slalom, was recognized in March as a top business leader in Dallas by D CEO magazine. She lives in Dallas with her husband, Toan, and two sons.
Joseph Parra, m'05, is chief medical officer at Medical City Healthcare in Dallas.
Corinne Hale Reid, d'05, g'07, is associate athletic director at Missouri Southern State University in Joplin. She and Nicholas, c'15, have three children, Lillian, Duke and Vivian.
Wayne Simien, c'05, is the new associate athletics director for engagement and outreach at Kansas Athletics. For the past 12 years, the power forward and All-American, who played for KU from 2001 to '05, has held various roles on campus and as a volunteer in the athletics department. He and his wife, Katie, live in Lawrence and have five children.
The Rev. Arthur Jones, c'06, is senior pastor at St. Andrew United Methodist Church in Plano, Texas. He and his wife, Becky, have two children, Sam and Ella Reece.
Craig Lee, c'06, is a lieutenant colonel in the U.S. Air Force. He and Lindsay Nesbitt Lee, d'06, make their home in Omaha, Nebraska.
Stephen "S.J." Moore, l'06, is an attorney and shareholder at Krigel & Krigel in Kansas City.
Tony Quartaro, c'06, lives in Chicago, where he is chef and owner of Gemma Foods, a fresh-pasta delivery service.
Eric Wiedower, c'06, m'14, is a physician at West Cancer Center & Research Institute in Southhaven, Mississippi. He makes his home in Memphis, Tennessee.
Natalia Villate, m'06, lives in Boca Raton, Florida, where she's an ophthalmologist at Fort Lauderdale Eye Institute.
Martha Moreno Wolf, n'06, g'20, directs patient safety at South Bay Hospital in Sun City Center, Florida. She and her husband, Mark, assoc., live in Bradenton.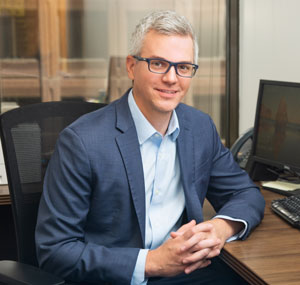 Samuel Snyder, c'07, lives in Lawrence, where he's a data specialist at OppMiner.
Jade Tittle, j'07, is the music director at KCMP 89.3 FM in St. Paul, Minnesota. She's been a DJ at the station since 2008.
Ashley Campbell Aune, c'08, represents Clay and Platte counties in the Missouri House of Representatives.
Lexy Kohake Kelley, j'08, manages internal communications at Credit Karma. She and Rhodes, b'08, principal product manager at Twitch, live in San Francisco with their son, Cooper.
Jason McGlynn, b'08, is senior vice president and chief financial officer at Amplify Energy Corp. in Houston.
Dylan Schoonover, j'08, chief marketing officer at Strategic Wealth Designers in Denver, recently was a guest speaker on the Cheers to Careers podcast at the KU School of Journalism and Mass Communications.
Born to:
Adam Jenkins, c'08, and his wife, Chakshu Bavalia, son, Vyan Adam Bavalia-Jenkins, in August in Stetchworth, England, where they make their home. Adam is a pilot in the U.S. Air Force.
Rauf Arif, g'09, is an assistant professor of journalism and creative media industries at Texas Tech University in Lubbock. He wrote Movements for Change: How Individuals, Social Media and Al Jazeera Are Changing Pakistan, Egypt and Tunisia, which was published in 2020.
Dimitra Atri, g'09, PhD'11, is an astrophysicist at the New York University Abu Dhabi Center for Space Science, where he leads the Mars research group.
Scott Rollheiser, h'09, is a senior support integration architect at Cerner. He and his wife, Emily, live in Shawnee with their daughters, Elyse, 2, and Adalyn, who recently turned 1.
Timothy Spencer, c'09, u'10, g'21, lives in Lawrence, where he's a research manager at KU's O'Leary Shared Service Center.
Jesse Tanksley, l'09, was promoted to partner at Mann, Wyatt & Tanksley Injury Attorneys in Hutchinson.
Nathan Totten, j'09, is a freelance writer in Portland, Oregon.
Gates Brown, g'10, PhD'13, is an associate professor of military history at U.S. Army Command and General Staff College in Fort Leavenworth. In March he was named Civilian Educator of the Year.
Daniel Johnson, c'10, j'10, lives in Washington, D.C., where he's a consultant at Education Elements.
David Jones, c'10, e'13, '21, is a software engineer at the Federal Reserve Bank of Kansas City.
Megan Lemon Kerr, b'10, g'11, is a senior auditor at Evergy. She and Zachary, c'09, shop manager at Buckner's Heating & Cooling, live in Kansas City and have a son, Rylan, who's almost 3.
Ayesha Mehdi, l'10, g'10, a partner in the health care group at Spencer Fane in Las Vegas, recently was named one of Real Vegas magazine's "Women Who Wow of Las Vegas" for her practice, community involvement and dedication to DEI efforts in the legal profession. She makes her home in Henderson, Nevada.
Kara Schwerdt Rodriguez, j'10, in July was promoted to director of digital strategy at the KU Alumni Association. Kara and her husband, Cesar, c'12, live in Lawrence with their children, Adrian and Cesar.
Jomo Tariku, a'10, an artist and industrial designer, owns Jomo Furniture in Springfield, Virginia. He designs modern, African-themed furniture. The Los Angeles County Museum of Art recently added his Nyala chair to its permanent collection.
Sarah Phillips Aligo, g'11, is a development consultant at Prenger Solutions Group. She lives in Lawrence.
Dan Reynolds, g'11, is a project architect at A&E Design in Bozeman, Montana.
Nico Roesler, j'11, is the North American pretzel and snack equipment sales manager at Reading Baking Systems. He lives in Shawnee.
Hannah Barnes Weekley, c'11, is geographic information systems director at CRW Engineering in Anchorage, Alaska, where she lives with David, PhD'20, a geographer at the Bureau of Ocean Energy Management.
Richard Welton, b'11, g'11, directs project management at Care Coordination Systems. He lives in Castle Rock, Colorado.
Patrick Woods, g'11, '14, manages regulatory affairs and strategy at ITC Holdings in Topeka, where he makes his home with his wife, Anna, assoc.
Neil Young, PharmD'11, is an attorney at Blank Rome in Houston.
Andrew Fillmore, j'12, is a senior customer relationship management specialist at Quigley-Simpson in Los Angeles.
Francis Park, PhD'12, directs the basic strategic art program at the U.S. Army War College at Carlisle Barracks, Pennsylvania. He previously served in the Joint History Office at the Pentagon and also spent six weeks in Qatar, where he archived nearly 15 years of operational records before the end of the U.S. mission in Afghanistan.
Kaston Anderson- Carpenter, g'13, PhD'15, assistant professor of psychology at Michigan State University, in May was a keynote speaker at Western Connecticut State University's research week, a four-day virtual event.  
Annie Bigby, d'13, '21, is an academic adviser at KU. She commutes from Kansas City.
Kristen Glover, j'13, g'17, g'18, is a client strategist at Magid and lecturer in the School of Journalism and Mass Communications at KU. 
Gina Ortiz Jones, g'13, in July was confirmed by the U.S. Senate as Under Secretary of the Air Force. She was nominated in April by President Joe Biden. She is an intelligence officer and Texas congressional candidate who served in Iraq during the Bush administration.
Henry Spingola, c'13, lives in Oklahoma City, where he's a foot and ankle surgeon at OKC Orthopedics Sports & Pain Medicine.
Billy Thomas, c'13, is head basketball coach and assistant athletics director at Rockhurst High School in Kansas City. He was a guard at KU from 1994 to '98.
Rebecca Berger, j'14, manages marketing at Dickies Arena in Fort Worth, Texas. 
Jamie Gellerman-Baker, e'14, is a senior customer reliability engineer at GE Digital in Kansas City. She and Frank, '21, live in Shawnee with their son, Gunner.
José Muñoz, d'14, g'16, senior program coordinator at the University of Arizona College of Nursing, is co-chair of the college's Equity, Diversity and Inclusion Task Force.
Pavel Panko, c'14, is a research staff member at the Institute for Defense Analysis in Alexandria, Virginia.
Zachary Rothschild, PhD'14, in July was promoted to associate professor of psychology at Bowdoin College in Brunswick, Maine.
Lydia Young, c'14, j'14, is an associate marketing manager for social media at Hallmark Cards in Kansas City. 
Amelia Arvesen, j'15, is a freelance journalist in Boulder, Colorado. 
Philip Depew, c'15, is an associate attorney at Depew Law Firm in Neodesha. 
Evan Dunbar, j'15, is an ESPN disaster recovery operator at Disney Media & Entertainment Distribution. He lives in Houston.
Alison Lusk Friday, e'15, manages sales at Petroval. She makes her home in Beaumont, Texas.
Adam Gillaspie, b'15, l'18, lives in Lawrence, where he's a research attorney for the State of Kansas.
Jacob McMillian, l'15, is director of diversity and inclusion at Dickinson Wright. He lives in Chicago.
Paul Pierce II, j'15, in July was promoted to associate athletics director for inclusive excellence at Kansas Athletics. He previously served as assistant athletics director of compliance and interim chief diversity officer. Paul and Carolina Gutierrez Pierce, d'15, live in Lawrence.
Mary Pointer, j'15, lives in New York City, where she directs client partnerships at Axios.
Derick Shackelford, c'15, owns Shack Built in Olathe, where he lives with his wife, Shelley, assoc.
Caleb Bobo, c'16, is a senior analyst of supervision policy and consumer affairs at the Federal Reserve Bank of St. Louis.
Wesley Hoffman, e'16, lives in Seattle, where he's a senior data engineer at Starbucks. 
Alyson Oliver, b'16, is an insurance consultant at Kansas Insurance in Lawrence.
Robin Randolph, l'16, is an attorney at Jeppson Law Office in Kansas City. She lives in Lawrence.
Micaela Sheffield, a'16, is an interior designer at Leo A. Daly in Dallas. She recently was named to Boutique Design magazine's 2021 Boutique 18 Class and will be featured in the magazine's fall issue.
Nashia Baker, j'17, is associate editor at Meredith Corporation in New York City.
Ryan Camenzind, j'17, in July was promoted to assistant director of digital strategy at the KU Alumni Association.   
Freddy Gipp, j'17, is founder and CEO of Lead Horse, a Native American-owned consulting firm specializing in performance entertainment. He lives in Lawrence.
Justin Lyle, g'17, PhD'20, is a visiting assistant professor of mathematics at the University of Arkansas in Fayetteville.
Katherine Gail Okesson, DMA'17, in July became the new director of Suzuki Strings and Orchestral Studies for Sedona Charter School in Sedona, Arizona. 
Christopher Savage, c'17, lives in Westwood, where he's director of operations at First Liberties Financial. 
Austin Tuggle, e'17, lives in Overland Park, where he's a mechanical engineer at Honeywell Federal Manufacturing & Technologies.
Married
Reese Randall, b'17, g'19, to Brittany Joyce, May 23 in Charleston, South Carolina, where they make their home. Reese is a multimedia account executive at The Post and Courier.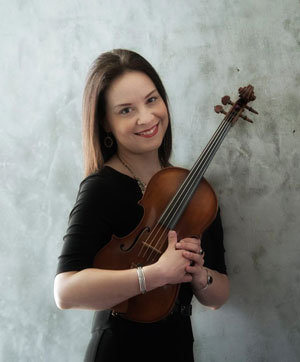 Matt Chomicky, g'18, makes his home in Kansas City, where he's a geographic information systems specialist at Burns & McDonnell. 
Kyle Gratton, c'18, writes features and reviews for the video games section of Screen Rant. 
Jessica Meyers Hammer, d'18, lives in Kansas City, where she is a running coach and owns KC Endurance.
Ian Hutcheson, g'18, is a management and budget specialist for the City of Oklahoma City. 
Amelia "Amie" Just, j'18,  is a sports reporter at The Times-Picayune and New Orleans Advocate. She lives in New Orleans.
Teresa Nunez, m'18, recently completed her residency at the KU School of Medicine-Wichita Smoky Hill Family Medicine Residency Program in Salina. She is now a physician at Salina Regional Health Center.
Jessica Pletcher, h'18, lives in Chicago, where she's team lead for patient accounting at Northwestern Medicine.
Justin Schmidt, g'18, g'19, was promoted to division director of regulatory compliance at Methodist Healthcare System in San Antonio.
Angie Allen, d'19, is assistant to commissioner/special events for the Missouri Valley Conference in St. Louis.
Spencer Gray, j'19, coordinates marketing for the Zin Team at CrossCountry Mortgage in Overland Park.
Emory Saucedo, l'19, is a health policy analyst for the State of Maryland. She and her husband, Zack Knight, live in Ellicott City.
Emily Beckman, c'20, j'20, is a project associate at Bark Media in Lawrence.
Stacey Langley, h'20, is a coding and reimbursement specialist at Children's Mercy Hospital in Kansas City. She and her husband, Craig, live in Leeton, Missouri. 
Rachel Phelan, j'20, directs marketing and communications at the United Way of the Greater Chippewa Valley in Eau Claire, Wisconsin. 
DeAsia Paige, j'20, is the Black communities reporter at the Belleville News-Democrat, in partnership with Report for America. She lives in St. Louis.
Raeley Youngs, j'20, is a communications specialist at T-Mobile in Ballwin, Missouri.
Married
Janae Horchem, g'20, to Charles Unsderfer, June 26 in Kansas City. They live in Overland Park, where Janae is an occupational therapist.
Sydney Hoover, c'21, j'21, is a reporter covering education and health for Star News Online in Wilmington, North Carolina. 
Ali Eustis Mearns, c'21, is an executive assistant at WealthMD in Atlanta. She and her husband, Andrew, live in Smyrna, Georgia.
Eric Sedlacek, b'21, lives in Palm Beach Gardens, Florida, where he's a logistics supervisor at Ferrellgas.