Composer Dan Barnard's career path runs classical to country
The classically trained composer is helping build a country music mecca in Mississippi.
As executive director of Marty Stuart's Congress of Country Music, Dan Barnard is in charge of opening a museum that will someday showcase the world's largest private collection of country music memorabilia.
Amassed by five-time Grammy-winning singer, songwriter and musician Marty Stuart, who played in the touring bands of legends Lester Flatt and Johnny Cash before launching a successful solo career in the 1980s, the trove of 20,000 items ranks second only to the Country Music Hall of Fame's collection, which numbers in the millions.
Before the museum takes shape, Barnard, DMA'99, will launch a concert series in a newly refurbished theatre in Stuart's hometown of Philadelphia, Mississippi, that will generate revenue and complement the museum's focus on history with performances from contemporary country music and beyond. The first season begins in December with concerts by Stuart, Vince Gill, Ricky Skaggs and Bill Gaither.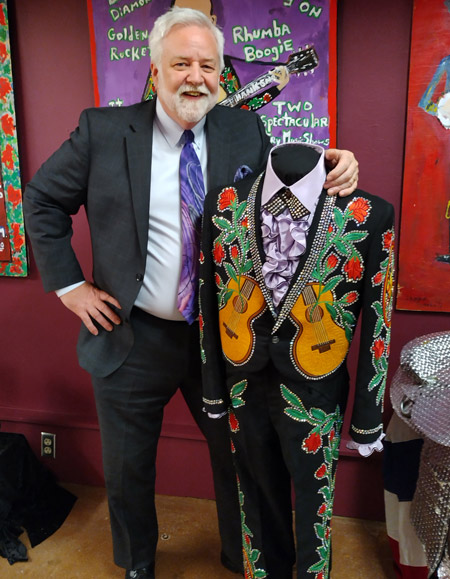 Orchestrating a concert series combines Barnard's experience as a classically trained composer and a performing arts presenter.
The love for classical music started in childhood; the programming interest he happened upon in his first job after earning his KU doctorate, at Penn State University, where part of his role was to program chamber music ensembles. He won an award for adventurous programming from the American Society of Composers, Authors and Publishers and Chamber Music America.
"I really discovered an affinity for the process of presenting as a profession," Barnard says. "To me, it's the same skills I use as a composer. I'm constantly thinking about how an audience is going to react to what I put in front of them. It's about finding a way to curate a performance that satisfies and elevates an audience."
Barnard says the connection was "a shock" when he first realized it, but eventually he transitioned to a career that put presenting front and center. "It was a very difficult shift to make, because the search committees that hire those positions are very tuned in to experience. They're afraid of hiring somebody who's so artsy they can't balance their own checkbook."
With the Congress of Country Music, Barnard oversees a $30 million project that will cover 50,000 square feet across an entire block of downtown Philadelphia. In addition to the renovation of Ellis Theatre, built in 1926 to screen silent movies, the project will include a new museum building to host educational programs and showcase Stuart's memorabilia.
The collection began when Stuart found a makeup case that once belonged to Patsy Cline in a Nashville junk store. "He realized we were losing all these artifacts from that whole generation of country music stars before him," Barnard says. "He started collecting, and it's become a passion for him over the years."
The memorabilia include guitars, song manuscripts and stagewear like the iconic Nudie suits, the flashy, rhinestone-studded outfits custom made for performers by renowned rodeo tailor Nudie Cohn. The most valuable artifact, Barnard says, is a guitar that Hank Williams gave to his son, Hank Williams Jr., who in turn gave it to Johnny Cash, who later presented it to Stuart as a wedding gift when Stuart married Cash's daughter, Cindy.
It seems a distillation of the very essence of country music—an art form passed from generation to generation—embodied in the shiny strings and worn frets of one guitar. "It's remarkable to see it so distinctly delineated in a single artifact like that," Barnard says.
In naming his Congress of Country Music, Stuart was inspired by Buffalo Bill's Wild West and Congress of Rough Riders of the World, a traveling show famous for its huge international cast of riders demonstrating horseback skills from all over the planet. It's intended to connote "the convening of a large, disparate group, not the political body," Barnard explains.
"The whole vibe of country music is very inclusive, not only the people involved, but the many different styles that go together. What we call country is a very wide tent, so 'congress' is really an appropriate term."
Accordingly, Barnard hopes to attract country fans worldwide to Philadelphia, while also serving a local community of African American, Choctaw and white populations. A committee that mirrors local demographics will advise him on booking decisions, and he's aware of the opportunity a 500-seat theatre presents in a city of 7,000 long lacking such a venue: The first season features a gospel choir, a blues band, children's theatre and Irish music to balance the acts booked with Stuart's help.
"It's important to me that we present programming that appeals to all of the community," Barnard says. "I'm committed to that."
Steven Hill is associate editor of Kansas Alumni magazine.
Photo courtesy of Dan Barnard