DJ spotlights country songs forgotten or never known
Podcast rescues rough gems from the bargain bin.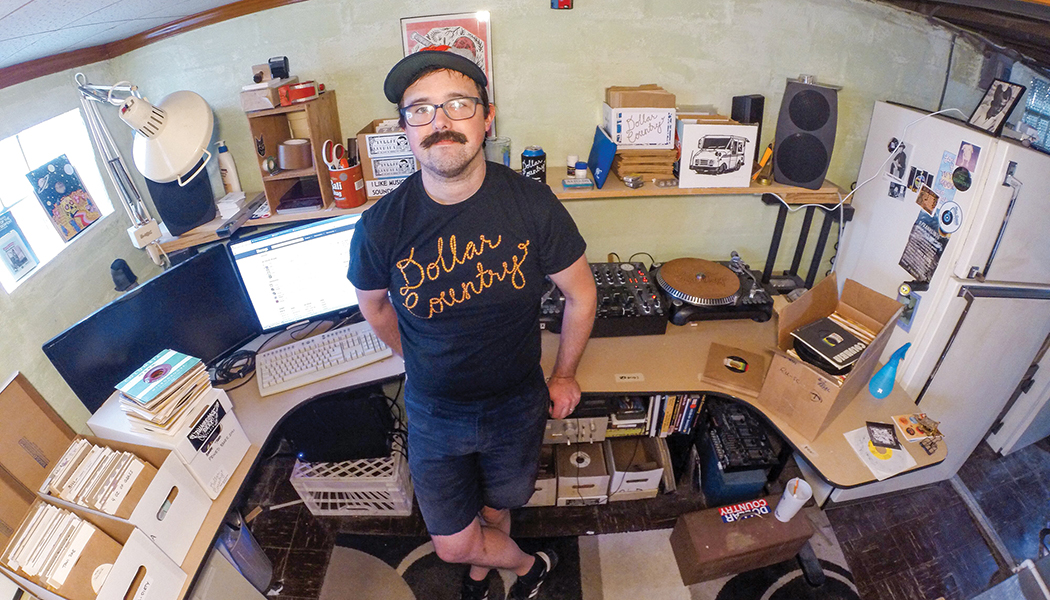 As the host of Dollar Country, a podcast radio show that originates in the basement of his Cleveland home, Frank Fantini explores uncharted corners of the country music world, drawing on his collection of 5,000 singles gleaned from estate sales, flea markets and the dusty dollar bins of record stores to play tunes even the most dedicated country fans probably can't name.
"I usually describe it as hits and misses from the golden age of country music," says Fantini, '11, who calls himself Frank the Drifter on his DIY jamboree. "Country has a lot of baggage for a lot of people, so I try to let everyone know I'm playing older, classic country—local and regional stuff that perhaps they've never heard."
A select few contemporary artists earn airtime, but mostly he favors music from the 1950s, '60s and '70s. "Golden age can be anywhere from Hank Williams to Merle Haggard," Fantini says.
Not that the artists he features are anywhere near as well known as those icons: The only place these obscure troubadours were ever household names was their mama's.
Consider Wayne Caddell and his single "Country Fried," a locally pressed record from the Omaha-Sioux City area. "It's a song about playing country music and drinking beer and smoking weed and having a good time," Fantini says. "From what I can tell, the guy only released that one thing, and I was the first person to uncover and play it on the internet. I think of that as one of the hallmarks of Dollar Country, discovering and sharing stuff like that."
The show is an expression of Fantini's long love affair with music and radio, which started before he moved to Lawrence in second grade. An uncle in Delaware—an old radio hand with a long career in the industry—had his own pirate station, a transmitter he kept in a shed out back and fired up once or twice a year. In middle school, Fantini and everyone he knew were fans of 105.9 The Lazer's rock format, but as he got older he shifted to KU's student-run station, KJHK. His favorite show was the heavy metal program Malicious Intent.
"That was the cool thing to do, because KJ was playing stuff we couldn't hear anywhere else," Fantini recalls. "That was where I could hear metal and hip-hop. Listening to KJ expanded the world of music that I thought was even possible."
While attending KU he became a DJ at the station, for a time co-hosting Malicious Intent. He also worked at Love Garden Sounds, the downtown Lawrence vinyl haven, and began collecting country 45s he discovered in the store's dollar bin. The bargain tunes weren't bad, just underappreciated, he decided, and the gulf between metal crunch and country twang wasn't as gaping as he'd expected.
"Some of the do-it-yourself instincts like releasing your own music and being your own advocate that are really prevalent in metal and punk are also prevalent in old country music," Fantini says. "I always liked stuff that was lo-fi and sounded homemade, and there's a lot of that in the old honky-tonk sound, because a lot of it was recorded before modern recording techniques."
That DIY ethos carries over to Dollar Country, which he records three or four times a month amid his basement trove of singles, sequencing the music and the between-song patter in one go like a live radio broadcast.
"It's all stuff I own," Fantini says. "That's one of my rules. Except for very, very unique circumstances, it has to be something I actually have in hand, and I play everything directly from the record."
The production of Dollar Country may be decidedly analog, but Frank the Drifter is tech savvy when it comes to distribution. Fantini makes each hourlong program available to his 7,000 Instagram followers and Patreon supporters, and uploads the show to Public Radio Exchange, an online distribution hub for public radio content. Stations in Alaska, California, Virginia and West Virginia have broadcast Dollar Country, as have several stations in Australia.
"I'm of the generation that experienced radio when it was still a big deal," Fantini says, "because you couldn't just log on to the internet and listen to any song whenever you wanted. Now you can find almost any major label, band or song on Spotify or YouTube or pretty much anywhere."
With one foot in the days when radio was king and one in the podcast era, Dollar Country is an approach to music discovery that holds there are good reasons to look beyond the endless scroll of the infinite playlist. Undiscovered gems—rough and unpolished, to be sure, but worth a listen nonetheless—are out there.
"What I'm trying to do," Fantini says, "is present things you won't hear anywhere else, things that—without my show—there's a very good possibility you would've never heard at all."
Steven Hill is associate editor of Kansas Alumni magazine.