Diplomat Elizabeth Trudeau tells America's story
Foreign service officer taps KU journalism training to explain U.S. policy abroad and at home.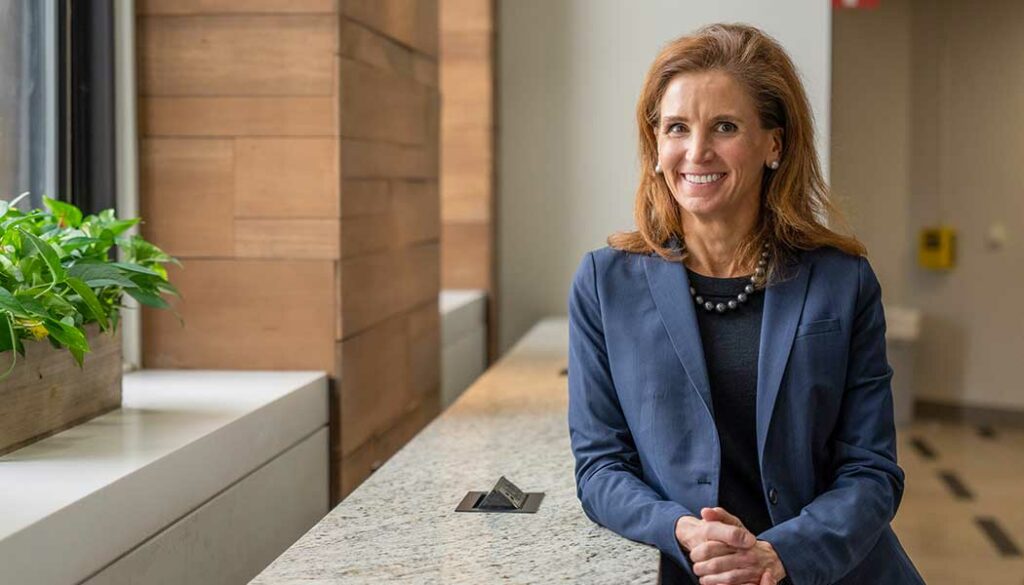 Since joining the foreign service in 2004, Elizabeth Kennedy Trudeau has seen a lot of the world and filled a wide range of roles at the State Department.
She delivered daily press briefings as the department's spokesperson and director for press operations in Washington, D.C.; served as U.S. consul general in Lahore,  Pakistan, and Belfast, Northern Ireland; and worked in the press shops of the Pentagon, the National Security Council and NATO headquarters in Brussels. As press attache and spokesperson for the U.S. Embassy in South Africa, she managed public events for Michelle Obama during the first lady's 2011 trip to Soweto. While based in Nairobi, Kenya, she accompanied Secretary of State Condoleezza Rice to Khartoum, Sudan, for peace talks in 2005. 
In the job she held until recently, as acting assistant secretary for global public affairs, Trudeau, j'91, traveled widely as part of a State Department effort to bring U.S. foreign policy to the public. That mission brought her back to Mount Oread Jan. 26 to meet with students at the William Allen White School of Journalism, where she earned a bachelor's degree on the news and editorial track.
Her Lawrence visit was part of a Midwestern swing to connect with students and encourage them to consider joining America's diplomatic corps. Trudeau's message to the Jayhawk journalists she met: First, you're in the right place to prepare for a career. Second, expand your idea of what that career can look like.
"KU and certainly the journalism school taught me the fundamentals I needed," Trudeau says. "I write well, I write quickly, I write factually. I can speak concisely, and I'm not afraid to ask questions. And that was really inculcated here at the J-school.
"But one thing I told the students is, 'Think outside the box.' If you had told me as a sophomore walking past Wescoe Beach that I would be representing the United States at NATO, I would never have believed it. Life is seldom a direct path. My philosophy has always been, do something that scares you a little."
As a freshman, Trudeau arrived from Columbus, Ohio, already steeped in the mechanics of writing and storytelling and set on becoming a reporter or editor.
"It was definitely the wonky side of the J-school at the time," she recalls of her news and editorial focus in Stauffer-Flint Hall. "All my cool friends were at KJHK, but I was the one doing the copy editing and the wax-and-X-Acto-knife layout at The Kansan. We still used typewriters in our first reporting class—the stacks of paper, ripping it out. Walking into this building now, what I remember is the smell of the wax."
As acting director of global public affairs, Trudeau led a bureau that employs 350 people in eight locations around the world; their primary job is to advance U.S. foreign policy through public diplomacy and public messaging.
"We're basically telling the story of what America is doing, why we're doing it, and why it matters," Trudeau says.
That task hasn't gotten easier in the two decades since she left her role as director of communications at Foundation for Seacoast Health to join the foreign service. With journalism facing many challenges—restrictions on press freedoms, threats to journalists' lives, and collapsing economic models that are transforming the media landscape—telling America's story is more complicated than ever.
"One of the things we do as we go abroad is understand that we're not just advancing foreign policy in a vacuum. We're advancing foreign policy in a really complex media landscape where we've got to counter state actors pushing disinformation, trying to sow chaos. We're advancing information in a world where technology is changing every day, where digital platforms can lead to polarization. Sending out a press release is not how anyone does business anymore. You have to be where the audience is, you have to measure it, and you have to adapt your message. So it's a very agile, very nimble tradecraft we're doing now."
Nimbleness has been a hallmark of her career, too. Weeks after her campus visit, Trudeau moved to her next posting as a commissioned foreign service officer, at the U.S. Agency for Global Media, the executive-branch home of the federal government's five international media outlets, including Voice of America and Radio Free Europe. Still employed by the State Department, she will be the agency's first director of external affairs, talking to foreign governments about the importance of media freedoms and handling all congressional and public affairs engagement.
It's one more opportunity to practice the skills she learned on the Hill.
"Over the last few years, working at the National Security Council and the Pentagon and as head of public affairs at the State Department, I realized more and more that we have to make sure that not only our colleagues, our adversaries and our allies overseas, but also the American people, understand our foreign policy initiatives and our decisions," Trudeau says. "It's absolutely the fundamentals I learned at the J-school: storytelling, making it relatable, and making sure people have access to information so they can understand the context around this vision. I'm just so excited to have the chance to do that job."
Steven Hill is associate editor of Kansas Alumni magazine.