Newly minted Army officer preserves memories of those who came before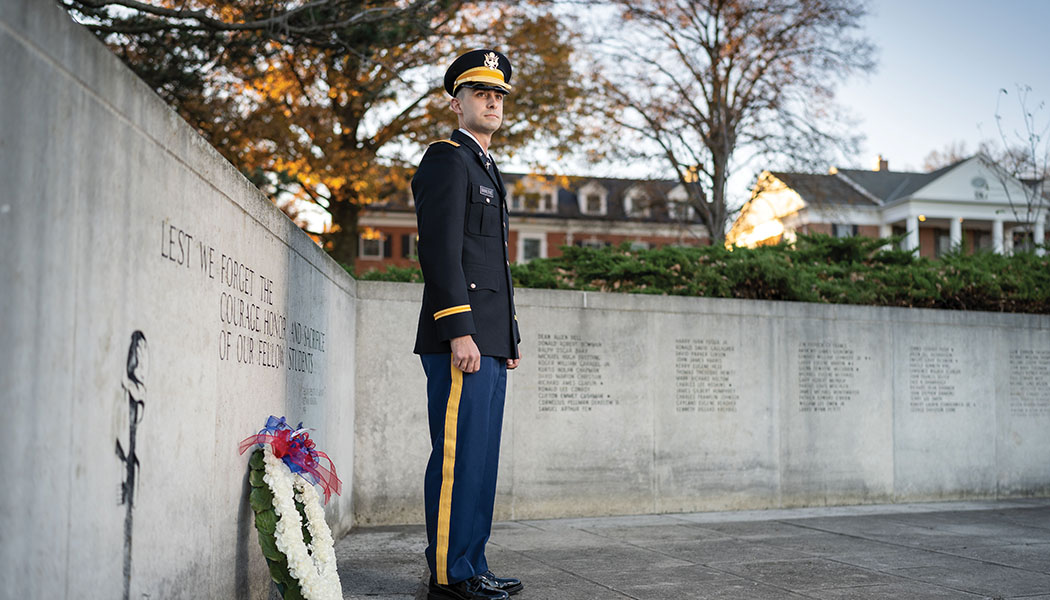 Lt. Harrison Manlove grew up in Olathe, near enough to Lawrence to make frequent campus visits when his family drove in for Jayhawk games, yet far enough away that he couldn't indulge his boyhood adventure instinct by roaming Mount Oread, guided only by his curiosity.
But he knew he would be back.
KU "was always the goal," as was the U.S. Army, so after completing a slew of required courses at Johnson County Community College, Manlove, c'21, hustled west down K-10 to become a Jayhawk and join Army ROTC.
"That was my pipeline after high school," Manlove recalls. "Hit community college, get those basics out of the way, transfer to KU, commission as an Army officer and go from there. So far we're on track."
Once here, Manlove immediately began exploring campus. His lifelong love of history—his major at KU—instilled a fascination with old buildings and their environs, so he wandered Jayhawk Boulevard endlessly, taking in the sights while imagining the place in years past.
Captivated by the KU Vietnam Memorial lit up at night, he made his way to Memorial Drive, and his thirst for knowledge about those who came before became nearly insatiable. He often paused during his frequent solo runs to photograph the limestone wall. He made lists of names, and in the curious way of military history enthusiasts, he hunted for stories behind the bittersweet inscriptions.
Capt. Ralph Bray, '66, Manlove learned, had been killed in 1969 by a booby-trapped artillery shell; looking further, Manlove realized that Capt. Bray was buried in Olathe, across the street from his boyhood home.
"The names on those memorials were people who went here. They were Jayhawks, too," Manlove says. "Everybody has a story, so in my spare time I would look up those names to see what I could find."
And how many of KU's war dead did Manlove research?
"Every single name. I looked at every single name on every single memorial. The Korean War Memorial, World War I, the Vietnam War Memorial, I would take pictures of the monuments, pull it up on my phone and get to work, start looking it up to see who these men were."
The missing element of Manlove's quest remains, of course, World War II, because he felt honor-bound to resist entering the Memorial Campanile before walking down the Hill. Manlove says he understood that tradition encourages underclassmen to visit the Campanile so long as they enter and exit through the same door, but Manlove wouldn't have it, telling himself  I can't do it, I can't do it. "I never stepped a foot inside," he says, "until I graduated."
Eventually Manlove began focusing on the stars on the Vietnam Memorial—one star indicates the fallen Jayhawk was missing in action or a prisoner of war; a second denotes that remains had been located and identified—which led him to Glenn Dewayne McCubbin, whose single star indicated that he was missing in action.
It so happened that Manlove's deep dive into McCubbin's backstory coincided with research for his undergraduate thesis, on U.S. involvement in Laos from 1962 to 1964. When he learned that Lt. McCubbin's F-4 had been felled during a night raid over North Vietnam but likely went down just over the border in Laos, Manlove was intrigued by the connection with his own studies of Laos.
As he read on, he discovered that McCubbin—who had been promoted to major while missing in action—was no longer, in fact, missing in action.
His remains had been recovered in 1989 and identified in 2006.
The wall, Manlove was startled to learn, was in error.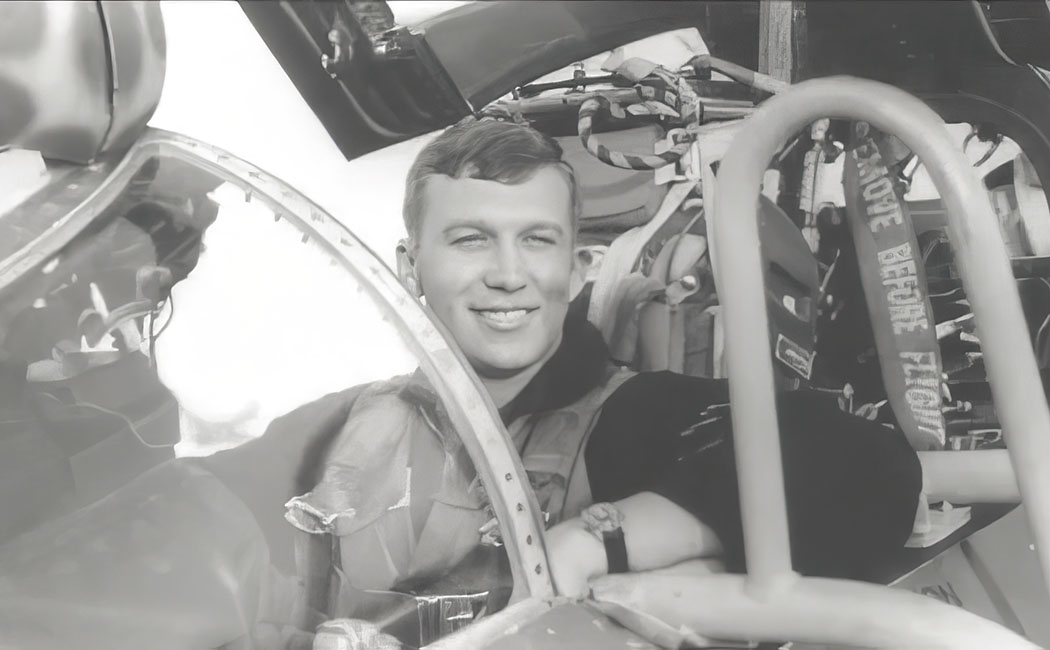 In his official Department of Defense files, Glenn D. McCubbin, c'65, listed his hometown as Almena, in Norton County. He had been a math major at KU, apparently after transferring here from the U.S. Air Force Academy, and joined Air Force ROTC. (KU was, and remains, the only university in Kansas, and one of about 55 nationwide, to offer all three ROTC programs.) After completing his flight training following his KU graduation, Lt. McCubbin was dispatched to Southeast Asia, assigned to the 497th Tactical Fighter Squadron, based at Ubon Airfield, Thailand.
Shortly after midnight on May 19, 1968, McCubbin, a pilot systems officer, and aircraft commander Capt. Joe Davies departed Ubon as the lead aircraft in a flight of two F-4 Phantoms. Weather was clear, according to a 1978 "Summary of Facts and Circumstances" compiled by Department of Defense, with 6 miles visibility, and the two aircraft, call signs Blackjack 01 and 02, flew 5 miles apart "to ensure effective target coverage throughout the armed reconnaissance portion of the mission."
During their attack, Blackjack 01's wingman reported radio trouble. Capt. Davies directed Blackjack 02 to expend its ordnance and return to base and advised that he would do the same.
"This," stated the DoD report, "was the last communication received from the lead aircraft."
Confirmed communication, at any rate. As Blackjack 02 turned back for Thailand, its crew observed three explosions, presumed at the time to  be Blackjack 01 releasing its ordnance. But when Blackjack 02 returned to base alone, a search was mounted for Davies and McCubbin. A flight already in the area hunted desperately for the missing airmen, without success, and it, too, began turning back; that's when a beeper signal was heard and voice contact established with an unknown person on the ground.
Transmissions were erratic, according to reports, so they could not be confirmed as coming from Davies or McCubbin, but the signals were established as emanating from across the Laos border. Another search mission was launched, during which rescue crews heard the unidentified beeper signal in Laos, but they could not establish contact with the sender. Rescue efforts ended the following day.
Other reports, however, indicate that the rescue mission did briefly establish voice contact with "Alpha"—referencing an aircraft commander—and, because no other U.S. aircraft had been recently lost in that area of "hotly contested jungle covered mountains that were heavily populated by NVA troops and villagers," the voice was presumed to be Davies. No further radio signals or vocal transmissions were received, however, and both Davies and McCubbin were immediately listed as missing in action.
Long after the airmen had been officially classified as killed in action, remains recovered at the presumed crash site in Laos were confirmed in 2006 to be those of Glenn McCubbin, who had been posthumously promoted to major and awarded the Distinguished Flying Cross, the Purple Heart and the Air Medal with eight oak-leaf clusters.
Maj. McCubbin was buried in Norton Cemetery and, because his mother, Martha Colip, had died in 1991 with no other known surviving family members, there his story ended—until Harrison Manlove emailed the Alumni Association after his graduation and commission in the U.S. Army with news of his discovery.
Michelle Lang, the Association's senior director of programs and hospitality and staff liaison to the KU Veterans Alumni Network, forwarded Lt. Manlove's email to network president Mike Denning, c'83, a retired Marine colonel and director of KU's Office of Graduate Military Programs, setting in motion events that this spring, it is hoped, will culminate with a new star on a refurbished wall and a ceremony honoring Maj. McCubbin.
"I think the main point of the story is Harrison's efforts," Denning says. "You've got a young student, who now is serving, who found this out on his own initiative, and because of that we're going to be able to correct something that was in error—not by any intention, be that as it may—on our memorial."
Contrary, perhaps, to Harrison Manlove's hopes for a swift addition of McCubbin's second star, modifications to KU war memorials require extensive planning—primarily because status changes for war casualties also represent an opportunity for renovation to weather-weary outdoor sites.
The KU Vietnam Memorial—the first on-campus commemorative honoring Americans who died in what was then America's longest and most unpopular war—was conceived in fall 1983, one year after dedication of the Vietnam Veterans Memorial in Washington, D.C. A student-led project, the KU site required years of painstaking records research to identify students lost in Vietnam—the war had ended more than a decade earlier, few records had been computerized, and cross-checking was all but impossible—before the memorial was finally dedicated on May 25, 1986.
Eleven years later, Vietnam veteran Fred Green, c'63, returned to campus to participate in an ROTC awards ceremony and visit the memorial to pay respects to fallen Kappa Sigma fraternity brothers Loyd Meredith Willson and Larry Martin. Green, then a retired Army colonel and former legal counsel to Joint Chiefs of Staff chairman Gen. Colin Powell, was stunned to see that Maj. Martin, b'62, pilot of an F-105 Thunderchief shot down in 1968, was still listed as MIA, because Green knew his remains had been recovered, and that Army Capt. Willson, c'62, killed in jungle combat, was nowhere to be found on the wall.
"I guess it just dawned on me,'" Green told Kansas Alumni in 1998, "where the hell is Meredith?"
As with Maj. McCubbin, the new information about Maj. Martin and Capt. Willson had never been forwarded to the University or the Alumni Association's records team, but once notified of the unfortunate oversights, the University swung into action, rededicating the memorial in a stirring ceremony on April 25, 1998. (See "Lest We Forget," issue No. 4, 1998.)
And as was the case in 1998, Maj. McCubbin's update offers campus caretakers a welcome opportunity to refurbish difficult-to-maintain limestone slabs installed at ground level.
"All that black stuff that's on the stone is biological. It's not literally dirt; it's mold spores that get back into the stone," explains University Architect Mark Reiske, a'86. "You can clean the surface to make it look great and months later it's like you didn't do it because you didn't kill those spores. They just come back to the surface."
When he learned that a new star was needed for Maj. McCubbin's name, Reiske reached out to a trusted local contractor to bid on not just carving a new star, but also cleaning and sealing the entire monument and filling in the tired paint that highlights lettering carved into the flat stone slabs. The work, paid for by private donations generated by KU Endowment and pooled in a permanent fund for upkeep of all campus war memorials, is expected to begin as soon as winter weather abates.
Unfortunately for the many losses it will represent, yet another site is being planned for Memorial Drive, honoring Jayhawks lost in 21st-century combat. Tentatively called the  9/11 and After Memorial, it will likely reside on a node to be built into the hillside overlooking Potter Lake, between the Korean War Memorial and the Campanile.
"That may be the next thing we're looking at," Reiske says. "It's not like our memorials along Memorial Drive represent all of our students who have fought and not come back. I know we've got some people on campus who are very aware of that. We've got some gaps still, and that's something we need to respond to."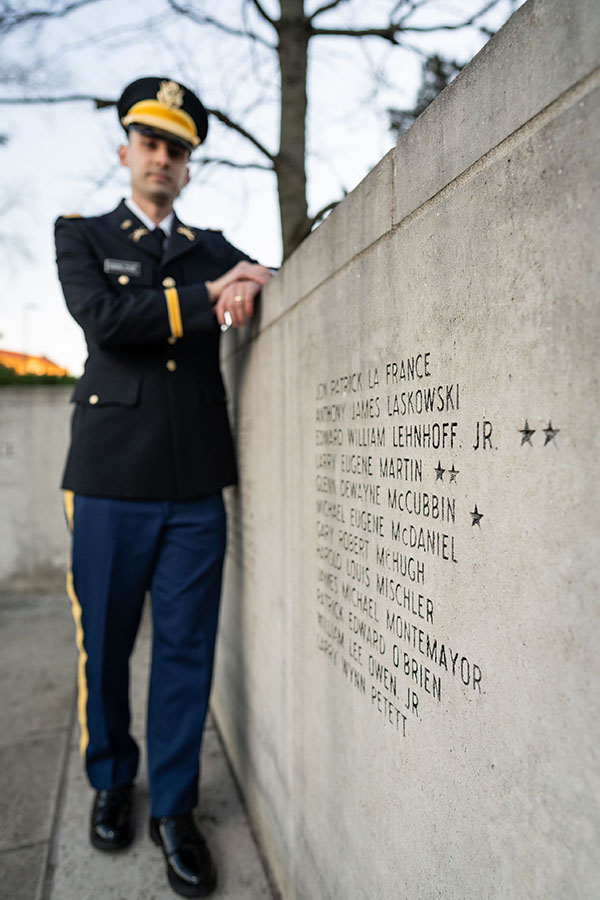 More than a half-century after his death in Laotian jungle, Maj. Glenn McCubbin's heroic story was researched, written and shared by more than one Jayhawk: H. David Pendleton, c'81, a retired U.S. Army lieutenant colonel who lives in Lenexa, last April found within his files a spreadsheet of all 627 U.S. service members killed in the Vietnam War who listed Kansas as their home of record at the time of their enlistment.
Pendleton—like Manlove, a history major and military history aficionado—dedicated himself to spending one year researching every fallen Kansan and sharing their stories, and photographs, on the Facebook group Kansas History Geeks on the anniversary of their deaths.
"I just think it's great that a young person has taken an interest in history. We have 58,000-plus who paid a price in Vietnam and we always need to honor them," Pendleton says of Manlove's research. "I don't think Vietnam veterans got the due they deserved when they returned because it was an unpopular war, so now we remember them so we don't forget them."
Although he continues to share his military history research on his Twitter account, @Azmarayfury, Manlove in December reported to armor school at Fort Benning, Georgia, to begin his military career in earnest. Always respecting the past, Manlove also looks to the future, toward the career he has long desired.
"I've wanted to join the Army since I was about 13," he says. "I've always been a history guy, and I've always found myself reading war stories about the army, what the army has done throughout history, whether it's the U.S. army or another country's army."
While Steve Puppe, j'98, was shooting photographs of Manlove for this story, a young woman paused to watch and ask a few questions. Nhung Nguyen, of Hanoi, is a PhD student in the School of Journalism, studying and teaching social media, new media and their potential for societal change. She says she sought out KU's memorial as soon as she arrived on campus and visits it frequently, savoring quiet moments to think about the 38 U.S. veterans she helped host on a mission of peace and friendship that she later documented with a short film.
"I think about them, I think about those young guys, 19, 20, 21 years old, going to the jungle, trying to survive," Nguyen says. "I'm thinking about my country as well. My people. We have two different ways of thinking about the same war. When it comes down to individual stories, it's all about humans. It's all about suffering."
Asked whether young Vietnamese have more appreciation for the war's history, she replies, "I do not think that they care very much." The majority of today's Vietnamese were not yet born at the time of the war, Nguyen notes, and, there as here, a past they do not know is a past forgotten.
"They didn't get the whole story, don't have any chance to be exposed to any personal stories about the war. It makes the war stories less relevant.
"And if it is less relevant, they will not care."
Editor's note [Lift the Chorus, issue No. 2, 2022]: Retired Lawrence attorney David Richards, l'72, who grew up with Glenn McCubbin, informed us that, contrary to our statement that Maj. McCubbin had no known surviving family members at the time of his burial in Norton, he had a brother, Harold, who graduated from the School of Law. Further research revealed no family links between the two brothers noted in either's official alumni records. We reached Harold McCubbin, l'71, now a retired attorney in Littleton, Colorado, who was excited to learn of Lt. Harrison Manlove's research and expressed interest in returning for the ceremony that one day will honor the second star to be added to the KU Vietnam Memorial in recognition of his brother no longer being missing in action. Due to weather delays and renovation contracting hurdles, work on the memorial had not begun as of press time, but it remains a KU priority.