Angel Goodrich: 'Elite' point guard finds life's work as firefighter
KU hoops star relishes unlikely career as Tulsa firefighter.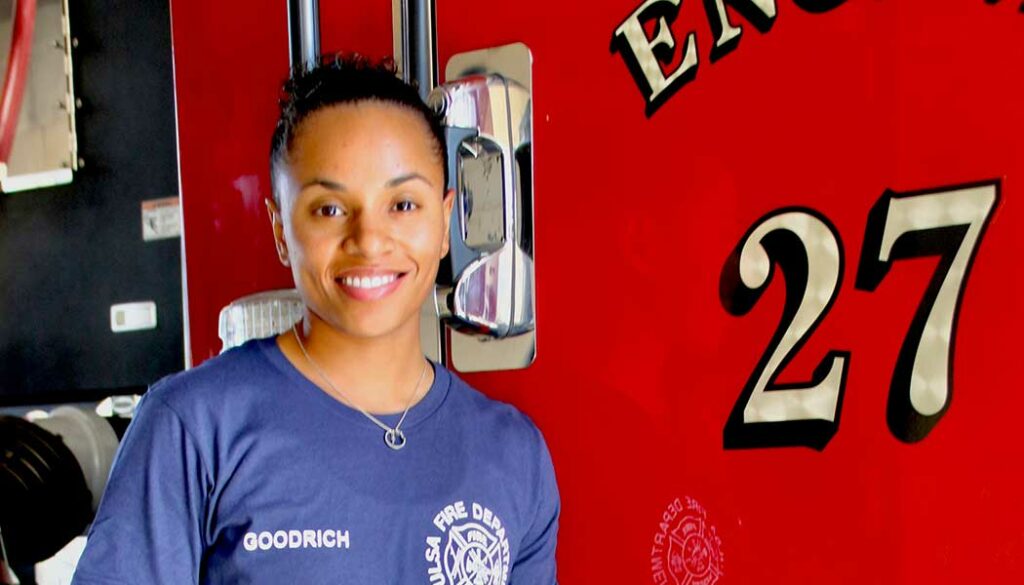 The mere mention of Angel Goodrich prompts an instant response from KU women's basketball coach Brandon Schneider: "Elite. Elite of the elite." Well-earned praise, considering Goodrich remains the school's all-time assists leader, even after successive season-ending injuries to both knees.
The fan-favorite point guard would likely land on even casual fans' short lists of the toughest, most talented and competitive Jayhawks of the past couple of decades. Now in her third year as a firefighter with the Tulsa Fire Department, Goodrich, c'13, has earned those descriptors far beyond the basketball court, in a profession she now views as her calling.
"I love my job," Goodrich says. "I know you might hear people say they have the best job in the world, but I can honestly say, it's the best job in the world."
After leaving Sequoyah High School in Tahlequah, Oklahoma, as the first Division I scholarship athlete in school history, Goodrich arrived at KU as a shy, 5-foot-4 freshman who at times seemed awed by the scope of her surroundings. She tore a ligament in her left knee in the second practice of her first season, then did the same to her right knee 15 games into her redshirt freshman season.
"A lot of people doubted me on coming back, because they thought I was gonna go home," Goodrich says. "But that doubt pushed me more than anything. All my life, I've had this motto—prove 'em wrong, prove 'em wrong—so I kept that in the back of my head."
After two exciting runs deep into the Women's NIT, Goodrich led the 'Hawks to the NCAA Tournament's Sweet 16 in 2012 and 2013, when the team was regularly ranked in the top 25. Goodrich played a staggering 2,529 minutes in her final two seasons, and not only topped KU's career assists charts at 771, but also scored 1,262 points, which puts her No. 8 among KU guards and top 20 all-time.
Goodrich went on to play two seasons for the WNBA's Tulsa Shock and one for the Seattle Storm, along with three seasons of professional ball in Russia and Poland. She says she still occasionally wonders whether she might have left the game too soon, yet shortly after her release by the Storm and a stint overseas, Goodrich, an enrolled member of the United Keetoowah Band of Cherokee Indians, returned to her family in Tahlequah and found some comfort working with local children as a school tutor—satisfying work, but not what she wanted long term.
The first step toward her life's work happened at random: While watching TV news reports about California wildfires, Goodrich recalls, she shared with her mother her admiration for those risking their lives in service to others. Angel's mother reminded her of that conversation when they happened upon a Tulsa Fire Department recruiting booth at the Tulsa State Fair. Goodrich stepped up and introduced herself, and soon she was sweating through a TFD day camp, where those interested in the career could experience the job's life-and-death risks.
"It was the hardest, most challenging thing I've done," Goodrich says, "and when I say 'challenging,' it was more about the dangerous part of it."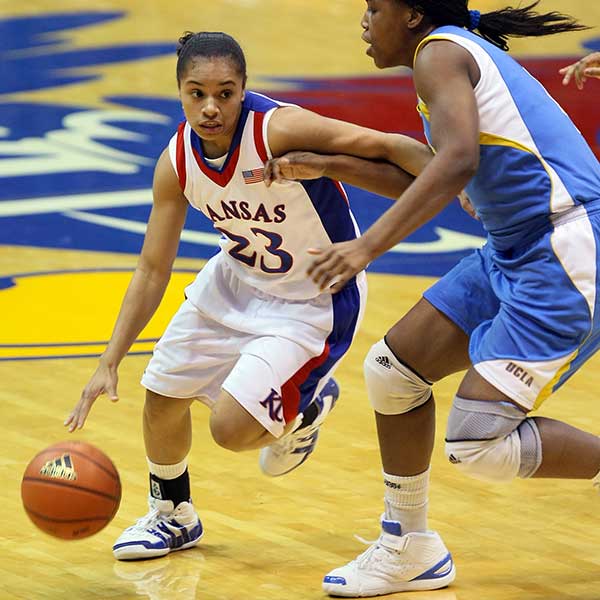 Goodrich proved to herself and her future employer that the job suited her, and, after completing EMT school, she was accepted into TFD recruit training on her first application—a rarity, especially for an undersized applicant with no family legacy or connection to firefighting.
"I knew I didn't want to be behind a desk, and this opened up a door for me, honestly," Goodrich says. "Heightwise, size, strength—yeah, a little different than for a guy, but there's also things I can do that could help guys who are bigger: getting into an attic, crawling into smaller spaces. It is a team career, becoming one big family, one big team working together, and obviously I love teams.
"Basketball has been all about teamwork, so it all worked out, being part of a family and a team again."
Thanks to her athletics success, Goodrich has long been in the public eye, especially in her hometown—where she still resides—and she says she's always been eager to use her success to inspire others, especially girls.
"I know a lot of young girls were looking up to me with basketball, so this is just another way to inspire them and let them know that there's not just sports; there are other careers out there that are open to them. It's an honor, to be able to inspire others."
Chris Lazzarino, j'86, is associate editor of Kansas Alumni magazine.
Top photo courtesy of the Tulsa Fire Department; bottom photo courtesy of Kansas Athletics