'Forgiveness is Infinite'
The years-long bid to forge peace between the Colombian government and FARC rebels reaches its most difficult but most essential stage—delivering justice to the victims of a half-century of civil war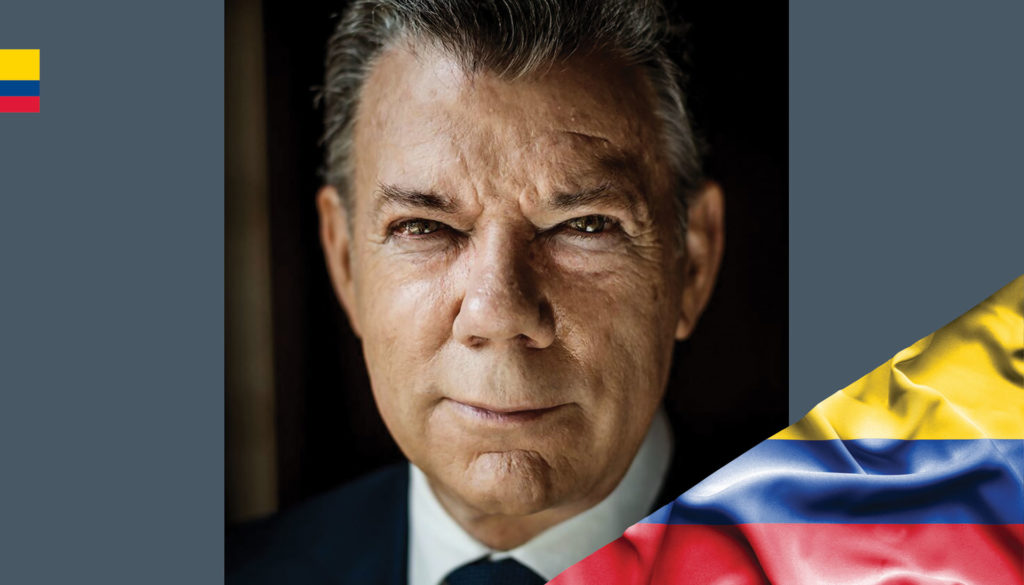 A 2011 Kansas Alumni cover story, "The Gamble," recounted how Colombian president Juan Manuel Santos' skill at bluffing fraternity brothers during all-night poker games at KU's Delta Upsilon house carried into a political career propelled by a willingness to take "audacious risks." In 2016, Santos, b'73, saw his greatest gamble—negotiating peace with the Revolutionary Armed Forces of Colombia (FARC), a rebel guerrilla army that had waged war on the country since 1964—pay off when his government signed (and the Colombian people ratified) a peace agreement with the FARC. Santos, KU's first head of state, was awarded the 2016 Nobel Peace Prize.
The Battle for Peace: The Long Road to Ending a War With the World's Oldest Guerrilla Army, published in April by University Press of Kansas, is Santos' account of that process, begun in earnest at the start of his two-term presidency but rooted in earlier stints leading Colombia's ministries of foreign trade, finance and national defense. This excerpt details a key element—and a crucial negotiating hurdle—in the president's quest for peace: recognizing the rights of the victims.
Santos visited KU in 2012 to accept the Alumni Distinguished Achievement Award from the College of Liberal Arts and Sciences, and in 2017 to accept an honorary Doctor of Humane Letters for outstanding contributions to achieving peace in his country and the world. He is currently founder and chairman of the Compaz Center of Resources for Peace.
—The Editors
In Havana, we had reached partial agreements on rural development, political participation, and the problem of illegal drugs. But the debates ahead of us were not going to be easy. We still had to discuss the point on the agenda devoted to victims, and that included guarantees with regard to the victims' right to know the truth, to see justice done, and to be assured of reparation and nonrepetition. Another point to be dealt with was the end of the conflict, which included the thorny question of laying down arms and the reincorporation of ex-combatants into civilian life.
Bearing this in mind, my address on August 7, 2014, at the inauguration of my second presidential term, included the following:
"I will use all the energy I have to comply with this mandate for peace. However, rather than celebrate what we have achieved, I remind you that we are entering the final phase of talks. And like all last efforts, this stage will be the most difficult one, and the most demanding. It is going to demand sacrifices from us all. And above all, it is going to require decisions. More than anything else, decisions about the victims.
"Can there be any family in Colombia that does not have a father or mother, a brother or sister, a cousin or a friend, who has not been a victim of this conflict? With the Law of Victims, we took an important step. But the crucial step is to put an end to the conflict, to guarantee that there will be no more victims and that the victims' rights will be respected in the best possible way.
"We must see a genuine willingness to tell the truth, to clarify what happened and explain why, as well as to participate in the process of reparation and find a formula for justice that the victims and all Colombians will find acceptable."
Little did we know then that discussions on the victims were going to occupy us for a year and a half. They began on May 7, 2014, with a joint declaration by all delegates at the negotiating table on the principles that would serve as guidelines for debate on this issue. But discussions did not conclude until the end of 2015 and at times had the process teetering on the brink of an abyss, especially because of the difficulty in reaching an agreement on the question of justice.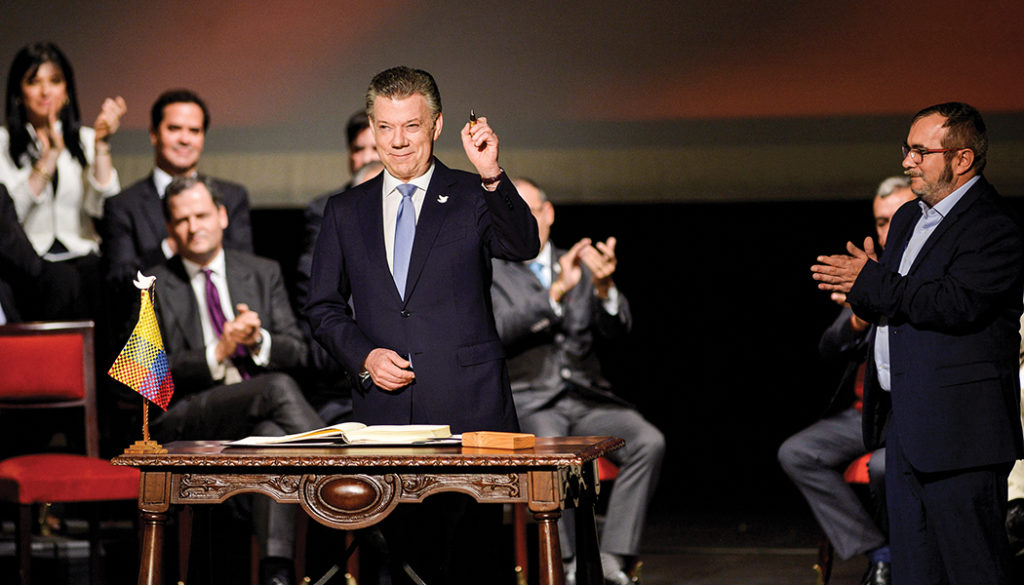 Mao Tse Tung, before beginning his famous Long March in 1934, recalled an adage of Lao Tzu that I always like to bear in mind: "A journey of one thousand miles begins with the first step." That's how I understood the difficult path I had embarked on when, back in 1996, I organized that meeting at the Monserrat Abbey to seek creative solutions that might lead to peace in Colombia. Indeed even before that, in 1991, when I was in New York as minister for foreign trade and listened to a businessman telling me that there would be no real investment in Colombia so long as an armed conflict subsisted, I began to dream of peace. And that dream would become a reality only if we could find an adequate solution to the problem of the victims.
Over half a century, the armed conflict had produced more than eight million victims, and to recognize them, make reparation to them, and accompany them constituted a moral and historical debt that Colombian society had contracted. Paying it was going to take years, but we had to begin as soon as possible. We had to take the first step. And that first step, even before we had begun peace talks with the FARC, was the Law of Victims and Restitution of Land, to which I have already referred.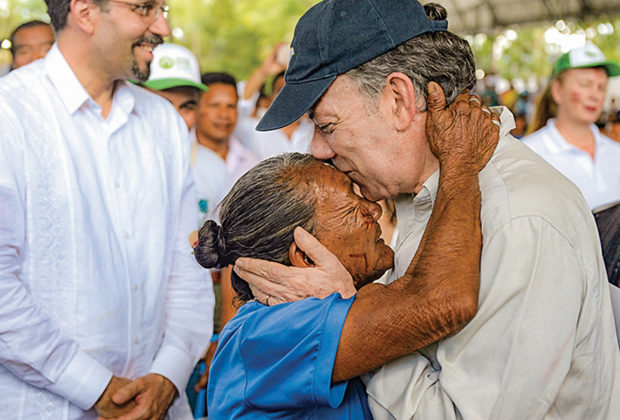 I kept constantly clear in my mind and heart that the goal of peace is twofold: on the one hand, to respond to the rights of the victims that the war has been responsible for, and on the other, to make sure there will be no more victims. And this conviction, which I transmitted to the government's negotiators, became the central axis of the process, an emphasis that made it unique in the world because the Colombian process was the first to place the victims at the center of the solution.
If we were seeking to end the conflict, it was to have no more victims. And if a form of justice was to be agreed upon, it would have to be a system of justice that was above all for them, and that would not be inspired by vengeance but by reparation.
At the very start of the process, I had a visit in Bogotá from Ronald Heifetz, founder of the Center for Public Leadership at Harvard's Kennedy School, where I had studied. And he gave me some sound advice. "Whenever you feel disheartened, tired, or pessimistic, talk to the victims. They, with their stories, their dramas, their courage, will give you the will and the strength to go on."
His words were always with me. And I put them into practice in the course of those years when, very often, there were dark clouds on the horizon and there seemed to be no way out, or when continuous criticisms began to make inroads on my resolve. To meet the victims, talk with them, listen to their tales of personal pain, but also to witness their courage and resilience, always helped me to persevere. If they were able to keep fighting, if they did not lose hope in the possibility of peace, if they were ready to forgive their tormentors, what right did I have to fall by the wayside?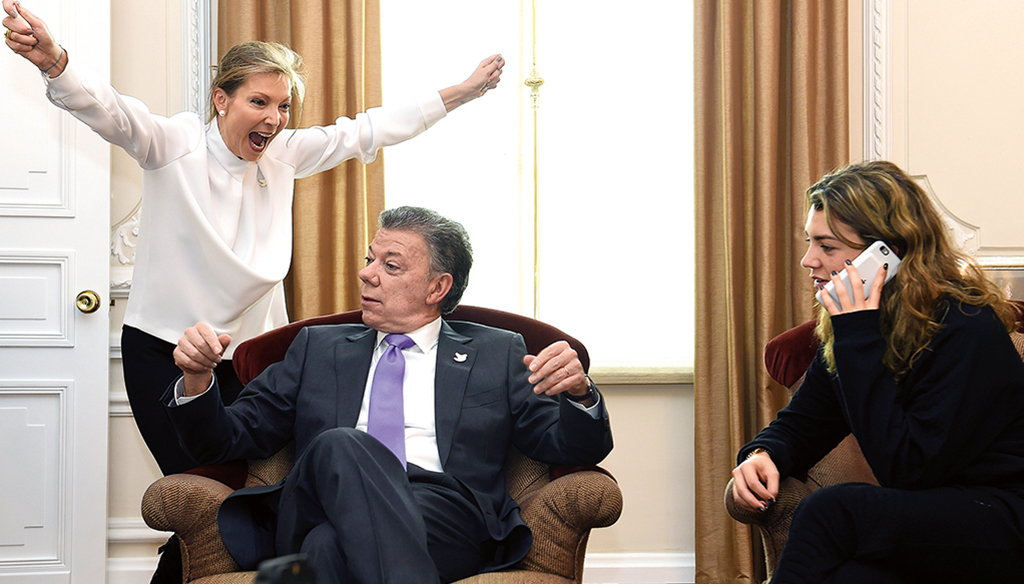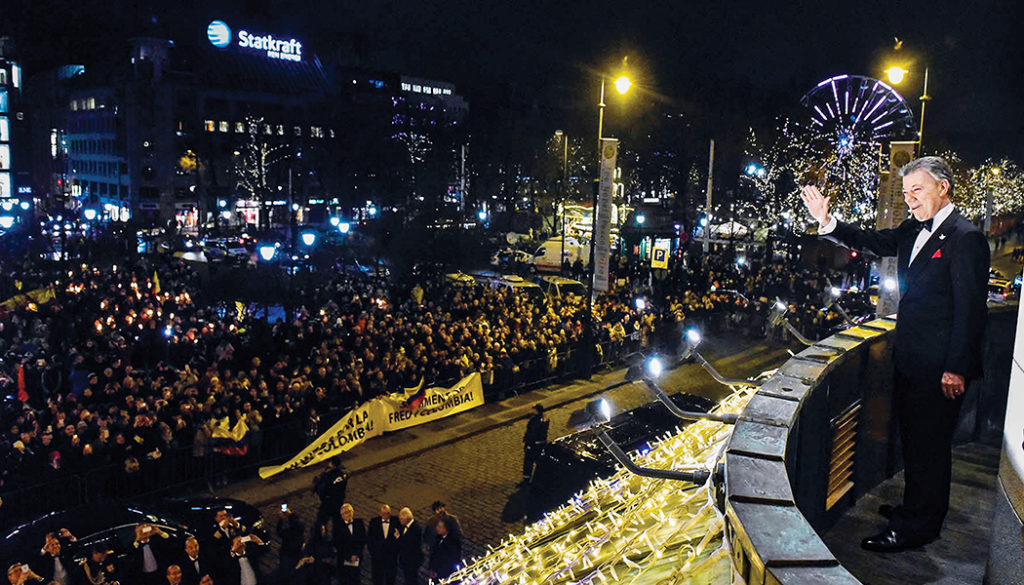 What I discovered in all my conversations with the victims was something wonderful: while many people who had never been personally scarred by the conflict were insisting that the FARC be subjected to the most implacable justice, that the ex-guerrillas should be locked up in prison for years—something that is simply not viable in a peace process, since no subversive organization is going to sign an agreement to go to prison—the victims were telling me that, for them, more important than punishment for their persecutors was that they be told what had happened to their loved ones, many of whom had disappeared and whose mortal remains they had never been able to recover. Above all else, even more than reparations or justice, the victims wanted to be told the truth.
And there was something even more noteworthy: the victims expressed their solidarity with the peace process and did not place their personal pain ahead of the possibility of ending the conflict and thus ensuring that other Colombians would not endure what they had suffered. What a marvelous example they gave us, and continue to give us. For me, it has been an important lesson for my life.
I met with the victims on countless occasions and in many parts of the country, in events where the government was providing free homes or some other kind of state assistance, and each time I was given proof of their courage, generosity, and solidarity. I was deeply moved by everything they told me.
I especially remember one occasion when we were inaugurating the government's provision of free housing in Neiva, the capital of the department of Huila, and I handed the keys of a new apartment to a man who was missing a leg. José Plutarco Valencia was his name. "What happened to your leg?" I asked him, in presence of all those who were attending the act of inauguration.
"I lost it in the war, in the conflict. I'm a displaced person from Putumayo."
"Well, cheer up, Don José!" I said. "You now have a home of your own, where you can be with your children." José Plutarco looked at me with a sorrowful expression in his eyes and replied very faintly: "I lost them too, Mr. President. Both my sons were killed in the war."
On another occasion, a woman came up to me and said: "President, I need your help."
"How can I help you?" I asked.
"I am displaced from Urabá, and lost my husband. The guerrillas killed him. And the paramilitaries took three of my sons. One died, but I never found out what happened to the others. They were taken from me by force. Please help me to find them."
My eyes filled with tears. What can you say to someone who has survived such pain? The murderers might be guerrillas, paramilitaries, or even agents of the state, but the victim's suffering is the same. We had to put a stop to this torrent of violence. And we had to do so at once. The conflict had become an implacable and efficient factory producing victims.
My memory is full of these stories. One particularly painful case was that of the Turbay Cote family, some of whose members were political leaders in the department of Caquetá. Toward the end of the 1990s, the FARC exterminated almost the entire family. Constanza Turbay, who survived, lost her mother and two brothers, all three assassinated by the guerrillas. Her older brother Rodrigo, who was president of the Chamber of Representatives in Congress, was kidnapped and then murdered in 1997. Her younger brother Diego, who was president of the Chamber's peace commission, was shot along with his mother on the roadside in Caquetá on December 29, 2000.
Constanza took her courage in her hands and traveled to Havana with one of the five delegations of victims that went there to tell their stories and to give their point of view. She actually sat down beside members of that same guerrilla group that had destroyed her life. Iván Márquez, head of the FARC's negotiatiors, asked her forgiveness in the name of his organization and acknowledged the great error they had committed. And Fabián Ramirez, another guerrilla commander who had been in Caquetá when the family was murdered, told the truth—the very painful but necessary truth—about what had occurred. There in Havana, fifteen years after the tragic loss of her family, Constanza forgave the guerrillas. "Forgiveness is infinite," she said. And before she left Cuba, she made a statement in which she declared: "We the victims are exchanging our pain for the hope of peace."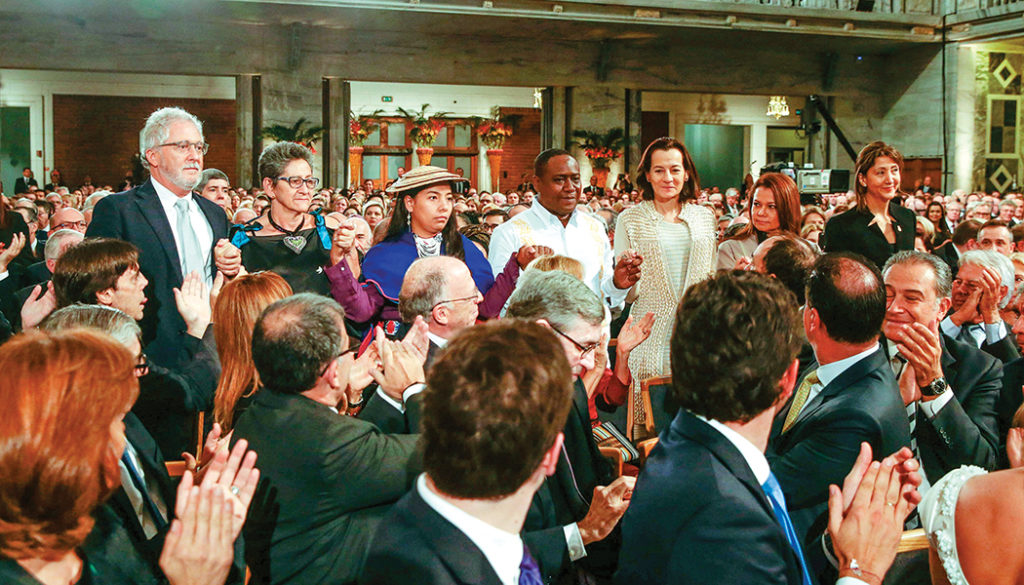 When I was asked who I would like to attend the ceremony in which I was awarded the Nobel Peace Prize in Oslo in December 2016, the first thing that came to my mind was that representatives of the victims should be invited. It was for them that we had made such an effort, and they had given us the moral support we needed to persevere. This recognition belonged to them more than anyone else.
And so it was that part of the official delegation that accompanied me consisted of victims of different actors in the conflict, among whom were the following: Pastora Mira, a courageous and generous woman whose father and husband had both lost their lives in partisan violence and whose two sons were murdered by paramilitaries, a story that brought Pope Francis to tears when he heard it during his visit to Villavicencio; Leyner Palacios, an extraordinary human being who survived the Bojayá massacre in Chocó; Liliana Pechené, a leader from the Misak community in Cauca, who represented the suffering of the indigenous people trapped in the middle of the conflict; Fabiola Perdomo, widow of one of the eleven deputies from the Valle del Cauca Assembly who had been kidnapped and murdered by the FARC in 2007; Ingrid Betancur and Clara Rojas, held captive for years by that same guerrilla organization; and the renowned writer Héctor Abad Faciolince, whose father, a medical doctor and human rights defender, was murdered by paramilitaries, a crime his son describes with a masterly pen in the most personal of his works, El olvido que seremos (published in the United States as Oblivion).
But they were not the only ones. When I looked around at the men and women who were on the flight with me to Oslo, several of them had been victims of the violence that has affected most of us Colombians in one way or another. There was my minister of the interior, Juan Fernando Cristo, whose father was killed by the ELN; the journalist Maria Jimena Duzán, whose sister was murdered by the paramilitaries, and the former senator Piedad Córdoba, who had been kidnapped by paramilitaries.
One of the most emotional moments during the Nobel Prize award ceremony was when I paused in my address and asked the victims of the Colombian conflict to stand up and receive the homage they deserved. And they did so, holding hands, and the expression on their faces reflected the sentiments of so many years of repressed anguish. All those present broke into a long and moving applause. There, in the solemn hall of the Norwegian capital—where people like Mikhail Gorbachev, Nelson Mandela, Yitzhak Rabin, Jimmy Carter, Barack Obama, and Malala Yousafzai had been paid homage—stood the representatives of eight million victims celebrating the end of a conflict that had robbed them of their loved ones or had stolen years from their lives and who, now that the war was over, once again could experience faith and hope.
There in Oslo, I recounted the story of Leyner Palacios, a joyful man and a proud representative of our Afro-Colombian ethnic group, who survived one of the war's most atrocious acts, one that occurred on May 2, 2002, in a tiny village called Bojayá, in the department of Chocó. That day, FARC guerrillas in combat with a group of paramilitaries fired a mortar that landed in the middle of the town's church where families had taken refuge. Some eighty people died, mostly children, and about one hundred were wounded. That day Leyner lost thirty-two members of his family, including his parents and three brothers. But he refused to give himself over to lamentations and a desire for revenge. He became a positive leader of his community and had the courage—because this requires courage—to pardon those who had committed this crime when they, members of the FARC, returned to Bojayá in June 2015 to beg forgiveness from the people whose town they had destroyed.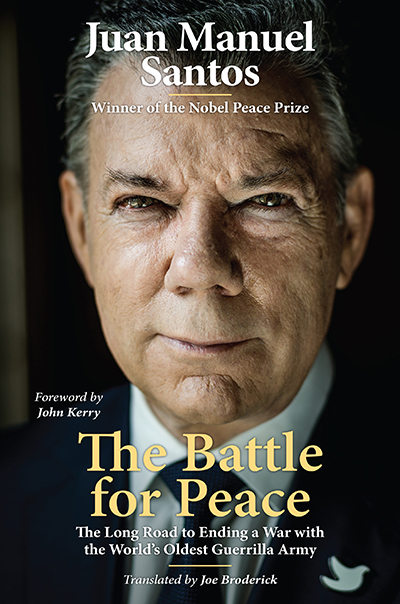 Forgiveness has a twofold liberating effect: it liberates the one who is forgiven, but the one who forgives is also liberated from the weight of rancor and the darkness of hate.
To learn more about the Colombian peace process, join an online conversation with President Juan Manuel Santos, 7 p.m., June 10, at doleinstitute.org.
Santos received an honorary doctorate from Chancellor Doug Girod and former Chancellor Bernadette Gray-Little at the Lied Center in 2017. During a 2012 campus visit, he spoke at the Dole Institute for Politics, met with students and received a commemorative basketball jersey. Photographs courtesy MarComm (3)