Hoch Auditorium: Gone, but not forgotten
Anniversary of Hoch Auditorium's fiery finale rekindles memories, fond and otherwise.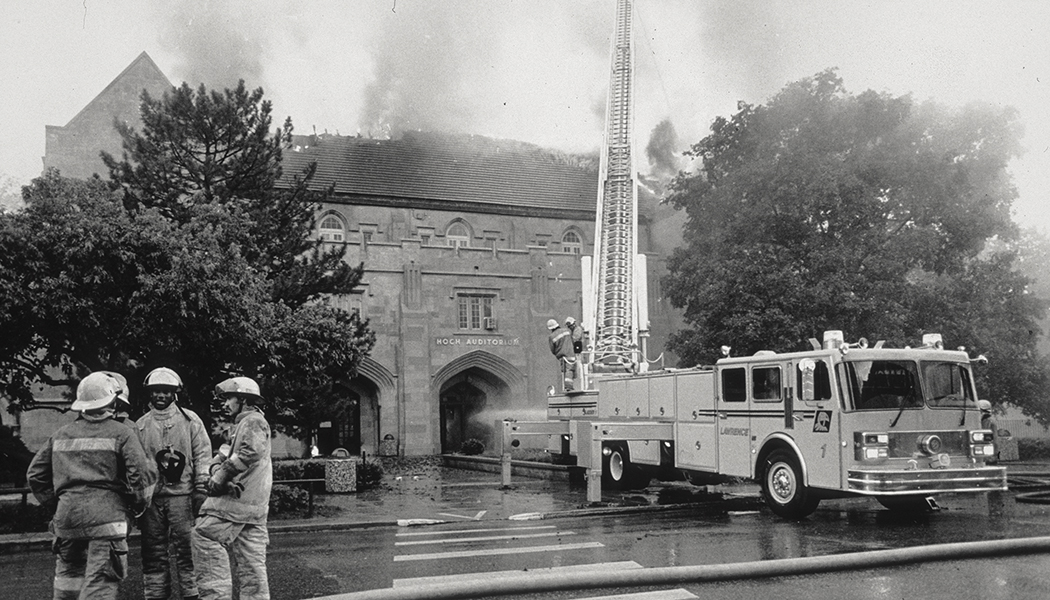 June 15 marks the 30th anniversary of Hoch Auditorium's destruction by lightning strike and raging fire. The "academic and cultural matriarch of the University family," as then described in these pages by Bill Woodard, j'00, Hoch has been gone nearly half as long as it existed.
Nostalgia for old Hoch comes easily now, thanks to the distance of decades. But at the time of its demise, the 1927 structure, designed to serve too many purposes (all adequately, none elegantly), was remembered—at least in part—for its notable blemishes.
"Hoch Auditorium wasn't easy to love," observed Jerri Niebaum Clark, j'88, in the July/August 1991 issue of Kansas Alumni. Ugly water stains from a leaky roof. Uneven—to be kind—acoustics, lighting and sight lines. A dangerous chandelier hovering high above like a sword of Damocles, reminding all of the perilousness of their perches. "Backstage," Clark wrote, "was as accommodating as an alley. The dressing room was a janitor's closet, and performers had to cross through the basement to get to the other side of the stage."
And don't forget the basketball games. Nearly 30 years of basketball games. Yes, the stage was designed in the 1920s to accommodate a court, but only barely, and it was supposed to be a temporary measure until the state came up with funds for KU to open an indoor sports arena—which, surprise surprise, didn't happen until 1955.
Hoch's most notable feature, the Collegiate Gothic façade that lent an air of majesty to Jayhawk Boulevard, was, of course, saved. Thanks to tireless work by Chancellor Gene Budig and other determined Jayhawks, the structure was rebuilt with three high-tech (for the time) auditoria, prep areas for chemistry and biology lectures and much-needed computer labs in the basement.
It's safe to say that Budig Hall is a busier daily hub than Hoch Auditorium ever was, and it is clean and safe and conducive to learning. Basketball will never again be played there, thankfully, but gone, too, are the performances and public lectures that made for memorable Mount Oread evenings.
Ella Fitzgerald. Coleman Hawkins. Benny Goodman. Sen. John F. Kennedy. Walter Cronkite. Edward Albee. Truman Capote. George Carlin. Louis Armstrong. Will Durant. André Previn and the London Symphony Orchestra (four performers fainted during that September 1974 concert, Clarknoted; when Previn returned with the Pittsburgh Symphony in 1981, his musicians, upon being told they'd have to change into their formal attire down the Hill in Murphy Hall, retaliated by performing in jeans).
Philip Glass. Leontyne Price. Itzhak Perlman. Isaac Stern. Tom Wolfe. Allen Ginsberg. Kurt Vonnegut. The Bill T. Jones and Alvin Ailey dance companies. Bob Marley, Louis Farrakhan, Steve Martin. Lynyrd Skynyrd. Molly Hatchet. The Beach Boys.
And let us not—now nor ever—forget Vespers' candlelight processions down Hoch's long aisles. Even Hoch looked good when so illuminated. Yes, Vespers and Rock Chalk Revue have a stunning new home at the Lied Center, but might those of us of a certain classic vintage be allowed to retain our special fondness for Hoch's hallmark events?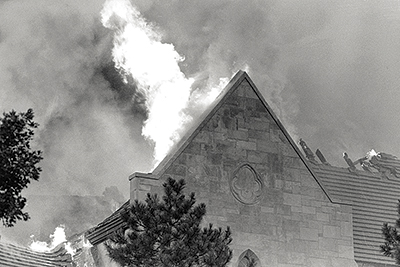 We shall not forget, but neither shall we be maudlin. At the time of its dramatic finale, Hoch Auditorium was a dangerous dinosaur, long past its due date. We mourn its loss, but mostly remain thankful that its rapid demise came on a stormy summer Saturday afternoon, empty and alone, injuring none with its funeral pyre.
Watch as retired KU architects Jim Modig, a'73, and Warren Corman, e'50, remember the tragic fire that destroyed Hoch Auditorium and discuss the unexpected results.