Entrepreneur blends love of plants, words
Dual passions are the foundation of KU alumna Hannah Lasorsa's business, Herbal Content Cottage.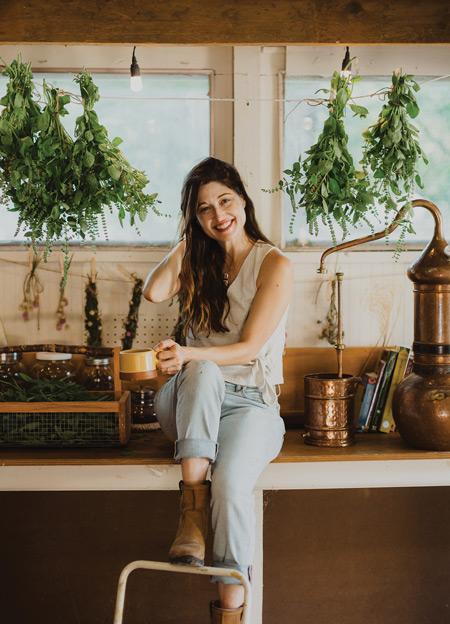 As the owner of a content marketing business, Hannah Kincaid Lasorsa is well versed in modern-day concepts like hashtags, page views and search engine optimization. As the owner of a plant-focused business, she also prizes a centuries-old body of knowledge and approaches her work with a reverence for the past.
"Herbalism is more of a remembering, a remnant that has been passed down through generations," says Lasorsa, j'12, who in 2020 founded Herbal Content Cottage, which helps businesses with a botanical bent create and refine their messaging. "A lot of it comes down to making sure this information—knowing how to use the plants that grow around us—isn't lost."
Through thoughtful text and elegant images, Herbal Content Cottage positions brands to better reach and resonate with interested audiences. Clients include Five Flavors Herbs, a manufacturer of plant-based medicinal formulas; Make & Mary, a line of all-natural beauty and wellness products; and Dandelion Wish Apothecary, an online tea and tincture shop.
"This industry is full of down-to-earth people who just want to spread the good," Lasorsa says. "The idea is that with a little help telling their stories, the cool things they're doing will take off."
Lasorsa had long had an affinity for writing, and she devoted her years at KU to studying strategic communications in the School of Journalism. She'd always loved nature too, but pairing the two interests didn't occur to her until her first job after graduation, as an editor for a gardening magazine. "Working on those articles, I became enchanted by the fact that we're surrounded by all of these plants that can nourish and support us," Lasorsa says. "It was a grounding realization; it made me feel very much at home." She sought ways to learn even more about the plant world, and gained know-how through online courses, books and an apprenticeship with a Lawrence herbalist.
Her career blossomed, and she was eventually approached to lead Mother Earth Living, an eco-minded health and lifestyle magazine, as editor-in-chief. It was in this role that Lasorsa first took note of brands—most of them small businesses—that boasted strong products but lacked effective materials for promoting them. The idea took root for a marketing business that would cater to plant-centered products. After working Herbal Content Cottage as a side gig for about a year, Lasorsa made the leap to full time.
Now with a team of six freelancers, Herbal Content Cottage provides clients with the necessary tools—well-crafted website text, product descriptions, photography, videos, social media posts, newsletters—to champion their goods and connect with customers.
A cornerstone of the company is Lasorsa's photography, which showcases clients' products and the plants at their heart. Her top advice for budding content marketers? Get comfortable behind the lens to offer a full slate of services, not just writing. She encourages targeting a specific subject matter, too, and says this is where profession and passion can meld: "Think of any brand you love, and there is someone whose job it is to write that content. Every brand out there needs a team member who can write well. Now, it's just up to you to pick the journey you want to go on."
An especially gratifying element of her work, Lasorsa says, is touting the utility and charms of a diversity of plants, from spice rack staples to lesser-known species, such as motherwort for calming anxiety. She also enjoys spotlighting familiar, easy-to-grow herbs that pack a multipurpose punch. The flowers of calendula, for instance, can be used internally for digestive support (try them in tea), as well as topically, in infused oils and lotions, to soothe and replenish skin.
And while herbs are valued for their healthful and flavorful qualities, Lasorsa says they also can lead to a closer relationship with nature. "A really motivating factor for me is helping people realize they can forge a deeper connection with the plants right outside their door, and in pretty simple ways. And I hope that translates to people being more likely to conserve and be good stewards of the environment."
Originally from the De Soto area, she now lives in northeast Pennsylvania with her husband, Jake. When she reflects on her time at KU, what stands out most are, fittingly, scenes of Mount Oread's natural beauty: a day spent sledding near Potter Lake, the distinct passage of the seasons, the simple splendor of a campus stroll. "I always loved spending time on campus," Lasorsa says, "and the community and culture that Lawrence has is so special."
Hannah's easy tea for focus
1 teaspoon green tea leaves
1 teaspoon dried peppermint (Mentha × piperita) leaves
1 teaspoon dried oatstraw (Avena sativa) aerial parts
Combine herbs in a strainer in a teapot of your choice. Cover with just-boiled water. Cover teapot, and let steep 5 minutes. Remove strainer from teapot. Enjoy.
Megan Hirt, c'08, j'08, is assistant editor of Kansas Alumni magazine.