Happy campers: KU couple hosts national parks podcast
Saying yes to adventure, a Jayhawk couple make the most of their passion for parks.
Photographs Matt and Karen Smith
"You know what I really like about doing the podcast from our visitor center?" Karen Smith asks.
"Noooo."
"The fact that I can just be in my pajamas and no one will ever know," she says. The final word trails off into rippling laughter. As giggles go, it's a rill on rocks, a Class 1 rapids of merriment. "Know-ho-ho-hee-hee …"
"Is that your dream?" Matt Smith asks. The laughs burble up again, louder, livelier: Class 2. There's amusement in his voice too, but it's slyer, acerbic, a put-on incredulity that's gently mocking but not malicious. Teasing. "Your dream come true is to, like, be in your pajamas all the time?"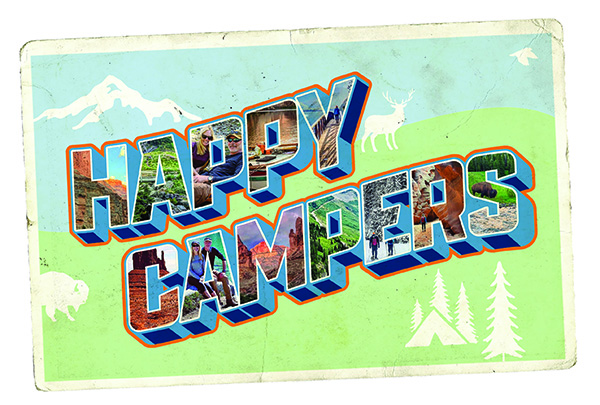 "Pretty much."
"You should probably shoot a little higher," he says.
Matt, c'97, and Karen Broucek Smith, j'82, are kicking off episode 1 of "Dear Bob and Sue: A National Parks Podcast," sharing stories of their treks through U.S. National Parks and other outdoor destinations. It's January 2020, and the Seattle couple have no idea that the adventuring that seems to them as basic as breathing will soon feel like the impossible dream of some halcyon yesteryear because of a deadly virus people are only just waking up to. They have no idea, ahead of statewide lockdowns and travel bans and canceled everything, that in six weeks a whole lot of us will be working in our pajamas.
A decade earlier, amid another global upheaval, the Smiths made a decision that eventually changed their lives: They would visit every national park in the United States. And they would do it in a year.
At the time there were 58 protected areas designated as national parks and operated by the National Park Service. You don't have to be great at math to figure out that visiting nearly five dozen sites spread across 30 states and a couple of far-flung U.S. territories in only 52 weeks is no part-time lark. It's a full-time quest.
"So, in the spring of 2010, during the worst economy in our lifetime—with no guarantee we would find employment when we finished," they write in their book Dear Bob and Sue: One Couple's Journey Through the National Parks, "we quit our jobs and began our journey."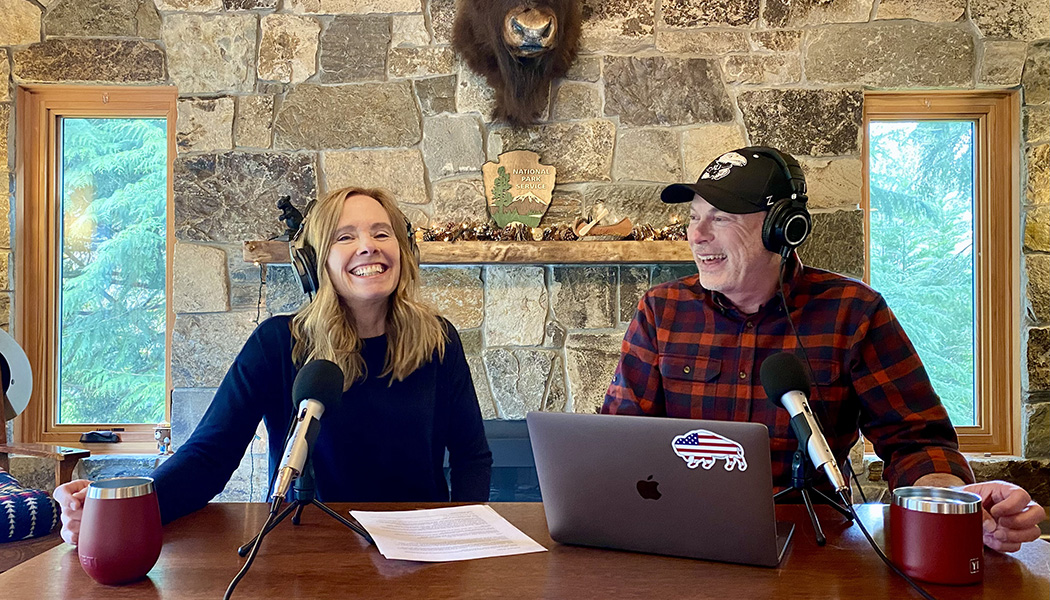 Matt was managing director of retirement services at BMO Global Asset Management. Karen worked at the Seattle Red Cross. Empty nesters turning 50, they'd sent three kids to college, including their son Matt, b'13, who was then at KU.
They'd also seen friends and family pass away before their time, including Karen's sister, who died of cancer at 50.
"We kind of had this realization that, if there's a list of things we want to do, we might want to get on that," Matt recalls. "Because none of us knows how much time we have. One day I just said, 'Let's take time off and go see all the national parks.' And a month later we're off on our first trip."
One year became two. Six months in, they started the book, intended not as a how-to guide, but as a compendium of their impressions and experiences. It was tough going. One day Matt dashed off a letter to their good friends, Bob and Sue Craik, recounting the latest in a series of misadventures that seemed a hallmark of their travels.
"He said, 'Gosh, if writing a book was as easy as writing a letter to Bob and Sue, I think we could do this,'" Karen recalls. "And I said, 'Well, why don't we do it that way?'" The travelogue unfolded as a series of emails from the road to the friends who had inspired their interest in national parks in the first place.
They wrote a second book, Dories, Ho!, about a Colorado River float trip through the Grand Canyon, followed by two more Bob and Sue collections. They began building a social media presence, which now boasts 15,000 followers on Facebook and 18,000 on Instagram. Podcasting seemed a natural next step to interact with that burgeoning audience.
"You spend years writing a book, and you're not really sure if you're hitting your mark until it comes out," explains Matt, who previously hosted a financial planning podcast at BMO. "We needed a more immediate way to connect, and since I had done a podcast before, I thought, 'Well, let's try this medium.'"
Now in its third year, at 80 episodes and counting, "Dear Bob and Sue" mixes good-humored jousting, useful travel tips and a point of view broad enough to accommodate biting sarcasm and genuine wonder at America's vast natural treasures. Think Bill Bryson meets Click and Clack the Tappet Brothers.
The podcast gets 50,000 downloads a month and consistently ranks in the top 30 on Apple's Places & Travel podcast chart. Though the Smiths returned to work for a time after their two-year quest was complete, they now travel about 150 days a year. They've visited all the national parks (which now total 63), many more than once, and they've added national forests and monuments, state parks and other outdoor experiences to their rolling itinerary.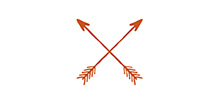 They met during Country Club Week, that freewheeling interregnum between dorm move-in and the start of classes that once upon a time marked the unofficial beginning of a new academic year on the Hill.
"It coincided with my birthday, so I went out with a bunch of girlfriends to The Hawk and The Wheel, and Matt was there with a bunch of his guy friends," Karen recalls. "We met the old-fashioned way—in a bar."
A year later they were engaged; a year after that they married. Karen was newly graduated with a journalism degree in the radio and television track. Matt was in the middle of his senior year, already working in Kansas City, and he left school a few hours short of his bachelor's degree in art history. He finished in the mid-'90s.
They moved to Seattle in 1998. Having spent their lives in Kansas, with childhood forays to Colorado, they were stunned by the Pacific Northwest's grand scenery and abundance of outdoor recreation. Enrolling her kids at the local elementary school, Karen met Sue Craik and they became fast friends. Bob Craik's job had moved the family around the country, giving them a chance to explore America's national parks. Bob and Sue's travel stories inspired Matt and Karen to plan trips of their own. A decade later, when they began mapping out their quest to visit every national park, they asked Bob and Sue to come along.
"Bob and I looked at each other and said, 'Hey, that sounds great.' And then we kind of hit ourselves in the head and remembered we still had a child at home," Sue says, laughing. "They were empty nesters; we were not."
"It was great, though, because it's one of those things you always wish you had the ability to do and you couldn't," Bob says. "To see somebody you know actually live their life that way was really spectacular. We loved hearing about every place
they went, and it felt like we were there with them."
The vicarious enjoyment of someone else's adventure is no doubt part of the "Dear Bob and Sue" appeal. Listening to Matt and Karen relive their trip to the tropical Dry Tortugas as you slog through a Kansas snowstorm is healing balm. Doing so in the midst of a pandemic, when it seems no one will go anywhere ever again, is downright existential. They hear as much from their listeners every week.
"Your podcast might just be fun and games for you, or maybe even a side hustle, but it's much more than that for me," a fan emailed in March. "It's kind of a lifeline, an automatic way to restore my mental health when it's flagging." A stay-at-home dad of two daughters under 6 whose wife is a busy oncologist, he related the joys and challenges of full-time parenting, noting that hiking beautiful wildlands is their go-to option for family vacations or a couple's getaway—and the Smiths' podcast is his go-to resource for planning those treks and dreaming of others to come.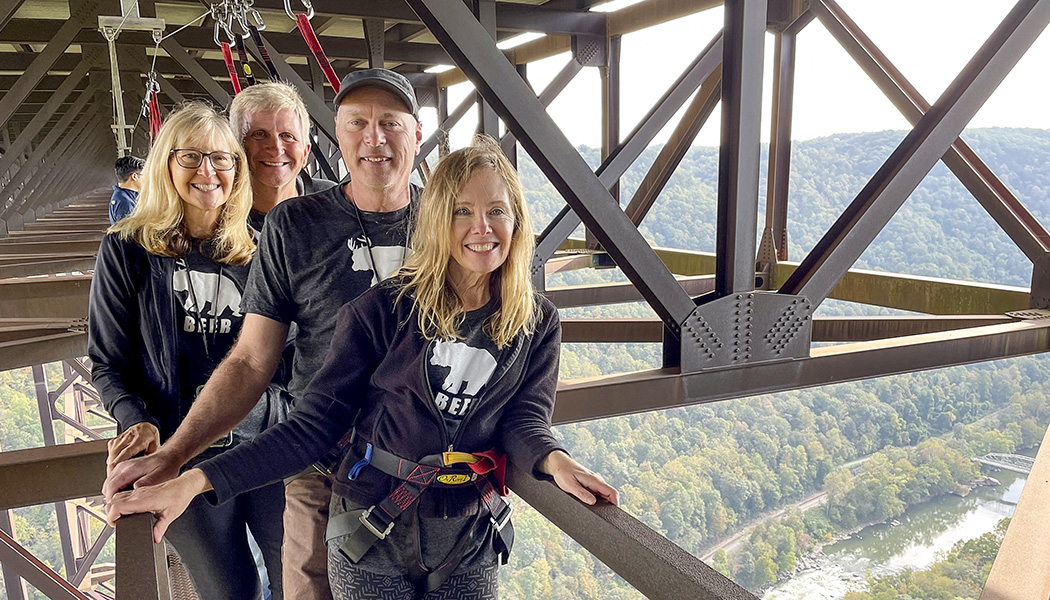 "When the girls are driving me insane, I think of you two and remember that this will get better. One day they'll be adults, my wife will work less or none, and we can live the sort of life you two are sharing with the world right now," he wrote. "I know you get hate mail but $@#! the haters. I want to be like y'all when I grow up."
Podcasting has what Jonah Geil-Neufeld tactfully calls "a low barrier to entry." He and Annie Fassler are the husband-and-wife co-founders of Puddle Creative, an agency that specializes in podcasts and narrative audio. Puddle Creative helped the Smiths launch "Dear Bob and Sue" and produced it for the first year.
"Everybody can record themselves and their friends and put it out on Apple and Spotify," Geil-Neufeld says. "It doesn't take a lot of resources. But there's just so many podcasts being started at any given time. The way you cut through all the noise is to keep doing it, and that's something they've done really well."
Top left: A view of the Middle Fork of the Flathead River from historic Belton Bridge, Glacier National Park, Montana. Top right: Matt in the Subway, Zion National Park, Utah.
Bottom, l-r: A snow-covered bison in Lamar Valley, Yellowstone National Park; happy hour along the Scenic Drive, Capitol Reef National Park, Utah; Karen snowshoeing at Hurricane Ridge, Olympic National Park, Washington. "We love visiting the parks in the winter," Karen says, "when there are very few other visitors."
More than 2 million podcasts exist in the world, according to Listen Notes, the leading podcast search engine, and 2020 was by far the biggest growth year, with more than a million new shows launched. But a report from Amplifi Media suggests that only about 36% produce 10 episodes or more; another study says the average podcast lasts six months and produces only eight episodes. Apparently the barrier to exit is pretty low, too.
"It's a lot of work recording and editing, and a lot of people don't understand all it takes," Fassler says. "They get 10 episodes in, and they're like, 'This is too much for us.'"
"When it gets really hard, it can't be just, 'Oh, this was fun at the beginning and now it's not, so why are we doing it?'" Geil-Neufeld says. "If you have that thriving kind of mission behind it, a deeper mission than it's a fun or interesting thing to do, that is what will keep you going in the hard times."
The Smiths' mission: Pass along a bit of the life-changing magic they found when they took time off to do now the things they hoped to do someday.
"One of the things we're trying to do with our books and podcast is encourage people to get outdoors," Matt says. "Being outdoors is good for your mind, your body, your soul. I came to that by seeing how it helped ours when we went to these incredible natural places."
Watching the Milky Way blaze like a river of light as they slept under the stars on the dory trip. Hiking with grizzlies at Katmai. Peering over the rim of the Grand Canyon the first time. Seeing a lone wolf bound past them on a snowy trail, the snippet of smartphone video they captured a pale simulacrum of the ecstatic shock of the encounter. Soaring above Alaskan glaciers in a Piper Navajo.
"You're looking out the window of this tiny plane at this blue, blue glacier, and it's tough to take it in, especially for a girl from Kansas, you know? I've never seen anything like that," Karen says. This was early in their national parks journey, more than a decade ago, but the feeling is still fresh and powerful enough to bring tears. "There have been tons of moments like that, where something just takes your breath away."
Matt and Karen clearly enjoy each other's company. ("I always loved editing the show, because it feels like you're hanging out with this really fun couple," Fassler says. "It's like going on a double date with your friends, and they're telling you the story of their vacation.") They banter and josh their way through every episode, poking fun and laughing a lot, often at themselves. But they've thought of quitting more than once. Then another inspiring email lands in their inbox.
"Just hearing what people have done because they've listened to our podcast is very gratifying," Karen says. "We had a woman who told us she'd never hiked before, but she was gonna hike in Zion for her 70th birthday. She did, and she sent us photos. It's things like that. Usually I cry when I read 'em, they're so touching."
"Karen cries every podcast," Matt cracks. The quip is a small kindness, not a barb. Comic relief. "That's how we know the episode is complete. It's like, 'Right, put that in.'"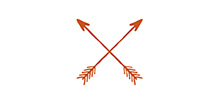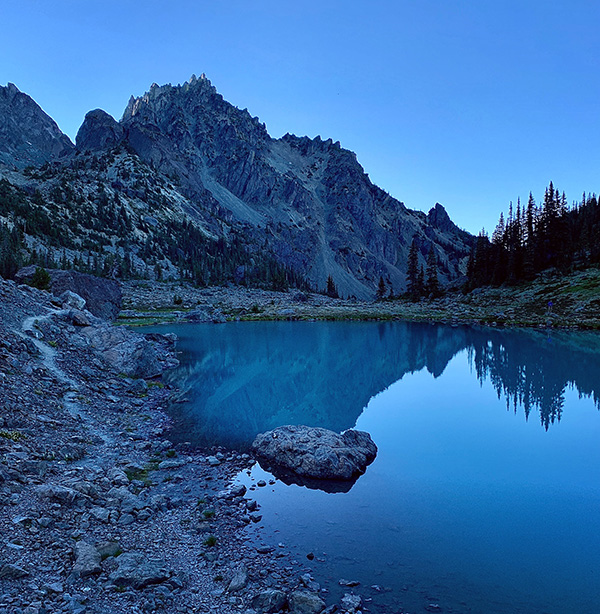 Travel jars us out of our routine, forces us to face the unfamiliar. If we stretch a bit, if we reach beyond our comfort zones even a little, it can show us what we're capable of. It might even change who we are.
"When they first started going to national parks, they were all about getting there, seeing the park for sure, but taking care of business and getting it checked off the list," Sue says. They initially planned to complete the circuit in only a year, after all, and there was no time to dally.
That changed as they discovered how much there is to see and do at iconic parks like Yosemite and Yellowstone, crown jewels of the public land system, and at hidden gems that are less than household names. Easy 2-mile loops around the visitor center gave way to more challenging excursions. On a five-day Grand Canyon float trip in 2016, they overnighted on the river, Karen's first time sleeping in a tent; that led the next year to car camping and eventually to backpacking trips, including a 6-mile "straight uphill" hike in Washington's North Cascades National Park that culminated with a campout on Sahale Glacier, surrounded by mountain goats. 
"That's just their personality," Sue says of her friends. "They're willing to dip their toes in, but by the end they're scuba diving."
The transformation was gradual, the result of small changes, something the podcast—with its goofy give-and-take and self-deprecating humor—emphasizes. 
"It's not like we're climbing Mount Everest," Karen says. "We're going on road trips and talking about scenic drives. It's not always some big adventure; sometimes we'll be in Yellowstone and a huge bison will cross the road and stand in front of us, and we're just in our car looking at this massive bison. There have been a million moments like that, where you just happen to be there at the right time."
The key is to be there.
Matt says lots of people hear them talking about some incredible serendipitous moment and ask, OK, how do I do that?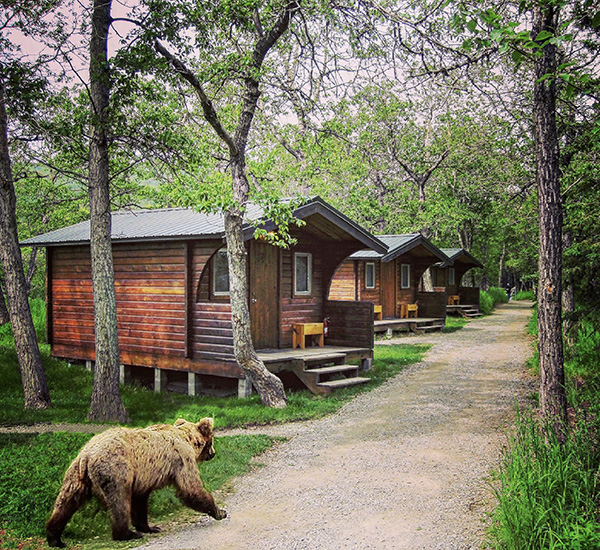 "Our answer is, 'You can't. You can't do that one.' But you can put yourself out there, and if you're out there enough, something's going to happen that you can't anticipate." In other words, that one's ours: Go find your own.
"We're both in our 60s now," Matt adds. "People in their 60s can get out and do almost all these outdoor adventures, but I think a lot of times they think maybe that moment has passed them by. We're here to say, 'Just go try. You'll be surprised at what you can do. We did it and we're just average people. We're nobody special. Maybe you can too.'"
More than once they've planned one last visit, one final hike to see a beautiful vista or stunning feature they've missed, expecting this will be their last trip to that particular park, that they finally will have seen everything it offers. "Every single time we do that," Matt says, "we come away from those trips planning another one. It changes you in ways that you don't expect."
Early on in their travels, Matt and Karen realized they each had a very different concept of a term they'd been bandying about.
"She thought a 'bucket list' meant you write your wishes down on scraps of paper and put them in an imaginary bucket," Matt says, needling his wife. "And I'm like, 'No, that's not what it means! It's a list of things you want to do before you kick the bucket.'"
But as time has gone by, he's come to appreciate Karen's take on the idea.
"I think a lot of times people have this idea that a bucket list is something that gets shorter—but our bucket list just keeps getting longer."
They are still "very, very aware," Matt says, that "we only have so many days." But with each trip, their future broadens rather than narrows. The possible adventures grow in number. The world gets bigger, not smaller.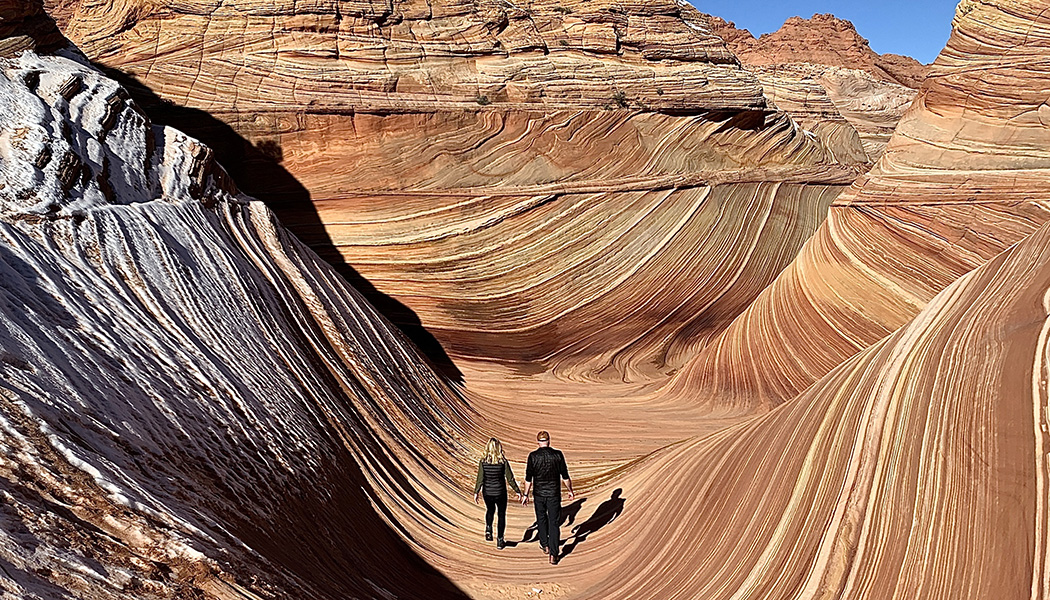 "I guess that's another way all this has changed us. It just kind of made our future brighter—not more complete, but less complete, you know?"
"We said this in one of our podcast episodes," Karen adds, "but I think the key to a happy life is to never run out of wishes in your wish bucket, right? You always are adding to the list of things you want to see; you always have a goal of somewhere you want to go."
On their way up Sahale, they crawled hand over foot across a steep slope of boulders and scree, heavy packs tugging them sideways as they fought to keep their balance. "I was like two seconds from bursting into tears, it was so hard," Karen recounts in episode 2. They encountered a German hiker, who was practically skipping as he whistled his way down from the peak they were struggling desperately to reach, and confessed they didn't think they could make it.
"He was very encouraging," Matt says, taking up the story. "Very positive. 'You can do it; just rest and be careful.' And then he says, 'But it's treacherous.'"
They crack up at the memory, talking over each other and laughing at the hilarity of that dazzling insight.
"We're like, 'No shit it's treacherous,'" Karen says. "We felt like we were going to fall off the side of this mountain at any time."
They made it, though, and were treated to spectacular vistas—including what the park ranger touted as "the best toilet view in the world"—and impossibly close encounters with mountain goats that came into their camp and even nuzzled Matt's head through the tent walls as Karen slept.
Looking back on the experience, "I remember thinking, 'When we started the journey I never imagined that I could do something like this,'" Karen recalls. "'And look at us now.'"