Health hardships guide social worker
After her own battle with a brain disease, Mackenzie Hanna now helps neurological patients navigate their next steps.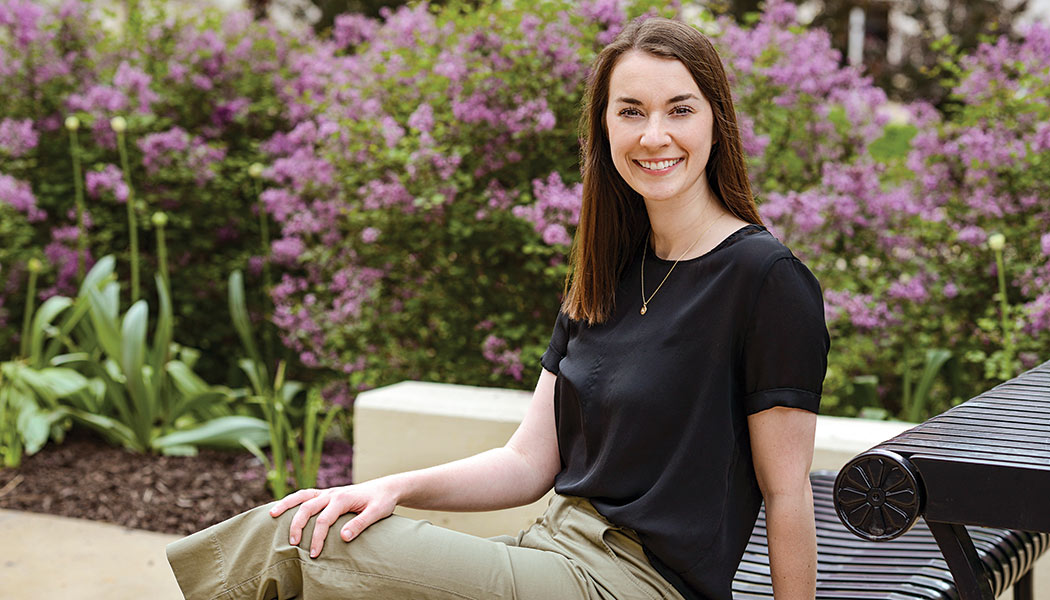 Those receiving treatment for neurological conditions in The University of Kansas Health System have a particularly compassionate advocate in Mackenzie Hanna. A social work case manager on the neurology unit since July 2021, Hanna was a patient there herself just a few years ago, afflicted by a mysterious illness that, among other tolls, caused her to lose use of her right hand. In small tasks and interactions throughout her workday, her special empathy shines through.
"I need patients' signatures a lot of the time, and it's often hard for people to sign if they're going through something like I did," says Hanna, g'21. "Some patients are like, 'I don't know if I can sign; I don't have very good handwriting.' I tell them, 'You just need to make a little mark. I have bad handwriting too; I can't really write either!' I understand the difficulty of using their hand, or if talking is hard and they're not able to get the words out."
Even before her own experience with a debilitating illness—which would take her to five medical facilities in five states—Hanna, who completed her master's in social work at KU in May 2021, was drawn to helping others. Growing up in Leawood, she enjoyed doing volunteer work locally and traveled twice to Haiti to serve at orphanages. Social work as a profession, however, didn't appear on her radar until her freshman year at Baylor University, in a class for undecided students to explore various career paths.
Hanna's path veered suddenly in fall 2016, during her sophomore year, when she was beset by headaches, fever and extreme fatigue. Her neck and back hurt, and her eyes began to bounce. She sought care at a hospital and was discharged, but her puzzling condition worsened.
"I very rapidly lost my ability to make much meaningful movement. I could still walk, but I couldn't do any higher-level activities than that," Hanna says. "At probably the worst point, I was not able to speak multiple words in a row. I would maybe say five words a day. I couldn't follow conversations. It was as if I was in a toddler's brain."
Hanna's parents brought her home to Kansas that November, and, after two visits to KU Hospital, she was diagnosed with autoimmune encephalitis, an inflammation of the brain caused by the immune system attacking healthy brain cells. Hanna says doctors theorized that medication she began taking in high school to manage Crohn's disease—a chronic inflammation in the gastrointestinal tract—triggered the rare disorder.
For treatment, doctors started Hanna on intravenous steroids to reduce the inflammation. In late December 2016, she traveled with her parents to Mayo Clinic in Rochester, Minnesota, where she received intravenous immunoglobulin therapy and therapeutic plasma exchange. Her next stop, in January 2017, was Madonna Rehabilitation Hospital in Lincoln, Nebraska, where the clouds at last appeared to lift. "Her speech became better; she could express her thoughts better," remembers Hanna's father, William, c'86. "Her response time when answering questions would be faster. You could hear a natural inflection in her voice—like her normal voice—as opposed to monotone. And she was developing better use of her right hand."
Hanna returned home in March 2017 and started outpatient therapy—speech, physical and occupational—at Ability KC in Kansas City. She attended five days a week, from 8 a.m. to 4 p.m., and continued the regimen into summer. Incredibly, she was able to resume her studies at Baylor in August 2017. Hanna graduated with her bachelor's degree in social work on her original four-year timeline, her calling now clear to her: She would pair social work with a role in a medical setting like those she had experienced during her treatment and recovery.
As part of her master's program in the KU School of Social Welfare, Hanna—a lifelong Jayhawk fan from a KU family—did her practicum at Children's Mercy Hospital in Kansas City. To land a job in a hospital post-graduation, however, Hanna figured she may first need more experience. She broadened her job search, but held on to the goal of medical social work, applying for a case manager position with The University of Kansas Health System. She landed an interview, then the job offer, but the greatest gratification was yet to come. "I didn't know exactly what part of the hospital I would be in. I was open to truly any area," Hanna says. "On my official first day, they said, 'You're going to be on neuro general and neuro epilepsy.' I was blown away."
Hanna helps patients with their next steps, such as coordinating rehab and making sure they have a safe place to recover after leaving the hospital. Reflecting on her own journey, she advises anyone who faces a long road back from an injury or illness to look at "progress" as a collection of small steps: "Focus on what is in front of you for that day. Often, a lot of my anxiety came from looking at the big picture, and I had to just focus on the little wins—like, 'Hey, I got myself dressed today'—instead of looking at how far I needed to go."
Though she doesn't typically share her story with patients, her awareness of how far she has come fosters genuine connections, a gentle rapport. "I think it makes me have a better heart for what patients are going through and able to relate to them on a different level," Hanna says.
She hasn't regained use of her right hand, but views this new normal as a reminder of her faith, her strength and the gift of health. "They don't think it'll come back," Hanna says of doctors' assessment of her hand function, "but that's OK with me."
Megan Hirt, c'08, j'08, is assistant editor of Kansas Alumni magazine.
Photo courtesy of KU Health System