Bradford vaults to indoor triple
When he soared 18 feet, 10.25 inches to claim victory at the Jan. 28 Jayhawk Classic, senior pole vaulter Zach Bradford completed yet another staggering assault on KU's storied pole vaulting record books, setting consecutive Anschutz Sports Pavilion records in all three home indoor meets.
"Everything seems to be clicking," says Bradford, who added 15 pounds of muscle during offseason workouts. "Knowing that I'm breaking the facility record gets me hyped up for when I start traveling."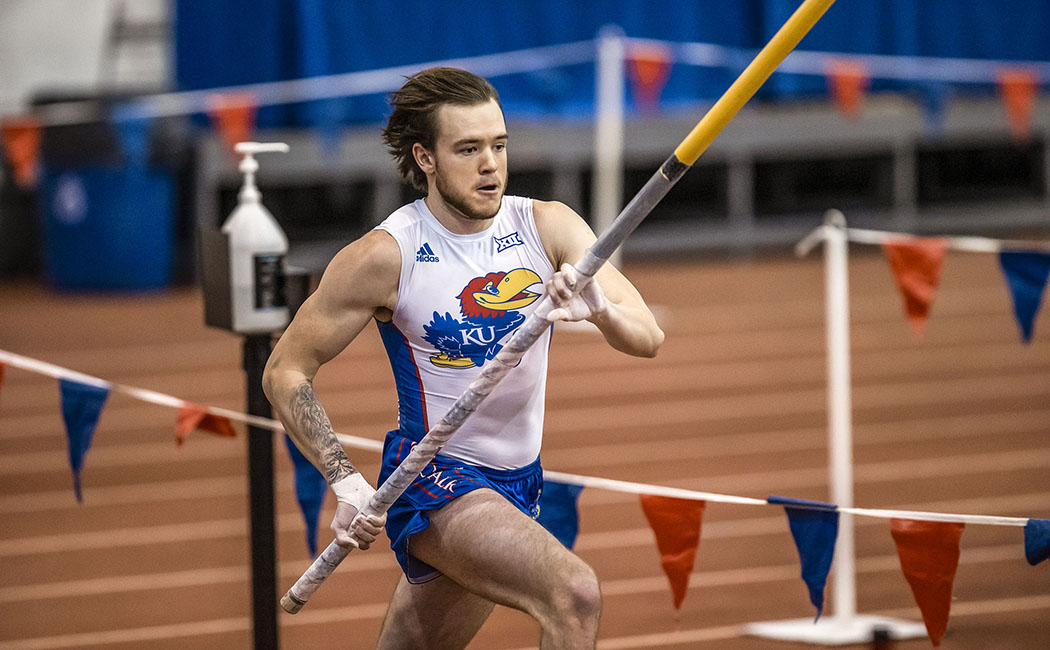 Even with his spectacular jumps in his KU career—including the 2021 Big 12 Outdoor title, a slew of All-America teams and a 22nd-place finish at the 2019 World Championships—Bradford has yet to win an NCAA title: "That is the goal for this indoor and outdoors, to claim an NCAA title."
After winning last year's Big 12 Outdoor title, Bradford faltered at both the NCAA meet and the all-important Team USA Olympic Trials, failing to clear 18 feet. He says he wasn't injured at either meet, but instead made "a lot of mental errors," including leaving a smaller warmup pole at home to make room in his travel bag for the big poles he anticipated needing for the biggest meets of his life.
"My big goal is to be an Olympic pole vaulter, and to go to the trials and not even make the finals was disappointing," Bradford says. "I probably took a couple of days to be down on it, but then I realized it was a good learning experience. I'm still young [22], and I still have a lot of years in the future to train for the next Olympics and have another shot at making the team."
Although he retains a year of eligibility due to the NCAA's COVID allowance, Bradford says he's begun talking with clubs and coaches about entering the professional ranks after the outdoor season. For now, though, he's focused on that elusive NCAA title while maintaining his passion for the sport.
"I've been trying to just have fun and keep finding the love of the sport. The biggest thing about this is making my parents proud. They've been to every single meet, they did a lot for me growing up and getting me to where I am, and I just want to make them proud and give back to them."