Fourth NCAA championship ignites memorable hoops hysteria
6:10 a.m., Monday, April 4:
Downtown Lawrence would never bustle at this early hour, but this enveloping calm feels different.
For the second time in three days, city crews are closing intersections with 120 hollow barricades to be filled with 200 gallons of water apiece—"Twice," cracks a reflective-vest-clad city employee, referencing the same street-closure exercise conducted the morning of April 2. So, let's see: 200 gallons, times 120, doubled … "You do the math," the worker cuts in as he runs a hose from the big white water-tank truck stationed at Sixth and Mass from one barricade to the next.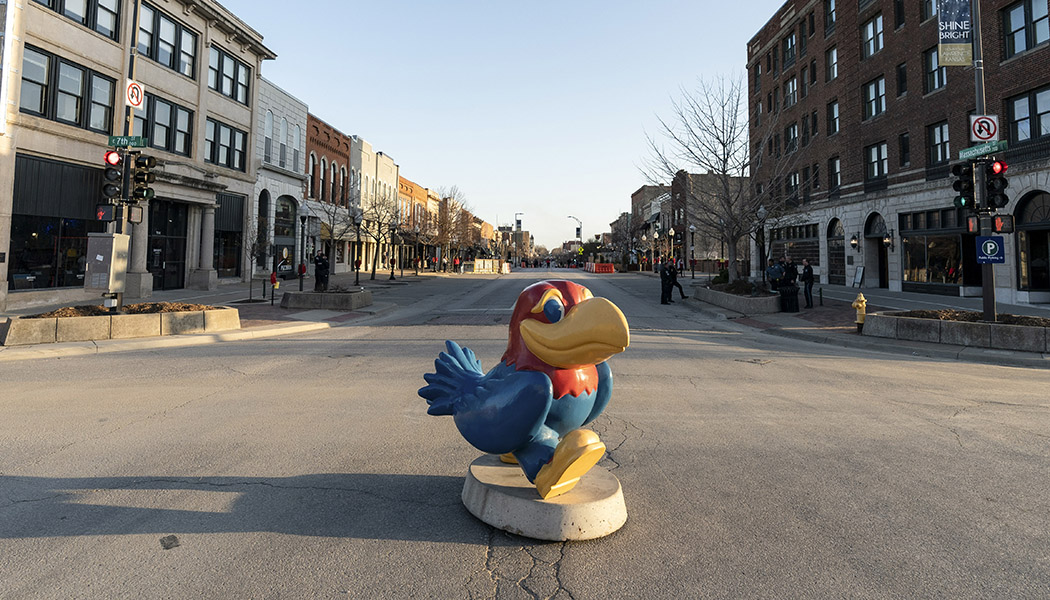 Joggers and dog walkers happily, haphazardly meander right down the middle of a Massachusetts Street that is utterly empty of cars, moving or parked. Flexing mad camping skills honed over long seasons in pursuit of prime seats in Allen Field House, a dozen or so hardy students are already lining up in the 700 block, hoping to claim perches for the long day to come in the hot downtown bar of the moment.
Still more city workers with a lift-bucket truck staged at Ninth and Mass string crimson-and-blue lights on corner trees. Sanitation crews have already come and gone—oh, to own the coffee truck concession at the public works shop—having rolled out rugged blue barrels lined with heavy-duty black plastic while also removing the heavy metal lids, capable of inflicting unspeakable damage to property and person, from permanent trash bins already stationed at every corner and midblock crosswalk. 
Downtown Lawrence is being readied, of course, for the NCAA Tournament championship game, pitting the favored Jayhawks against their blueblood rival, the North Carolina Tar Heels, in the New Orleans Superdome. Most attention downtown is rightly focused on KU men's basketball's first title-game appearance since 2012, when the Jayhawks lost to yet another storied rival, Kentucky, in that same Superdome.
But for folks intimately attuned to the rhythms of Mass Street life, thoughts also drift away from the happy rituals of a deep run in the NCAA Tournament.
Two years earlier, nearly to the day, Mass Street, like every street, sat hollow for reasons dark and frightening in the early hours of the pandemic in spring 2020, and the inconceivable notion the entire NCAA Tournament—in which KU was the overwhelming favorite—would be canceled had already given way to the weird new reality of downtown devoid of life and life devoid of downtown.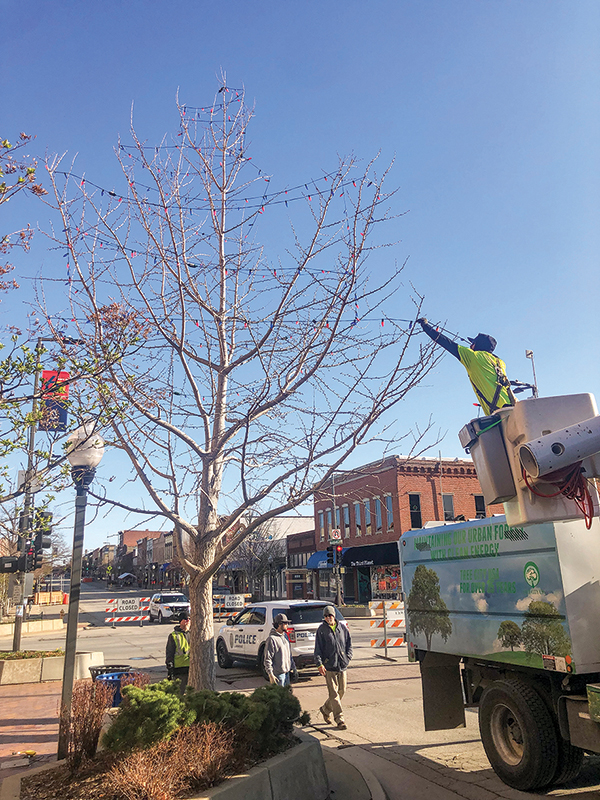 This year's sea of celebrants swarming Mass Street made dystopian 2020 feel like an ancient time that maybe never really happened at all. In 2020, Mass Street was empty and edgy because we were scared and had no idea whatsoever when there might be "a return to normalcy," in the parlance of the COVID times; in 2022, the emptiness would not last long.
The calm, this time around, preceded a predictably timed storm. Life would return.
Oh, boy, would it return.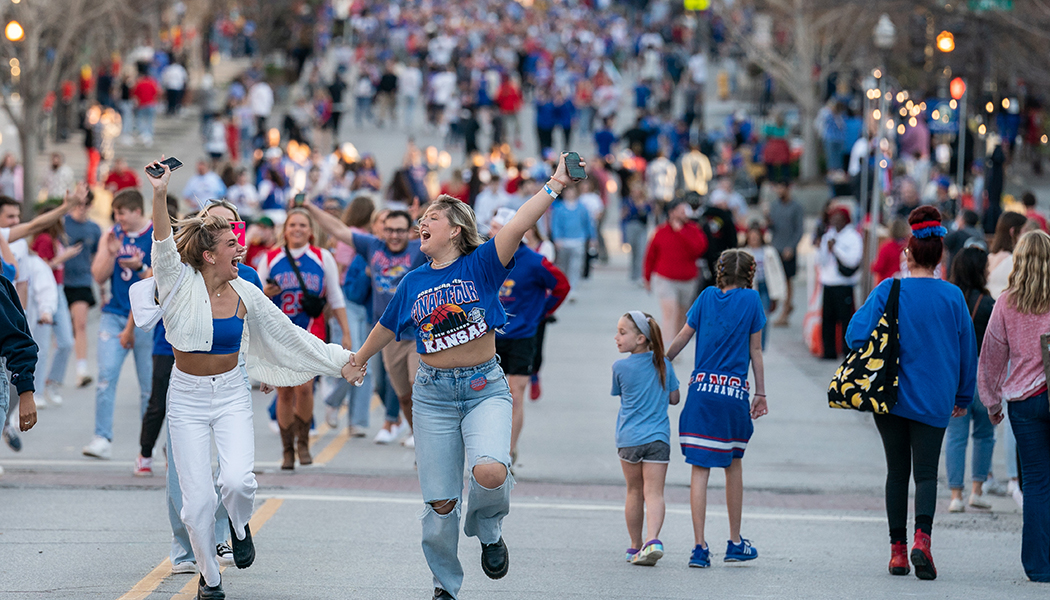 Filmmaker Marc Havener, c'96, founder of Lawrence-based Resonate Pictures, created an enduring artistic record of the 2020 pandemic year with his short film "Dear Larry: A letter to home." With state-of-the-art digital cameras and drones, Havener documented the haunting emptiness of parks, playgrounds, dance studios, concert venues and, of course, campus.
"One Day At A Time LFK," counseled the Granada's marquee. "#RiseLawrence," "Lawrence Love" and "Be Kind / Be Well / We Will Be Back Soon" read other missives captured in the "Dear Larry" time capsule.
On Saturday, April 2, as a raucous crowd 20,000 strong thundered down Mass Street after KU quashed Villanova in this season's national semifinals, Havener ventured downtown to film for the first time since the beginning of the pandemic.
Moments after the Jayhawks' 81-65 victory—so resounding that even former Villanova great Jalen Brunson proclaimed it "legit revenge" for Villanova's never-in-doubt victory over KU in the 2018 semifinals—Havener grabbed his Red Komodo camera rig, hopped on his motorized one-wheel board and zoomed north from his house at 16th and New Hampshire streets.
As brilliantly captured in "One More," the film he finished in the predawn of championship Monday, what Havener encountered at 14th and Mass, where students poured down the long hill from campus and made the left turn toward downtown, was, in a word, electric. Downtown was about to receive an energy boost that could only be topped should KU prevail two days later.
"It was something you hadn't seen," Havener reflects, "for a long time."
As evidenced by "Dear Larry," Havener took seriously the pandemic and its associated precautions—including masks and, for a time, social isolation—and it's an attitude he still embraces. Except during this celebration, this uncorking of the bottle and spray of jubilation.
"It's like the floodgates of heaven have opened," Havener says. "Everybody's uptight, right? You've got the pandemic, you've got Will Smith slapping people, you have airplanes having to land to get passengers off, but on Mass Street, after that game, nobody has a grudge. It's like, welcome home. Everyone's welcome, everyone's your friend, and it's nothing but love and acceptance. Everybody's worthy to be down there.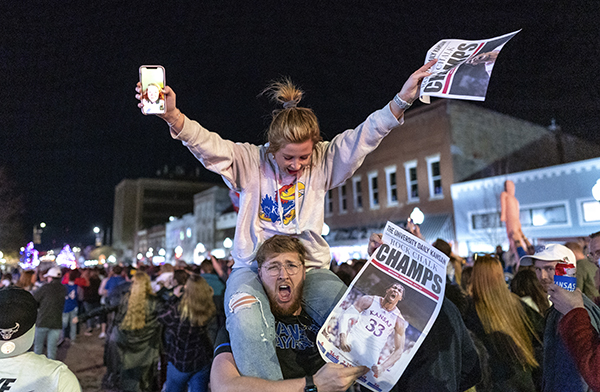 "In a way, without us knowing it, there's this social sort of mask that we've become comfortable with, and for two hours on Saturday night, when we were celebrating, it transported us back. It's like this whole time we're talking about getting back to normal, and for those two hours it felt like normal without even being conscious of it."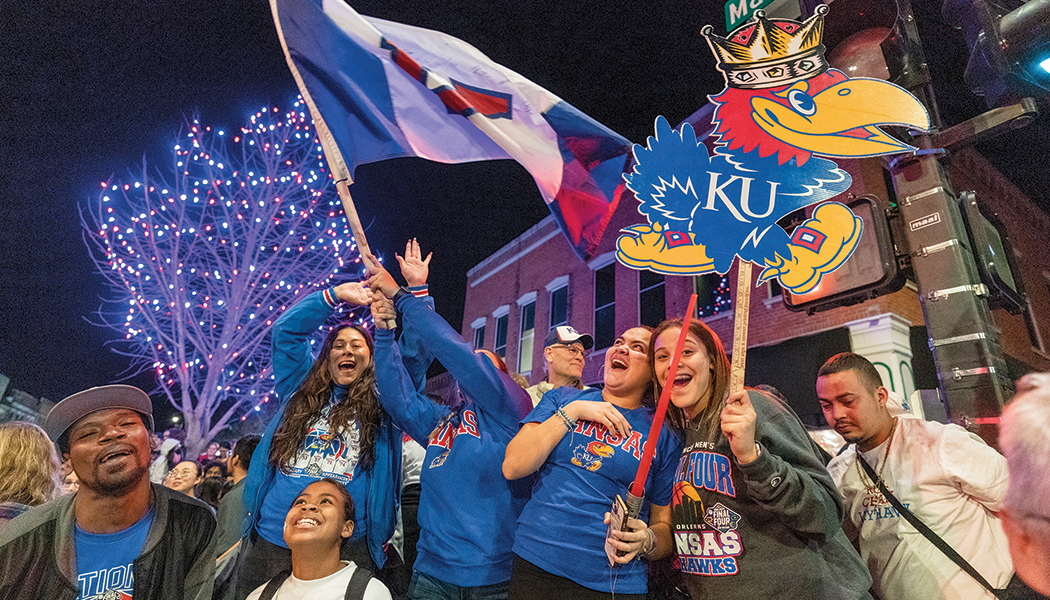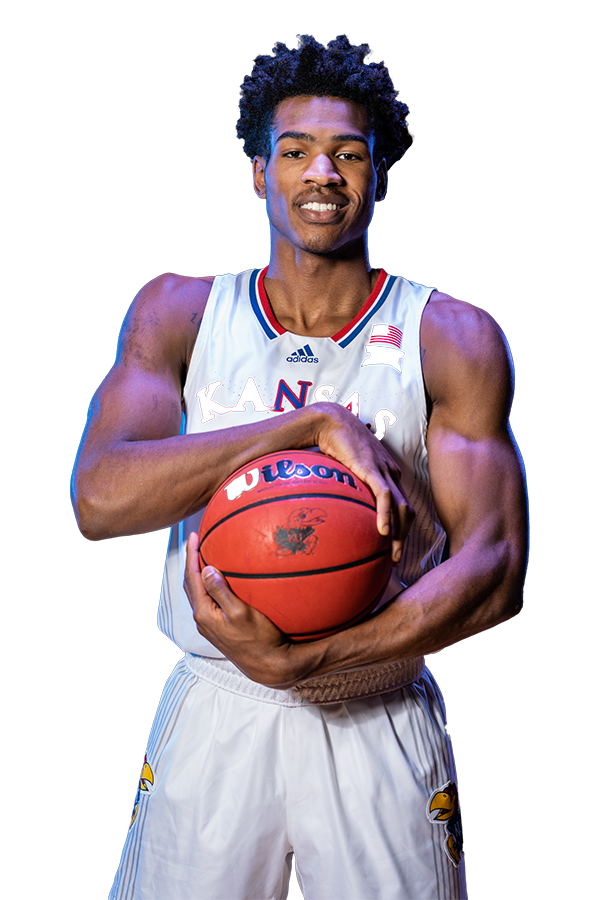 Once we collectively catch our breath and move beyond the elation of KU's fourth NCAA men's basketball championship, and second under 19th-year coach Bill Self, it seems fair to consider that from now on, whenever Jayhawk talk in Lawrence and among alumni worldwide turns to our beloved hoops, this season's team will live on as a particularly rewarding delight.
For those paying close attention all along, the worthiness of the 2022 Jayhawks as a storytelling subject was on display every week of the long season in media outlets that poured precious resources into wall-to-wall coverage.
Former beat writer Scott Chasen, j'17, g'20, g'20, now an editor at the University of Missouri-Kansas City and co-host of WIBW's "The Drive," noted on Twitter shortly after the season concluded that "KU fans are spoiled by INCREDIBLE beat coverage." Citing, among others, The Kansas City Star's Gary Bedore, j'79, and Jesse Newell, c'06, j'06; the Lawrence Journal-World's Matt Tait, j'01; and The Athletic's CJ Moore, j'07, Chasen added, "The BEST college beat PERIOD." That sentiment was echoed by veteran sports writer Kevin Flaherty, j'05, national college basketball writer for 247Sports and CBS Sports, who replied, "Sometimes I wonder if Kansas fans realize how wonderful they have it."
All of which is notable because the beat fleet—which of course also includes laudable radio and TV broadcast teams on Jayhawk Sports Network and Big 12 Now/ESPN+—this year sailed alongside a team that refused easy analysis, yet rewarded (for commentators and consumers alike) in-depth reporting spiced with up-to-the-second social media posts.
The obvious starting point for the story of the 2022 Jayhawks, of course, is consensus All-American Ochai Agbaji, a senior guard whose No. 30 jersey will one day hang from the Allen Field House rafters. Agbaji returned for his senior season after pulling his name from last year's NBA Draft, fueled by feedback from one respected league executive who counseled him to become more assertive on the court. Agbaji by all accounts worked harder than ever over the summer, but when he returned to assert his place atop the team hierarchy, he instead saw super-senior transfer teammate Remy Martin—who had yet to play a game for KU, and had in fact beat the Jayhawks twice during his career at Arizona State—named the Big 12's Preseason Player of the Year, as voted by league coaches. Self shrugged it off—"I don't know that I buy into all that," the coach said, noting that, yes, Martin would be the league's leading returning scorer, had he ever played in the league—and yet he didn't mention Agbaji as the worthy alternative for the honor. For his part, Agbaji never even mentioned the snub, at least not in front of the media.
Instead he blazed out to a league-leading scoring average of 20.6 through KU's first 15 games, becoming the first player in Self's long tenure to score more than 20 points a game in the nonconference season. He finished the season as the league's scoring leader, unanimous Big 12 Player of the Year and Most Outstanding Player of both the Big 12 and NCAA tournaments. "It started last summer," junior guard Christian Braun said after KU's Big 12 Tournament title-game victory over Texas Tech. "He's accomplished pretty much every goal he set out to accomplish. He's fun to play with, he's super unselfish, he's super humble."
Agbaji was one of multiple players whose twisting, turning journeys through the 2022 season will long fascinate the Jayhawk faithful: Braun; Martin; sixth-year senior Mitch Lightfoot, who played in 17 NCAA Tournament games and 168 overall, both KU records; sophomores Jalen Wilson, Dajuan Harris Jr. and Joseph Yesufu; promising newcomers KJ Adams Jr., Zach Clemence and Bobby Pettiford; and super-senior transfer Jalen Coleman-Lands, a wily veteran of four teams in six seasons whose 172nd career game, in New Orleans, tied him for No. 2 on the all-time NCAA list. It was Coleman-Lands who got the party started last fall at preseason Media Day by saying, "I feel like this is an opportunity for me to do something I've never done before, which is win a national championship." Such confident proclamations are rarely spoken in November. Did he mean what he said? Could this team's ceiling really be so high? "Definitely," Coleman-Lands replied. "Don't take one practice for granted. Don't take any opportunity that we have to grow together for granted. I feel like carrying that mindset is only going to help us get to where we want to go, which is to win a national championship."
Big parties in the big easy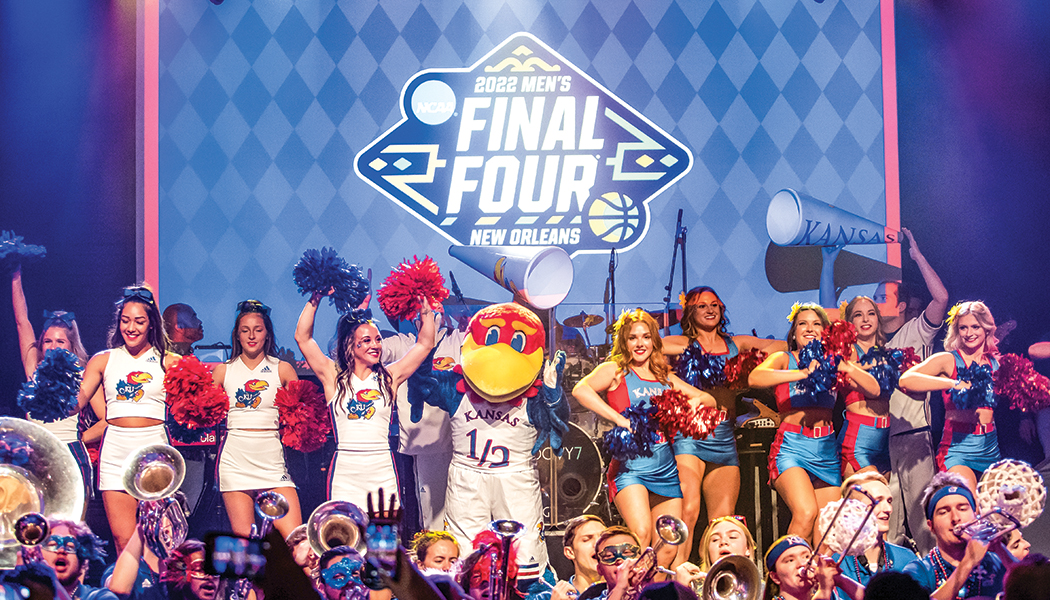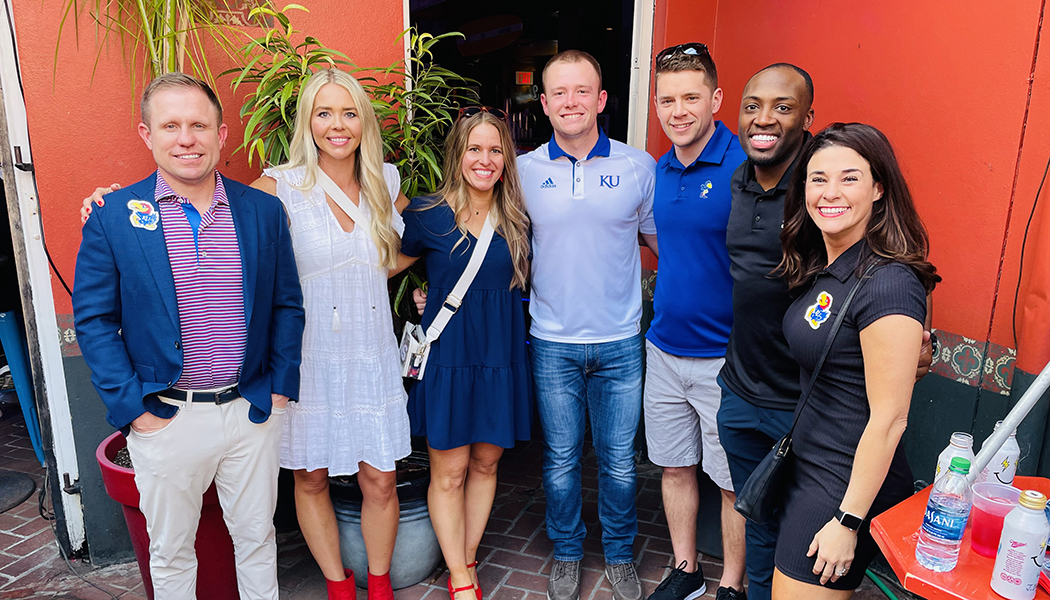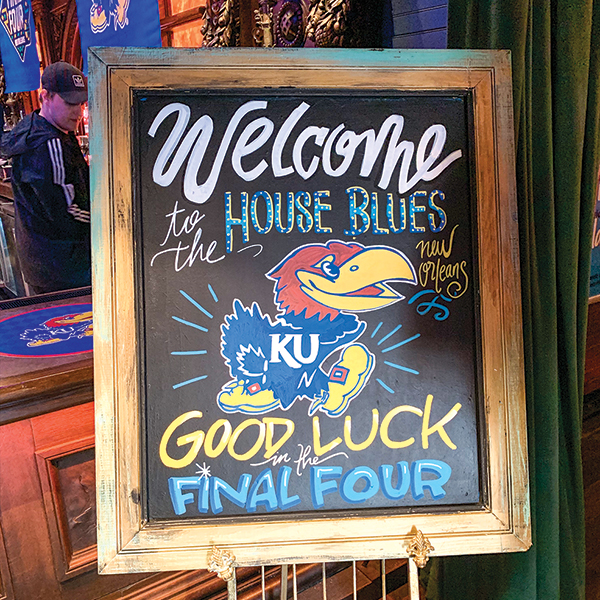 With their 102-83 victory over Kansas State Feb. 22 in Allen Field House, fueled by 23 points by Agbaji and 64.1% team shooting, the fifth-ranked Jayhawks positioned themselves to secure at least a tie for the Big 12's regular-season championship with their next victory. But the K-State romp was followed by back-to-back losses at Baylor—a game also notable for the return of Remy Martin, who had missed seven games because of a bone bruise in his right kneecap—and at TCU.
At Baylor, the Jayhawks lost by 10 after leading by 13. Agbaji lamented the "lost opportunity," but added, "We still have everything right in front of us." The March 1 game at TCU, the first of three for KU in the final week of the regular season, offered an opportunity to win the Big 12 championship outright, yet, once again, the Jayhawks lost by 10.
They would not lose again.
Next came a share (with Baylor, the defending national champion) of the Big 12 title, KU's 16th in 18 seasons, thanks to a grueling overtime victory over Texas on Senior Day, the regular-season finale. Then the Big 12 Tournament title, KU's 12th in the Big 12 and 16th overall, then its 50th all-time and 32nd consecutive NCAA Tournament bid and a No. 1 NCAA seed, the 15th in program history.
The tournament opened in Fort Worth, Texas, with victories over Texas Southern and Creighton. The following week in Chicago, KU beat Providence in the Sweet 16 and, in the Elite Eight, overcame a six-point halftime deficit against Miami. That game launched KU to its 16th Final Four and fourth under Self, secured the Jayhawks' first 32-win season since 2016 and pushed KU atop the sport's all-time wins list at 2,355, finally surpassing Kentucky, toppled early by this year's memorable Cinderella, the Saint Peter's Peacocks.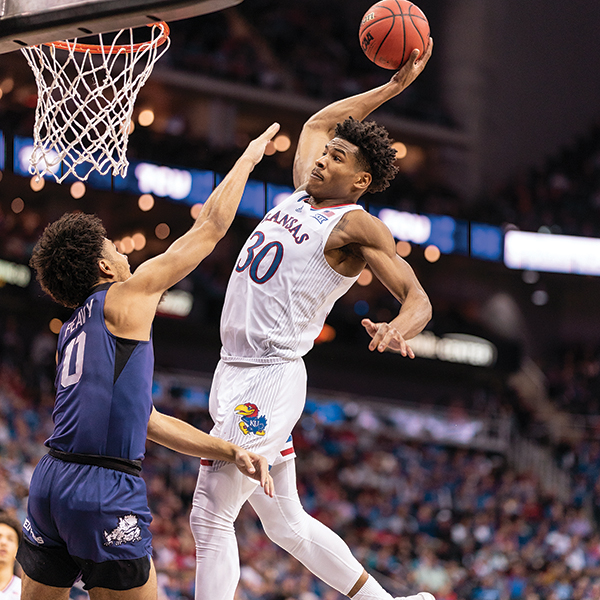 Memorable moments included (lower left) Mitch Lightfoot's reaction to Ochai Agbaji's dunk against TCU in the Big 12 Tournament (left)
and (right) a second-chance shot down low by David McCormack that put KU up for good with 1:21 remaining in the title game.
Then came the national semifinal victory over Villanova—which proved to be the final game in coach Jay Wright's Hall of Fame career—after which TBS commentator Charles Barkley, perhaps in a bid to never pay for a drink should he ever visit Lawrence, proclaimed, "Let me tell you something: Not only are they going to play for a national championship Monday, they are going to win the national championship Monday. I've seen enough." Back home, students and fans were already flooding Mass Street while in New Orleans Self assured his team in the postgame locker room that "the best is still yet to come." KU opened the title game against Carolina with a 7-0 lead, yet trailed by 16 with 2:23 left in the first half and 15 at halftime. A determined rally tied the game at 50-50 with 10:53 remaining, setting up a thrilling stretch drive between a pair of tightly matched teams representing proud programs, and a post play for the ages that cemented a legacy for senior forward David McCormack, who overcame his vocal detractors by delivering when the game was in his often-doubted hands.
Two moments in the long postseason run will live eternally in the hearts of devoted Jayhawks: Agbaji's powerhouse dunk against TCU in the second game of the Big 12 Tournament (opposite), which seemed to light the fuse for everything that followed, and impassioned play in the paint late in the title game by McCormack, who put KU up for good with 1:21 remaining on a second-chance shot (above) created by his own offensive rebound. With 22 seconds left, McCormack ended the scoring with a baby hook—already dubbed "The Shot"—that secured KU's 72-69 victory and the largest comeback in NCAA title game history. "It was a big play, and it shows how much trust coach and my teammates have in me," McCormack said. "Coach called the play and said, 'We're going to throw it inside. We have trust in you and faith in you to deliver and get us a basket.' I just prevailed. I made the basket happen." Said Agbaji, "If I had a most outstanding player throughout the entire Final Four, it would be David." As KU players race onto the court, their classmates back home do the same at the Allen Field House watch party, and others closer to the Mass Street scene swarm the length of downtown in jubilant communal celebration. 10:41 p.m., Monday, April 4: The night is just getting started.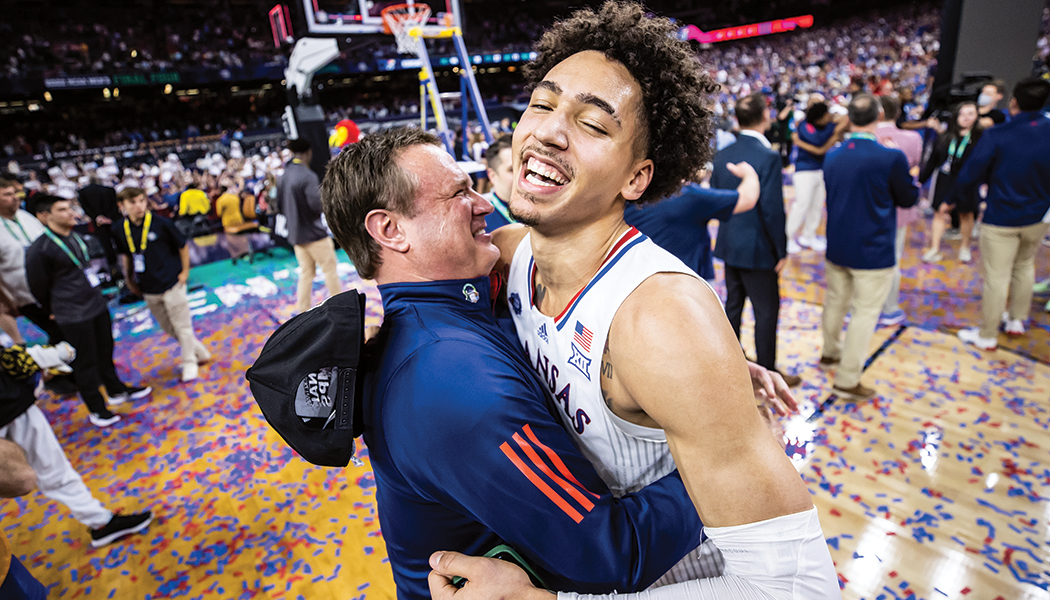 In New Orleans, players avenged the loss of their 2020 tournament dreams, and on Mass Street, fans young and old, most on what one observer described as "their betterish behavior," returned downtown to its rightful state of revelry.
Lawrence police reported that the madhouse crowd of 70,000 resulted in only three arrests, one notice to appear without a physical arrest and no serious injuries. Marc Havener was of course there with his camera rig, as well as at the parade the following Sunday that stretched from Sixth to 19th streets. He promptly posted the finale of his Lawrence trilogy to YouTube, where they can all be viewed.
And with that, downtown slipped back into its quieter routine. City workers caught up on overdue sleep, and everyone with a Jayhawk heart replayed the long, nerve-wracking run that will be remembered as one of the greatest stretches in the history of Kansas basketball.
"After the way these guys played the last month," Self said, "I think this team can play with any team Kansas has ever put on the floor."
Turn out the lights. This party is over. Until we're lucky enough to do it again.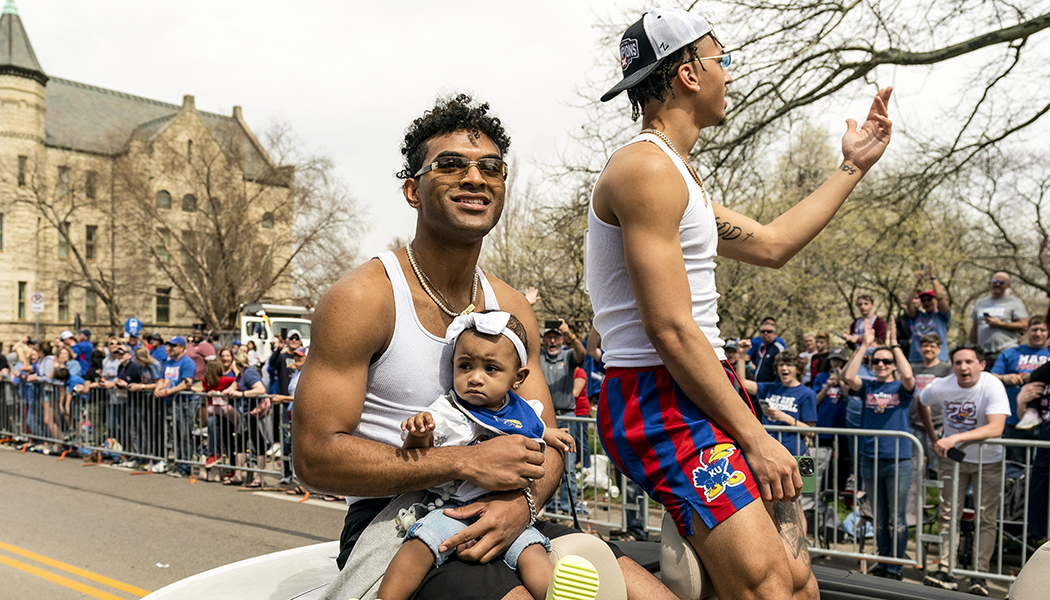 Photographs by Steve Puppe, Kansas Athletics, Dan Storey and Chris Lazzarino
View Dan Storey's video of the Kansas Jayhawks 2022 National Championship Parade: