KU engineering students' hot streak
Student designers extend successful run in aerospace competition.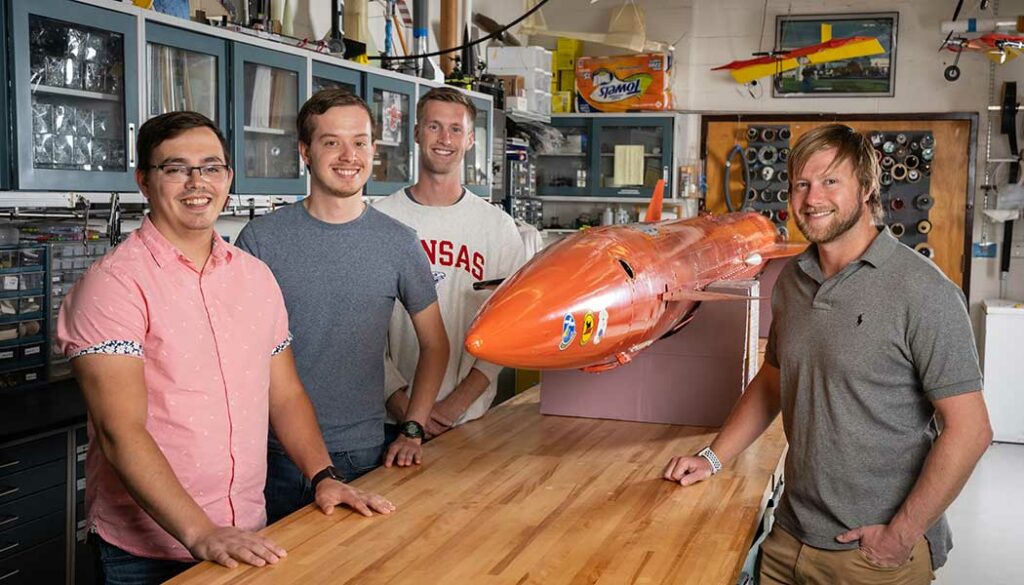 A team of student engineers from the School of Engineering took second place in a prestigious international aerospace competition, continuing KU's long history of success at the event.
The students won recognition from the American Institute of Aeronautics and Astronautics (AIAA) for their design of an unmanned hypersonic spy plane, which they named the "Hyperhawk" system. Ron Barrett-Gonzalez, professor of aerospace engineering, says the award, announced in October, is the 41st that KU students have received in AIAA competition over the past decade.
"Our department is not exactly like the basketball team, but if you keep posting win after win after win, eventually people take notice," he says.
The KU team was led by graduate student Nathan Wolf, of Olathe, who was previously part of a third-place team in the institute's 2021 competition.
"It's an honor to have won two of these design competitions," says Wolf, e'21. "Although our aerospace engineering department is relatively small, we have a rich history of competing in these competitions with much larger universities and coming out on top."
Other members of the team were graduate students Isaac Beech, e'22, of Lenexa; Justin Clough, e'22, of Leawood; Garin McKenna, e'22, of Overland Park; Gerell Miller, e'21, of Goodland; Zach Rhodes, e'21, of Lawrence; and Jack Schneider, e'22, of Kansas City.
The team offered judges two variants of the Hyperhawk system. One, an "endo-atmospheric" vehicle, which flies within 100 kilometers of the Earth's surface, included a three-stage rocket with a reusable third stage the students labeled "Baby Jay." The vehicle was designed to fly over its target at Mach 10, or roughly 7,000 miles per hour. The "exo-atmospheric" version placed the vehicle and Baby Jay reusable booster on a SpaceX Falcon 9 rocket. Both versions would be capable of being deployed on a new mission within 24 hours.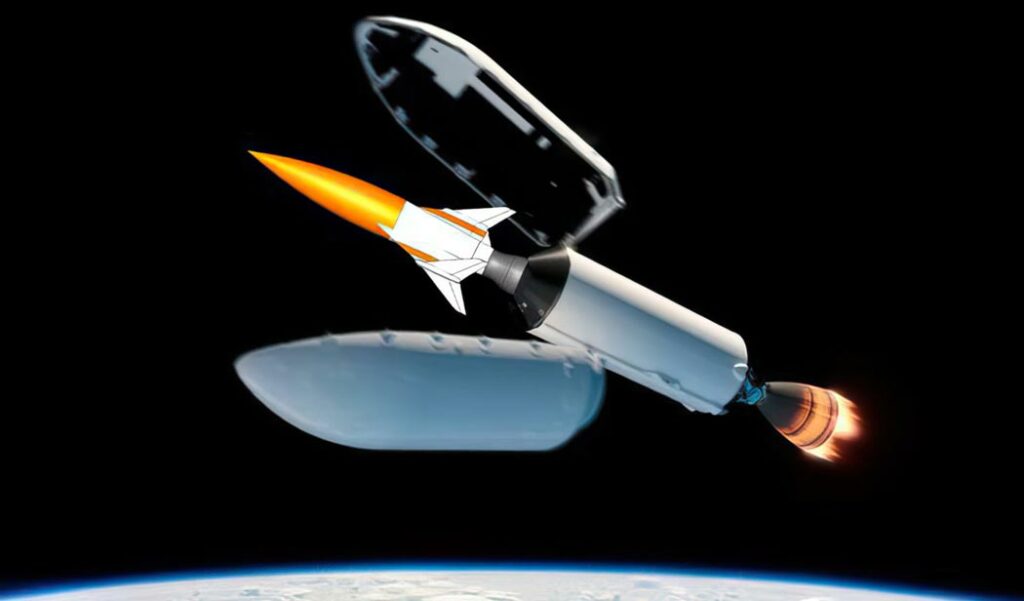 Barrett-Gonzalez says judges were particularly impressed that the student team incorporated an analysis of how laws and international treaties regarding both endo- and exo-atmospheric flight affect the Hyperhawk's proposed mission parameters.
"We have very good contacts at the KU School of Business and the KU School of Law," he says, "and we had a great understanding of the legal issues at hand and the business case that could be made."
Barrett-Gonzalez says students learn not just how to design vehicles during AIAA competitions, but also how to work within a team context—a necessary skill as they move forward in their careers.
"It's one thing to be able to do something computationally or analytically as an engineer," he says. "It's another thing to get along with people and to work together toward a common goal and actually wind up making a functioning vehicle. The practical skills of teamwork were well solidified in the group."
Winning at AIAA is a good way to jump-start those careers, adds Wolf.
"These competitions are a great way to get noticed in the industry," he says, "and faculty continue to get requests about students who compete from alumni and prestigious aerospace companies."
During a recent summer internship with Boeing, Wolf ended up working with several KU alumni—including previous AIAA winners.
"The aerospace department here at KU clearly has a legacy of graduating exceptional design students," Wolf says, "and I am just honored to continue that legacy."
Joel Mathis is a Lawrence freelance writer and a contributing writer at The Week.
Top photo by Steve Puppe; second photo courtesy of KU Aerospace Engineering