Association's building project moves closer to completion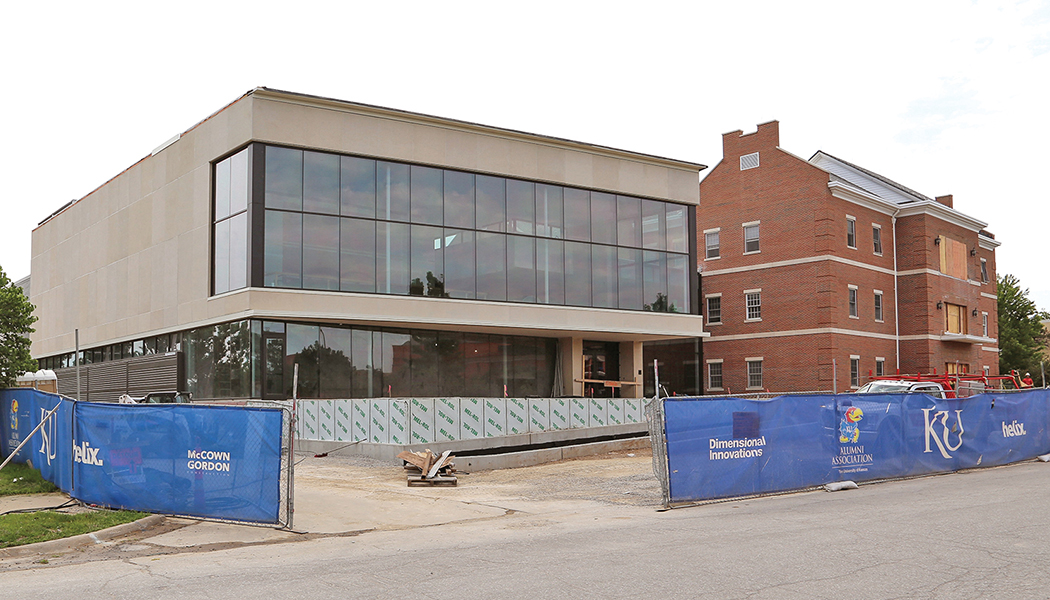 Crews made major progress this summer on construction of the Jayhawk Welcome Center and renovation of the Adams Alumni Center. The new 30,000-square-foot JWC addition, the University's launching point for campus tours, is projected to be ready to welcome prospective students and their families 
by early 2023.
As of late August, much of the welcome center's interior work—including drywall, paneling, paint, tile and ceiling grids—was complete. Exterior paneling has been installed, and the foundation wall, ramp, stairs and patio in front of the building's western facade have been poured. Meanwhile, demo work on the front of the Adams Center is finished, with construction of the new facade set to begin in September. Work is moving along inside the building, where painting, drywall and flooring work are underway.
This fall will bring installation of rooftop solar panels, interactive displays and terrazzo flooring. Association staff continue to consult closely with KU and general contractor McCownGordon, Helix Architecture + Design, and Dimensional Innovations, the firm creating the exhibits. The Association team also is developing a facilities operations plan to prepare for opening day.
"Our team has had so much fun working to help make the Jayhawk Welcome Center and renovated Adams Alumni Center a reality," says Heath Peterson, d'04, g'09, Alumni Association president. "Every time I walk through the building to observe the progress, I think of the many Jayhawks who worked together to create a new first impression for KU. We anticipate being open for business in early 2023 and can't wait to welcome the Jayhawk family to our new home on the Hill."
—Photograph by Dan Storey