Five current, former and affiliated Jayhawks are scheduled to compete at the Tokyo Olympics.
The first of five current, former and affiliated Jayhawks scheduled to compete at the Tokyo Olympics is the group's most experienced athlete and certainly the top medal contender: Mason Finley qualified for his second Olympic discus competition by topping the field at the U.S. Olympic Trials with a throw of 63.07 meters.
Now entering his fourth world-class championship meet, Finley set his personal record at 68.03 meters at the 2017 Track and Field World Championships in London, which was immediatley preceded by a throw of 67.07. He took bronze in London, the first American man to win a discus medal at the World Championships since 1999.
"I know I'm good for 66," Finley says, "and 67, 68 is going to be a great throw. I know it's totally possible because I've done it in practice. I'm just going in there confident it's going to happen."
Finley, '14, who currently serves as a volunteer assistant coach while training with the KU track and field team, prepared for his stellar 2017 World Championships by losing 89 pounds. He since put all that and more back onto his massive 6-foot-8 frame, and then over the past year turned right around and shed 100 pounds to dip even below his high school weight.
"It required high discipline," says KU throws coach Andy Kokhanovsky, himself an Olympian with Ukraine at the 1996 Atlanta Games. "Mason just has to fight and compete with the best. He has a chance, but everything has to align correctly."
Finley, now a 30-year-old seasoned veteran, has fought injuries throughout his career. He says that since backing way, way down from his high of 440 pounds—"I discovered that was not a good idea," he acknowledges with a chuckle—he feels fitter and nimbler in the discus ring and more relaxed away from it.
"Getting to the correct weight," Finley says, "you're happier just in life."
Finley is scheduled to compete in the qualifying round Thursday, July 29, with the finals set for Saturday, July 31. Other track and field Jayhawks in Tokyo are Bryce Hoppel, a medal contender in the men's 800 meters (July 30, Aug. 1, Aug. 4); Gleb Dudarev, c'21, competing for Belarus in the hammer throw (Aug. 1, Aug. 4); and junior Alexandra Emilianov, competing for Moldova in the women's discus (July 30, Aug. 2).
Volunteer assistant coach Christina Clemons, a five-time Big 10 and two-time NCAA champion while at Ohio State, has trained with the Jayhawks since moving to Lawrence to open a downtown barbecue restaurant with her husband, Kyle Clemons, c'19, a member of the U.S. 4×400 relay team that won Olympic gold in 2016. Christina Clemons, who has fought through significant injuries throughout her professional career, qualified for the Tokyo Games in the 110-meter hurdles (July 20, Aug. 1).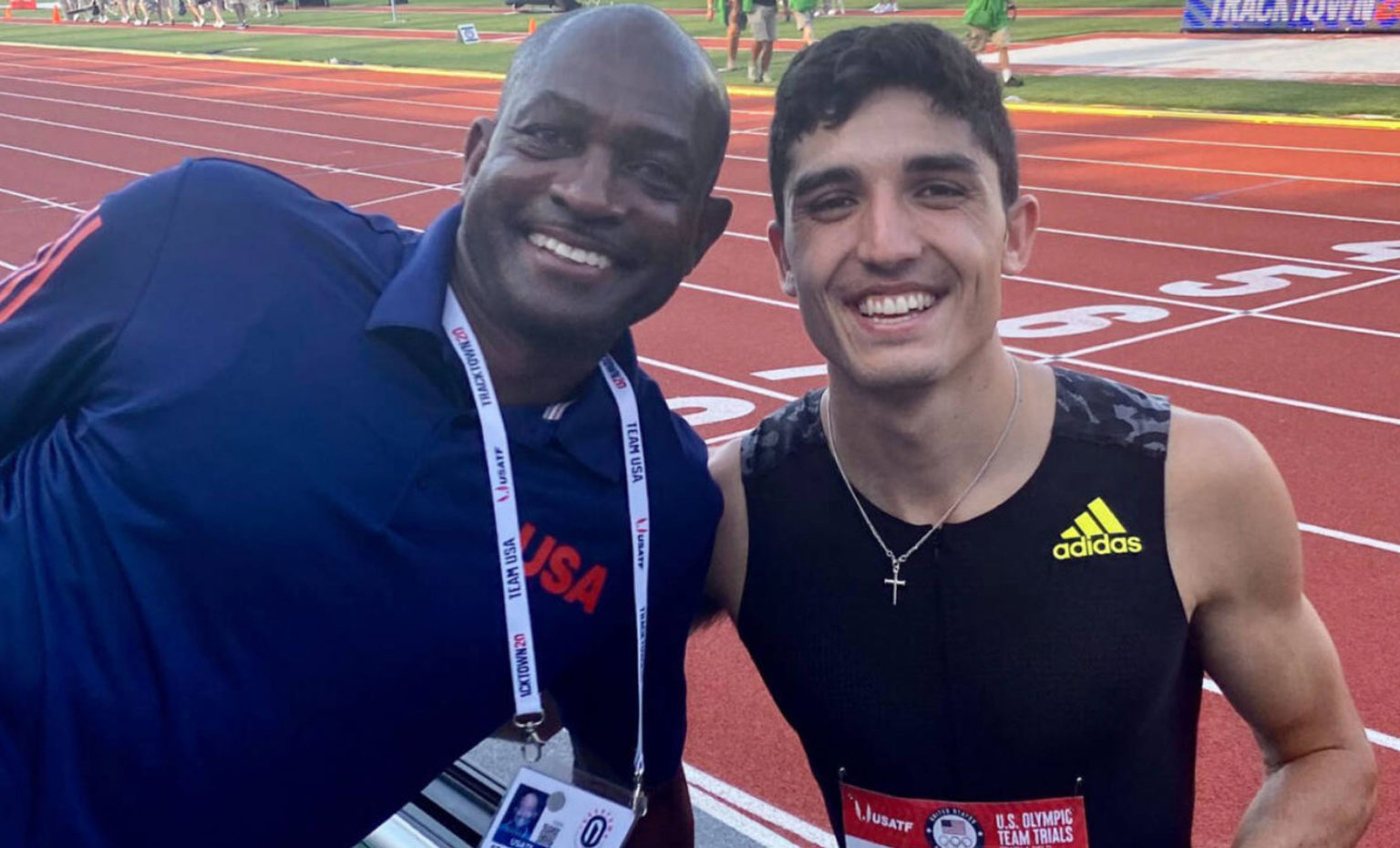 Hoppel, one of the rising stars of the U.S. track scene after winning the 2020 USA Indoor Championship, says he's been forced to alter his mental preparations since longtime Texas A&M rival Donavan Brazier failed in his bid to make the Olympic team.
"This threw a wrench into things. I've always pictured it with me and Donavan battling it out," Hoppel says. "Right now, honestly, without him being in the picture, I kind of picture me pulling away in that last 100 and making a run for gold. That's what I've been picturing now. I'm excited that the field is kind of open for that opportunity."
Dudarev, a six-time Big 12 champion in the hammer and weight throws, placed eighth for Belarus at the 2019 World Championships. He says he feels stronger and faster than he did then, and he's thrilled to once again represent his family—all of whom were throws athletes, some at world-class levels, going back to his grandmother and grandfather—and his country.
"But I'm also representing KU," says Dudarev, who, since bursting onto the scene in 2017 as a soft-spoken superstar with virtually no English-language skills, set 19 of the top 20 marks in KU's hammer- and weight-throw record books. "I've been an athlete and a student here for five years, and this is very special to me."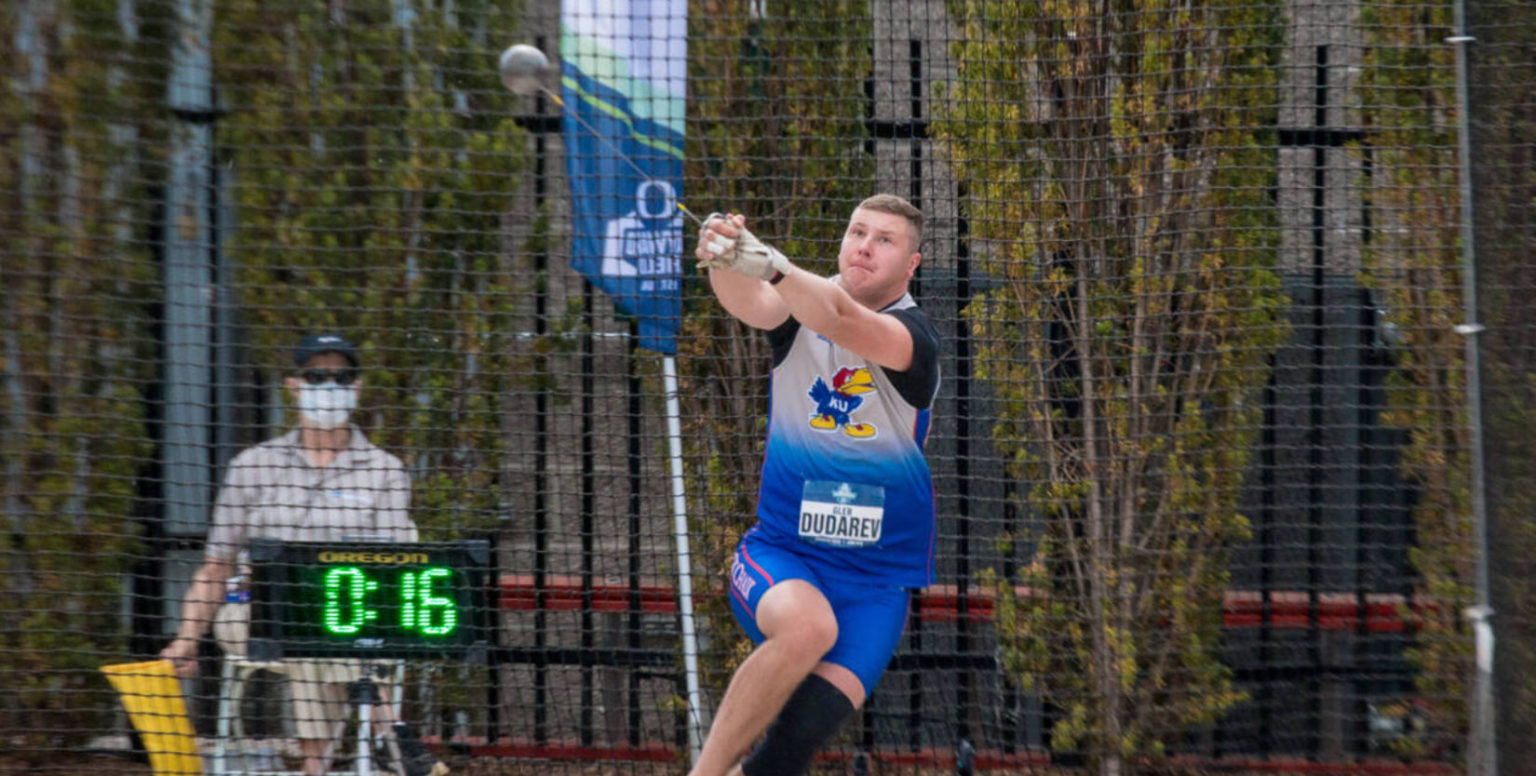 KU coach Stanley Redwine is also part of the USA Track and Field contingent, serving as an assistant coach for middle- and long-distance runners. Shortly before leaving for Tokyo, Redwine said he'd just received a 3-inch-thick manual of the team's COVID-19 regulations, which made him quickly realize that a particular challenge for all coaches will be helping the athletes put pandemic pressures behind them and focus on the moments they've trained for their entire lives.
"There's not to be any outside mingling. There's not going to be athletes hanging out. Go in, compete and leave," Redwine says. "It's just a new way of doing things. This is about the competition. It's not about anything else."