University Architect Jim Modig leaves a Mount Oread legacy for generations of Jayhawks to treasure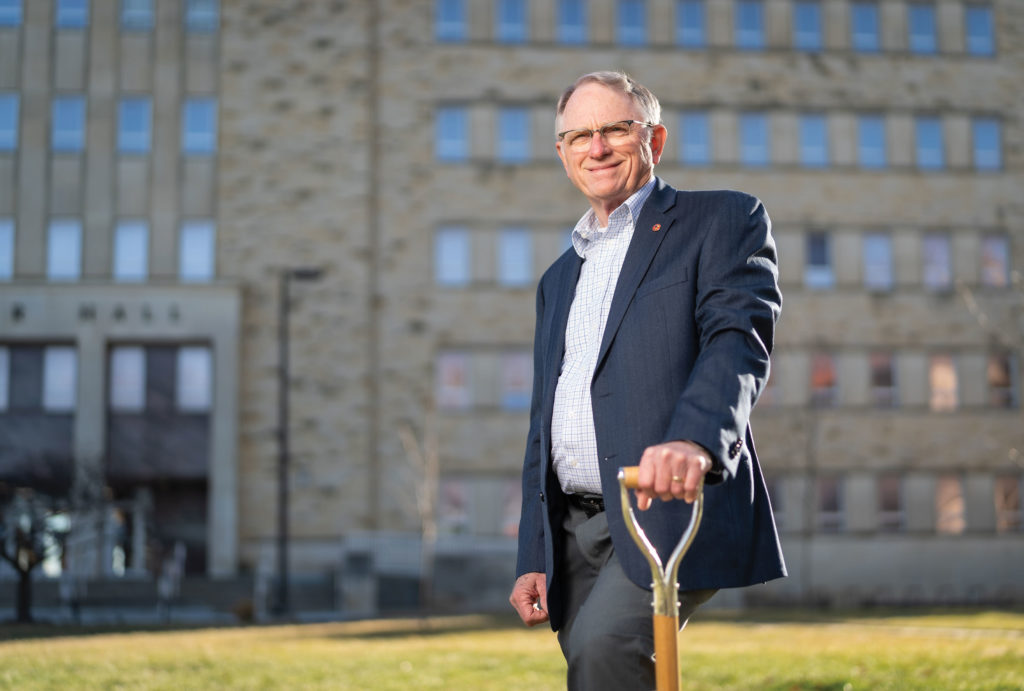 In a 41-year KU career that drew to a close in January, University Architect Jim Modig guided or was closely involved with 168 significant construction or renovation projects on the Lawrence and Edwards campuses worth $1.5 billion, including 40 projects worth $737 million since the 2014 conclusion of the latest Campus Master Plan.
He was a key player in the transformational Central District project, a public-private partnership that made the $350 million development possible in an era of virtually no state support for new construction. He also oversaw the revitalization of the western and southern slopes of Mount Oread with Capitol Federal Hall and the DeBruce and Earth, Energy & Environment centers.
Inside Murphy Hall, home to the School of Music, the beautifully renovated Swarthout Recital Hall sings Modig's praises. The re-created Spencer Museum of Art is a testament to his vision. And the rebuilt Jayhawk Boulevard and Memorial Drive—the historic heart of campus—affirm Modig's impulse to improve Mount Oread's look and feel and his commitment to preserving the sublime campus experience.
Notably, his retirement received an exceedingly rare public recognition from Chancellor Doug Girod. Large universities like KU lose irreplaceable scholars and staff every semester; it is impossible to even approach giving each a proper tribute.
Modig, however, stands out.
"Jim has been as kind and helpful a colleague as you could hope to have," Girod wrote in an email to campus. "No matter how tight the deadline or how challenging the assignment, Jim approached his work with an easygoing manner and thoughtfulness that benefited the project and those with whom he worked.
"It has been a privilege to work with him, and KU is a better place because of him."
Yet even the most notable of careers, it turns out, sometimes hinge on owning a proper pair of rubber boots.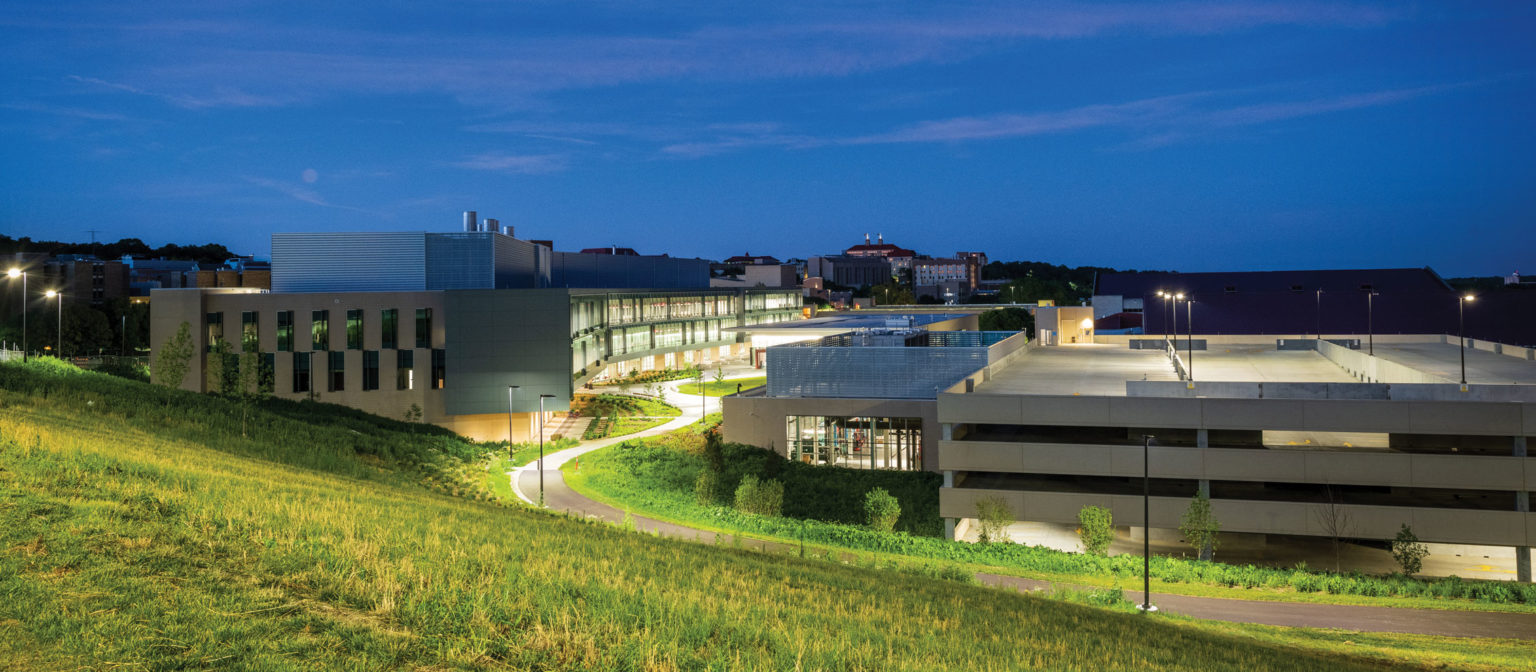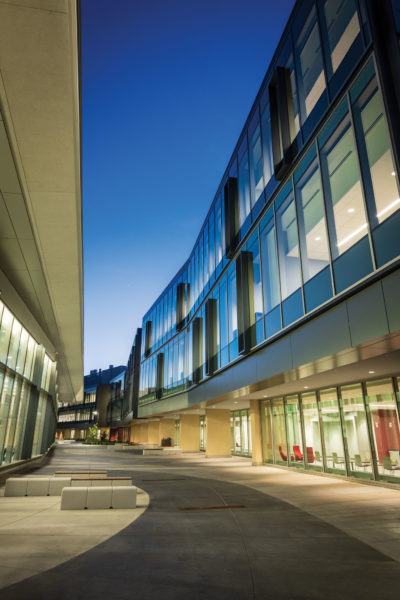 While attending KU in the early 1970s, Jim Modig worked part time for a Topeka company that built machines for producing wallboard and consumer paper products. Modig drafted concepts from the company's designer into detailed instructions for manufacturing, for instance, gears that turned at specific rates of rotation. When the company began planning an addition to its factory, Modig turned ideas and sketches into floor plans.
"It wasn't anything fancy or exotic," he says, "but it was an opportunity at a fairly young age to actually have some participation."
After his 1973 graduation, with a degree in environmental design, Modig signed on with the state architect's office, doing yet more work that was neither fancy nor exotic yet important: planning and delivering office space in the Kansas Capitol and nearby state buildings.
"I was kind of stuck in that process of doing space planning, simple little floor plans, organizational arrangements, things like that," Modig recalls. "And this is where my career kind of took a huge turn."
In April 1973, Gov. Robert Docking, b'48, signed Senate Bill 280, providing $58 million for expansion of KU Medical Center's aging Bell Memorial Hospital, then the largest state-funded construction project in Kansas history.
"By far the largest," emphasizes Warren Corman, e'50, whom Modig succeeded as University Architect in 2011 after Corman's 2010 retirement.
Details, thankfully, have become hazy through the years, but, in Corman's succinct recollection, "It turned into a big mess," including kickback allegations, public scandal, the works. Modig recalls that state officials drove to Kansas City, took possession of all architectural plans, returned them to Topeka, and asked Modig to join a team of public and private-sector engineers and architects.
Modig helped orchestrate designs for more than 30 critical aspects of construction, literally from beneath the floors to above the ceilings, including industry-specific technical spaces such as patient rooms, radiology labs and operating suites.
"So we sat in that room and finished the drawings for that project," Modig recalls. "It was Education 101, big time. I think that's where I got interested in managing larger-scale projects."
The drama at 39th and Rainbow, however, was far from quelled. Just as Modig and his team in Topeka were completing their designs, an on-site inspector quit. Along with whatever else was going wrong—was anything going right?—Corman, who then worked as a staff architect for the Board of Regents, recalls that a well-connected Wichita lawyer managed to get his son hired on to oversee the troubled site. When Corman dropped by to monitor progress, he was stunned by what he saw in the midst of mud-caked chaos:
"The kid was wearing white shoes instead of boots," Corman says, disgust still evident in his voice. "So that's when we put Jim on the job. He straightened it out."
In mid-1977 the state architect's office loaned Modig full time to KU Medical Center. Shortly before the project's completion, in May 1979, a construction management job opened in Lawrence, and KU officials asked Modig to drop by Lawrence on his drive home to Topeka.
As Modig recalls, he went through a formal application process; in Corman's memory, the job was his for the asking.
"When he did such a nice job of working with some pretty unruly contractors," Corman says, "we decided we didn't want to lose him."
Modig met with a trio of titans in facilities planning who would become indelible influences: R. Keith Lawton, b'47, vice chancellor for campus planning and development; Jim Canole, a'49, then associate director of facilities planning; and legendary landscape architect Al Thomas.
"They were very calm, very calculating," Modig says. "And so that's kind of how I grew up. It was in that same philosophical way."
Modig hired on as assistant director for construction management, and, after spending a month wrapping up at KU Medical Center, he turned to his first Lawrence-campus construction project, the Burge Union. He advanced to Canole's former position as associate director when Canole was promoted to director of facilities planning after Lawton's mid-1980s retirement. When Canole retired in 1987, Modig took over as director, a role he held until relinquishing it—while retaining his duties as University Architect—as he neared his phased retirement.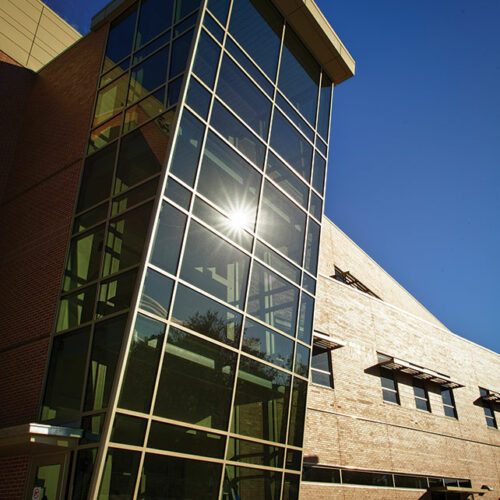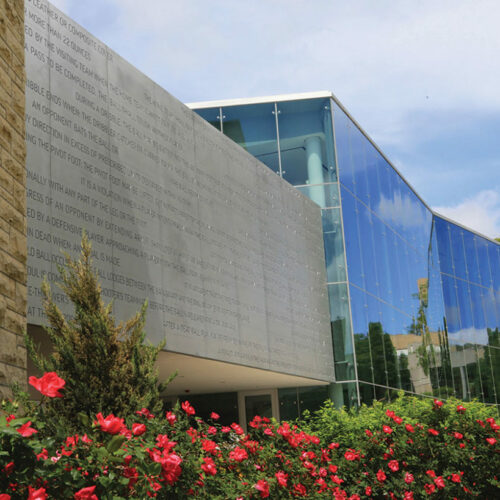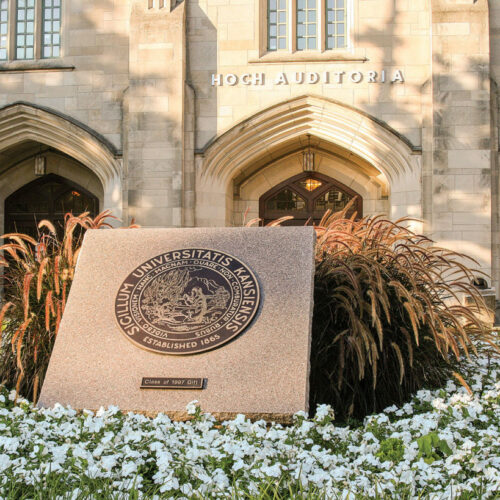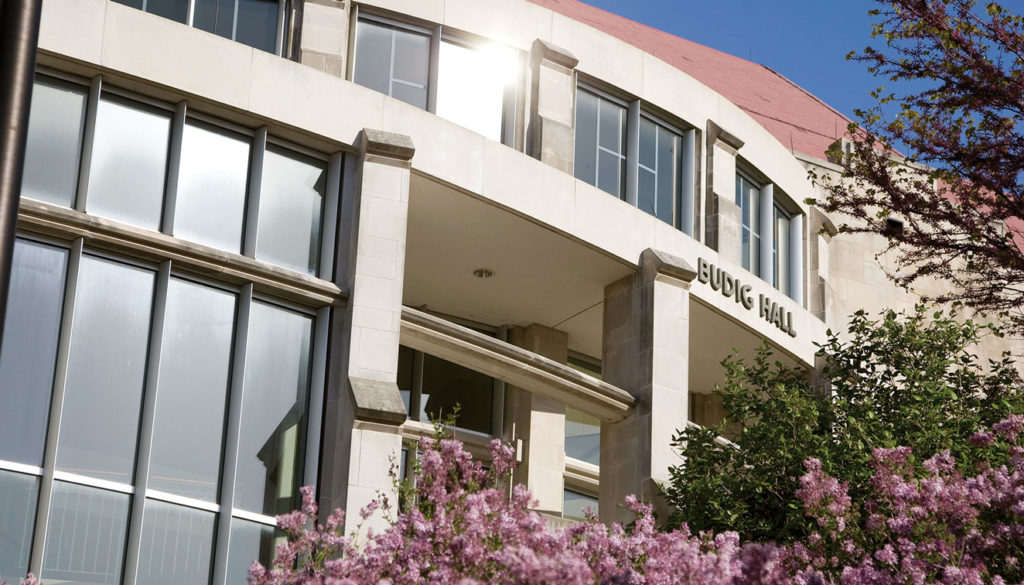 Saving Hoch Auditorium's façade following the iconic landmark's devastating lightning-strike fire of June 15, 1991, and transforming the site into the modern campus hub now called Budig Hall, will always remain one of Modig's signature achievements—in large part because it is both beautiful and beloved. But he also savored the invisible, the far-less glamorous, the work that happens in decaying old tunnels, dank crawl spaces, mechanical equipment rooms and, yes, at muddy construction sites.
His hard hat and boots always ready in the trunk of his car, Modig quietly relished any chance to be close to the action, where his visions for the future of our physical KU were coming to life.
Or, more precisely, the shared visions that he shared a role in realizing.
"It's recognizable as KU because of the work that Jim has done," says Mark Reiske, a'86, a 31-year KU veteran who succeeds Modig as both University Architect and director of Facilities Planning & Development. "Jim set a tone for a new palette for Central District; it's not like the rest of campus, but if you're a KU person, Central District is a very recognizable place now. Jim mentored that same approach along the boulevard. He controlled what happens along that area of campus. He controlled what happens at Potter Lake and in Marvin Grove; he's protected those areas from development that would have basically taken away some of those fond memories for graduates and our visitors.
"And never once—I'll guarantee you this—never once did Jim think, 'Well, gosh, someone will remember me because of this.' That was never, ever, ever in Jim's mind. It was about the University of Kansas. It was about what's right for KU."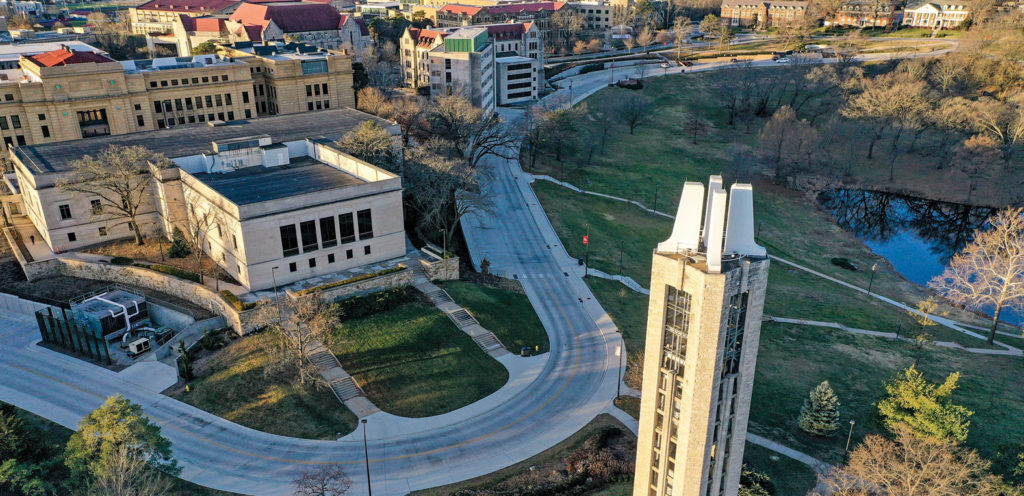 It's interesting to reflect that after hours of interviews with Kansas Alumni, one of the vivid memories that Modig shared from his decades of working on the Hill was from early on, back when he was occasionally summoned by his boss, Keith Lawton: "We have a problem. Let's go for a ride." After visiting one job site or another, Lawton would swing by Daylight Donuts on 23rd Street. "And the next thing I know," Modig says, "I'm reaching for a napkin to make notes."
The anecdote is illustrative, perhaps, in how Modig views the campus which he spent a career protecting and defending: not in places, but people.
And the people he's worked with over the years noticed.
"One of the greats," says Ramin Cherafat, CEO of McCownGordon Construction, one of the partners that helped KU realize the vision for Central District. "Jim Modig is one of the most high-integrity people I've ever done business with. He always wants to do the right thing. He's one of those guys who made you and your team want to work harder for him, and the University, just because of how gracious he was and how he conducted business."
Modig is soft-spoken, polite, kind and attentive, usually dressed in a navy blazer and nondescript slacks—the opposite, in every way, of the glamorous, obsessed architect archetype—so one might presume his tastes in design and construction to be similarly conservative, perhaps even stuck in the past.
That, Cherafat insists, would be wrong.
"Jim is always willing to learn and find better ways to do things," Cherafat says, "and that created a lot of value for the University of Kansas. He got jobs done quicker because he was so collaborative. It's not like that on every other campus. He was unique in that way."
Zach Loy, manager of business development for Turner Construction—a regular presence on Mount Oread for more than 25 years—says that when employees circulated a farewell card for Modig through their Kansas City office, "It hit me how many careers he touched just within our walls, people who were really moved by having worked with Jim. And you can multiply that by at least 10 for all the other companies, architecture firms and contractors that he's worked with.
"To say that Jim is a man of integrity would be a huge understatement. He is … I'm not even quite sure how to find the words … but he just carries this incredibly high level of trustworthiness. Being the outstanding leader that he is, Jim has set KU up for success, even in the post-Jim era."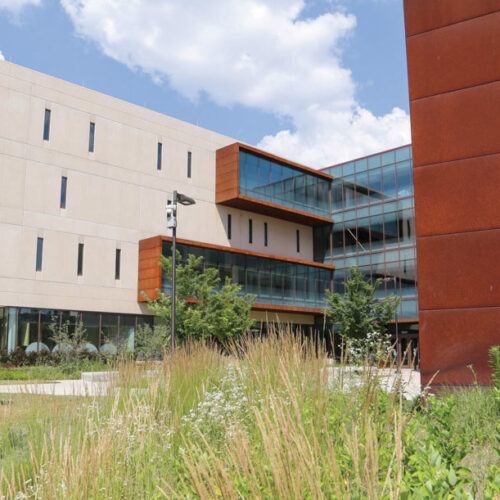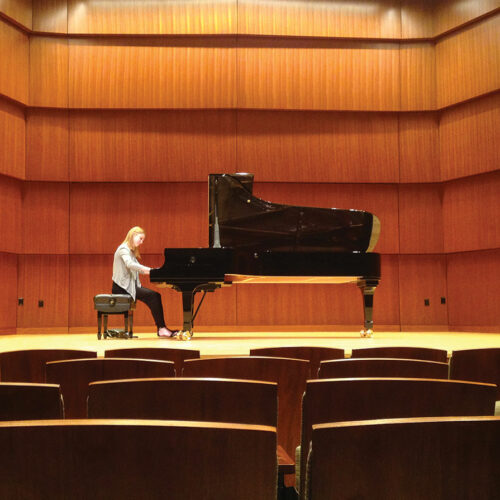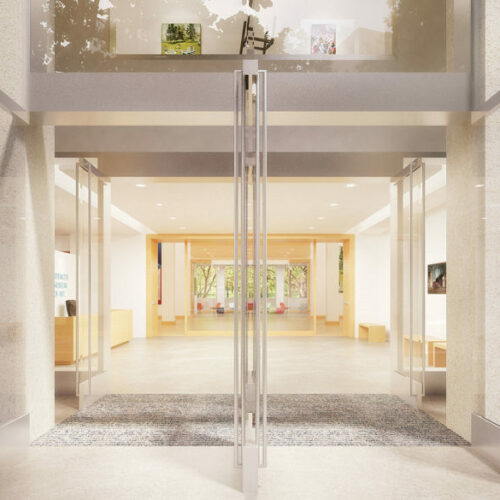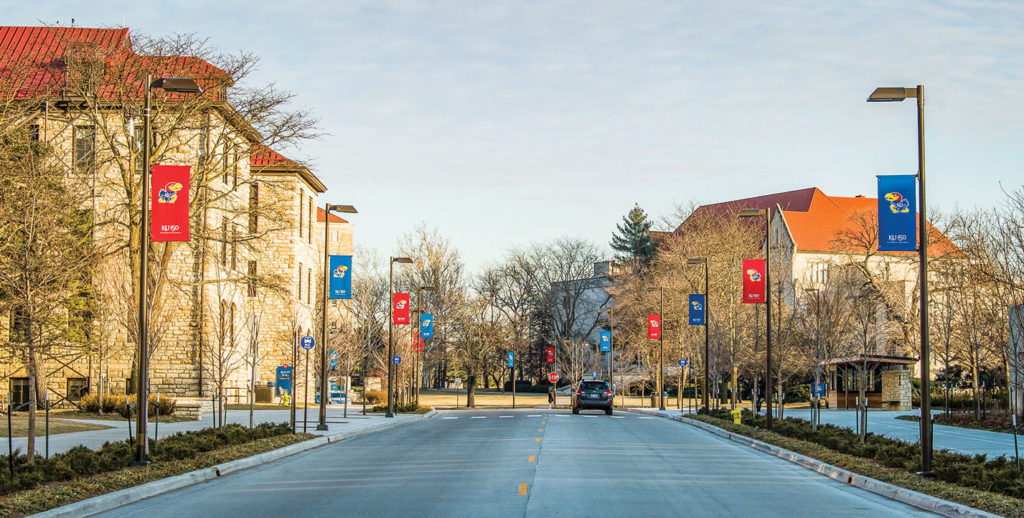 A drafting class in junior high or high school, Modig's now not sure which, captured his imagination—"I just liked the ability to kind of put things together mentally, on paper"—and when he progressed to drawing his first floor plan for a class at Topeka West High School, he felt the stirrings of what could be his life's work.
"I know that architecture is more than just drawing a floor plan," Modig says, "but that was what kind of hooked me to continue to pursue that."
A buddy from the west side of town, Joe Smith, in 1968 asked Jim to join him on a Labor Day camping trip to a family cabin at Council Grove Lake. Joe had recently started dating a gal from Highland Park High, on the east side, and he thought Jane and her family might be at the lake, too—perhaps, wink wink, with one of Jane's friends. A drive-in double-date ensued and, a half-century later, the two couples are still double-dating.
"Sue and I have been together now for 52 years," Modig says, "and married for 50."
Throughout his more than four decades at KU, Modig was usually in the office by 7 or 7:30 each morning and didn't leave until 6 or 6:30 in the evening. His longtime colleague Eric King, who worked with Modig at KU before joining the Board of Regents, from which he retired in 2018 as associate vice president for facilities, recalls sharing daily brown-bag lunches, during which they talked not about sports or fishing but projects then underway, such as Anschutz Library, the Dole Human Development Center and Snow Hall renovations. Soda cups were always set on the floor.
"Jim's desk was stacked with paperwork," King says with a chuckle. "I couldn't find a square inch of space for lunch."
Modig's typical 10- or 12-hour days invariably grew to include after-hours events with community groups, weekend tours for important visitors and, especially during the frantic construction over the past decade, endless streams of meetings—on site, in the office or over the phone—with contractors, administrators, lawmakers, neighbors. Once at home, he typically made his way back to a computer after dinner to slog through emails or review his trademark spreadsheets, which dazzled colleagues across the country with their organization and efficiency.
"I'll call it a personal-held responsibility," Modig says of the drive that pushed him to check every box, day after day, to honor his fiduciary responsibility for the University's money, safety and vibrancy. "Whether you're talking about the dollars that are there or the condition of the facilities that we're having faculty and students work and study in, it's that pride of ownership. Trying to make sure that we're making smart decisions wisely so that we're not wasting our limited resources."
Despite the long hours, Modig says, he tried not to bring job stresses home, "but I'm sure it shows through occasionally." He began phased retirement after the 2018 completion of the massive Central District project, his career capstone, handing over the directorship of Facilities Planning & Development to Reiske while retaining the title of University Architect and moving, administratively, to the Office of the Provost, where he reported to Chief Financial Officer Diane Goddard, g'91—another key KU player in the Central District who also recently retired.
Modig originally planned a three-year journey toward retirement, but the stresses associated with readying campus to safely reopen after being shut down by COVID-19, along with the buyout package offered by the state to certain eligible employees, spurred him to cut his departure time in half. He retired Jan. 8.
"The pandemic set the stage that allows me to retire quickly and unceremoniously, just the way I like it," Modig wrote in a private email to Kansas Alumni, for which we ask his forgiveness for sharing.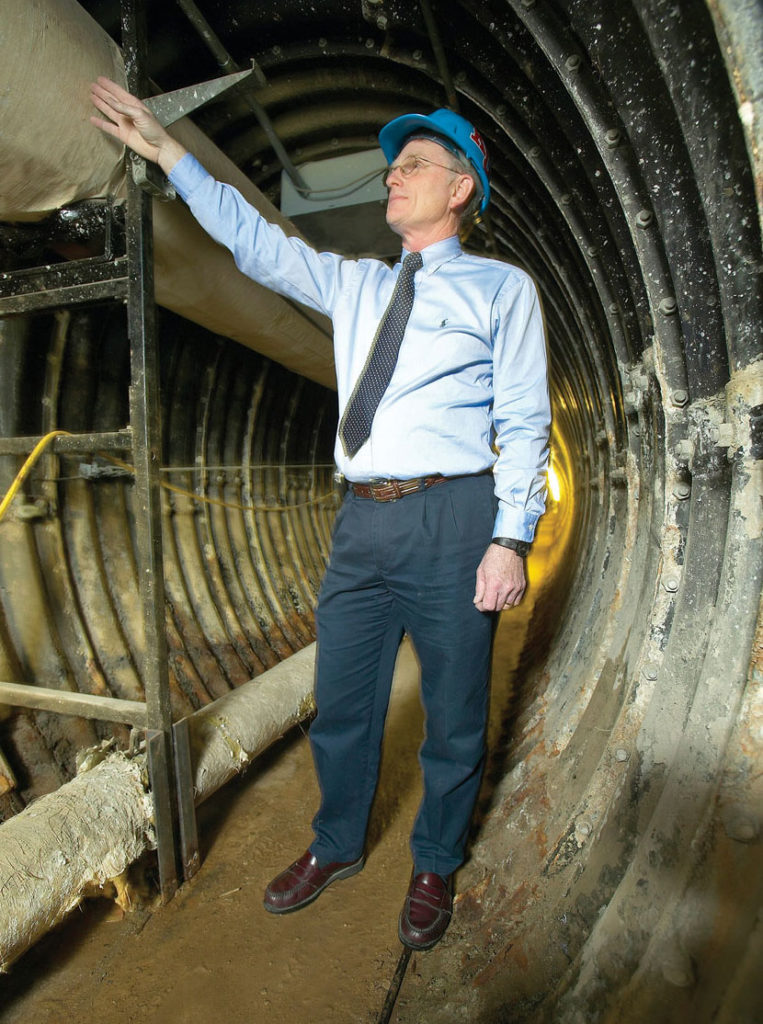 Now the lifelong servant-architect turns to projects nearer and dearer than even KU. "You're donating your labor," Modig deadpans of the difference between orchestrating multimillion-dollar projects on Mount Oread and bird-dogging sales to replace carpet at his home west of Stull with hardwood floors, "so all you're buying is material." He recently helped his son transform a foreclosed Topeka house into a suitable home, which they then upgraded with a new kitchen to prep the property for sale as the family grew.
"I'm not one of these real creative guys who has one of these fancy houses that is unique, one of a kind, and all the fancy spatial relationships, but I think there is a piece of a house that makes it personal, and makes it a space," Modig reflects. "I don't often talk about this, but place-based education … we're teaching in classrooms; that's place-based. We're living in a residential environment, and whether you got wallpaper up or you got paint, whether you got hardwood floors or carpet, it all adds up to the textures and layers of the space that relate to you."
Jim says he and Sue are compatible, in part, because "we're both pretty low-key." They enjoyed camping trips when their children, Sherry and Brian, were young, but Jim's worsening allergies halted their outdoor pursuits. They now favor road trips, especially to campuses around the country for Jim's professional conferences, and Modig took a grandfather's delight in photographing Amber Draper, c'20, one of this three grandchildren, at campus sites that were meaningful to her after COVID canceled her May 2020 walk down the Hill.
The buildings and locales were special to Amber because of her own KU experience, but they were ready to fulfill that role for Amber and her classmates and every other Jayhawk over the past four decades thanks, in large part, to her grandfather's insistence on doing the best he could with the resources at his command. (Modig bemoans leaving the job with tens of millions of dollars in deferred maintenance still to be completed, should the funds magically appear, and he genuinely worries about the future of KU's education and research missions should aging buildings, classrooms and laboratories be allowed to fall into deeper disrepair.)
"It's nice to have a good-looking building, and it's nice to have it present itself well to the people who come into it. It's that first-impression kind of thing," Modig replies when asked to describe a good day on the job. "But functionally, when a building really performs, when you see the vibrancy of activity in the building, that's probably the most reassuring thing that you could have."
Modig says he can see himself occasionally strolling campus on lovely evenings and making his institutional memory available as needed—"I'm probably not the person who would just walk away and never return"—but for now, for the first time in a very long time, his personal interests take priority.
Travel, friends, family, and, because construction is never done, a 12-by-16-foot model-train layout that got set aside two decades ago as he tackled larger problems of the world.
"I would like," Modig says, "to finish what I've started."
And it won't even require rubber boots.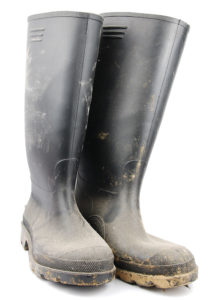 Hill Design, a guided tour of KU
Watch KU architects Jim Modig, a'73, and Warren Corman, e'50, discuss their work as they drive through the KU campus.