Jungle House brings all things houseplants to new downtown Lawrence location.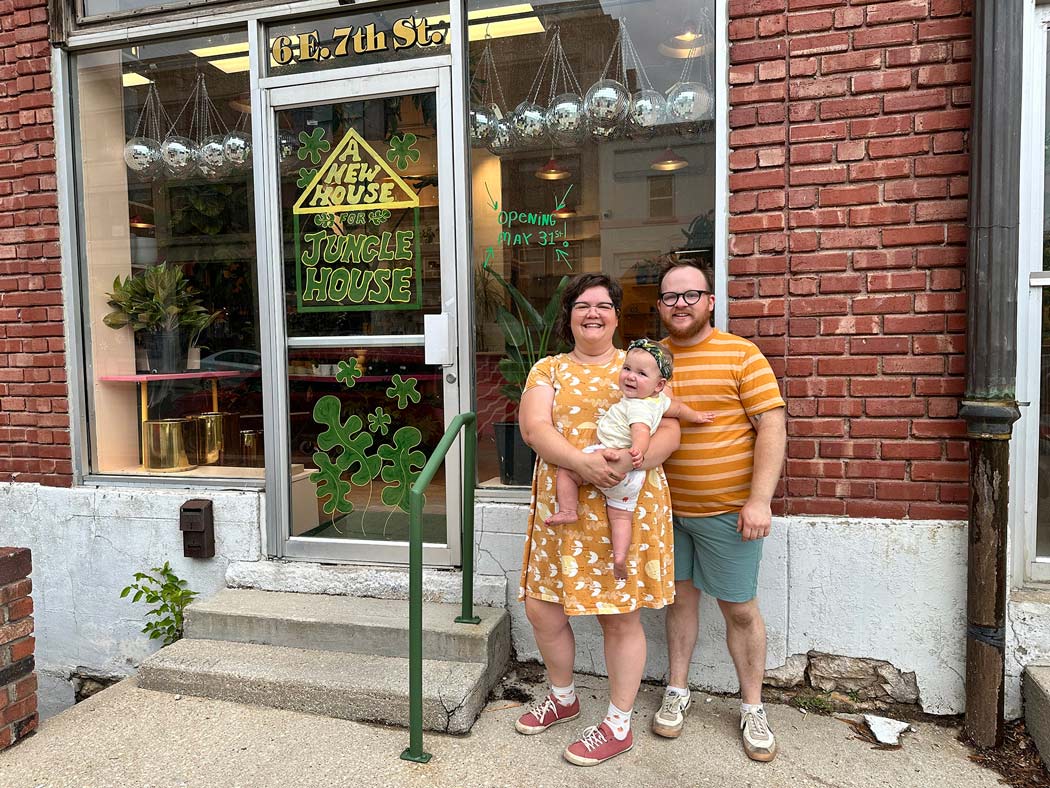 Rachel Ybarra Guffey, '12, says her husband, Jhami, '16, has nurtured an entrepreneurial spirit ever since he sold tomatoes to Topeka restaurants as a boy, and she brought to the marriage "a houseplant hoarding problem." They merged their passions with a houseplant pop-up shop during a 2018 Final Fridays event, sold out in less than two hours, and, sensing an untapped houseplant market in Lawrence, promptly opened Jungle House at 924 Delaware St.—a shop that thrived during pandemic lockdowns with its suddenly popular houseplant delivery service.
When The Raven Book Store left its longtime home at 6 E. Seventh St., the Guffeys locked up the lease, intending to use the space to realize Jhami's longtime dream of opening a candy store with nostalgic and imported sweets. Turned out the candy store was not yet ready to become a reality, so instead they used the space for a Christmas plant pop-up in 2021, after which "everything kind of came to a halt" when Rachel became pregnant. Still owning the lease on the former Raven space, the Guffeys last spring finally moved Jungle House downtown, where it has blossomed into one of Mass Street's must-visit new businesses.
"Plants, pots and good times sums it up well," Rachel says. "It should be a fun and relaxed vibe when you come in."
Along with its gorgeous array of houseplants, the shop also sells pots, tools and books, and offers delivery and repotting services along with workshops for newbies, experts and kids.
"Even if plants aren't your thing, I think you should come in and experience it sometime," Rachel says, speaking repotter to reporter. "In a world where we do so many things digitally and online, being able to come into a store and interact with each other and interact with the plants is such
a unique experience."
Chris Lazzarino, j'86, is associate editor of Kansas Alumni magazine.
Photo by Leah Evans Photography