KU's enrollment boom and ratings rise
The fall 2022 freshman class is the second-largest in school history. Plus: KU climbs in U.S. News & World Report "Best Colleges" rankings.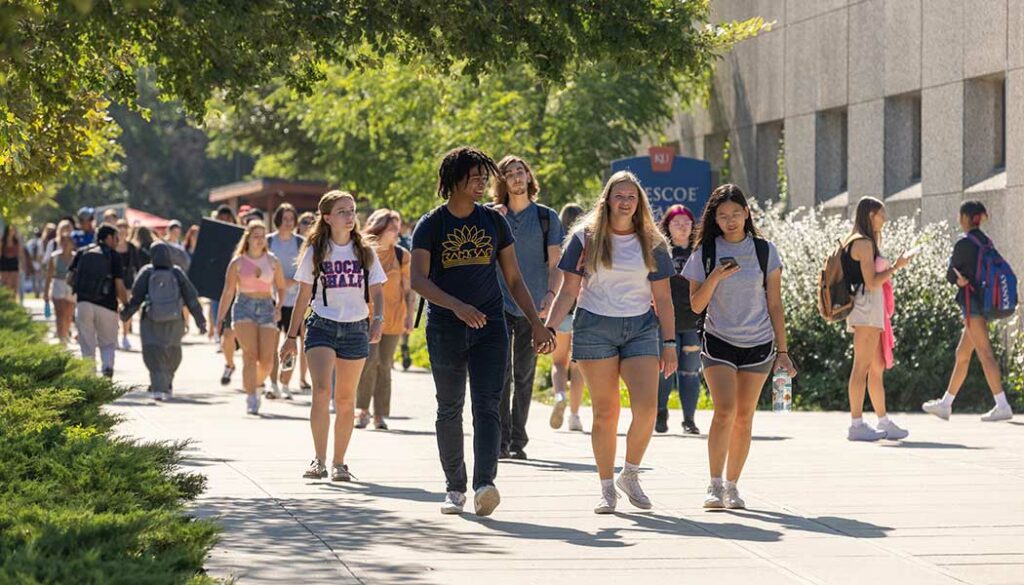 The University this fall welcomed its largest freshman class since 2008 and the second-largest in history: 4,457 students, an increase of 8.2% from fall 2021.
"These enrollment numbers demonstrate that talented students from across the state and nation see the benefit of attending a leading public research university like KU to prepare for their lives and careers," Chancellor Doug Girod said Sept. 29, when the Kansas Board of Regents released data for all state colleges and universities. "Everything we do at KU—from education to service to research, to engagement with alumni and donors, to competing in athletics—ultimately contributes to our ability to recruit new students to campus. Every member of our university community deserves thanks and credit for our enrollment success."
The fall freshmen also are the most academically talented in history: The average GPA of 3.66 ties the fall 2021 mark, which is the highest on record. In addition, this class is the most diverse in history.
Here are the details:
4,457
(+338 from fall 2021, or 8.2%)
366
freshman average high school GPA
(highest on record, tying fall 2021) 
1,269
minority students

(23.1% highest count and largest portion—28.5%—on record)

27,638
on all campuses

(-47, or .2% )
23,872
Lawrence/Edwards campus

(-86, or 1.4%)
9,826
out-of-state-students
(highest count and largest portion—41.2%—on record)
6,896
minority students

(+137, or 2.3%; the highest count and largest portion—25%—on record)
1,504
veterans, active-duty
and
military-conected (dependent) students
4,714
are students from KU families (24.5%)
Medical Center enrollment
3,766
on Kansas City, Salina and Wichita campuses

(+39 students, or 1%)
979
minority students

(+9.2%, the highest count and largest portion—24.7%—on record)
And for the second consecutive year, the University has moved up two spots in the U.S. News & World Report "Best Colleges" rankings.
KU is rated 56th among public universities and now ranks second-highest among public institutions in the Big 12.
The influential annual accounting of U.S. colleges and universities, released in September, also placed KU 22nd among public schools for best value and 53rd among best public colleges for veterans. In a broader ranking of all U.S. schools—public and private—the University rose one spot, to 121st.