Medical school at KU a tradition for Starkey family
Wichita med student Jared Starkey is family's third generation to train at KU.
by Jennifer Jackson Sanner
David Starkey doesn't recall who had the bright idea to pack something extra before his family drove from Hutchinson to Kansas City in July 2019, but he's thankful inspiration struck. "Somebody said we should take our white coats," he recalls. "It was almost an afterthought, but it turned out to be pretty special."
The Starkeys were headed to the KU School of Medicine's Kansas City campus, where all first-year students celebrate their entrance into the profession by receiving their short white coats, emblematic of students in training, as family, friends and faculty applaud. On that July afternoon, David's son, Jared, received his white coat, extending a family tradition of KU-trained physicians that began with his grandfather, Jerald, m'56, and continued with David, m'86. The photo of the three is a family treasure.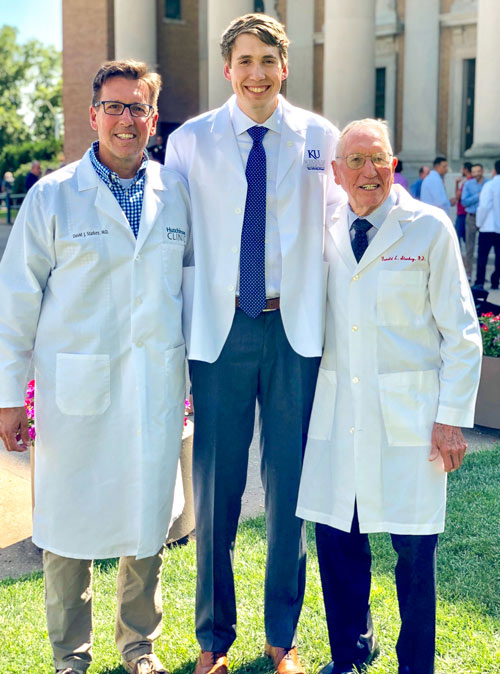 "It's a really neat moment for family to see," Jared says of the annual ceremony. "It was cool to have my dad and grandpa there to share that moment with me."
Now in his fourth year of medical school, Jared, 28, is completing his clinical rotations on KU's Wichita campus, a short drive from Hutchinson, where he grew up and where David, 62, is a family practice physician at the Hutchinson Clinic. David is beginning his 24th year with the clinic and his 34th as a doctor.
Jerald, 92, retired in Hutchinson after his long career in family practice, which began in Alaska, where he served two years with the U.S. Public Health Service. He returned to Kansas, caring for patients in Lindsborg for two years before landing in Russell for 29 years.
Jared, who earned his bachelor's degree at Southern Nazarene University in Oklahoma City, says his dad and granddad provided "good examples for me of what life as a dedicated, compassionate physician would look like."
They never pressured or coached him to choose medicine, he adds, "but I really got to see the impact they had through their careers, serving their communities, and the way that they were able to just change people's lives. Just walking through town, you run into people they've touched, people whose grandparents they've cared for or babies they've delivered."
Grandfather Jerald grew up on a farm near Cullison in Pratt County and earned his bachelor's degree at Fort Hays State University. He names obstetrics as the most enjoyable aspect of his practice in Russell, where he and his partner, Earl Merkel, m'57, cared for families from many surrounding towns that did not have physicians. Jerald cites just one of several multigenerational examples: "I delivered a pair of twins, and the girls grew up, married and moved to different towns, one in Great Bend and the other in Ellsworth. They both came back to Russell so I could deliver their babies."
He thought the late-night deliveries and other demands of rural practice might dissuade his son from choosing the same career. "I was very happy to see David go into medicine," Jerald says. "I wasn't sure that he was very impressed, because we worked very hard when he was growing up and didn't have as much time to be together. I was surprised that he followed in the same routine and was glad that he did. … I was very happy to see Jared follow in his dad's and granddad's direction."
David says his father's unpredictable hours did prompt him to set one requirement when he ultimately chose to settle in Hutchinson after 10 years out of state: "I was looking for a community that was big enough to have emergency room services so I wasn't up every night," he says.
After graduating from Oral Roberts University in Tulsa, David became enthralled with mission work during medical school in Kansas City and spent three months of his fourth year in Africa. He chose family practice and moved to Wichita for his residency, working at St. Joseph hospital (now Ascension Via Christi St. Joseph) in a KU program that trained physicians for rural communities. He set his sights on Plainville, but his college-sweetheart bride, Karla, who had grown up in Alaska, craved a bit more adventure, so they moved to Washington. After 10 years near Seattle, city life and traffic became overwhelming, he says. Kansas beckoned.
David has especially enjoyed working with third-year medical students, often from the Wichita campus (which in 2011 grew from a two- to four-year program). Numerous KU students have completed their family-practice rotations at the Hutchinson Clinic, and three have returned to join the team. "That level of engagement with the University and with the practicing physicians is really helpful to keep doctors in the community and in the state," David says.
Though his specialty is urology, Jared sees similarities. "We get to see patients of all ages, with all sorts of problems, and urology provides a good mix of getting to operate and seeing patients in clinic," he says, noting that his specialty will enable him to develop long-term relationships with patients.
Jared's medical residency could take him out of state (he soon will learn the results of the matching process), but he can envision a small-town practice someday: "I would definitely like to come back and serve in the Midwest, either in a smaller community or one that doesn't have as many resources for urologic care—to take my skills closer to home."
As Jared prepares to walk down the Hill in May, David eagerly awaits a celebration that echoes the day in Kansas City four years ago, when his classmate, Rob Simari, m'86, now KU Medical Center executive vice chancellor, presented white coats to Jared and the son of David's med school roommate. "It's fun to go back 35 years later and see the continuity of training and contributions to medicine," he says, "and how that has continued a legacy, I think, of really good medical care in the state."
Jennifer Jackson Sanner, j'81, is editor of Kansas Alumni magazine.