KU sports updates: Fall 2022
Soccer advances to Big 12 Tournament, alumna wins New York City Marathon, and more.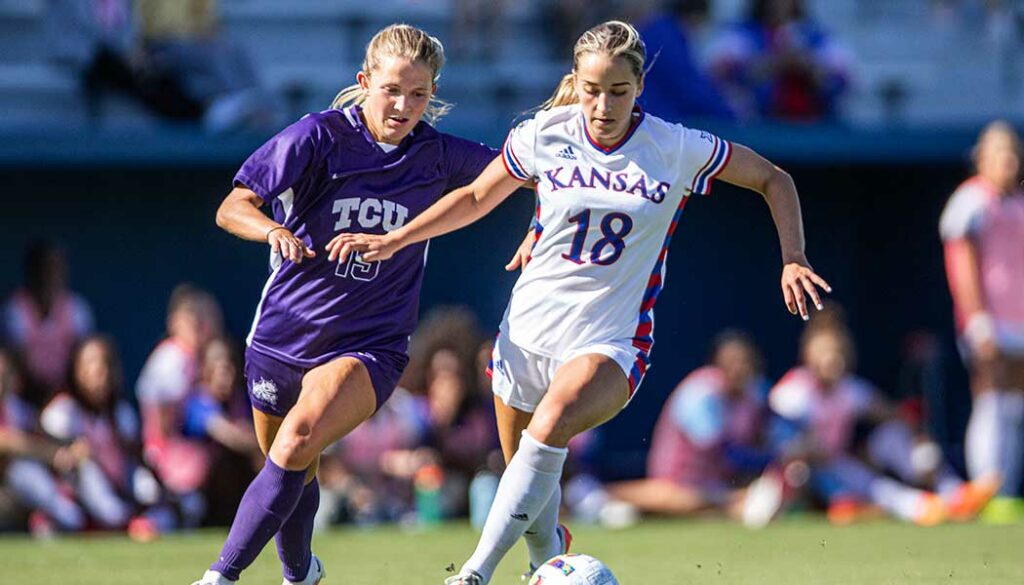 Soccer advanced to its first Big 12 Tournament since 2019 with a 2-0 victory over Iowa State Oct. 27 at Rock Chalk Park. Forward Lexi Watts, named to the Big 12 All-Freshman Team, scored both goals against the Cyclones, and her six for the season were the most by a KU freshman since Ashley Williams, c'16, in 2012. Junior forward Shira Elinav led the team in regular-season scoring with eight goals and 20 points. Senior Rylan Childers added six goals and 18 points.
Women's basketball coach Brandon Schneider says last year's second-round NCAA Tournament loss to Stanford, at Stanford, helped his current squad understand the value of winning enough games to be chosen as an opening-weekend host: "You could win a first-round game, but unless you're the host site, you're playing a really, really good team on their home floor, and that's a lot to overcome." Says junior guard Chandler Prater, "We're confident in our ability to match what we did last year."
In what The New York Times described as "an extraordinary result against an extraordinary field," Sharon Lokedi, b'20, on Nov. 6 won the New York City marathon in 2:23.23. During her remarkable career in the pink and blue, Lokedi won the 2018 NCAA 10,000 meters in a meet-record time that still stands, and was a nine-time Big 12 champion, four-time Big 12 Performer of the Year and six-time All-American.
Following a three-year pandemic shutdown, the 100th anniversary of the Kansas Relays will be celebrated April 13-15 at Rock Chalk Park.
Chris Lazzarino, j'86, is associate editor of Kansas Alumni magazine.
Photo by Kansas Athletics