Businessman aims to fuel KU connections for future generations
As his companies celebrate 75 years, Steve Martens credits KU for his education and the opportunities to build solid business relationships.
by Jennifer Jackson Sanner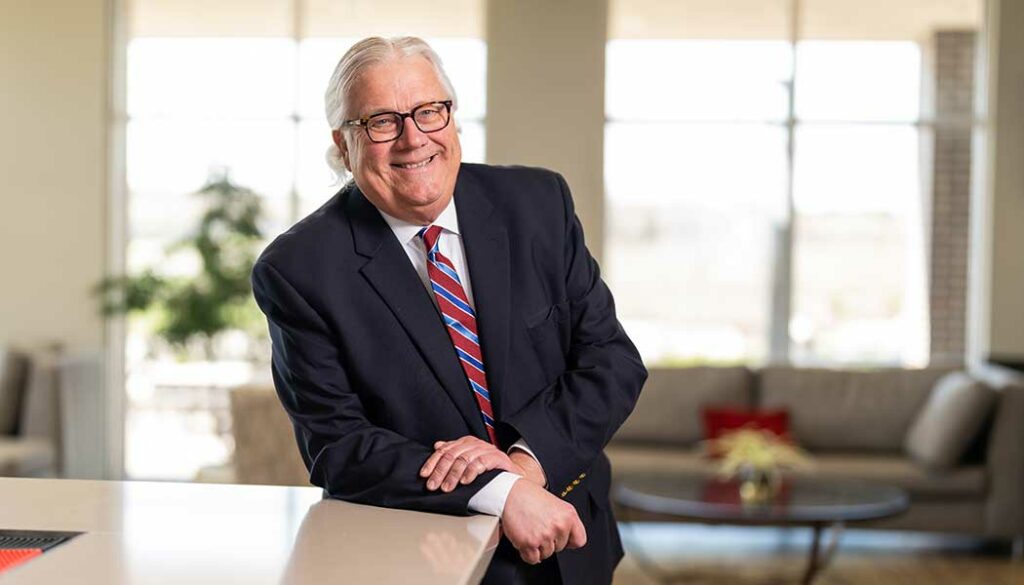 Steve Martens' dad, R.D., graduated from Wichita State University, but when Steve began to consider his options after Wichita Southeast High School, R.D. urged him to look to Lawrence.
"Dad felt very strongly that if you were going to live in Kansas and be in business, which was my plan, the contacts and relationships you'd make at KU would serve you well, and he was spot on."
Martens, c'75, knew he would most likely follow his dad into the commercial real estate business R.D. had founded in 1948, but KU beckoned. He heeded his dad's advice, and he has no regrets.
This year, as The Martens Companies celebrate 75 years in business, the son surveys a thriving, Wichita-based enterprise that employs more than 120 professionals across five divisions: brokerage and consulting, appraisal and consulting, property management, hotel and motel management, and hotel and motel development. As president of the companies, Martens oversees one of the state's largest commercial real estate appraisal operations, along with brokerage services that span 12 states as part of an international consortium.
Martens says his KU history degree and courses in the School of Business prepared him well. He especially credits Professor Jack Gaumnitz, from whom he took two business courses, including a class in real estate. "He was an excellent teacher," Martens recalls. "We've developed an ongoing friendship, and continuing that professor-student relationship long after college has certainly meant a lot to me."
Martens was the first of three Jayhawks in his family (along with his younger brother, Michael, j'78, and his oldest daughter, Kelly, b'08, g'08), so when an opportunity arose to expand his business in Lawrence, he jumped at the chance. After opening Best Western hotel properties in Kansas City in 2014 and Norman, Oklahoma, in 2016—and earning Best Western's Developer of the Year honor—Martens in 2018 opened Best Western Plus Inn & Suites in Lawrence, now known as StoneHill Lawrence, part of the Trademark Collection by Wyndham.
He finds the pace of the hotel business enticing. "In commercial real estate, you can work on a deal for months or years, and it may happen or it may not happen, and your fee is a contingency fee," he says. "I love the hotel business because every 24 hours, it's a new day. If you did something wrong on Tuesday, you rewrite the plan for Wednesday and you're off and running.  It's a nice balance in management and workflow."
Martens also relishes the opportunity to support the University and the Alumni Association. "We are part of the Lawrence experience," he says. "Someone's not going to decide to come to KU because they had a good hotel stay, but if they're impressed with what they see at the University, they like the community, they enjoy the restaurants, the hotel, it does all go together."
He commends the Association for continuing to foster the Jayhawk relationships his father touted many years ago. "People here are very friendly and willing to help, and the Alumni Association has done a great job with its mentoring program and connecting people around the state and beyond," he says, adding that new graduates can reap the benefits, just as he did. "With the combination of the ability to develop those relationships and the high, high level of education that a person receives, you're walking out the door with the toolkit, ready to go."
Jennifer Jackson Sanner is editor of Kansas Alumni magazine.