Meg Piercy turns old to 'gold' on HGTV
KU graduate's flair for furniture restoration is the foundation of her business, MegMade, and the HGTV series "Renovation Goldmine."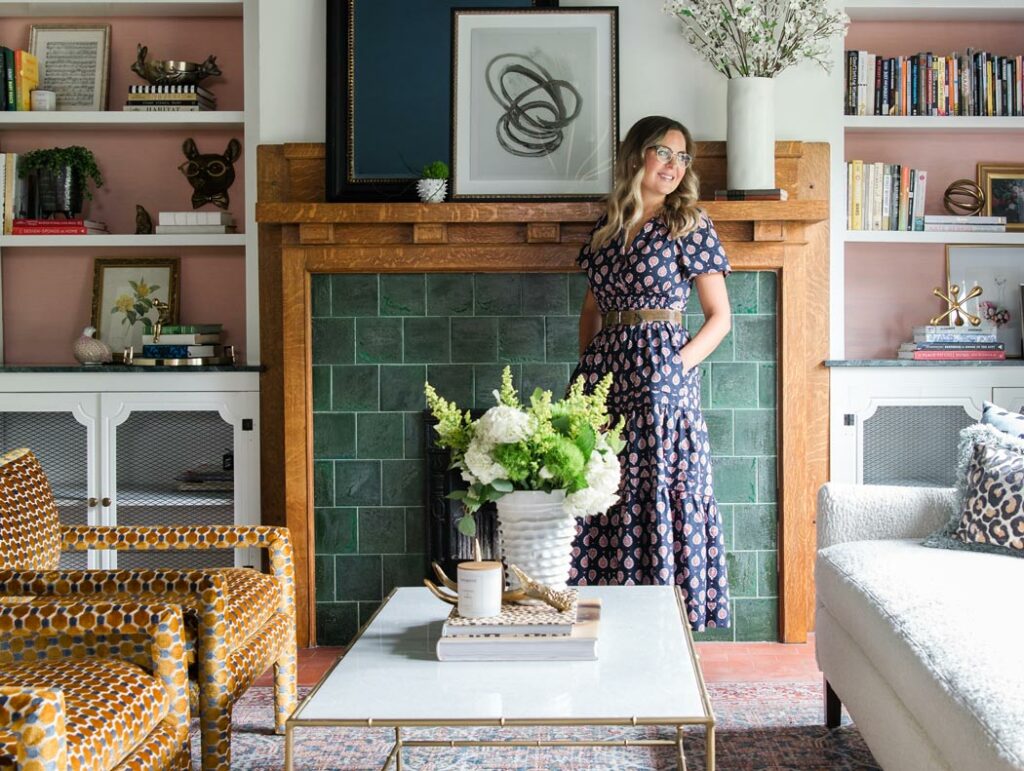 When a neighbor was getting rid of an oak dresser in 2012, Meg Robinson Piercy's interest in the item was purely practical. She and her husband, Joe, were expecting their first child and needed a changing table for their Chicago home.
"We had no money, so we took the dresser and we painted it," says Piercy, j'07. After spiffing up the piece in a light gray—the couple's first attempt at such a project—"I thought, 'Let's sell this one, and we'll do a better job next time,'" Piercy says. "It ended up selling in five minutes on Craigslist."
Ten years and thousands of refurbished pieces later, Meg and Joe's knack for giving new life to existing furniture is not only the foundation of their business, MegMade, but also the focus of the 2022 HGTV show "Renovation Goldmine."
In the eight-episode series, now streaming on Discovery Plus, the Piercys tackle renovations in which they prioritize restoring or reimagining what homeowners already have. Ordinary or overlooked items—the "gold"—become newfound points of elegance, charm or utility thanks to the Piercys' thoughtful approach that balances improvement with preservation. A vintage dresser repurposed as a bathroom vanity, a castoff kitchen island converted to shelving, a humdrum hutch enlivened through color are among the transformations featured in "Renovation Goldmine."
"Seeing the before-and-after in something is really powerful," Piercy says. "Putting people's homes together affordably and creatively and uniquely them—it changes their lives, and it's great to be a part of."
Piercy's own "before" included studying strategic communications in the School of Journalism and interning at a public relations agency in Kansas City, her hometown. Shortly after graduation, she and four friends from KU moved to Chicago, where she worked briefly in IT consulting and then in fundraising for a nonprofit that served youth in the city's high-poverty areas. She met Joe on a blind date, and the couple married in 2009. Three years later came the fateful encounter with the discarded dresser.
Joe's background in flipping houses was an asset as the Piercys pursued furniture restoration, and the pair honed their skills with YouTube tutorials and guidance from those more experienced in the craft. "We were never proud, and we always wanted to learn," Piercy says. "And we were OK with failing so we could learn how to do it better." They worked from their basement and sold their products on Craigslist until officially launching MegMade in 2013. (The name arose from the common refrain of "Meg made this" and "Meg made that" in Joe's conversations with customers.)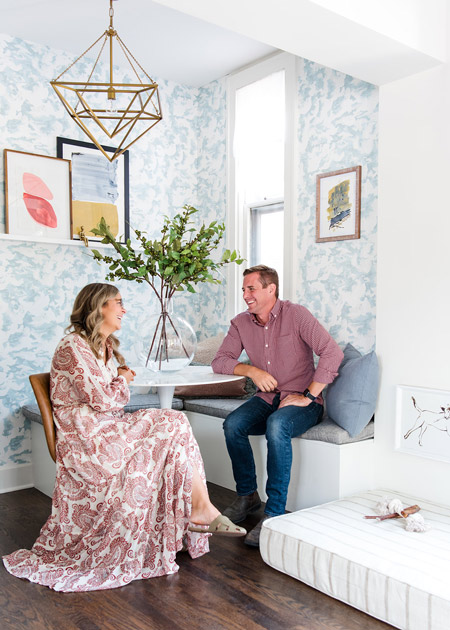 Today, MegMade has 12 full-time employees and consists of a 10,000-square-foot store and warehouse and a 5,000-square-foot production facility in Chicago's Logan Square neighborhood. Customers can choose (in person or on MegMade.com) a vintage piece from the Piercys' sizable collection to have customized, or they can bring in a piece of their own to be refinished.
In recent years, the Piercys have branched out from furniture flipping to offer home decor, a paint line and interior design services. (Meg's flair for creating attractive spaces is a core component of "Renovation Goldmine.") The Piercy family has also grown: Meg and Joe are parents of sons Wells, 10; Brooks, 8; and Finn, 4.
Piercy credits marketing know-how she learned at KU with helping drive MegMade's success. She cultivated the brand's look and feel with intention and was diligent in keeping the branding consistent in all aspects of the business. She also built an effective social media presence, and these days shares MegMade's handiwork and tidbits of DIY how-to with over 60,000 Instagram followers. "You could be doing the coolest thing in the world, but if you don't know how to market it, then you're never going to grow," Piercy says. In fact, "Renovation Goldmine" came about through connections the Piercys had established with owners of other Chicago-based home renovation businesses, who pointed TV producers interested in the topic the Piercys' way.
For those keen to try their hand at furniture revival, "Don't start with your family heirloom," Piercy advises with a laugh. "Choose something easy first, with less detail, less design, less damage to fix. Start on something where you feel like you can gain confidence—a picture frame, a lamp, a piece of wood."
Another tip: Rethink color in your home. "I've realized neutral isn't necessarily what people want; they just want it to be safe and they don't want it to be fussy," Piercy says. "My job is to listen and then to challenge them a little bit into stretching that into some color. Color, pattern and playfulness bring a lot of joy into a home."
And though crimson and blue isn't one of Piercy's go-to color pairings at work—"I like to do KU decor in galleries, incorporated among other things, because the red and blue can be a little powerful," she says—her ties to the Sunflower State are still a fixture at MegMade. "With the staff, the joke is, 'Every road leads back to Kansas,'" Piercy says, "because I can find a connection with every single person who comes in the store."
Megan Hirt, c'08, j'08, is assistant editor of Kansas Alumni magazine.