Wenthe finds history lessons in alcohol memorabilia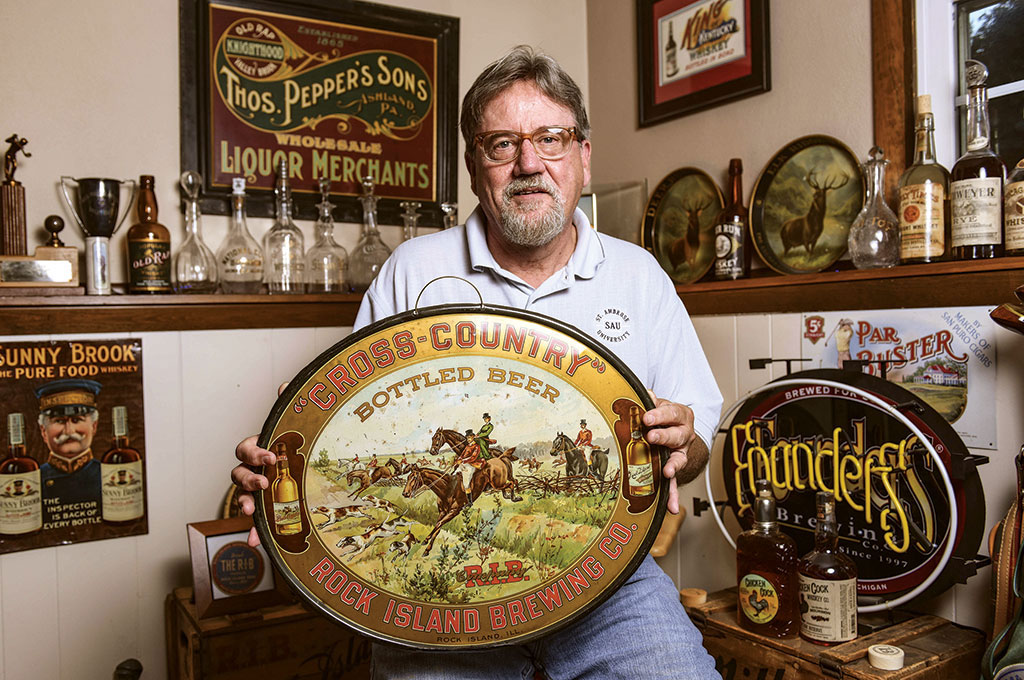 Straight out of college, Mike Wenthe, c'77,  got a sales job with a beer distributor in Rock Island, Illinois, near his hometown of Moline.
He also got his hands on a rare 1890s advertising calendar promoting a then newly formed brewery, the Rock Island Brewing Co.
So began a 40-year stretch of selling beer and whiskey while simultaneously collecting artifacts such as promotional items, giveaways and advertising signs that provide a historical glimpse of the marketing of alcohol in pre-Prohibition America.
"If you like the early stuff, which I do, the history goes hand-in-hand with the collecting," Wenthe says. "In order to appreciate the artifacts, you've gotta know where they came from, what story is behind them."
The collecting bug started early and was already in place when Wenthe met his wife, Phyllis Hofer Wenthe, f'77, at KU. They frequented Quantrill's Flea Market downtown, where he hunted for "cool stuff" to decorate his dorm room and, later, apartment. 
"She always says about me, 'One's good; ten's better,'" Wenthe says with a laugh. "That's my motto. Even as a kid it wasn't enough to have one yo-yo; I had to have 10 different ones. Like any kid I collected comic books, model cars. Anything kids collect, I collected."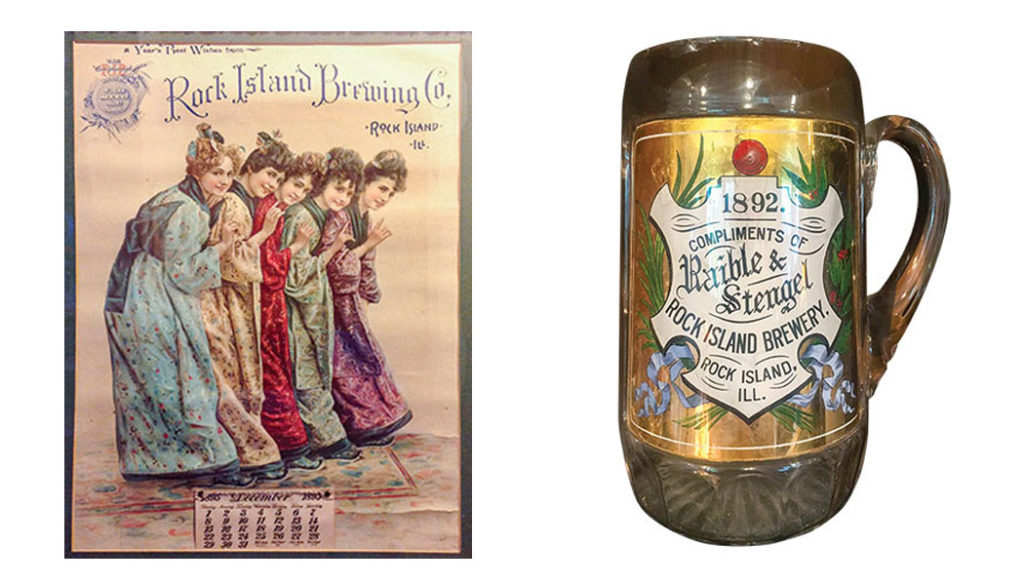 That breadth of interests continued in adulthood. He built collections of antique toys, old-school golf equipment and advertising items from breweries up and down the Mississippi River, including the Quad Cities area of Illinois and Iowa. He once owned a trove of country store items so large that when he sold it to the Cracker Barrel restaurant chain the company sent a semitrailer to haul it away.
Though he pared down some collections and sold others outright, he always held on to his core holding, a stockpile of nearly 100 items from Rock Island Brewing Co., which opened in 1893 and closed with the onset of Prohibition in 1920.
"The Rock Island stuff is still my baby," Wenthe says. "It's still the stuff I like best. I would never get rid of that."
Eventually the "thrill of the hunt" that drove him to scour every antique store and flea market on his sales route gave way to more abiding pleasures. "My greatest satisfaction now is just sharing the knowledge," he says.
Recognized as the de facto expert on the Quad City's rich brewing history, Wenthe gives lectures, maintains the Quad Cities Brewing History Facebook page, and has exhibited parts of his collection at the National Brewery Museum in Potosi, Wisconsin. The basement of his Taylor Ridge home—where he displays hundreds of tin signs, glassware, trays and paper advertising in his beer and whiskey collection, including the original 1890s calendar that started it all—is practically a museum on its own.
"What makes it fun is when people who've never been here visit, and they go, 'Holy cow, where did all of this come from?'" Wenthe says. "Well, it's been a journey of more than 40 years to get where I'm at now. It's not as important to add new things anymore. It's just knowing that I did it."