New grad hopes NFL internship inspires Native youth back home
Myltin Bighorn savored the chance to learn—and teach—during an internship with the Kansas City Chiefs.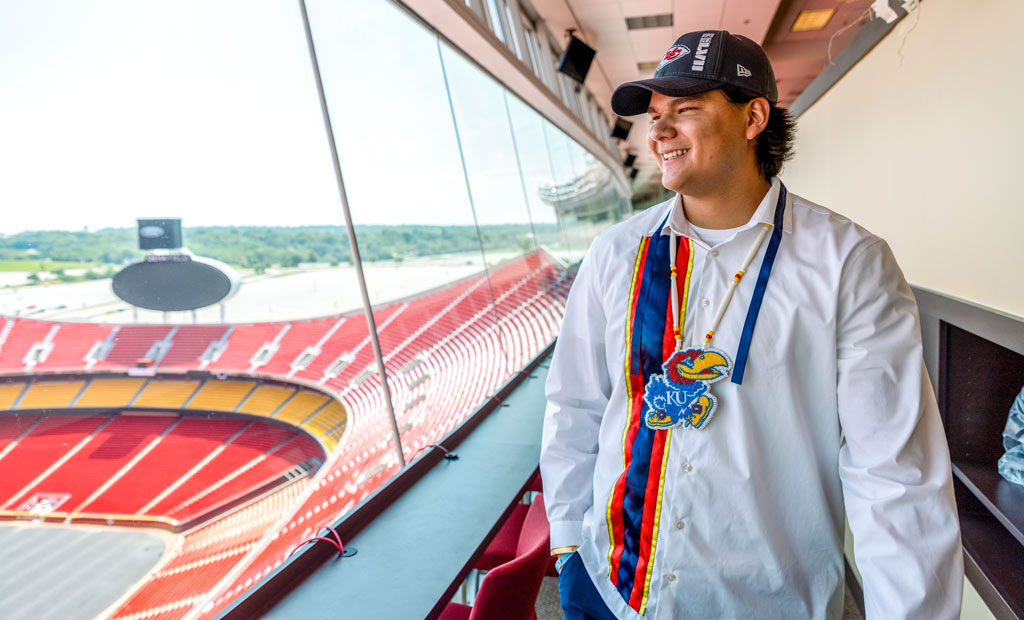 As he's done each summer since leaving for college, Myltin Bighorn was working as a ranch hand back home in Montana when he first heard about an intriguing internship opportunity. The call came from one of Bighorn's KU mentors, First Nations Student Association adviser Melissa Peterson, who urged him to apply for the new LoneBear/H. Roe Bartle Rotational Internship with the Kansas City Chiefs.
The NFL franchise created the program, named in honor of the enduring friendship between Chief LoneBear of the Northern Arapaho Tribe and former Kansas City Mayor H. Roe Bartle, to "expand career opportunities in professional sports for individuals of American Indian heritage" while also offering interns a platform to inform and encourage the club's "continued efforts to engage with the American Indian community."
Bighorn, d'22, was, at the time, a month from beginning his graduate studies in KU's sport management program, so he saw value in spending a year inside an elite pro sports franchise; he also was wary, given concerns many have about the team's name, logo and game day traditions.
Before agreeing to meet with the Chiefs in person, Bighorn first reached out to his friend Johnny Learned, '76—a member of the American Indian Community Working Group that has for years counseled the Chiefs on eliminating hurtful traditions—as well as elders and family back home in Poplar, on Montana's Fort Peck Assiniboine and Sioux Tribes Reservation.
"I asked them, 'What do you guys think of this? How am I going to be received in Native country? Is it going to be seen as a token?'" Bighorn recalls. "And they gave me the greatest talk. They told me to see this as an opportunity."
In the final days of his internship nearly a year later, Bighorn reflected on working with eight departments in the Chiefs' organization, as well as on the thrills of accompanying the team to its Super Bowl victory in Arizona—even smooching the Lombardi Trophy on the charter flight home—and assisting with the NFL draft, which the Chiefs hosted in April.
Along with maintaining the online coursework for his KU graduate program while logging high-paced workweeks at team headquarters, Bighorn also made time to share knowledge about his Native heritage, even teaching colleagues snippets of the Dakota Sioux language.
"I saw it as a two-way street," Bighorn says. "The internship itself gave me experience in how an NFL organization is run, through each department, but I also took on a goal to present my culture with the staff, on a personal dimension. I talked to them about tradition, the cultures, and the way the truth is supposed to be out there. I kept telling them, 'Ask me anything. There's no dumb questions.' They were all open to that."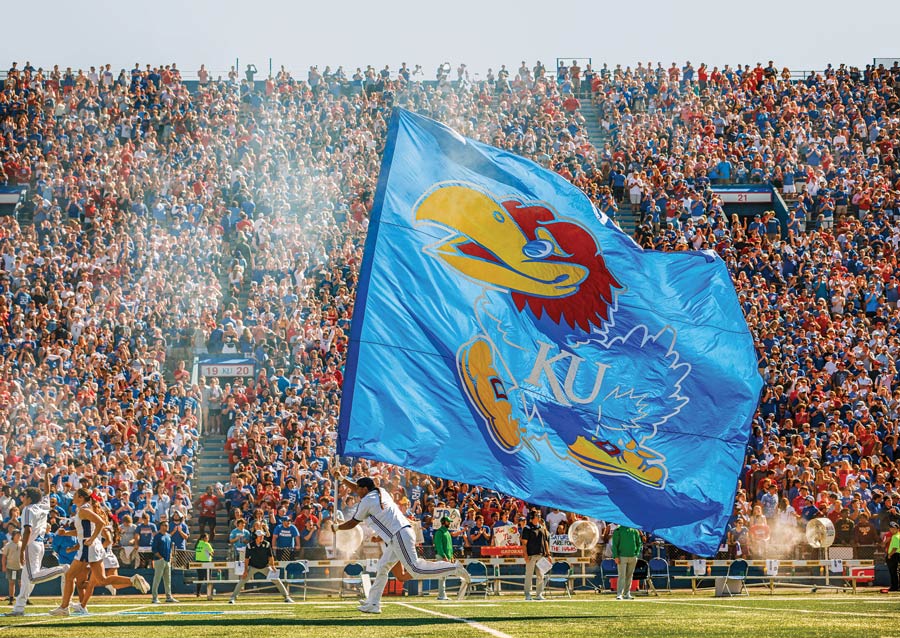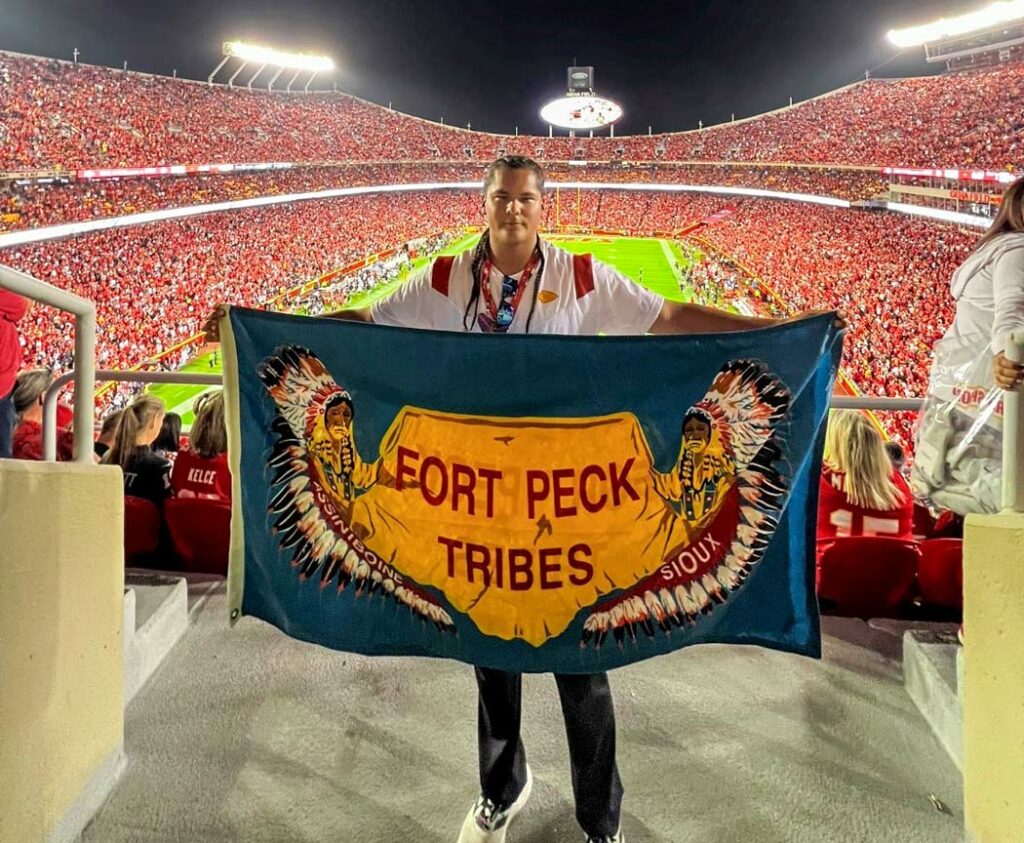 After graduating high school in Poplar, Bighorn earned an automotive technology associate degree at Montana State University Billings. Grasping that he "didn't want to work in the shop the rest of my life," he decided to "get out of my comfort zone and try something new," and chose Haskell Indian Nations University, in part because his father lives in Topeka. When he discovered that Haskell did not offer physical education, his preferred major, Bighorn promptly transferred to the Hill and embarked on yet another adventure.
"KU is a big school, a type of university that you see in the movies," Bighorn says, "and I wanted to get that experience."
Active in both the First Nations Student Association and the KU cheerleading squad—that was Bighorn carrying the huge Jayhawk flag featured in issue No. 4, 2022, and above—he found the home away from home he'd been searching for.
"His engagement and visibility on a campus like KU has made this institution better," says Peterson, g'11, '24, "so that now students like him can come here and be supported—and feel supported—because folks here … had practice with Myltin, so now they can do it."
With his yearlong access across the breadth of the Chiefs' front office and even a stint on the game day grounds crew, Bighorn will seemingly have plenty of pro sports career options once he completes his sport management master's degree next spring, but he affirms his ultimate intention to return to the Fort Peck Tribes.
Peterson explains that many Native students use a college education to inspire others and lift their communities—ideals for which Bighorn is an exemplar. He plans to teach school, coach youth sports, use his experience with the Chiefs to create programs for a new wellness center, and become a mentor who helps others find their own paths toward success.
"Humbly, to be a role model for these kids back home means everything," Bighorn says. "That's why I wake up in the morning, that's why I have this drive, to show our youth that anything is possible. You're not bounded by these reservation lines. You can go out and do whatever you want. There's no bar set that you can't surpass and keep going, keep driving.
"I had no plans for going to the Super Bowl, and look what happened for someone who grew up where they grew up. I can prove to them that it's possible. Nothing's holding you back but yourself."
Chris Lazzarino, j'86, is associate editor of Kansas Alumni magazine.
Top photo by Meg Kumin/KU Marketing
KU flag photo by Andrew White/KU Marketing
Bottom photo courtesy of the Kansas City Chiefs