Our walk may look different
The Class of 2020's Commencement procession was delayed, but a new graduate still finds reason to celebrate
Photographs Photographs courtesy Brianna Mears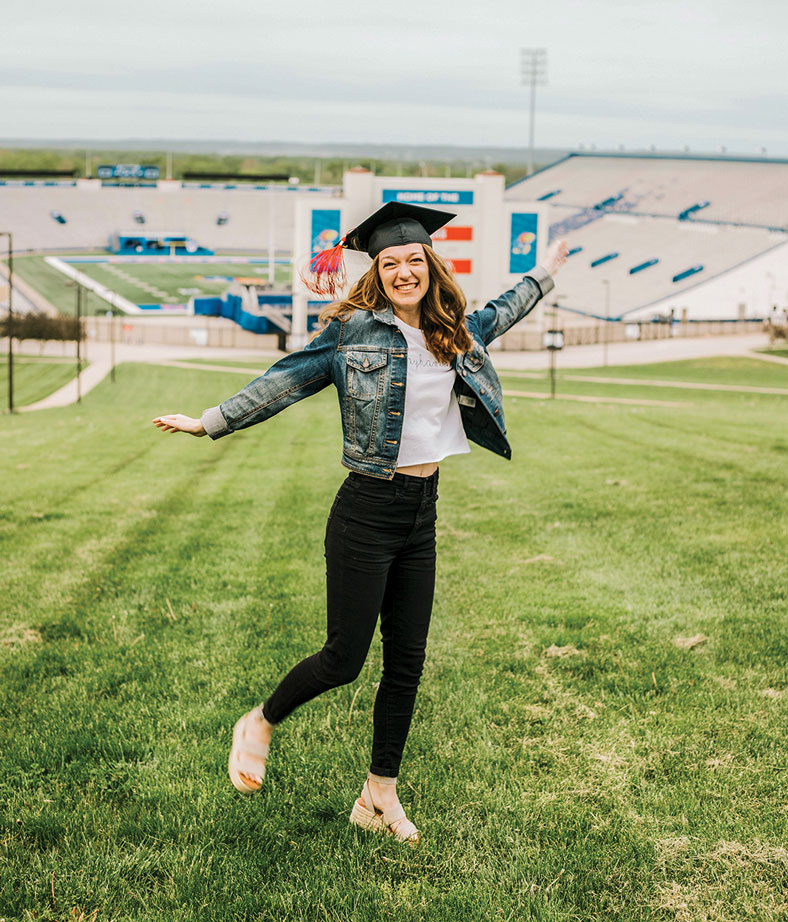 It's still hard to grasp how quickly "See you after spring break" turned into "I hope I get to see you again."
When KU announced March 11 via email that in-person classes would be temporarily suspended, students scattered across the country had to quickly decide where they would hole up for the next two weeks before returning to Lawrence. Few could have guessed this was only the beginning. Within a week, universities nationwide began to transition online for the rest of the semester and cancel graduation ceremonies. It became apparent that our Commencement was endangered.
I woke up in the middle of the night March 17 with a pain in my heart, an ache for what the freshman version of myself didn't even know she could lose. That sweet, wide-eyed girl had looked forward to being a Jayhawk since she was in third grade. As I pictured her on move-in day, sitting on the edge of the bottom bunk in her newly decorated room in Templin Hall, I couldn't imagine telling her how it would end.
If I could tell her, what would I say? I took my phone off my nightstand and began typing a letter to freshman Brianna.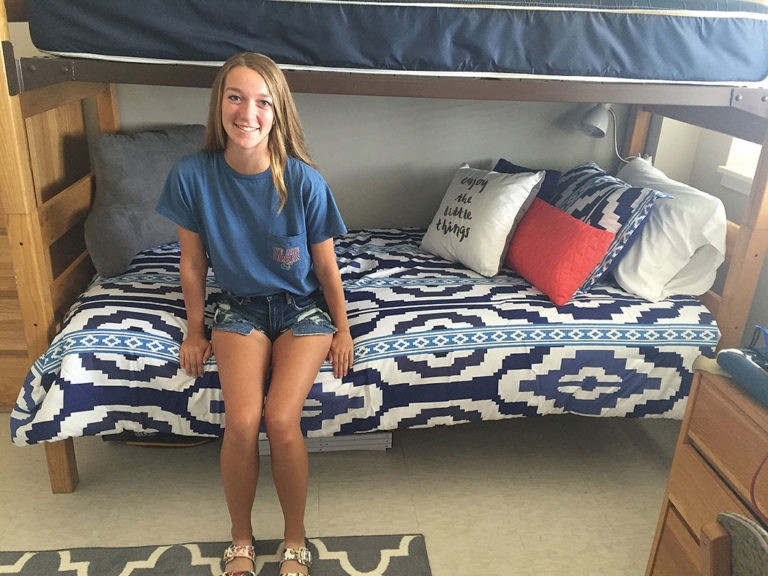 I'm sorry. It was not supposed to be this way. The trials and triumphs of senior year that you looked forward to have been ripped away so quickly. It's not fair, and it's okay to hurt. It's okay to mourn the loss of what you thought this season would look like. Whether you walk through the Campanile and down the Hill in May or not, you are not walking away empty handed. You are walking away with the best friends you've ever had, friends that are kind and true and love you through it all. You are walking away with incredible mentors who saw a light in you from the beginning. You are walking away with a joy that comes from finally finding your voice, confidence and inner peace with who you are. And most importantly, you are walking away with a renewed faith built alongside a Godly community that will remind you that your reward is not here.
Your walk may look different, but it is not bad.
I'm proud of you. I love you. It will be okay.
Without much thought, I uploaded it to Instagram at 4 a.m. and turned over to go back to sleep.
Writing has always been therapeutic to me—a way of processing and sifting through my emotions. While consoling my younger self brought peace to my current reality, I had no idea that it would provide peace to others. Fellow seniors soon reached out to me, saying they needed to hear this, too. They needed to hear it would be okay. And it will be.
A lot has changed since that first week. In-person classes never resumed, and instead students finished the semester virtually. Students living on campus packed up their belongings and moved out while saying goodbye to roommates they weren't finished making memories with. With one click of the "Leave Meeting" button on Zoom, we ended our academic careers as Jayhawks, to be congratulated only by the faint glow of our desktops. While we cross our fingers and hope that Commencement can be rescheduled during this calendar year, grief has slowly turned into apathy as we reckon with the reality that—for now—we can't wrap up our college experience and tie a pretty bow on top.
However, it's important to remember that our KU experience encompasses far more than the past eight weeks. The Class of 2020 is walking away smarter, stronger and bolder than when we arrived in Lawrence as freshmen. We are walking away with bonds that will never be broken, taking with us mentors and friends who will last a lifetime. We are walking away with a men's basketball Final Four and a Chiefs' Super Bowl win (two opportunities to storm Mass Street!). We are walking away with experiences that will help us navigate our careers as well as this thing called "adulthood." We are walking away with inside jokes and memories and stories to tell our children. We are walking away with the joy and the light of knowing we are Jayhawks—because once a Jayhawk, always a Jayhawk. We are walking away proud.
While it's easy to let this pandemic define our class, I choose to define us by the word "resilient." When we can finally gather on top of the Hill, I can almost guarantee there will be no feeling like the one we'll feel walking through the Campanile. Our time to reunite and rejoice and cheer and celebrate is coming, and it will be worth the wait.
What I love about KU is that while it's a university rich in tradition and history, every Jayhawk gets to walk away with a little piece that's theirs. I invite alumni, along with the senior class, to reflect on what they walked away with and how their time on the Hill made them the Jayhawks they are today.
Our walk may look different, but it is not bad.
—Mears, j'20, from Georgetown, Texas, earned her degree in strategic communication with minors in business and African and African-American studies.