Wichita Jayhawks help local high school students reach their full potential
Photographs by Steve Puppe / video by Dan Storey
Shortly after graduating from KU in 1996 with her political science degree, Wichita native Monique Garcia packed her belongings and headed to Washington, D.C., eager to launch her career on Capitol Hill. Though separated from her family and alma mater by more than 1,000 miles, Garcia soon found a connection that made her feel close to home: She met a fellow Jayhawk at a KU networking event.
Garcia introduced herself to Janet Murguía, now president and CEO of the Hispanic civil rights and advocacy organization UnidosUS, who in 1996 was deputy assistant to President Bill Clinton. The encounter was serendipitous. "She brought me under her wing and actually sponsored me to work in the White House," says Garcia, c'96, who, thanks to Murguía, c'82, j'82, l'85, landed a job as a public affairs officer in both the Clinton and Bush administrations. "I always tell people it was because of the strength of the KU alumni network. We had that immediate connection because of KU."
Decades later, Garcia has returned to her hometown, where she directs community relations for the Kansas Health Foundation, and has vowed to "pay it forward" by helping other Jayhawks—from future and current students to recent graduates just starting their careers. She participates in the Helpful Alumni Working for KU (HAWK) Mentor Program, a University initiative developed in 2016 by the Office of Admissions to help minority and first-generation students make a smooth transition from high school to college.

The program was launched at Wichita North High School by Kim Madsen Beeler, a career counselor and assistant director of the University Career Center who worked at Admissions for more than 10 years. She coordinated KU's original HAWK program, which enlisted alumni nationwide to attend college fairs and student recruitment events and communicate with prospective students through postcard campaigns. Beeler wanted to go a step further and help local high school students who might not have the resources to fully prepare for college. 
"We had such a vibrant, enthusiastic alumni group in Wichita that was chomping at the bit to get involved," says Beeler, c'93, j'93, g'99. "We also knew there were a lot of students we could help in that area. We wanted them to have someone that they could look up to and ask questions in a really relaxed, comfortable setting, so by the time they were seniors they didn't feel so lost in the process. It can be really overwhelming, certainly if you haven't had someone in your family attend a higher education institution. We wanted to help with that and make that an easier transition."
Beeler connected with Danielle Lafferty Hoover, c'07, the Association's director of Wichita programs and donor relations, and the two presented the mentorship opportunity to the Wichita Network board. Five board members, Andy Ek, b'05, g'11; Bob Nugent, c'77, l'80; Anna Ritchie, c'05, j'05; Jim Spencer, c'82; and Garcia were among those who signed up to be mentors, and other board members and area alumni offered to host events for the students or help with other activities.
"Given my past experience with college recruiting and connection to KU and passion for our community here in Wichita, it just seemed like a no-brainer to get involved and help a deserving up-and-coming student," says Ek, who directs talent development at Koch Industries.
The program required students to have a GPA of at least 2.5 and complete an application and essay. Those who were accepted were assigned alumni mentors, who coordinated job-shadowing opportunities with local professionals, attended volunteer activities with the students and helped facilitate educational workshops on topics such as creating a resume, applying to colleges and obtaining financial aid, and preparing for college-entrance exams. Beeler balanced the program's academic offerings with recreational activities, including trips to Lawrence for campus tours, KU football games and basketball's annual start-of-the-season tradition, Late Night in the Phog.
Fourteen sophomore students were accepted in the program in 2016, and in May nine graduated from Wichita North High School, including Ismari Martinez and Antonio Rocha, who excelled in their studies and took advantage of all that the program had to offer—especially the lasting relationships they built with their alumni mentors.
Little did Kim Beeler know when she paired Martinez and Rocha with their respective Jayhawks how perfect the matches would be. The students met their mentors three years ago at a reception at the KU School of Medicine in Wichita, where participants and their parents learned more about the program.
Martinez, who lives in a single-parent household with her father and younger brother, felt an instant bond with Garcia, whose parents divorced when she was a student at KU. "We have such similar backgrounds," Martinez says. "We were able to connect more."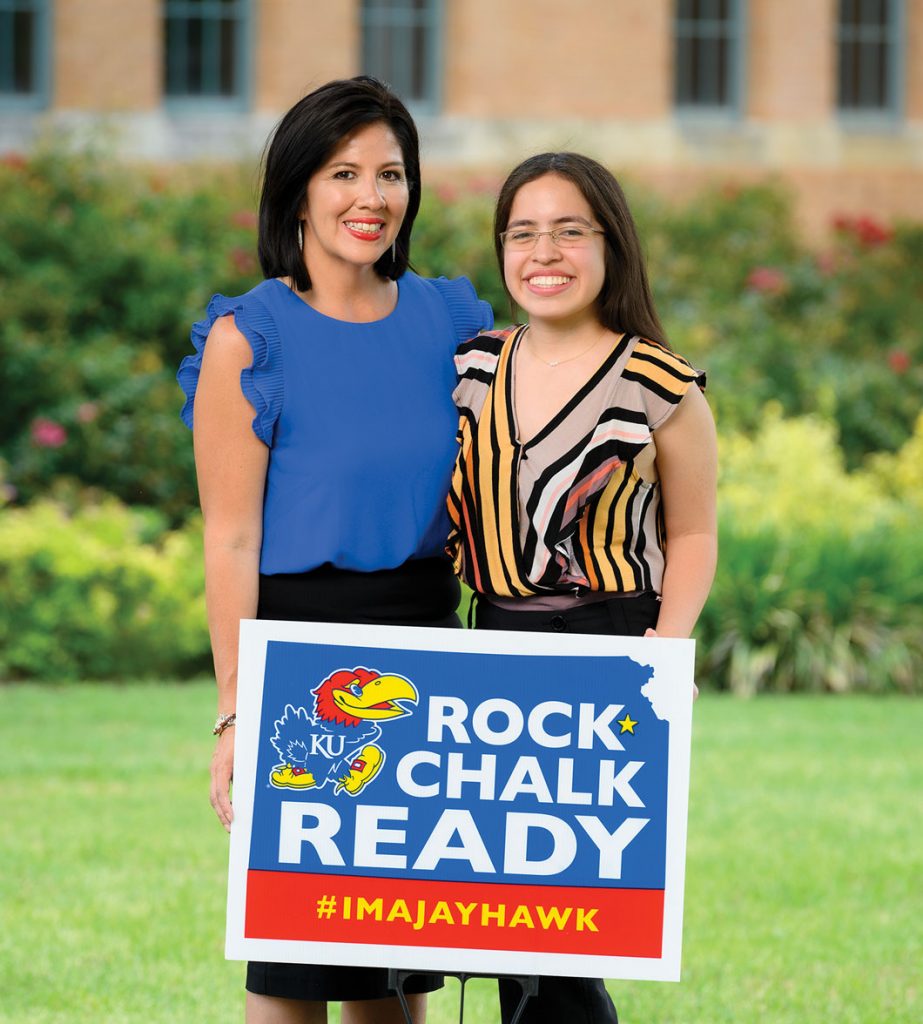 Not only did Garcia help Martinez navigate the daunting process of visiting colleges and applying for scholarships and financial aid, but she also supported Martinez in her extracurricular activities, cheering her on at cross-country meets and attending her high-school band performances, often bringing Martinez flowers and taking photos to share with her father. In addition, Garcia helped Martinez get a part-time job at her mother's restaurant, so the teenager could help her father with household expenses. 
"I felt like it was so important to empower her over those three years, because I knew that her mom wasn't in the picture and her dad was working his tail off," Garcia says. "His goal was to pay the utilities and put food on the table. He's so busy doing that, I thought maybe I can come in and be the cheerleader for her. I can give her that encouragement and support."
Garcia has witnessed a striking trans-formation in Martinez since they met. "When we first got matched, she was more tentative and uncertain, and that's understandable; at that age, I was too," Garcia says. "But over the past three years, it's been amazing to see her confidence level grow."
Andy Ek has seen a similar transformation in Rocha, a Wichita native from a family of seven whose parents emigrated from Mexico more than 25 years ago. Ek recalls the evening he met the young man at the HAWK reception. "He was certainly nervous and didn't communicate much, which was to be expected," Ek says. "I just cannot believe how much he's grown from that era of his life to now." 
Rocha started high school suffering from severe social anxiety, which was complicated by the fact that he was overweight. Determined to overcome his fears and feel more comfortable in his own skin, Rocha challenged himself to interact with others, and he lost 120 lbs over the next two years. "Not only did that help with my confidence," Rocha says, "but it just made me feel a lot better in general."
A 4.0 student who single-handedly rebuilt a computer during his sophomore year, Rocha initially thought he wanted to pursue a career in computer science or information technology. After Ek arranged several job-shadowing opportunities with his colleagues at Koch, Rocha realized that chemical engineering was a more fitting profession—one that will allow him to help others battle obesity through nutrition.
"Andy helped me in really just realizing what my true purpose is," Rocha says.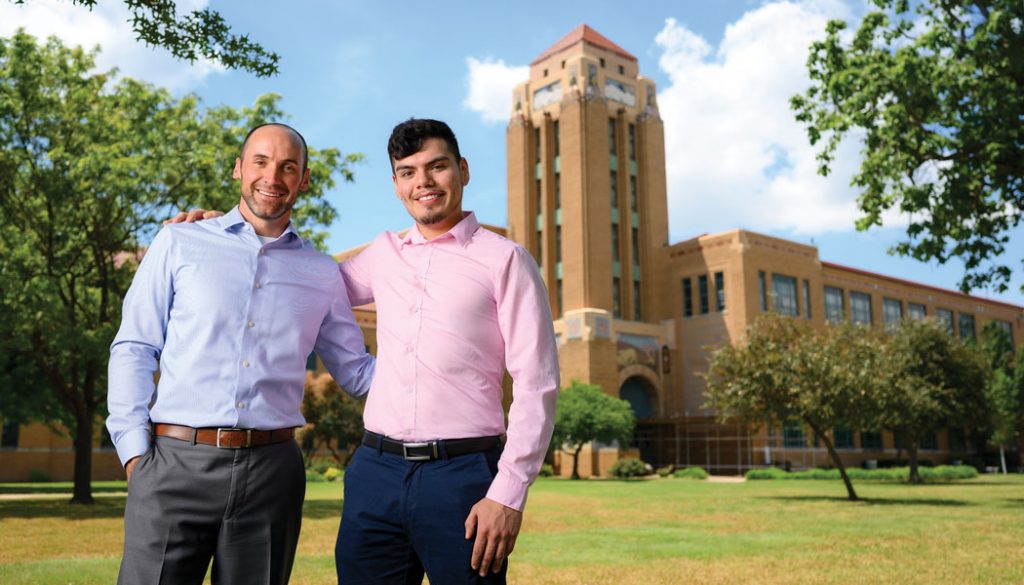 He graduated as valedictorian of Wichita North and applied to 15 universities, including KU, Princeton, Yale, Harvard and Northwestern, hoping to receive tuition assistance. "Growing up, I always noticed how much we struggled financially," Rocha says. "The main thing for me and my family was finances."
After starting his freshman year wondering whether he would even attend college, Rocha received a full-ride scholarship to Northwestern, a private research university in Evanston, Illinois. He also was accepted to KU and the University Honors Program, but the financial aid he received to attend Northwestern was unparalleled.
"As big of a KU guy as I am," Ek jokes, "I didn't spend much time trying to talk him out of that."
This fall, Martinez will begin her studies on Mount Oread, where she will follow KU's pre-health path with the goal of becoming a pediatrician. Though she explored opportunities in Wichita—and was recruited by other notable institutions across the country—she never wavered in her desire to become a Jayhawk. "KU was always at the top of my list," says Martinez, who will be the first in her family to attend college. "The first time the HAWK Mentor Program took us to Lawrence for a football game, it felt like home immediately."
Martinez, who maintained a 3.68 GPA through high school, received several scholarships to attend KU, and she will stay at Dennis E. Rieger Scholarship Hall to offset costs of room and board. Garcia was overcome with emotion when she found out the young woman would follow in her footsteps.
"She tries so hard and she deserves it," Garcia says. "I was just so glad to be part of that journey."
The HAWK Mentor Program continues to flourish at Wichita North, where eight junior students and nine sophomores participate. In fall 2017, Beeler passed the baton to Kaci Bray, assistant director for diversity and outreach at the Office of Admissions, who now oversees the program. Though the program's goal remains the same—to provide minority and first-generation students with college-preparation skills and opportunities—one core component has changed.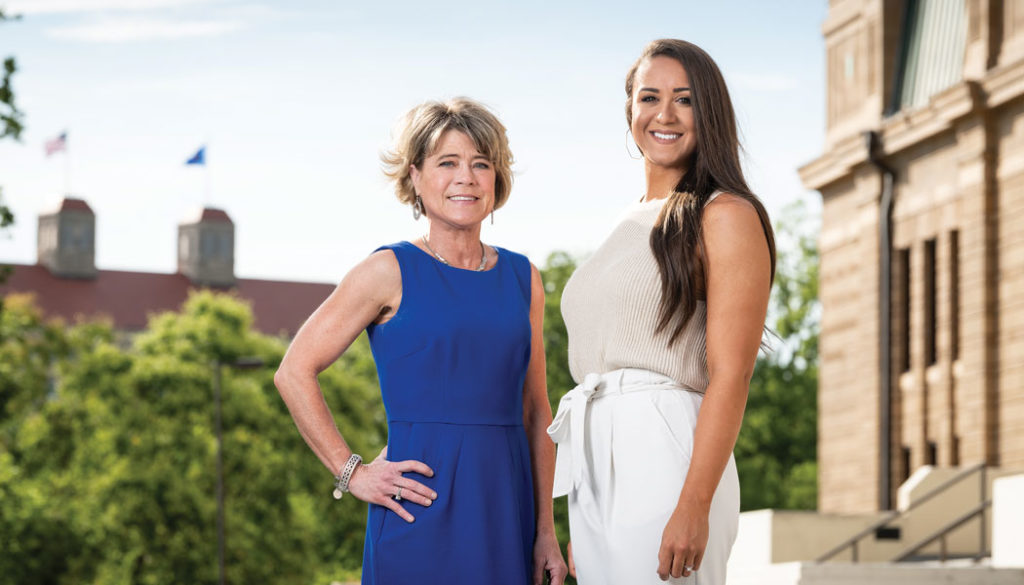 "The new sophomore class we inducted last fall wasn't paired with KU alumni mentors like the juniors and seniors," explains Bray, c'12, g'17. "We're just running into a shortage of alumni who could dedicate three years of time."
Instead, those students are encouraged to interact with numerous alumni they meet through HAWK events and activities. This past year Bray introduced TED Talk-like programs, which feature panels of local Jayhawks from a variety of professions, to help students with career exploration. Participants also still benefit from program staples, including ACT-prep courses, job-shadowing opportunities and financial aid seminars, as well as volunteer activities and trips to Lawrence.
Bray continues to rely on Hoover to help make connections with local Jayhawks through the Alumni Association, and, with a new Admissions representative starting in Wichita this summer, Bray hopes to expand the network of Jayhawks willing to participate, perhaps as mentors. "There are all sorts of levels of involvement for alumni," she says. "That's why I like where the program's going in the future."
Though student success is the main objective, the benefits for alumni who participate can be just as significant. "You have the unique opportunity to change the life of a young person for the better," Beeler says. "And in return you also will probably gain more than you give, because our students are fantastic and they provide insight to the mentors just as much. It's a mutually beneficial relationship—and it can be a lasting one."
That's certainly true for Garcia and Ek, who are confident they will stay in touch with their students, not only through college but also for years to come. Garcia already plans to travel to KU in August with Martinez and her family for move-in day, and Ek hopes to help Rocha transition from college to career, possibly even with a position at Koch Industries.
"There's so much growth that the young people in our communities can have in a short period of time," Ek says. "A lot of times, it's just getting them connected to opportunities they're passionate about and letting them run and achieve them."
For more information about the HAWK Mentor Program, contact Kaci Bray at krbray@ku.edu.

The Wichita Network's participation in the HAWK program demonstrates the impact of mentors who share their experiences and advice.
To extend the power of mentoring, the Alumni Association in fall 2018 launched KU Mentoring, an online networking platform that is part of the Jayhawk Career Network (JCN). KU Mentoring welcomes alumni from all industries and academic majors to connect with fellow alumni—and students who are seeking guidance to prepare for their careers. To sign up, visit mentoring.ku.edu. For more info on KU Mentoring or other JCN resources, contact Kristi Laclé, c'99, kristilacle@kualumni.org.
The JCN's first Kyou Networking Day is Aug. 1. For details on connecting with Jayhawks locally or worldwide on Aug. 1, visit kualumni.org/networking-day.