Architect's cabins bring resilient housing to wildfire country
Vern Sneed designs and builds Q Cabins — homes made of steel for disaster-prone areas.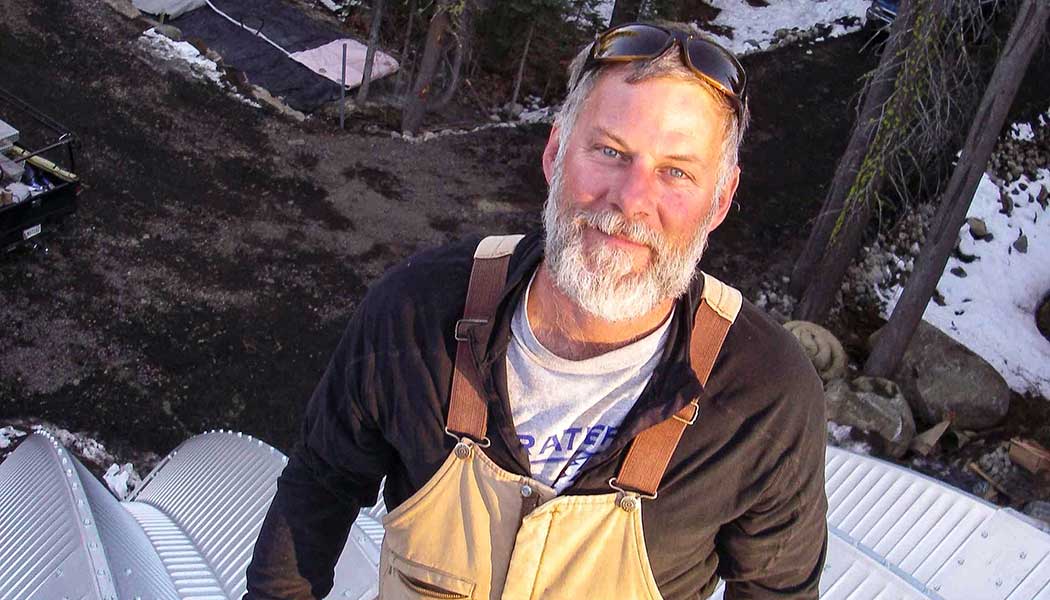 When Mike Petersen and his family had their home destroyed in California's 2018 Paradise Fire, architect Vern Sneed, a'88, came to the rescue.
Sneed's company, Design Horizons, sold the Petersens a new house with an outer shell that could be assembled in a few days, rather than the standard several weeks or months required for traditional homes. Plus, it is far more resistant to fires and earthquakes.
The house is called a Q Cabin. The Q is a reference to Quonset huts, the half-dome, corrugated-steel buildings used for more than 70 years to house equipment on Kansas farms. It's now a generic label for similar buildings manufactured by several companies. The original domes were designed for the U.S. military in World War II, near Quonset Point, Rhode Island.
Design Horizons shipped a prefabricated cabin kit to Petersen's home site. Sneed's design touches have the structure looking more like a trendy home than something built to hold tractors or livestock.
"It's a great house with an attractive shell on the outside, but it doesn't look any different than any other house on the inside," Petersen says. "It's very comfortable, and we've had a lot of fun with the design because there's so much that can be done. Plus, you sleep a little better at night knowing you're in a house that's about totally fire-resistant."
Q Cabins average around 1,500 square feet but can range from 800 to 5,000 square feet. The metal domes can be the entire outer shell of a house or incorporated with traditional timber framing.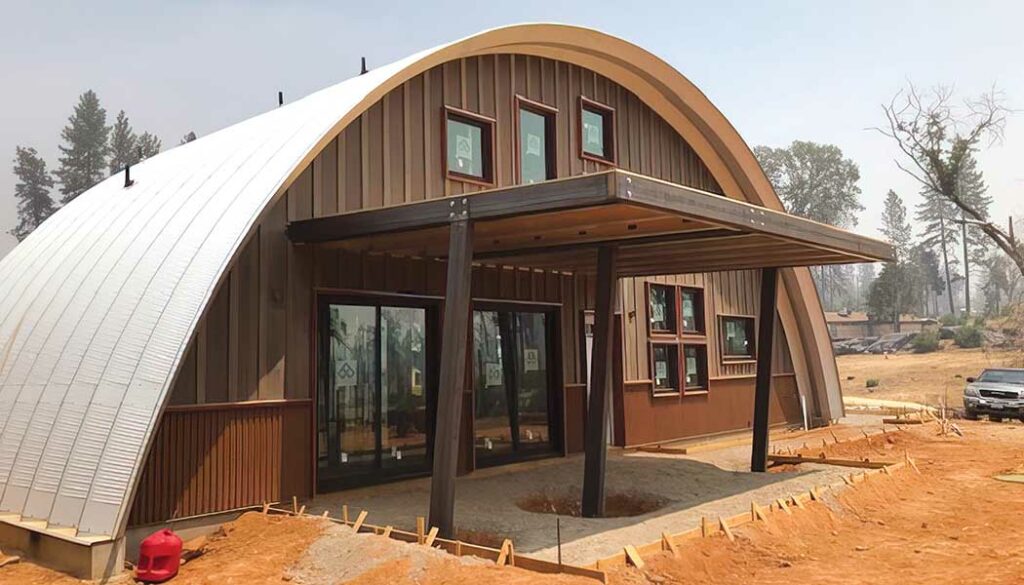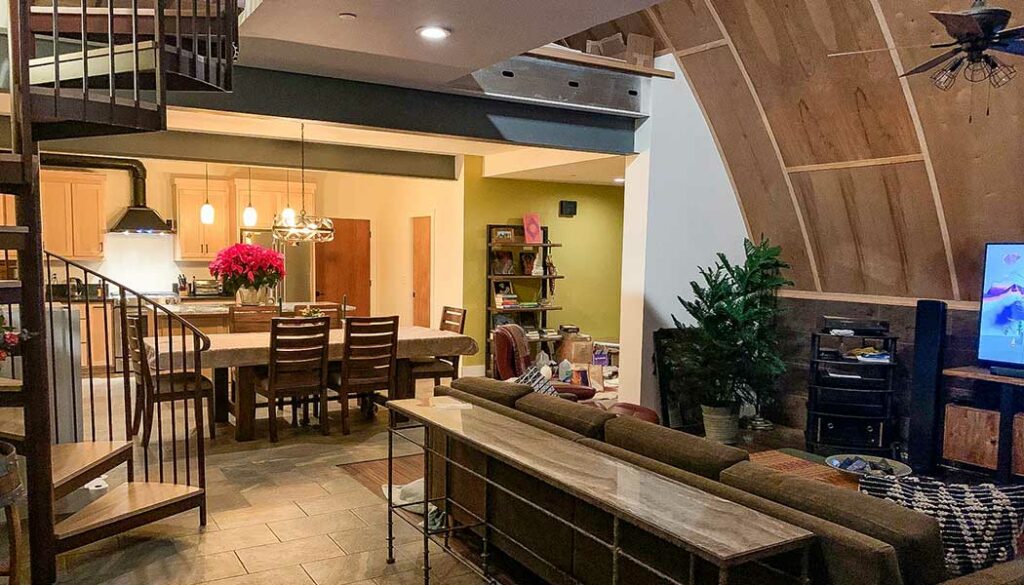 Sneed, of Chico, California, says the concept started in his student days, in a class with noted architecture professor Dan Rockhill.
"Dan said we needed to get a handle on prefab because it was the wave of the future, a way to build something at a lesser cost and faster," Sneed says. "That just really stuck with me."
In 2008, Sneed got a chance to practice what Rockhill preached. A house project that called for a large metal dome fell through, and Sneed needed to market the sizable hut. Rather than sell it whole, he divided the hut into pieces and marketed them on social media as small cabins. He got over 100 inquiries.
"I knew I'd really hit on something," Sneed says. "Within five days, I had five models designed and for sale on the internet."
His original goal was to produce kits that were quick and easy to assemble. He steadily found ways to make that happen, like using metal supports to simplify construction.
"We're using nuts, bolts and screws. Anybody can assemble with those," Sneed says. "I can put one up in a few days. They're also fire-resistant." He uses non-combustible siding and insulation to add to a Q Cabin's appeal in wildfire-prone California. The insulation is also completely sealed against water and water vapor.
Sneed claims the arched metal structures are far more tolerant of earthquakes than traditional housing.
"They may bend or twist, but they're not going to collapse," he says. "That adds a lot to the value of one of these cabins over a wooden structure."
Sneed enjoys the challenge of giving "plain Jane" Quonset huts "architectural appeal." Exteriors allow for some customization, such as window size and door placement, and the possibilities for interiors are almost unlimited.
"You basically have a beautiful, totally open area you can do anything you want with," he says. "On traditional homes, you always have support beams or columns that determine where you can and can't put things like walls. These are pretty much a free span from footing to footing. We can get creative."
Sneed began the business as a "one-man show."
"For probably six years I was in the 'sell one, build one' stage," he says. "It slowed our growth, but on the plus side, it allowed me to really develop the precise details. There's nothing in the process I haven't done and worked hard to perfect."
Demand greatly increased when his daughter, Piper, sent a press release to a Chico newspaper last year. The story quickly got picked up by several other papers, including The New York Times. "CBS Sunday Morning" also ran a segment on Sneed and his products.
The company now employs nine, three in the office and six assembling kits on building sites. The expansion follows an increase in orders: Between 2014 and the end of 2021 he constructed eight Q homes. He's on track to sell 12 this year.
Petersen expects Sneed's product will continue to grow in popularity. He's happy to talk about his new house.
"We're glad we can be a cool example of what can be done," Petersen says. "They're pretty affordable, very functional and are fun to design. It's also good to know we probably wouldn't be facing a total rebuild if there's another disaster."
Michael Pearce, '81, is a Lawrence freelance writer and former outdoor columnist for the Wichita Eagle.
Photos courtesy of Vern Sneed