Empathetic admissions reps create new tools to fill incoming class
When early bands of the coronavirus hurricane reached as far inland as Mount Oread, the threat to classes consumed campus with worry. Yet while their administration and academic colleagues scrambled to salvage the spring semester, the admissions team was already gazing toward the next line of storms: the August start of the next academic year.
Could KU still recruit and retain a vibrant freshman class?
"'It's time to pivot our recruitment strategies to online,'" undergraduate admissions director Lisa Pinamonti Kress, g'98, recalls telling her troops March 13, when 1,500 on-campus visits scheduled for the following week had to be canceled, "'so let's start brainstorming.' And the ideas just started flowing."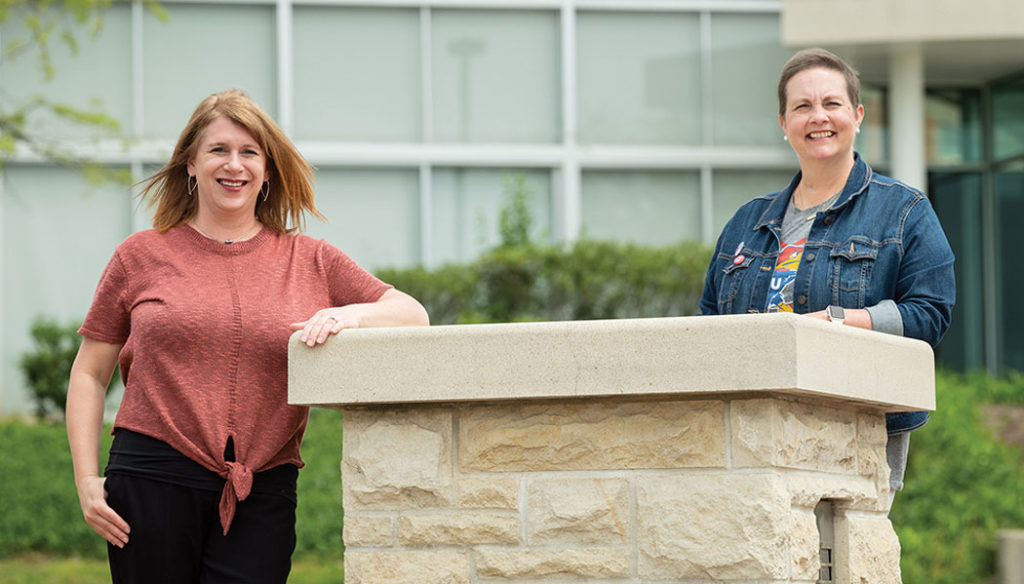 Heidi Simon, g'00, senior associate director of freshman recruitment, cites one notable advantage admissions had in making a fast switch: youth. "We have such a young staff that they're not afraid of change yet," Simon says, noting that one young alumna confidently proclaimed that she "thrived on chaos."
As the tools of their trade transitioned from in-person to digital and video, Kress, Simon and their recruitment directors and representatives soon grasped that the true challenge was in comprehending the immense stresses faced by seniors and their families. Denied all pomp and ceremony of high school graduation, they suddenly found themselves navigating the already challenging transition to college while also facing all the fears and stresses of a deadly virus and social isolation.
The solution turned out to be elegant in its simplicity: empathize. What would you hope to hear if you and your children were trying to make college decisions at a time like this?
While the national May 1 enrollment-deposit deadline was, technically, maintained, students and parents were assured that late decisions either way would be honored. Sensing families were perhaps being left out of an online process with which their children were comfortable, Kress and Simon created parents-only webinars; the first, for parents of incoming freshmen who had been admitted but not yet paid the enrollment deposit, attracted 150 registrants and 100 attendees, huge boosts from student webinars that typically attracted 30 or fewer.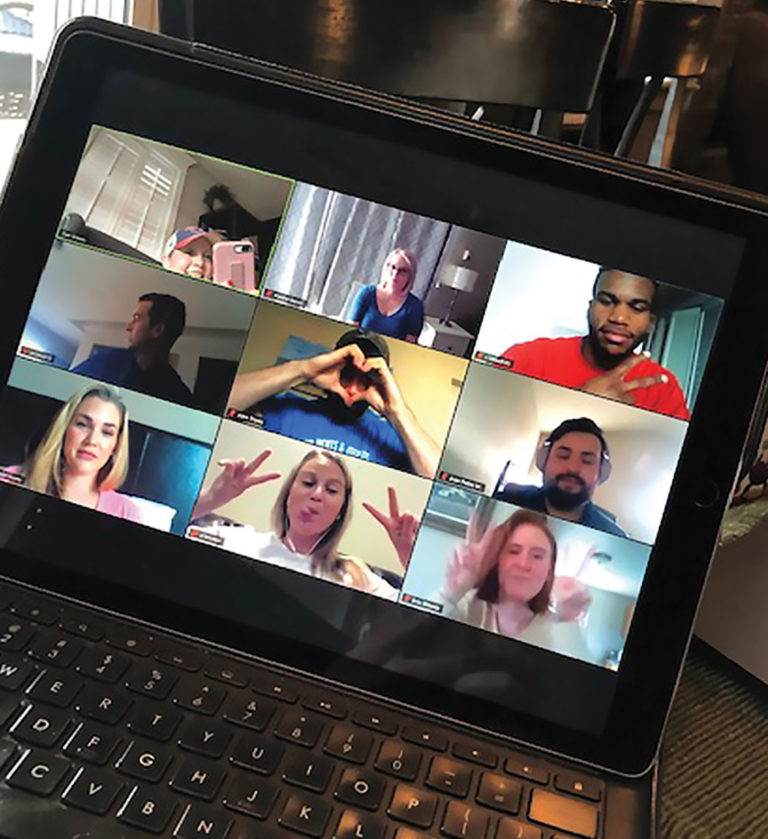 "We said, 'OK, this is good, we're clearly hitting on a need, so let's move forward with parents of those who have paid the enrollment deposit,'" Simon recalls. "And, oh my gosh, I thought we were going to break the internet. In a matter of hours, we had 550 people register for it. We looked into our Zoom capability, it would only allow 500, so we had to close that one down, and then we opened up another one and within a few hours it also filled up 500."
Chancellor Doug Girod joined some of the online sessions to explain his safety-first mandate for whatever may come this fall, and parents were finally able to speak and vent and console and be consoled.
"One parent emailed me," Simon says, "and she said, 'I can't tell you how normal it made us feel in these uneasy times.' And I just thought, 'Yes, that's how I felt, actually, doing it.' We've been working so hard behind our screens and working from home, just being able to talk to parents, seeing their faces, it just felt normal to see them and talk to them."
As Simon explained to jittery parents, she empathized with their plight because she's a jittery parent herself. Her son Cooper, a freshman, felt so strongly about losing half a semester of on-campus activity that he told his parents, in explaining his new five-year plan, "I just don't want to miss out on my KU experience."
Another change this year is that yard signs sent to incoming freshmen, as part of a joint initiative of KU Admissions and the Alumni Association, suddenly became more treasured than ever. It seems the hopeful announcement of "Rock Chalk Ready" takes on unexpected urgency when hope is scarce.
"You see it when they post about it in the families' Facebook group," Simon says. "There is picture after picture from all over the country of students posing with their signs … and you see how much happiness …"
Simon pauses for an extended moment, holding back tears.
"Well, for the yard signs to show up and provide some brightness, it's more powerful than ever."