Preparing for your death can bring peace now and later, says longtime chaplain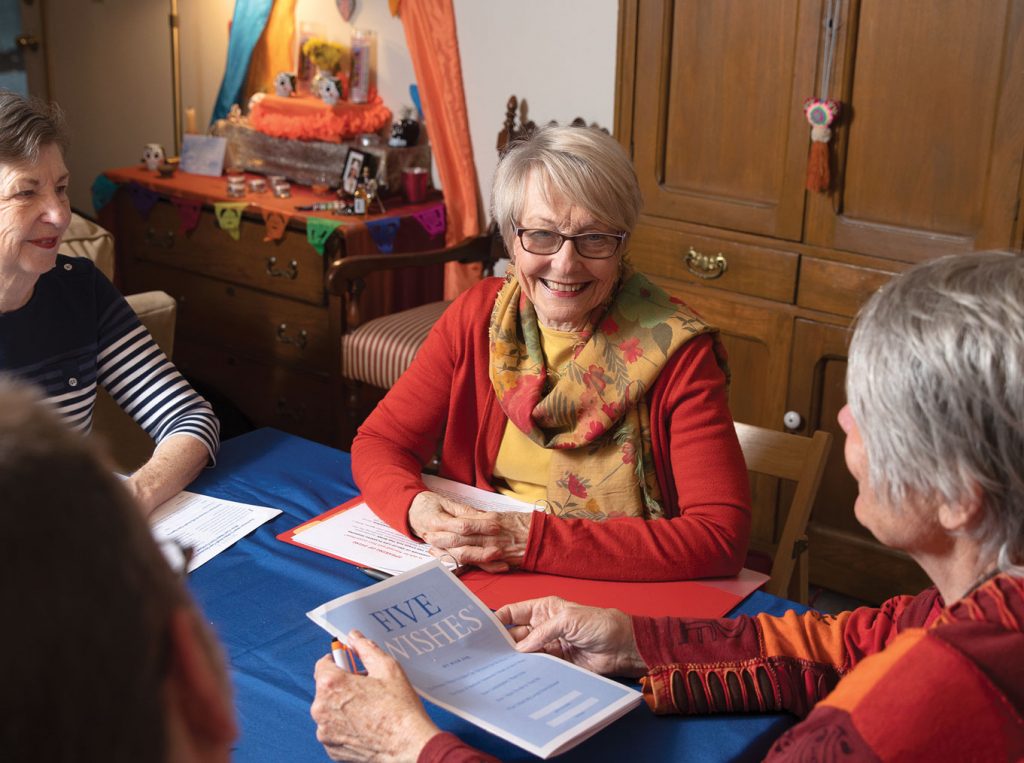 As an interfaith chaplain in Arkansas during the early days of the AIDS epidemic, Trudy Gier James saw that the young men—and, occasionally, young women—who had contracted the disease were getting little support.
"Almost everyone died," James recounts. "There was no medicine, and they got nothing by and large, and their families got nothing. Everyone was so isolated."
She began organizing congregation-based AIDS CareTeams in 1989 to support those living with the disease, creating a large community of volunteers and people with AIDS who talked openly about dying.
"No one really understood the disease at the time, and what Trudy did was truly miraculous," says John Gaudin, a North Little Rock investment adviser and real estate developer who served five years as president of the Regional AIDS Interfaith Network (RAIN), the group James headed. "In the peak of the crisis we had care teams in 40-plus churches, synagogues and mosques throughout the state that took care of over 500 people living with AIDS. She was really an angel for the people of Arkansas."
The experience taught James a crucial lesson: Preparation leads to a more peaceful death.
"They knew they were going to die, doctors told them they were going to die, and I had to help volunteers learn to listen to these young people plan their own death," James says. "Well, guess what? They died a better death than the people with AIDS who didn't have that support."
The concept of a "better death" became central to James' work throughout her long career. In 1996 she moved to Seattle to create an AIDS CareTeam there, and she served as a hospital chaplain at Seattle Cancer Care Alliance, counseling terminally ill patients and their families. When she retired, in 2008, she started Heartwork, an organization that helps people think about how they want to navigate the end of their life.
A leading proponent of what she calls the "positive death movement," James conducts workshops to challenge people to think and talk about how they want to die. Doing so helps people improve not only the quality of their death, she believes, but also the quality of their life.
"My goal is to relieve the fear, so that people are not living with fear and anxiety about the end of their life, but can relax and plan," says James, c'60. "Then they can have a better life now."
During workshops and one-on-one counseling sessions, James asks clients where they'd like to die. Nearly all say at home.
"Well, in this country only 20% of people die at home," she says. In fact, according to statistics from the Stanford School of Medicine and the American Psychological Association, roughly 60% of Americans 65 or older die in hospitals and 20% die in other institutions such as nursing homes. 
There are many possible reasons for the disparity between what people say they want and what they get, but both doctors and patients bear some responsibility.
"One of the problems with medicine is that we have so much technology now we can always offer another carrot, another chemotherapy or another intervention or another medication," says Dr. Elizabeth Marshall, End of Life Program Director at The Everett Clinic, a physician group near Seattle. Marshall appears in a short film that James produced, "Speaking of Dying: Living Deeply, Dying Well." The reason, she says, "is that doctors generally want to fix things. We're trained to fix things. We're trained to take the heroic role."
On the other hand, fewer than half of Americans have had a conversation about their end-of-life wishes, and only a third have written those wishes down to share with doctors should they become ill, according to the Coalition to Transform Advanced Care, a nonprofit organization that works to improve advanced-illness care in the United States.
"We're all conditioned not to talk about death," James says. "If you try to bring it up to your children or to your parents, they're quite likely to say they don't want to talk about it."
In the absence of clear instructions, doctors may feel pressured to do all they can to treat dying patients; they may avoid speaking of death or put off conversations about palliative or hospice care until patients are too ill to participate in the decision-making, or too late for them to receive the full benefits of these alternatives to aggressive, technology-reliant treatments that have become the default option for end-of-life care in America. 
As a result, the dying often undergo invasive, costly and distressing procedures that increase rather than relieve suffering. One study found dying patients typically spend eight days in Intensive Care Units (ICU) comatose or on a ventilator, and 30% spend at least 10 days in an ICU before they die. The reality, according to one physician interviewed in James' film, is "sometimes we end up prolonging dying rather than prolonging living."
"Unless you make plans and talk about them," James tells her clients, "that could happen to you."
Her four-session workshop, called "A Gift for Yourself and Your Loved Ones," brings together small groups for a mix of soul-searching and practical planning. With the help of a facilitator, participants share stories, address questions and fears, learn about resources like palliative care and hospice, and start planning for how they want their end-of-life care managed. Action items include filling out advance directives and discussing their wishes with family and friends. 
"The conversation is actually more important than anything," James says. "Everybody kind of needs to be part of your plan. Whatever your values are, your own personal values around illness and dying, it's good to get those clarified and talk to your family about them."
A better death, by James' definition, is "peaceful, meaningful" and includes what she calls "the real work of dying."
"The real work of dying is wrapping up your life and saying goodbye to it in a conscious way," she explains. It's about sharing your memories, talking about what your life meant, forgiving and asking for forgiveness. "You've told people you love them, you've said goodbye and you can let go. Dying can be a beautiful process if you've done that."
Denise McDonald was in her early 60s when she took James' workshop four years ago in Seattle. She knows she'll need to revisit her choices as she ages, but she values having begun the process while she's relatively young. "It's important to do this while you're capable and healthy and thinking straight," says McDonald. "Because things can happen even when you're younger."
Three years ago, McDonald, who grew up in McPherson, returned to Kansas to say goodbye to her mother, Rita Sharpe, who was living in Lindsborg. After raising four daughters, she had moved to become an artist and a fixture in the town's thriving fine arts community. McDonald's planning for her own death helped her and her family navigate her mother's end-of-life passage.
"It really helped us get comfortable talking about her passing, talking to her about what does she want us to know at the end," McDonald says. "It provided the confidence that a good death for her was not going to be an emergency room, was not going to be a hospital death. She didn't want that and we didn't want that. It gave us confidence that we could love her into her transition and death. That was really empowering."
James' belief that confronting and accepting our mortality can improve the quality of our life was borne out in the family's grief experience after Sharpe's death. 
"We were confident she had a good death, a really meaningful and peaceful death, and there was no shame or guilt about the end. There's loss. We miss her. But it's a much lighter form of grief because it wasn't mixed with regret. It was sweet for her and it made a huge difference for us, because we got to feel a part of her transition. And hers was very peaceful. We were lucky."

Facing fear can be liberating, James has found.
Growing up in McPherson in a family with Kansas pioneer lineage on both sides and strict religious views that stressed women's subservience to men and prohibited working with other faith groups, she heard "no" a lot.
"When I was 8, I told my mother I wanted to be a missionary," James recalls. "She said, 'You can't be a missionary; only men can do that.' I was always told, 'You can't do this and that.' I've done those things and it feels like I've been a pioneer myself. My great-grandparents broke new ground and that's what I've had to do. Over time I have found my own inner compass and broken out of the many prohibitions I was raised with, and it's gratifying to know that I've become who I wanted to be when I was a child." 
After completing end-of-life planning, some Heartwork clients have broken out too, embracing adventures that fears of dying had previously kept them from. One went mountain climbing. Another bought plane tickets for a long-postponed trip to India. 
"I see that happen all the time for people when they do this work," James says. "I think it is possible to at least reduce our fear, if not to eliminate it. And when the doctor says to them, 'There's a lot more things we could do,' they can now ask, 'What would that look like? Oh, I'd rather not have all that treatment. I just want to be comfortable and able to be with my family.' That's a huge achievement for me when people can do that."
We can't control everything, James knows. Death, a necessary end, will come when it will come. But making our wishes clear to those we love and those we entrust with our care goes a long way toward ensuring that we get the kind of death we envision. And clarifying those wishes for ourselves can lessen anxiety when our time comes.
"Just like any fear, the more you talk about it and learn about it," James says, "the less it can scare you."