The enzyme inside the virus
Anthony Fehr and his team have isolated a key element of SARS coronavirus 2. Now they seek to stop it...
By Jennifer Jackson Sanner
A scientist with a knack for metaphor, Anthony Fehr describes SARS coronavirus 2, the cause of COVID-19, in vivid terms: "The virus is attacking the city," he says. "The city has guards to keep the invaders out, but the virus has developed lots of ways to get past the guards. At the same time, the guards are not all doing the same things to fend off the attackers."
Fehr, assistant professor of molecular biosciences, focuses his research on a single weapon in the virus' arsenal—a specific enzyme—and the interaction between that enzyme and one of the city's guards. "We want to figure out a way to stop the method of attacking, so the virus won't get into the city and create an illness."
Though he is finishing only his second year on the KU faculty, Fehr is eight years into his coronavirus research. Thus far his studies of a particular enzyme have proven that the enzyme is critical to causing disease. He and his eight-member team of postdoctoral fellows, graduate students, technicians and undergraduates continue to examine the basic biological structure of the enzyme and its interaction with our body's immune defenses. They also are beginning to test 20 compounds—drugs approved for other uses—to determine whether any could block the enzyme. To focus specifically on thwarting COVID-19, Fehr has received a small, startup grant from KU's Frontiers Clinical and Translational Science Institute, established with a five-year, $25 million grant in September 2017 from the National Institutes of Health. A two-year, $270,000 career transition grant in 2018 from the National Institute of Allergy and Infectious Diseases also has funded his work.
While directing his lab, Fehr teaches a virology class for undergraduate students with Professor David Davido. And in recent months, Fehr has taken on an unexpected role as an expert source for regional and national news media outlets reporting on the COVID-19 pandemic.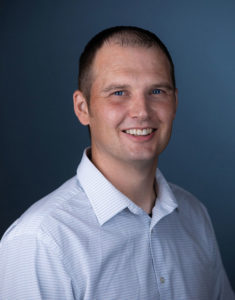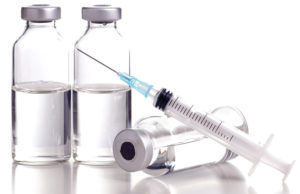 "It has been a lot of craziness that you never anticipate," he says. "As scientists we don't get in this business to get on radio or TV. We're here to do science that will impact people, but it's also important for us to share what we know. It's a public service to help the public understand how coronavirus works and why we need to be prepared."
After finishing his PhD in 2011 at Washington University in St. Louis, Fehr found an ideal opportunity to continue his virology studies as a postdoctoral fellow with Dr. Stanley Perlman, a nationally respected coronavirus researcher at the University of Iowa. "I became very interested in coronaviruses because they are fascinating in the way they copy themselves. There is a unique life cycle to the way they work," Fehr says. "It was a small field of study at that time, so there was lots of room to find your own niche. There were lots of questions to be answered."
The questions became more urgent as the second outbreak of coronavirus- related disease, known as MERS, occurred in 2012, a decade after the first SARS outbreak in 2002. Fehr hopes the nation and the world will learn valuable lessons from the COVID-19 pandemic, the third onslaught in 18 years; ideally, the fervent pace and vast breadth of current research will continue, so nations can meet the next outbreak with a menu of drug treatments—and, even better, vaccines— at the ready.
"We have a lot of vaccine platforms. We're on record pace to get a vaccine, but of course whether they will work will be the crux," he says. "We have an opportunity to figure that out, and the next time we'll have that platform ready to adjust vaccines as needed. Multi-pronged readiness is going to be key."
Fehr looks to the skies for a suitable metaphor to describe pandemic preparedness. "If you think about tornadoes, our nation has made a lot of improvements to help us prepare for severe weather," he says. "We have better ways to sense when tornadoes are coming, and we can get ready. That's the kind of thing that we're going to need for pandemic virus."