Worth the wait: Classes of 1970 and '72 finally walk down the Hill
Postponements pay off with idyllic spring day for graduation festivities.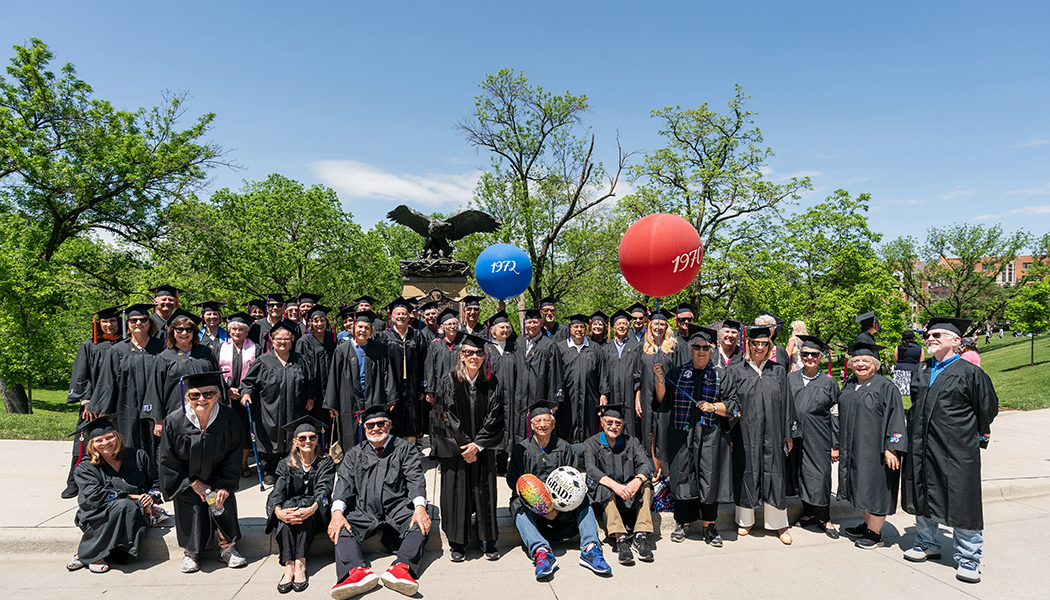 It was a walk years in the making.
For the Class of 2022, of course, the route to donning caps and gowns was marked by pandemic-necessitated adjustments that made for a decidedly atypical academic experience. But joining the newest alumni descending the Hill Sunday, May 15, were members of KU's classes of 1970 and 1972, whose original opportunities to walk through the Campanile 50 and 52 years ago had been derailed by inhospitable weather on Commencement Day.
So, after a half-century delay, what was another four hours?
Heavy rain and high winds the morning of this year's ceremony pushed back the procession's start from 10:30 a.m. to 2:30 p.m., when the bluster had given way to blue skies, birdsong and soft breezes—a picturesque afternoon on Mount Oread. Water droplets on flower petals and a slight slickness on grass seemed the only traces of the day's stormy beginnings.
"We were thinking, 'If we don't walk today, we'll have to wait 50 more years,'" joked Carolyn Beauchamp, c'72, describing the sentiment she and her husband, Gary, c'66, m'70, had shared earlier in the day, as Mother Nature once again seemed determined to foil their plans. The Beauchamps were grateful to gather with about 60 classmates to celebrate, reminisce and at last take their trip down the Hill.
"And it looks like the third time's a charm for the Class of 1970," Chancellor Doug Girod said in his opening remarks to the crowd gathered at David Booth Kansas Memorial Stadium. (A second try at the 1970 walk had actually been slated for 2020, only to be abandoned as the coronavirus dismantled even the most tried-and-true routines.)
The bond among all generations of Jayhawks was underscored in comments from Jay Kerutis, c'82, chair of the Alumni Association's national Board of Directors, who spoke to grads about the vast network of alumni, 350,000-plus strong, ready to embrace them, and the Jayhawk Welcome Center that will soon be ready to greet them anytime they return to the nest. Said Kerutis, "We look forward to welcoming you back to the Hill for years to come."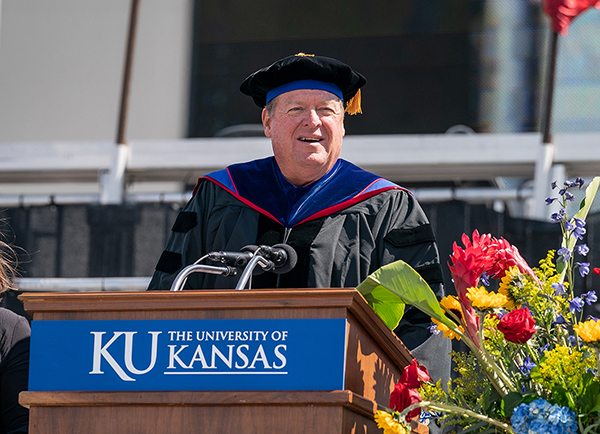 A walk down the hill
View Dan Storey's video celebrating the long-awaited walk down the Hill for the classes of 1970 and 1972.
Commencement highlights
Photographs by Steve Puppe
Graduates of 1970 and '72, who were forced to settle for Allen Field House ceremonies 50 years ago when rain canceled their original walks down the Hill, gathered May 15 at the Victory Eagle on Memorial Drive. Smiles were as sunny as the sky when the Class of 2022, joined by alumni from 1970 and '72,
strolled down the Hill and into the stadium May 15.