Gary Woodland reaches pinnacle of golf success: a U.S. Open victory at famed Pebble Beach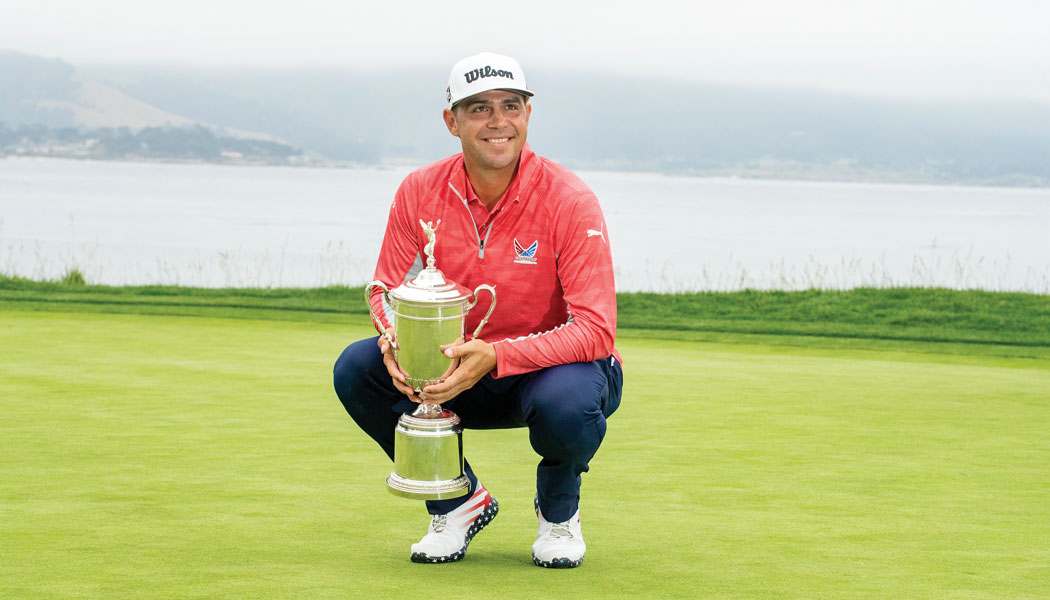 As is customary with the final round of the U.S. Open, it was Father's Day when Gary Woodland on June 16 became the first Jayhawk golfer to win one of the sport's four major tournaments. The timing can make for emotional moments, among them the victory 20 years ago by Payne Stewart, who sank a 15-foot birdie to win at North Carolina's Pinehurst No. 2.
Seconds after his championship putt, Stewart embraced runner-up Phil Mickelson—whose wife, Amy, would give birth to their first child the next day— and said, "You're going to be a father, and there's nothing greater in the world!"
Even in its dramatic finales on the grandest stages, golf is never the most important thing, Stewart reminded Mickelson and the world. Gary Woodland needed no such reminder. Thanks to his father, friends and mentor, he knew it, lived it, and kept it close at Pebble Beach.
"You got this, Gary."
So said Woodland's new No. 1 fan, Amy Bockerstette, a Special Olympics golfer, as she watched the Open with her family in Ponte Vedra Beach, Florida.
Woodland, c'07, met Amy in January, during a practice round before the PGA's Phoenix, Arizona, tournament. Amy hugged Woodland on the 16th tee at TPC Scottsdale, and she promptly stroked a smooth-as-silk tee shot. It landed in a greenside bunker, but she chipped out and, facing a par putt, Woodland said, "Why don't you go ahead and make that?"
"OK," she said. "I got this."
A friendship was born. As was a mantra.
"What a blessing," Woodland told Kansas Alumni four days after his victory. "Her attitude, her energy and her love, the world needs a lot more of."
Asked whether her attitude, energy and love helped him stay calm while trying to hold off a late charge by the back-to-back U.S. Open champion, Brooks Koepka, Woodland replied, "There's no doubt. You've got to put everything in perspective. I'm out here playing a game, obviously it's a big stage and a big moment, but there's a lot more important things in life and I needed to be able to enjoy that moment.
"That's what I kept telling myself: Enjoy the pressure. Enjoy the stress of the whole situation. My goal was to be comfortable being uncomfortable, if that makes sense."
Woodland capped four days of shot-making around and on the greens—never a strength for the long hitter—by draining a 30-footer for birdie on No. 18.
"Cool way to go out on 18, to make that bomb," Koepka said. "He deserves it. He's worked hard and I'm happy for him."
With a two-stroke lead, he could have putted three times and won. Why wait?
You got this. So said Gary. And Amy. And his father.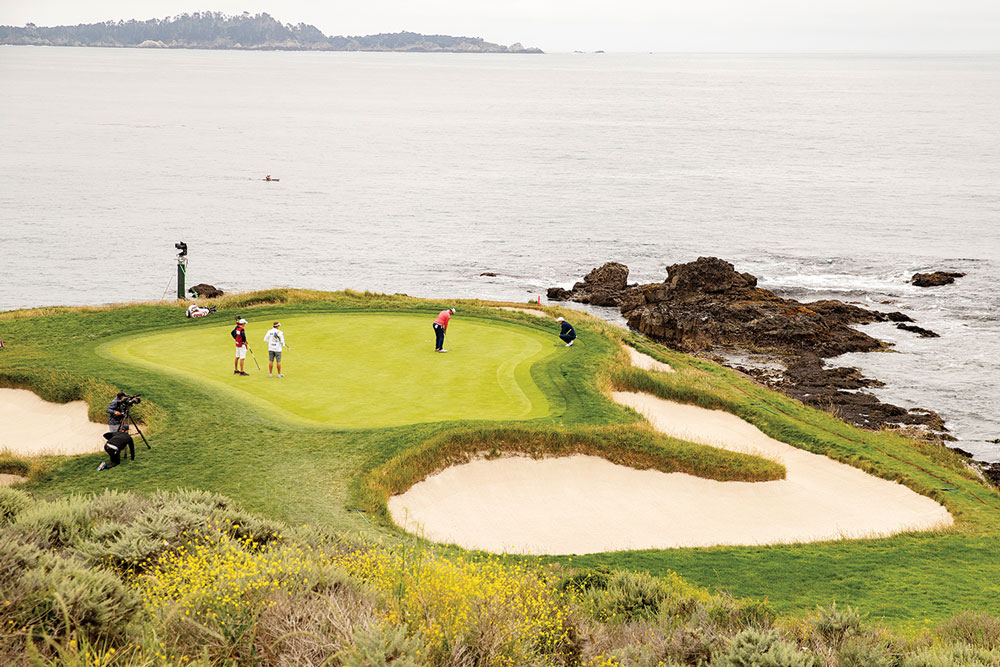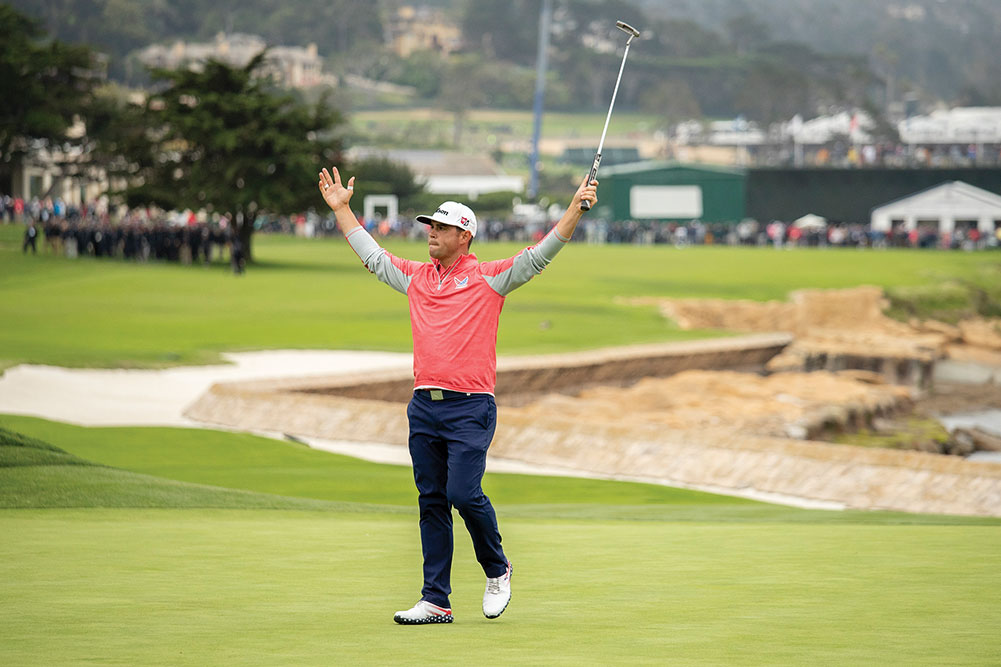 "My dad never forced me to do anything, but if I did it, if I decided to go play catch or go play basketball, he was hard on me," Woodland said at his post-tournament news conference, shortly after embracing his parents, Dan and Linda, near the 18th green. "You had to do it the right way if you were going to do it at all."
Growing up in Tecumseh, Woodland was a star athlete from the start: "I always believed I would play professional sports. I didn't know what sport that would be, but I always believed I would be in this moment." A photograph shared online by his family shows toddler Gary, wearing a Jayhawk T-shirt, at a driving range. His form, even then, was perfect: knees, elbows, wrists, eyes. Perfect.
Dan coached Gary in baseball and his first love, basketball. An all-state guard, Woodland led Shawnee Heights to two state championships. Golf was not a priority, yet Woodland took fourth in a national tournament and advanced to the quarterfinals of the Kansas State Amateur.
Despite his obvious talent, nobody recruited Woodland for golf—except Ross Randall. Woodland finally turned the KU coach down to play basketball at Washburn University; in the first game of his college career, in Allen Field House, the arena where Woodland always dreamed of playing, he learned he chose wrong.
"I was guarding Kirk Hinrich," Woodland recalls, "and I was like, 'OK, I'll need to find something else because this ain't gonna work.'"
After the season, Woodland called Randall. Perhaps suspecting there might be a change of heart, Randall had a scholarship waiting for him.
"That," Woodland says, "was the first time I ever focused solely on golf."
Their relationship lasted beyond Woodland's KU playing days, with Randall continuing to mentor Woodland as he fought his way through golf's minor leagues. Once his career was established, Gary and his wife, Gabby, purchased a home in Palm Beach County, in part to be near Randall, who moved to Boynton Beach with his wife, Linda, after retiring as KU's director of golf operations in 2009.
On April 21, 2017, Woodland's parents visited the Randalls for lunch. Gary declined, so he could hit the driving range. Randall died later that evening.
"He crossed my mind when I finished," Woodland says. "Keep doing what you're doing. This is why we hit all those balls. This is why we've done our preparation."
In other words: You got this, Gary.
Because Gabby is due to deliver identical twin girls the first week of August, she was unable to travel to Pebble Beach, which meant their son, 2-year-old Jaxson, stayed home, too. Perhaps because he was far from his son on Father's Day, Woodland was reflective as he cradled his trophy a continent away from his family.
"My whole life, it's all been about trying to win. Now I'm trying to make a better life for my son than I've had. It's been a process, but today is so special from that standpoint. Hopefully someday he can see this and realize that anything is possible."
The Monday after his Sunday victory, Woodland flew to New York, and on Tuesday he made media rounds—including a surprise visit to the set of NBC's "Today" show, during Amy's appearance.
"It's just a cool story," says coach Bill Self, a friend and fan. "What makes it so neat is, you go from a situation where nobody thought he'd win, and then after they thought he might win, I'm sure the television networks were hoping he didn't. And it turns out to be a cooler story than even if Brooks had won."
Three days after his victory, Woodland finally flew home to his family. The next morning, he was in the gym in Miami, after which he took a call from Kansas Alumni, eager to talk about his Jayhawk roots—"The shirt I wore my whole life growing up was a Danny Manning jersey"—and explain the perspective he's found on golf and life.
"I'm driving back to head to the course," Woodland said June 20. "It's time to get back to work. You've got to continue to get better. There's obviously a lot of things I need to improve. The results are great, but we've got to sit down, regroup, and continue to work, continue to improve.
"If you're not getting better you're getting worse, and that statement's really going to hold right now."
You got this, Gary. Always did.